Result: California Bird Dog Championship
Location: California City, California
Post Date: Feb 13, 2021
Submitted By: Lisa Hale
CALIFORNIA CITY, CAL. -- This year's Championship was conducted by the Fresno Bird Dog Club. The Championship started on January 20 at California City at Camp H. This venue offers plenty of open space for all dogs to show their ability to fill up a lot of country. There are rolling hills, steep cliffs, and plenty of open ground.
We would like to thank our judges, John Beauchamp and Brian Smith. Both travelled from Arizona to give their expert opinions.
The weather was anything but helpful throughout the entire trial. High winds reaching 80 mph at times forced us to delay a full day. Starting back up, the winds consistently held at 15-25 mph. We were also delayed due to fog. These delays were the reason we unfortunately had to cancel the Wally Wallace Derby Classic.
We would like to thank our following sponsors Purina pet foods, SportDog, and Sunrise Ford. Without their support our trial would not be nearly as successful.
Special thanks to Shannon Renfree for her time and all her hard work in preparing our breakfasts as well as lunches for six days. She did an awesome job!
Thanks to our dog truck driver Glenn Johnson and bird planters Ed Dixon and John Beauchamp. An added thank you goes to Warren Izen for supplying judges' horses, toilets and an outstanding Tri-tip dinner as well as Terry Erickson for his field reporting.
THE WINNERS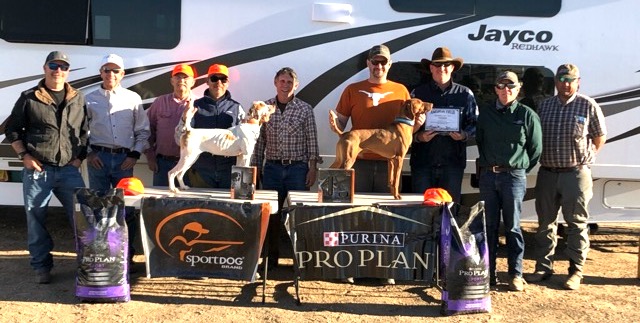 This year's winner was Vizsla male Burr Oaks Born Again. Toby, as he is called, ran a strong, forward race. Unfortunately birds were a premium and his only bird contact was on a dead bird. He sustained his all-age race, showing no signs at slowing down at time. With this performance he earned a spot in the callback.
Toby was handled by Brian Gingrich of New Mexico.
The runner-up was pointer female Love Train, handled by Tom Griffin from Northern California. Tom's young pointer female also ran a pleasing all-age race with plenty of class with a strong finish for the hour. She was also included in our callback where she earned the title of runner-up.
We would like to thank all of this years participants.
California City, Cal., January 20 -- One Course
Judges: John Beauchamp and Brian Smith
CALIFORNIA BIRD DOG CHAMPIONSHIP [One-Hour Heats] --
2 Pointers, 2 Setters, 2 German Shorthairs and 2 Vizslas
Winner--BURR OAK'S BORN AGAIN, 1676176, Vizsla male, by Bangert's Red Baron--Burr Oak's Reve. Jim Gingrich, owner; Brian Gingrich, handler.
Runner-Up--LOVE TRAIN, 1686322, pointer female, by Miller's Blindsider--Lyons Platinum. Tom Griffin, owner and handler.