Result: National Amateur Quail Championship
Location: Grand Junction, Tennessee
Post Date: Apr 18, 2019
Submitted By: Piper Huffman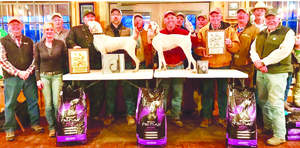 Championship Winners. From left: Dr. Rick Carlisle, Piper Huffman, David Williams, Keith Wright, Quintin Wiseman with Touch's Fire Dancer, Judge Collier Smith, Jim Pendergest with Pendy's Good Grace, Judge Garland Priddy, Ryan Braddock, William Smith, Chris Weatherly, Bubba Spencer, Ken Blackman and Colt Spencer.
GRAND JUNCTION, TENN. -- The Amateur Field Trial Clubs of America hosted its prestigious National Amateur Quail Championship March 4-7 at historic Ames Plantation in Grand Junction, Tenn. It was a complete success throughout the four days of running. A nice entry of 32 competitors was slated to compete in the 2019 renewal.
Ames Plantation is home of the National Championship in February and Hobart Ames Open All-Age in January. There are a few amateur trials hosted there as well.
The grounds were in excellent condition; besides the enormous amount of rainfall collected over the last two months just like last year leaving the grounds extremely wet and boggy.
Dr. Rick Carlisle, director of Ames Plantation, oversees every aspect of the Plantation with help of many employees. Chris Weatherly and Ryan Braddock put many hours and their time helping with the field trial aspect among their other duties. They both did an excellent job with mapping out the hour and a half courses perfectly and provided laminated maps for all. They were superb marshals as well as taking great care of my horses and me. I sincerely appreciate all of their help.
Ken Blackman took charge of the dog wagon, while Aubrey Green was at every road crossing and provided sausage biscuits each morning. Their help was greatly appreciated.
Another big thank-you to Purina, the official sponsor for the trial along with Garmin and Bruce Fox plaques. Their support to the AFTCA is appreciated. Without Purina it would be impossible to continue to host this prestigious event. Dog feed was given to the winners as well as Garmin collars and plaques.
Judges were Hall-of-Famers Garland Priddy of Raymond, Miss., and Collier Smith of Hurtsboro, Ala. Their time and effort were greatly appreciated. They were a pleasure to ride with during the four days of running. It truly was enjoyable. Both men are well known successful dog trainers. Their winning records speak for themselves. They have retired from professionally training dogs but are still active in other aspects of the sport. Thank you both for occupying the judicial saddles for this stake.
A special thank you to Gail Haynes for providing a Purina dinner at the Rhea clubhouse and Region 6 for hosting a dinner Wednesday evening. The AFTCA hosted heavy appetizers two nights. It was an enjoyable four days of making memories, watching good dogs and enjoying everyone's company. All in all, it was an extremely successful Championship all the way around.

THE WINNERS
Touch's Fire Dancer was deservingly named champion for Indiana owner and handler Keith Wright. This snappy six-year-old white and liver pointer female set the bar high with her outstanding championship performance. She won in dramatic fashion just like she did in 2018. Fire Dancer was animated with each step and all who had the privilege to watch her performance knew she was going to be tough to beat.
She appeared in the 13th brace Thursday morning. Fire Dancer was all heart with a showy reaching ground race from start to finish complimented by three beautifully styled pieces of bird work. She impressed from start to finish with a strong reaching ground race always well to the front. Her overall performance kept you high in the saddle.
At 5 Wright called point to the left in a feed strip. Fire Dancer stood high and tight for wing and shot with impeccable manners. She scored on another picture-perfect piece of bird work at 30 after breaking out into the big field. Going into Mary Scott loop, point was called again for Fire Dancer on the left by the pond. She stood with intensity; as Wright dismounted a covey lifted. She stood styled and motionless for wing and shot. All aspects of her performance put her in the winners' circle as champion.
Pendy's Good Grace earned the runner-up placement for owner-handler Matt Pendergest of Lexington, Ky. The four-year-old white and orange pointer female was all heart, putting down a strong performance to earn her laurels.
She was in the 5th brace on Tuesday morning. She put forth a nice ground race with plenty of strength and class complimented by one perfectly styled find. Grace handled, hunted hard and stood out with her all-age bid. Point was called for Grace at 1. She stood beautifully styled displaying perfect manners for wing and shot.
THE RUNNING
Mohawk Mill Pirate (Gary Winall) had a superior performance this first morning, the temperature at 21 . Tough conditions did not bother him in the least. His race was strong displaying high style running with purpose always to the front. His performance was solid with an unproductive at 50. Erin's Full Throttle (John Ivester) was up at 5.
Mac Golva B (Dr. Marion Brown) and Dubose's Daddy Boy (Bobby Dubose) ran to the front ground races.
Rester's Super Chief (Cecil Rester) and Erin's Trace (Bill Mason). Point was called for Trace at 8 in a heavy briar thicket with Super Chief coming in for a back. A blank stand was taken. Super Chief had his running shoes on making big swings. Mason got the retrieval unit at 45.
Rebel Pirate (David Williams) was quickly out of sight and failed to return. Marques Armed Robber (Ivester) had a nice piece of bird work at 52 and pointed with a minute to go. Ivester elected not to flush and took him on.
Runner-up Pendy's Good Grace was braced with Nosam's Full Ride (Mason Ashburn). Full Ride impressed with a solid performance and a big to the front ground race.
Chipper Jones (Ruthann Epp) was tough to get around in the hour and a half. Phillips Off Line (Mike Small) had a good find at 30 putting down a big but challenging hour.
Rebel Maiden showed well for the first 30 then was out of pocket. Ascension (Pendergest) impressed with a big showy ground performance.
Mohawk Mill Trail Warrior put down a strong ground race with plenty of reach showing handsome high style throughout the hour and a half. Crouse's Kentucky Wind (Mike Crouse) showed well with a nice performance.
Crouse's Samuri Warlord put down a solid performance, seen here and there. Mohawk Mill Image (Winall) was strong from start to finish putting on an impressive bid.
Both Worsham's Silver Comet (Worsham) and Crouse's Samuri Warrior (Crouse) were quick on go, putting down forward ground patterns and finishing the hour and a half.
Dialed In (Pendergest) showed well in his bid making nice swings, always to the front and finishing strong. Rebel Dreamer (Williams) was classy and stylish with a forward quick ground performance.
Miller's White Reign (Ric Peterson) and Touch's Smooth Rider (Keith Wright) pointed early in the heat with an armadillo running out. The chase was on for Smooth Rider, which was picked up. White Reign ran a good forward ground race. Point was called at 1:10. Reign was stylish and staunch on the right edge with perfect manners for wing and shot. He was turned loose and crossed over and pointed on the other side of the field. All was in order for wing and shot.
Bad Prairie's Billboard (Quintin Wiseman) was down with the winner, Touch's Fire Dancer. Both pointed early at 5 across the pond dam in a feed strip, all in order for both stylish pointers. Billboard was strong and solid in his bid.
Point was called for Misty Morn Masked Man (Joey McAlexander) and S F Bandwagon (Larry Smith) at 30 after deep Turner Ditch. Both dogs stood nicely, exhibiting excellent manners for wing and shot. Bandwagon suffered an unproductive at 50. With five minutes to go headed toward the barn, point was called for Masked Man in a feed strip. Point was called up ahead for Bandwagon. Two separate finds, both dogs handsomely styled for wing and shot.
Touch's Indiana Joan (Wright) and Hendrix's Signature (Burke Hendrix). Hendrix called point twice for Signature and both times he went on. He got the retrieval unit at 30. Joan's performance was big and smooth with a reaching race but no bird work.
Small's White Stryker (Small) was a handful. Small went for the retrieval unit at 45. Lester's Ritz (Derek Bonner) ran a nice race but only pointed a rabbit.
Grand Junction, Tenn., March 4
Judges: Garland Priddy and Collier Smith
NATIONAL AMATEUR QUAIL CHAMPIONSHIP [Ninety-Minute Heats] -- 31 Pointers and 1 Setter
Winner--TOUCH'S FIRE DANCER, 1651102, pointer female, by Touch's Pond Dam--Whippoorwill G M A. Keith A. Wright, owner and handler.
Runner-Up--PENDY'S GOOD GRACE, 1664858, pointer female, by Reloaded--Dialed In. Matt Pendergest, owner and handler.