Result: Clarksville Pointer and Setter Club
Location: Huntingdon, Tennessee
Post Date: Mar 18, 2021
Submitted By: Lisa Little
The Clarksville Pointer and Setter Club held its annual amateur field trial on March 18-21 in Huntingdon, Tenn.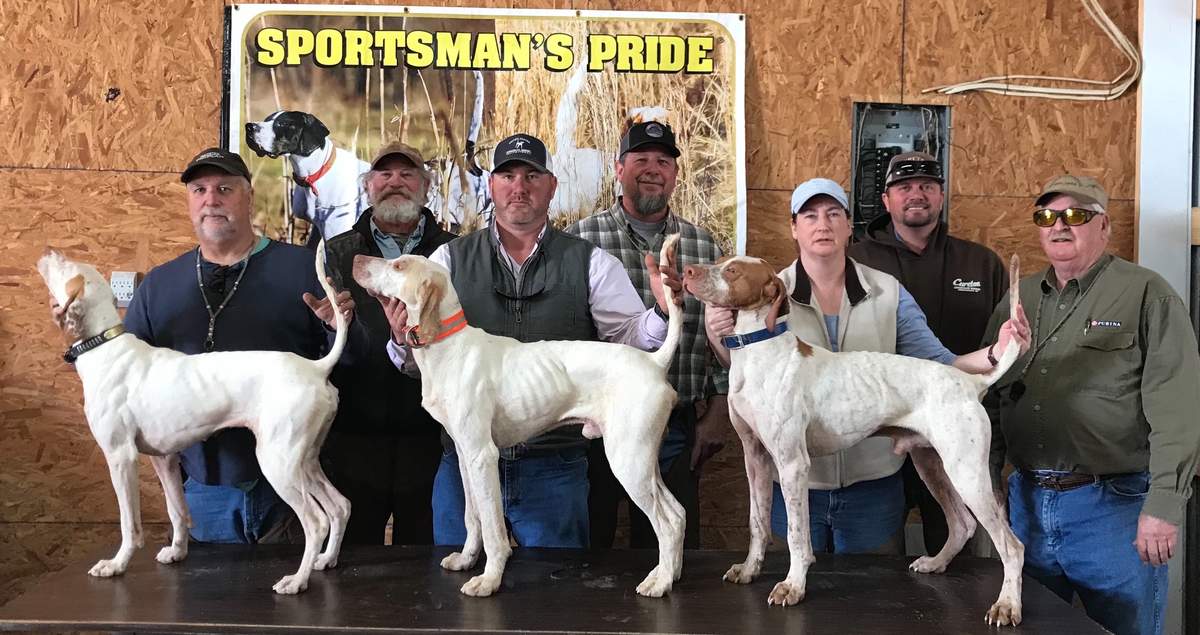 Due to the graciousness and assistance of Carroll County Field Trial Club members, we were able to hold the trial when the traditional grounds located at the Fort Campbell Military Base were not available. We would like to personally thank David and Angie Williams, Michele Clark, Gary McKibben, Dan Warrick, John Burrow, and Lebob Stanfill for their assistance in hosting the trial.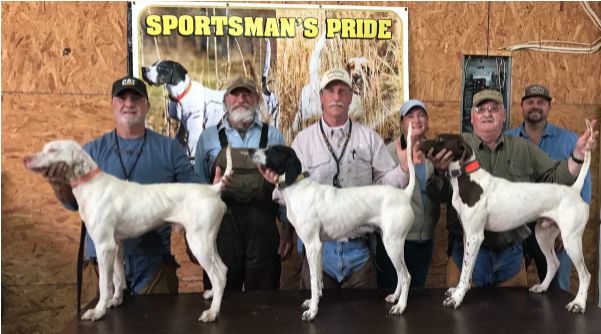 We were honored to have the judging team of Donnie Duckworth and Shane Duckworth occupy the judges' seats. Donnie lives in Morganfield, Ky., and has recently retired from the coal industry. Donnie is using his new found freedom of time to return to field trialing after a short hiatus. He brought three beautiful Derby prospects with him to the grounds. Donnie is well known in AFTCA Region 4, particularly trials held at the West Kentucky WMA.
Shane lives in Fredrickstown, Mo., where he spends time with family working in the beef cattle business, in addition to working as a farrier. Shane grew up game bird hunting with his father and Uncle Donnie, and still owns several quality bird dogs.
The trial began on the afternoon of Thursday, March 18, with intermittent downpours. The weather was much more pleasant Friday through Sunday, with cool mornings and warm spring afternoons.
THE WINNERS
In a field of twenty competitors, the Amateur All-Age Stake was won by Touch's Indiana Joan, owned and handled by Keith Wright of Covington, Ind. This high class, white and orange pointer female had a big ground race, with three fantastic finds, and handled kindly for her owner. "Joan" is always a tough competitor at any field trial.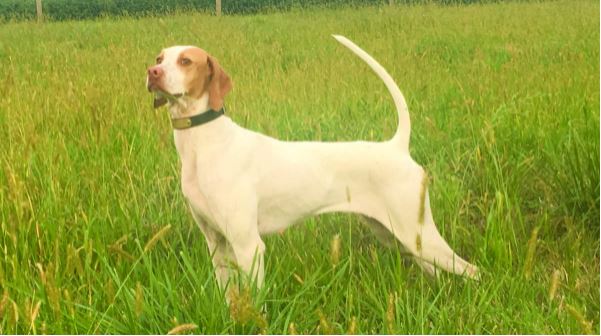 Earning second place honors was Burch's Set'Em Up Joe, two-year-old white and liver pointer male, owned and handled by Jonathan Burch of Holly Springs, Miss. "Joe" had four great finds and a fast paced ground race against his brace mate.
Third was awarded to Rebel Survivor, three-year old white and orange pointer male, owned and handled by David Williams of Beach Bluff, Tenn. "Solo" had three beautiful finds of his own in his brace with Set'Em Up Joe. I was fortunate to watch this exciting brace between Joe and Solo, each trying to beat the other to the next find.
The Derby was run on Saturday, with a field of eight young athletes. This stake lacked bird work by the competitors and was judged based on ground race and the handling manners of the competitors.
First place honors went to Coldwater Hooey, white and orange pointer male that was very recently acquired by Perry Lacy. We were excited for Perry to get this placement on his return to field trialing. Perry is a longstanding member of the clubs in the Clarksville-Fort Campbell area and has been missed during his break from the hobby.
The classy white and black pointer female, River City Jett, earned second place for her owner and handler Kent Walker. David Williams took home a third placement with his upcoming prospect, the liver and white male, Rebel Invasion.
The Shooting Dog Stake had a field of sixteen competitors that began on Saturday afternoon. Warioto's Crazy Daisy won the stake with three nice finds and a well handled brace. The white and orange five-year-old pointer female is handled by Scott Little and co-owned with Lisa Little.
Ross Leonard steered his white and orange male pointer, Nickajack Pathfinder, to the second placement with a beautiful find and well handled brace. Rounding out the with third placement was Little More Shine, female Irish Setter for her owner Kristine Hammons and handler Tim Hammons. She had one good find and an unproductive with her nice ground brace.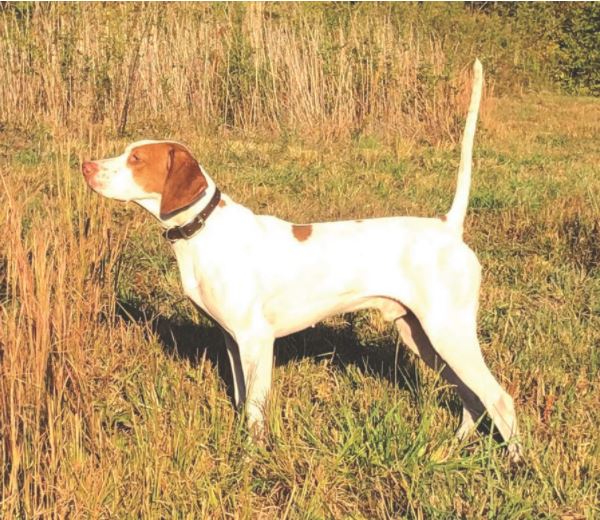 We would like to thank all the participants for traveling, competing, and spending time with us in Huntingdon and again to the Carroll County Club members for so much help in putting on this trial.
Huntingdon, Tenn., March 18
Judges: Donnie Duckworth and Shane Duckworth
AMATEUR ALL-AGE [One-Hour Heats] -- 17 Pointers and 2 Setters
1st--TOUCH'S INDIANA JOAN, 1661285, pointer female, by House's Ring of Fire--Touch's Maswood Anne. Keith A. Wright, owner and handler.
2d--BURCH'S SET'EM UP JOE, 1689029, pointer male, by Skyfall--Burch's Mississippi Belle. Jonathan Burch, owner and handler.
3d--REBEL SURVIVOR, 1680246, pointer male, by Rebel Pride--In Swami's Shadow. David Williams, owner and handler.
AMATEUR DERBY -- 5 Pointers, 1 Setter and 2 Irish Setters
1st--COLDWATER HOOEY, 1689621, pointer male, by Coldwater Odyssey--Coldwater June. Weldon Bennett, owner; Perry Lacy, handler.
2d--RIVER CITY JETT, 1689676, pointer female, by Game On--River City Dancer. Kent Walker, owner and handler.
3d--REBEL INVASION, 1692436, pointer male, by Rebel Pirate--Family Jewel. David E. Williams, owner and handler.
AMATEUR SHOOTING DOG
[One-Hour Heats] -- 11 Pointers, 3 Setters and 2 Irish Setters
1st--WARIOTO'S CRAZY DAISY, 1666448, pointer female, by Boxwood Hotline--Sun Crest Showgirl. Scott & Lisa Little, owners; Scott Little, handler.
2d--NICKAJACK PATHFINDER, 1680947, pointer male, by Touch's Smooth Rider--Cocklebur Stripper Candie. Ross Leonard, owner and handler.
3d--LITTLE MORE SHINE, 1671392, Irish setter female, by Red Rock--Covered In Red. Kristine Hammons, owner; Tim Hammons, handler.