Result: Cahaba Bend Field Trial Club
Location: Greensboro, Alabama
Post Date: Apr 25, 2019
Submitted By: Fontaine Alison and Ruthann Epp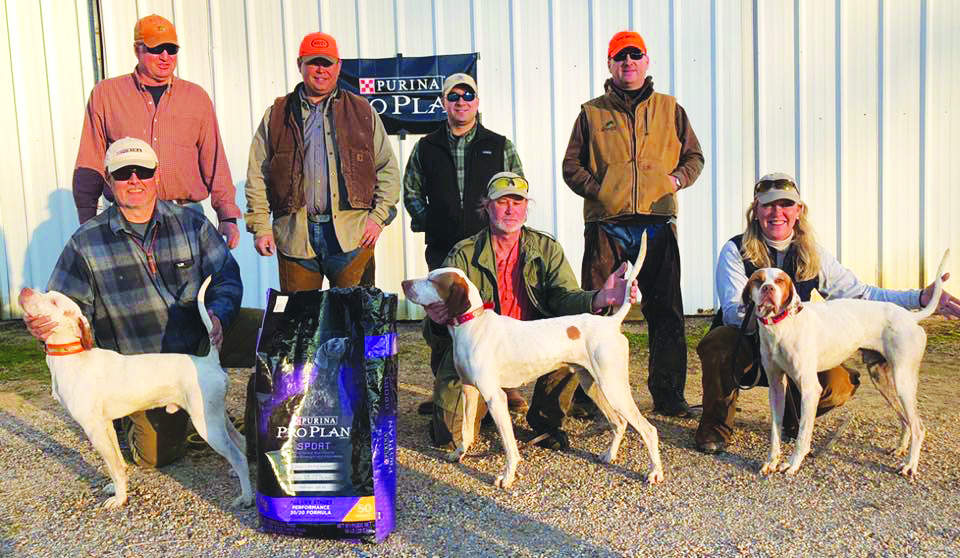 Open Derby Winners. From left: Danny White with White's Crossbow, Hunter McDuffie, Judge Bucky Street, Albert Canzaneri, Pat McPherson with McRee's Take It EZ, Judge Brian Etheridge and Mary McPherson with McRee's Hey Joe.
GREENSBORO, ALA. -- The Cahaba Bend Club hosted its 21st annual trial at the M. Barnett Lawley Forever Wild Field Trial Area in Greensboro, Ala. Good weather and grounds conditions combined to give handlers and spectators some outstanding dog work during the two-day event.
The grounds, which are specifically maintained for field trials, were in excellent condition. Thanks to the AFTCA 20th Century Fund for its generosity in granting funds to the club to help make this happen.
Thanks are also due to the Alabama State Lands Division, Mr. Bill Mason, the manager of the area as well as employees Carson Hill and Scott Veum for welcoming our club and ensuring that the grounds are beautiful as well as safe for dogs, horses and riders.
Chipper Jones, pointer male owned and handled by Ruthann Epp, won the Charles Farquhar Amateur All-Age with three well-spaced finds and big casts.
White's Crossbow, owned and handled by Danny White of Heflin, Ala., won the Open Derby with a forward race and two beautiful broke finds.
Electronic Warfare, handled by Bill Goodwin, topped the Amateur Shooting Dog with two mannerly and stylish finds and a back. He and the second placed dog, Paint the Town, handled by Lance Servais, gave an exciting start on Sunday morning with four coveys being flushed in the first hour and an excellent showing of hunting prowess.
Our generous sponsors and friends ensured that winners went home with great prizes. Purina, once again a primary sponsor, donated dog food for the three winners in each stake. Purina has been a sponsor for many years. Club leadership expressed appreciation of their support.
Mr. Jimmy Haygood of Selma, Ala., contributed beautiful handmade leather goods for the nine placements.
Dan Edwards, a club official for the Central Alabama Field Trial Club and longtime supporter of this club, again provided hay for judges' and reporters' horses.
Owners, handlers and guests were treated to two fine dinners from the grill courtesy of farrier Hunter McDuffie and his wife Mindy of Cecil, Ala., and veterinarians Justin and Ashley Howard of Selma. Patty Sexton brought her homemade stew for Saturday's lunch, and all meals were topped off with Mrs. Mary Epp's famous pecan pie and Olivia Alison's southern pound cake. Olivia also served as hostess for dinners and lunches.
Judges for all three stakes were Brian Etheridge of Hoover, Ala., and Bucky Street of Notasulga, Ala. Brian is an executive with Bryant Bank in Birmingham and works closely with Paul Bryant in his hunting operation as well. In his teenage years, Brian apprenticed under the late Freddie Epp in Canada. Bucky is in the construction business in the Auburn area and has been involved with field trials since he was in college at Auburn University. He apprenticed under Bill Harkins who has a knack for getting young people started in the field trial sport.
Both judges know a bird dog and what it takes to win the respective stakes.
Once again we want to thank John Henry Kitchens of Safford, Ala., for his patience and precision driving the dog wagon. It was nice to have help with the marshalling; Bill Mason handed over most of the duties to Jennifer and Jamie McKemie, Schley Rutherford and Hunter McDuffie. No trial could happen without these volunteers who are willing to give their time and talent to benefit fellow enthusiasts.
We pride ourselves on hosting a family friendly event, and this year was no exception. Bill Mason's grandson, Dosson McKemie, assisted his grandfather with numerous duties before, during and after the trial, and a number of other younger ones accompanied their parents.
Handler Quintin Wiseman's family from Georgia joined him and the three youths, Jolie, Daniel and Harper, brightened the gallery with their enthusiasm for the sport. Daniel claimed one of the dogs that his dad ran as his and he was ready to fill in and help as needed. Refreshing, because it brings back memories for those of us who grew up on horses at field trials. The youngest of the Wisemans, Harper, age 4, rode her own pony and charmed the crowd; despite her face being splattered with mud, she was happy and game for it all.
Because of an overlapping of the Region 16 Amateur Shooting Dog Championship with the Cahaba Bend dates, many of our regular contenders missed being at the trial. Due to the conflict there was not the sixteen dogs required per stake to be awarded Purina points. Regardless, it was a successful trial with exceptional performances and great camaraderie at a beautiful venue.
Greensboro, Ala., January 26
Judges: Brian Etheridge and Bucky Street
CHARLES FARQUHAR MEMORIAL AMATEUR ALL-AGE
[One-Hour Heats] -- 6 Pointers

1st--CHIPPER JONES, 1662392, male, by Crouse's Kool Running--Elizabeth Taylor. Ruthann Epp, owner and handler.
2d--MCREE'S GLORY B, 1655372, female, by Ransom--McRee's Scarlet. Patrick E. McPherson, owner and handler.
3d--PRIDE'S SMOKING GAMBLER, 1671671, male, by Erin's Kentucky Gambler--Burning Edge Julie. Mike Norris, owner and handler.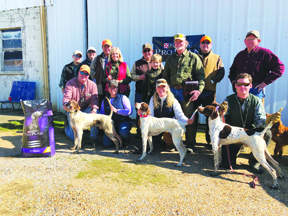 Amateur All-Age Winners. From left: Albert Canzaneri, Hunter McDuffie and Jennifer McKemie with Chipper Jones, Danny White, Judge Bucky Street, Ruthann Epp, Bill Mason, Dosson McKemie, Mary McPherson with McRee's Glory B, Pat McPherson, Judge Brian Etheridge, Schley Rutherford with Pride's Smoking Gambler, Mike Norris.
OPEN DERBY -- 8 Pointers
1st--WHITE'S CROSSBOW, 1681950, male, by Miller's Dialing In--Lester's Wild Sally. Danny J. White, owner and handler.
2d--MCREE'S TAKE IT EZ, 1672895, male, by King's Force--McRee's Scarlet. Patrick E. McPherson, owner and handler.
3d--MCREE'S HEY JOE, 1672894, male, by King's Force--McRee's Scarlet. Patrick E. McPherson, owner and handler.
AMATEUR SHOOTING DOG [One-Hour Heats] -- 7 Pointers
1st--ELECTRONIC WARFARE, 1673142, male, by Funseeker's Rebel Tex--Nacho Myakka Miley. William A. Goodwin, owner and handler.
2d--PAINT THE TOWN, 1672115, male, by Sugarknoll War Paint--Nehawka Amazin Sue. Lance Servais, owner and handler.
3d--WARRANT OFFICER, 1651714, male, by Cavalryman--Shadow's Southern Belle. William A. Goodwin, owner and handler.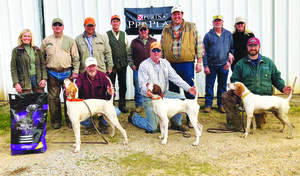 Amateur Shooting Dog Winners. From left: Ruthann Epp, Judge Brian Etheridge, Bill Goodwin with Electronic Warfare, Judge Bucky Street, Schley Rutherford, Bill Mason, Hunter McDuffie with Paint the Town, Lance Servais, Pat McPherson, Mary McPherson and Justin Howard with Warrant Officer.