Result: Hobart Ames Field Trial Club
Location: Grand Junction, Tennessee
Post Date: Feb 4, 2019
Submitted By: Jim Atchison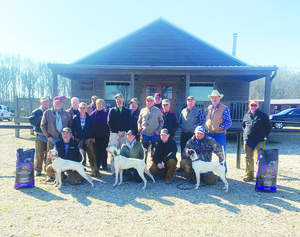 Open All-Age Winners. Front (l-r): Nick Thompson with Whippoorwill Justified, Tiffany Genre with Valiant, Dustin Kee and Korry Rinehart with Coldwater Thunder. Behind: Billy Blackwell, Larry Huffman, Dr. J. D. Huffman, Piper Huffman, Matt Cochran, Pat Bryan, Jay McKenzie, Charlie Frank Bryan, Randy Anderson, Otis Ozier, Judges Tom Milam and Ed Tillson; Steve Hurdle and Dr. Rick Carlisle.
GRAND JUNCTION, TENN. -- Fifty-Six contenders gathered at Ames Plantation for the 66th running of the Hobart Ames Memorial Classic which was contested over the National Championship courses January 14-18. The Open All-Age Classic drew 30 entries and the Open Derby Stake attracted 26.
Whippoorwill Justified, pointer male owned by Ronnie Spears of Jacksonville, Ark., and handled by Larry Huffman, won the All-Age Classic, followed by pointer male Valiant, second, and pointer female Coldwater Thunder, third. Valiant's owner, Jay McKenzie of Eureka, Kan., was in the saddle as Valiant, under the whistle of Randy Anderson, earned the placement. Doug Arthur of Eads, Tenn., and Rachel Blackwell of Olive Branch, Miss., the owners of Coldwater Thunder, were here to watch her work for Steve Hurdle.
Ike Todd handled the first and third place Derby winners which were Caladen's Yukon Cornelius, owned by Carl Owens, and Touch's Grey Street, owned by Keith Wright. Second was awarded to Ransom's Jack Flash, owned by Billy Blackwell and handled by Steve Hurdle. Blackwell rode to watch Flash and surely reminisced of the mountaintop experience he had on Ames Plantation 23 years ago when his own Warhoot Rogue won the National Championship.
Tom Milam of Ross, Tex., and Ed Tillson of Wichita Falls, Tex., judged both the All-Age and Derby competitions. Judge Milam was accompanied by his wife, Linda, and Judge Tillson was
accompanied by his wife, Jessica. Both judges, well known on the Brittany circuit, were outstanding, both as judges and as amiable company throughout the trials. Their services and their commitment to the sport of field trialing were appreciated.
Dr. Rick Carlisle, Chris Weatherly, Ryan Braddock, William Smith, and several others of the plantation staff worked many hours throughout the week to ensure that every detail of the running went smoothly and that guests on the plantation were comfortable and well cared for. From the time of the Saturday night drawing, which Dr. Carlisle conducted as secretary/treasurer of the Ames Amateur Field Trial Association, assisted by Kay Carlisle, and in the presence of the Association President Bobby McAlexander, Vice-President Charles Frank Bryan, and Director Chris Weatherly, those named above seldom slowed.
In addition to the activities of each day, the Carlisles, the Weatherlies, and the Smiths fed and entertained the judges, reporter, and their wives each night. The guests of Ames Plantation left at the end of the week with tremendous appreciation for the dedication and commitment of those who had been their hosts throughout the week.
On several occasions throughout the week, Dr. Carlisle voiced appreciation to the trustees of the Ames Foundation for permitting the plantation to host the running. The trustees include Mr. Oliver Spalding, Mr. Robert H. Frey, Ms. Augusta Haydock, and Ms. Dian Quinn. Ms. Quinn represents Bank of America, N.A. Dr. Carlisle also expressed appreciation to the judges and reporter, as well as Purina for their continuing generous sponsorship.
Ryan Braddock, Chris Weatherly, and William Smith were recognized as both marshals in the field and also as those who cared for the many horses used each day during the Classic.
Joe Thomson handled the dog wagon daily, and Aubrey Green headed the security efforts at each road crossing. Aubrey Green also handed out sausage and biscuits at the end of the first hour each morning. Those warm treats were provided by the First Baptist Church of Somerville, where Aubrey has been a member for over sixty years.
Warm lunches were served each day in the Rhea Building by Tom Stewart who owns the Southern Eatery in nearby Holly Springs, Miss.
The Wayne Tate Memorial Steak Dinner was hosted again by the Bank of Fayette County and Mrs. Pat McKnight. Dr. Carlisle recognized Mrs. Pat Bryan at the dinner and then introduced Mr. and Mrs. Rube Rhea, Jr. and Scott Rhea who were present representing the Bank. Mrs. McKnight was in Florida and unable to attend. Those sponsors received a much-deserved round of applause for continuing to host the annual event for the enjoyment of owners, handlers, club members, and invited guests.
Weather during the week was relatively nice. Compared to January weather conditions at this time in several recent years, the weather was actually outstanding. Morning temperatures were usually in the low- to mid-30s and warmed some during the day. There was one day of sunshine and one day of intermittent rain, the others being mostly cloudy, but not uncomfortable.

ALL-AGE WINNERS
Whippoorwill Justified won the All-Age Stake with a strong forward race in the seventh brace. He had finds at 32 on the east side of Turner Lake and again at 59 on the north bank of the lake on the Mary Scott Loop.
Callname Patch, the 2016 National Champion, showed great style both as he ran and stood on game. He demonstrated extraordinary self-control while standing on the edge of Mary Scott Lake. Canada geese were swimming on the lake so the first thought may have been Patch was pointing the geese. Then the winner's self-control was demonstrated as the geese flew from the water noisily honking. Huffman walked in front of Patch and immediately flushed a single, just as he had, without delay, flushed the covey pointed earlier in the brace.
Larry Huffman rode in front of the judges continuously throughout the hour while Patch, always to the front, ran the course edges well and dug into cover appropriately. Huffman's confidence in the dog and the performances of both man and dog demonstrated the rapport and talent that have made them a winning team many times during recent years.
Jay McKenzie arrived later than planned at Ames because of terrible weather in Kansas City following the Chiefs' 31-13 victory over the Indianapolis Colts. Yet he was in the saddle Wednesday morning to watch his Valiant, handled by Randy Anderson, win second place.
Both Valiant and his bracemate Coldwater Stoner failed to negotiate the turn to cross Buford Ellington Road in the first few minutes on the first morning hour morning course. However, Anderson found Valiant pointing far to the north and called point at 13. Valiant's style was excellent even after the long wait involved as a judge, reporter, and a small number of the gallery cantered to the find. When Anderson dismounted and walked in front of the dog, birds were flushed immediately. Valiant finished the hour responsively producing good forward moves and a nice finish.
Coldwater Thunder's owners, Doug Arthur and Rachel Blackwell, were nearby as she performed and earned her placement. Thunder had a nice find at 24 and looked good as Hurdle flushed birds at the bottom of the hill entering Turkey Bottom. She ran a nice ground race and finished the hour well to earn the judges' approval.
THE OTHER TWENTY-SEVEN
Hush Money, owned by Jay McKenzie and handled by Randy Anderson, and Game Bo, owned by Dr. Fred Corder and handled by Steve Hurdle, were paired in the first brace on Monday morning. Temperature was 34 and changed only a few degrees throughout the cloudy day. After crossing Ellington Road at 11, Game Bo continued west and was not seen again within the allotted 20 minutes so Hurdle got his retrieval unit. Hush Money had a find at 18 south of the Morgan field and almost due west of the field trial barns, then finished the hour but had no more birds.
Las Animas Fancy, owned by Dale Bush, pointed a large covey which Huffman easily flushed at 10 but was picked up before the end of the hour. Touch's Spaceman (Matt Griffith/Anderson) had an unproductive stand at 37; handler picked him up after his relocation effort was unsuccessful.
Ric Peterson owns both Touch's Blackout (Anderson) and Whippoorwill Mayhem (Huffman) that competed in brace No. 3. Anderson got his retrieval unit at 48. Mayhem finished the hour but found no birds.
Setters Shearjoy's Unforgiven (Betty Shearouse) and Stardust Chaz were loosed as brace No. 4 at 12:45 p. m. Chaz, owned by Bob and Sarina Craig, John Sayre, and Scott Kermicle, was handled by Steve Hurdle. Chaz had a lengthy absence before the end of the hour and Hurdle got his retrieval unit at 57. Unforgiven had a find at 19 on the loop that is negotiated before crossing Ames Road and ran a good forward race for the remainder of the hour.
Touch's Adams County (Ric Peterson/ Anderson) and Southern Cross Barandilla (Edwin Gott/Hurdle). Anderson got his retrieval unit at 18. Barandilla had an unproductive at 20 soon after making the 90 turn at the Dairy Unit. Hurdle picked up before the end of the hour.
Aberdeen's Paid in Full (Matt Griffith/Anderson) and Coldwater Odyssey (Debra and Andrew Agnew/Weldon Bennett). Bennett asked for his retrieval unit at 20; Anderson picked his dog up at the same time.
Tuesday started with clouds and the temperature at 37 . Sun appeared in the afternoon but the temperature changed very little.
Motor City Rock Star (Paul Tutro/ Hurdle) competed with the winner, Whippoorwill Justified. Hurdle picked Rock Star up at 22 when the pair crossed Turner Road.
Button Up (Julie Roach/Hurdle) and Lester's Jazz Man (Dan Henley/Anderson) were gone from the breakaway but reappeared at 19 in the Morgan field near Ellington Road. Jazz Man was pointing. Anderson flushed birds from a terrace. Afterward Jazz Man made some big casts but, in the end, both handlers got their retrieval device before the end of the hour.
Whippoorwill Forever Wild soon went left and was feared to be on Rube Scott Road so Matt Cochran got his retrieval unit and went in pursuit. S F Saltwater had no birds in the first 50 minutes and Larry Smith got his retrieval unit at that time near Ellington Road.
After lunch, Misty Morn Masked Man (Joey McAlexander) and Coldwater Spectre (Gary McKibben/Bennett) had what appeared to be a divided find at 23 but Bennett elected not to attempt to flush. McAlexander flushed a covey from dense cockleburs. Before the end of the hour McAlexander got his retrieval unit thinking that his dog had gone back into a bottom already traversed earlier in the hour. Spectre hunted throughout the hour but was not readily located at time. However, he was located and back to finish satisfactorily at about 1:09.
Game Sport (Earl Connolly) was braced with Coldwater Thunder which was covered earlier. Game Sport had no birds in the first 24 minutes and Connolly elected to pick up at that time.
Whippoorwill Wild Assault (Jim and Stephanie Bickers/Huffman) and Rebel Dreamer (David Williams). Dreamer became lost and Williams asked for his retrieval device at 20. Whippoorwill Wild Assault (Jim and Stephanie Bickers/Huffman) was picked up at the same time. The afternoon braces ended at 3:20 p. m., allowing some spare time before the Wayne Tate Memorial Steak Dinner at 5:00.
Wednesday morning was clear and cold, the temperature in the low 20s when Coldwater Stoner (Dr. Lee Butler/Weldon Bennett) and second place Valiant were loosed. As mentioned, both dogs failed to successfully turn in order to stay on course and cross Ellington Road. Valiant was found pointing but Bennett did not locate Stoner for sometime and they did not return to the front.
S F Stetson (Smith) had a find at 13 west of the Avent House. Whippoorwill Blue Blood (Keith Wright) was lost; Huffman got his retrieval unit at 17. Stetson finished the hour with an unproductive at 59 but had no more birds.
Rebel Maiden (Williams) found a huge covey of birds at 2, almost immediately after breaking away at Rube Scott Road. She ran a good race and was nice to watch for the remainder of the hour. Even so, Maiden and Blackhawk's Diana (Larry Esterline/Hurdle) finished the hour but no additional birds were found, thus ending the running just in time for lunch on Wednesday.
Grand Junction, Tenn., January 7
Judges: Tom Milam and Ed Tillson
HOBART AMES MEMORIAL OPEN ALL-AGE [One-Hour Heats] --
29 Pointers and 1 Setter

1st--WHIPPOORWILL JUSTIFIED, 1656011, pointer male, by Whippoorwill Wild Agin--Sparkles. Ronnie Spears, owner; Larry Huffman, handler.
2d--VALIANT, 1649524, pointer male, by Miller's Happy Jack--Tina's Tear Drop. Jay McKenzie, owner; Randy Anderson, handler.
3d--COLDWATER THUNDER, 1655558, pointer female, by Coldwater Warrior--Thunder Bess. Doug Arthur & Rachel Blackwell, owners; Steve Hurdle, handler.
OPEN DERBY WINNERS

The Derby proved to be excellent. In fact, in many instances the Derbies found more birds than the all-age dogs and the Derbies found birds that were not found by the older dogs.
Each of the three winners had two finds and the winner, plus most of the other Derby contenders, demonstrated they had excellent all-age potential.
The winner was Caladen's Yukon Cornelius, setter owned by Carl Owens of Awendaw, S. C., and handled by Ike Todd. Cornelius had two finds. His bracemate, owned by David Williams, backed the second find.
The young setter did everything right. He ran an excellent hour-long race and was so fast and light while running that he almost appeared to be floating. In addition, his style on birds was impressive. Cornelius' performance made the judges' decision easy.
Awarded second was Ransom's Jack Flash, owned by Billy and Rachel Blackwell of Olive Branch, Miss., and Doug Arthur of Eads, Tenn., and handled by Steve Hurdle. Jack required quite a bit of handling but ran a fast and big race with finds at 15 and 49 and his all-age potential showed.
Ike Todd also handled third place winner Touch's Grey Street, pointer male owned by Indianan Keith Wright. Grey Street had finds at 37 and 69. Nice style and intelligence were apparent throughout the performance in the first brace of the Derby competition. After time was called, Todd searched for his dog; found dug in and pointing. Only upon Todd's second pass of the place where the birds were then easily moved.
OPEN DERBY [One-Hour Heats] -- 24 Pointers and 2 Setters
1st--CALADEN'S YUKON CORNELIUS, 1673091, setter male, by Caladen's Davinci--A Tarheel Miss Bo. Carl Owens, owner; Ike Todd, handler.
2d--RANSOM'S JACK FLASH, 1676883, pointer male, by Ransom--Thunder Bess. Rachel & Billy Blackwell & Doug Arthur, owners; Steve Hurdle, handler.
3d--TOUCH'S GREY STREET, 1680120, pointer male, by Touch's Knight Rider--Touch's White Assault. Keith Wright, owner; Ike Todd, handler.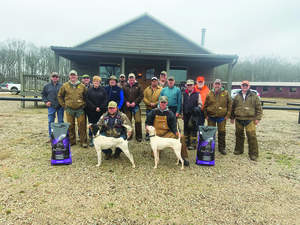 Open Derby Winners. Front (l-r): Korry Rinehart with Caladen's Yukon Cornelius and Ike Todd with Touch's Grey Street. Behind: Randy Anderson, Chris Weatherly, Raines Jordan, Pat Bryan, Charlie Frank Bryan, Matt Cochran, William Smith, Joe Thompson, Kerry Kimmery, Judges Ed Tillson and Tom Milam; Aubrey Green, Ryan Braddock and Dr. Rick Carlisle.
In Conclusion
Excellent dogs, knowledgeable judges, and favorable weather, together with the incomparable spirit, hospitality, and atmosphere extended by Ames Plantation made the 66th renewal of the Hobart Ames Memorial Classic.
Dr. Carlisle's remarks flowed easily in closing remarks as he acknowledged and thanked the trustees, judges, owners, handlers, sponsors, club members, workers, and all whose contributions had made the week a very good one.
On Thursday afternoon, January 17, during the Derby, Otis Ozier's horse fell rendering him unable to move after the fall. The Hardeman County Rescue Squad used ATVs to transport him at an awaiting ambulance which took him to the trauma unit of Regional One Health in Memphis, commonly called "The Med." Doctors there determined there were no broken vertebra but pressure on Otis' spinal cord should be relieved by surgery. Successful surgery was performed January 21.
Otis Ozier has enthusiastically field trialed for many years with a particular fondness and appreciation for Ames Plantation. No estimate of the time needed for recovery from the accident can be made. However, all signs are positive and recovery is anticipated.
Otis and his family appreciate the efforts of Ames personnel, friends, the rescue squad, and all involved with his care. Please remember Otis Ozier and his family in your thoughts and prayers.
J. A.