Result: Ames Amateur Field Trial Club
Location: Grand Junction, Tennessee
Post Date: Feb 4, 2019
Submitted By: Kent Walker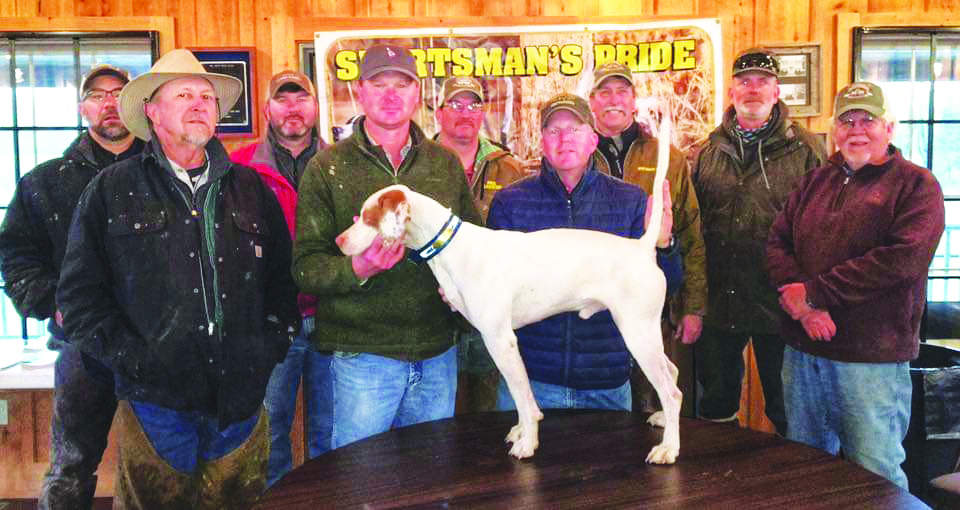 Amateur All-Age Winner Misty Morn Masked Man with Joey McAlexander and Elton Bray. Behind: Quintin Wiseman, Burl Hicks, Jonathan Burch, Chris Weatherly and Kent Walker; the judges, Bubba Spencer and Ken Blackman.
GRAND JUNCTION, TENN. -- In talking with Joe Walker, one of the original members of the Ames Amateur Field Trial Club that began some forty or more years ago, we reflected on the extreme weather conditions this trial has endured over the years.
Well, this year was no different. Torrential rains and thunderstorms on Monday delayed the New Year's Eve start to January 1, 2019. Last year it was extreme cold; and in years past, snow. One thing for certain, the weather during Ames can be a challenge for man and beast. Temperatures throughout the trial remained in the mid-40s as overnight rains continued adding standing water to the already saturated fields. To say the least it was a muddy track!
For many years this trial has drawn several of the top all-age dogs in the country. Run here by their amateur owners, many of these dogs also compete on the open circuit under the whistle of the pros.
The opportunity to run on the Ames Plantation and the large entry number is a drawing card for many. A win here is an almost certain points qualifier for the prestigious National Amateur Invitational held here in December.
Judging this year's All-Age Stake were club director Chris Weatherly of the Ames Plantation and your scribe. Chris and I took on the dual role of marshal and judge this year and all worked out well. My thanks to Chris for his commitment in riding under some adverse conditions to watch a good entry of bird dogs.
Chris Sellers of Selmer, Tenn., graciously stepped in on short notice to assist in judging the Derby.
William Smith, longtime club member, was also on hand to assist with marshalling duties and scouting. Ken Blackman was invaluable in shouldering the dog wagon responsibilities and entry fee collections. Ryan Braddock of the Ames Plantation joined us on Friday to orchestrate the Derby courses.
The Winners
Topping a field of 36 contenders was Misty Morn Masked Man, three-year-old pointer owned by Joey McAlexander of Holly Springs, Miss. "Tonto" was credited with four well-spaced finds with one divided during his hour. His ground race was strong and forward and his manners on game commendable under tough conditions. Pushing the winner and taking second was Rebel Dreamer for David Williams. Dreamer was shown on game three times during her hour and also had a back of her bracemate. Her finds were well to the front and on each occasion a good ride ensued to find her pointed high and tight with quail located right where they were supposed to be. Garnering third was Nosam's Full Ride, owned and handled by Mason Ashburn of Trenton, Tenn. Ride had two good covey finds to go with a forward searching ground race in his hour. Each of the winners was shown on a different course.
In the Derby, Quintin Wiseman took first and third place with littermates Bad Prairie's Valley Girl and Bad Prairie's Storm Force. Cocklebur King Tut, owned by Bubba, Amy and Colt Spencer and handled by Bubba, took second. The Derby winners were shown on birds.
Throughout the week under muddy, flooded field conditions a respectable number of quail were pointed and seen. On Tuesday a total of twelve coveys were moved, ten by the dogs and two others seen. On Wednesday only three coveys were pointed as conditions worsened with approaching rain.
Thursday produced ten covey finds, all by the dogs. During the half day Derby on Friday following overnight rain, a total of eleven coveys were moved on the morning Derby courses. Coveys seen all week were in good number and flew well.
Daily lunches were provided by Cindy Sellers of Selmer, Tenn. The hot meals were delicious and a welcome sight to break the day. Sportsman's Pride Dog Food Company was once again our proud sponsor providing dog feed to all the winners. My thanks to Brad Kennedy for his personal commitment to the Ames Amateur and Sportsman's Pride's sponsorship of the trial and other Mid-South Association trials throughout the year. Lastly, my thanks to Dr. Rick Carlisle and the Ames Plantation for the use of the grounds and facilities throughout the years. The accommodations couldn't be any better!
Grand Junction, Tenn., January 1
Judges: Kent Walker and Chris Weatherly
AMATEUR ALL-AGE [One-Hour Heats] -- 31 Pointers and 5 Setters
1st--MISTY MORN MASKED MAN, 1667341, pointer male, by Miller's Dialing In--Mac's Inspiration. Joey McAlexander, owner and handler.
2d--REBEL DREAMER, 1654819, pointer female, by Rebel Pride--Dakota Mystery. David Williams, owner and handler.
3d--NOSAM'S FULL RIDE, 1676194, pointer male, by Whippoorwill Mayhem--House's Snow White. T. Mason Ashburn, owner and handler.
Judges: Chris Sellers and Chris Weatherly
AMATEUR DERBY -- 13 Pointers
1st--BAD PRAIRIE'S VALLEY GIRL, 1679525, female, by Bad Prairie Storm Valley--Bad Prairie's Emma Sue. Quintin & Tasha Wiseman, owners; Quintin Wiseman, handler.
2d--COCKLEBUR KING TUT, 1678129, male, by Touch's Smooth Rider--Cocklebur Stripper Candie. Bubba, Amy & Colt Spencer, owners; Bubba Spencer, handler.
3d--BAD PRAIRIE'S STORM FORCE, 1682217, male, by Bad Prairie Storm Valley--Bad Prairie's Emma Sue. Quintin & Tasha Wiseman, owners; Quintin Wiseman, handler.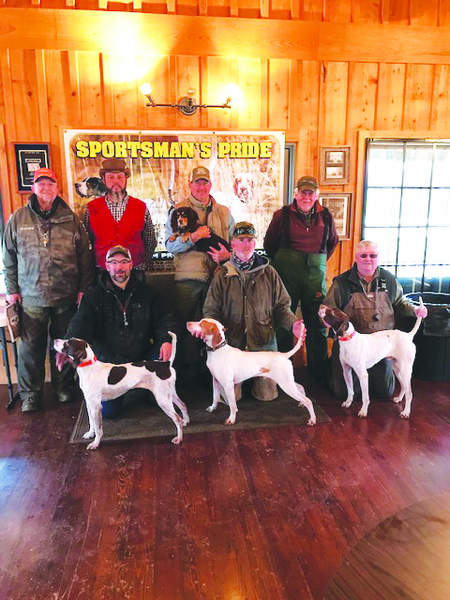 Amateur Derby Winners. Front (l-r): Quintin Wiseman with Bad Prairie's Valley Girl, Bubba Spencer with Cocklebur King Tut and David Williams with Bad Prairie's Storm Force. Behind: Burl Hicks, Chris Sellers and Chris Weatherly, the judges, and Ken Blackman.