Result: West Tennessee Open Trials
Location: Dancyville, Tennessee
Post Date: Mar 1, 2019
Submitted By: Jim Atchison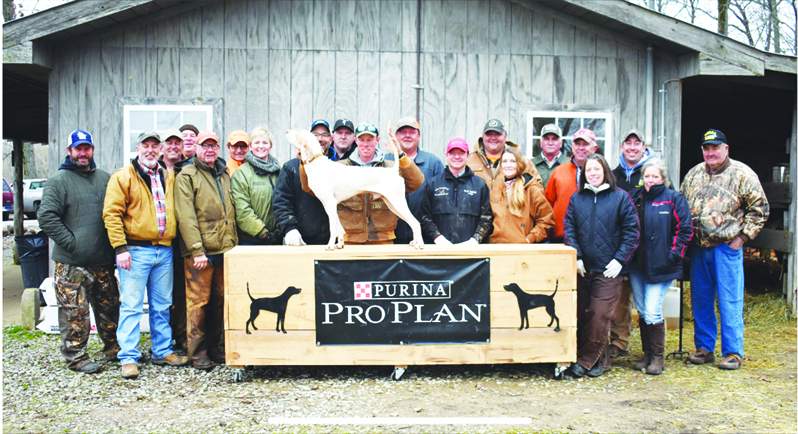 Open All-Age Winner Lester's Private Charter is posed by Ike Todd. Back (left to right): Gene Spiotta III, Bill Currie, Allen Currie, John Sharp, Reporter Jim Atchison, Dr. Eugene Spiotta, Jr., Tasha Wiseman, Judge Quintin Wiseman, Keith Wright, Jason Lawson, Judge Todd Babbel, Trish Babbel, Brad Bishop, Gary Brown, Marty Todd, Crutcher Stoots, Julie Currie and Elmer Kohl.
DANCYVILLE, TENN. -- Twenty-nine all-age contenders and 19 Derbies gathered at the West Tennessee clubhouse near Dancyville, Tenn., February 14-17 to vie for placement as the West Tennessee Field Trial Club hosted their 2019 renewal of the stakes that have been run from the historic clubhouse located on the Currie Farm for more than 60 years. Southern hospitality, good food, and amazing camaraderie prevailed throughout the four days of excellent field trialing.
Lester's Private Charter, owned by Dr. Reuben Richardson and Bruce and Karen Norton, won the Open stake while Worsham's Super Sport, owned by Joe Worsham, won the Derby Stake. Ike Todd handled three of the six winners. They were Lester's Private Charter, first in the All-Age, and Worsham's Super Sport and Touch's Grey Street, that placed first and third, respectively, in the Derby. Lester's Pete Rose, owned and handled by Gary Lester, placed second in the All-Age. Coldwater Spectre, owned and scouted by Gary McKibben while handled by Weldon Bennett, placed third. Whippoorwill Ripcord won second in the Derby and was handled by Larry Huffman for owners Dr. Terry Terlep, Dan McDonald, Terrell Palmer and Kyle Krause. Keith Wright, the owner of Touch's Grey Street, scouted while his dog earned the third place Derby win.
Quintin Wiseman of Hogansville, Ga., and Todd Babbel of Dunbar, Neb., judged both the All-Age and Derby. Wiseman is a professional farrier who frequently puts information about extraordinary shoeing techniques on Facebook and is also an avid outdoorsman and hunter of big game in the West and Northwest. Babbel is a professional arborist and was extremely interesting to talk with about his profession. Tasha Wiseman and Trish Babbel accompanied their husbands and rode many of the braces throughout the stakes. Perhaps, most importantly, both judges are outstanding and longtime amateur field trialers who knew what they were looking for as they fulfilled their judicial responsibilities.
Purina was again the primary and generous sponsor of the West Tennessee Open Trials. The great company has been the primary sponsor for many years and their support; appreciation was expressed by the leadership of the club.
Dr. and Mrs. Eugene Spiotta, Jr. again sponsored a Friday night fish fry for club members, owners, handlers, guests. The gathering was huge; all of the food was prepared by their son, Gene Spiotta III. Mrs. Spiotta (Gail) said her husband had dreamed of owning a farm and they love spending as much time as they can at Dancyville. They have two homes and an apartment which they generously permit to be used for housing judges and guests during the trial and also own an important part of the acreage used for the second and third courses as their land extends from Blalock Road almost to Fayette Corners Road.
In addition to their material contributions, the warm and gracious personalities and presence of the Spiotta family contribute significantly to the amazing atmosphere that has long prevailed around the ancient clubhouse located under huge oak trees on the Currie Farm.
In addition to the Spiottas, five other tracts of land were used to make up the three one-hour courses used by the West Tennessee Club. Those other tracts belong to Mrs. Jan McCloud and Skip Taylor, Ross Callaway, Larry Umber, Blake Kukar, and of course, the Currie brothers, Allen and Bill. Appreciation was expressed and landowners applauded at the Saturday night barbeque.
Weather and mud continue to be huge factors affecting field trials throughout the mid-south this winter. The four days went as follows: raging wind on Thursday, rain on Friday, sunshine and mild temperatures on Saturday, and rain again on Sunday. Yet, the only weather-related delay was because of fog on Sunday morning that caused the morning break away to be delayed from 8:00 a. m. until 9:00. Certainly, there were some muddy areas on the courses, but generally the courses were in excellent condition. Typically, one would ride through some mud but then be back on solid ground the great majority of the time. Good planning of the courses and no-till farming have really improved the conditions of the grounds that the West Tennessee Club is very fortunate to have access to.
Numerous people worked long hours before, during, and after the four-day gathering to host dinners every evening and to carry out all the duties associated with putting on a successful field trial. Those activities and those who made them possible will be covered in "Keeping the Fires Burning" at the conclusion of this report.
OPEN ALL-AGE WINNERS
Lester's Private Charter won first place with one find and an outstanding hour wherein he demonstrated power, smoothness, and intelligence that the judges appreciated. Ike Todd stepped in to handle this winner, while Mark McLean scouted. The pointer male, whelped in 2015, produced a very strong forward race wherein his power and intelligence were unquestionable.
His crowning moment came at 47 when he threw up his head and using the wind started up a hill where other dogs had not gone and literally dug up a nice covey of birds. As the hour was ending, Private Charter took great advantage to impress the judges with a strong finish around the edges of large green wheat fields in rolling land just a short distance south and west of the clubhouse.
Lester's Pete Rose was braced with the winner as the pair produced their wins in the 12th brace. Pete had a find at 3 immediately after breaking away from the north end of Coffee Gap Road. His appearance and race were great and very comparable to that of the winner. Interestingly, both dogs were pointed at the same time, perhaps 300 yards apart at 47, when Pete had his second find. He went on to produce a great finish and earn his well-deserved placement.
Coldwater Spectre won third place with a strong and forward ninth brace bid. He had a find a 3, followed by a second find at 43 on the same birds pointed by Pete Rose at 47 in his brace. The location was overgrown and a tough place to flush along the edge of a huge ditch in the Currie bottom. Spectre's style was beautiful as he stood statuesquely during the difficult flush. When he finished in the large fields south and west of the clubhouse, his location was not immediately known. However, within a few minutes Bennett had him back to show the judges and the judges had a dog with which they were impressed.

OTHER ALL-AGE ENTRIES
Miller's Justified (Gary Lester) and Touch's White Knight (Mark McLean) were loosed in the first brace at 8:00 a. m. on Thursday morning. The day was mild but the wind was savage most of the day. Birds were found early, at 4, as the pair had a divided find near the intersection of Blalock and Tripp roads. Both stopped again at 11 as Knight had birds, with Justified backing. These birds were found before reaching the well. Both dogs ran well and searched until finding birds again at 50, soon after crossing Blalock Road and heading south in the rolling green fields west of the clubhouse and ending the hour.
Cole Train (Randy Downs) and Coldwater Odyssey (Weldon Bennett) were on the second hour courses. Both dogs stopped at 32 soon after crossing Fayette Corners Road near Ross Callaway's kennels. Odyssey held the superior position, with Cole Train backing. Odyssey errored and was picked up. Cole Train continued but had unproductives at 39 and 46 and was picked up.
Button Up (Steve Hurdle) and Beeler's Quick Step (Scott Beeler). Breaking away from the north end of Coffee Gap Road, the pair had a divided find at 12. Button Up did not finish the hour. Quick Step did and achieved two more finds, which came at 44 and 52.
Touch's J Class (Sheldon Twer) and Blackhawk's Diana (Hurdle) broke away from the clubhouse after lunch. The dogs had birds at 4 with J Class in the superior position and Diana backing. The pair shared a divided find at 11. Both coveys had been moved in the first brace that morning. Diana knocked birds at 35 and was picked up. J Class had birds again at 57 in dense cover but Twer's determination and multiple relocations produced birds from dense honeysuckle and the hour was done.
Rikki's Rock'N Rav (Twer) ran alone. Some element of nature which was totally beyond her handler's control caused Rav to become spooked near Dr. Spiotta's kennels and she was picked up at 20.
Coldwater Stoner (Bennett) and Touch's Malcolm Story (Mark McLean). The latter's owner Alex Rickert attended the early part of the trial before flying back to Bozeman. Stoner had an error at 12 and was picked up. Story had birds at 27 in the valley behind Callaway's kennels and again at 51 near the clubhouse. He finished the hour well in the rolling green fields behind the clubhouse.
Rain gear was the appropriate attire for Friday and the temperature was dropping noticeably before the end of the day. Bonneville Bullet (Twer) and Ransom's Jack Flash (Hurdle) were the first pair of the day. Jack was lost early and Hurdle got his retrieval unit. Bullet was picked up at the half.
Pennie's Shadow (Blake Kukar) had a lengthy absence and was reported to have had late breakfast or early lunch at Ross Callaway's chicken yard but returned to the front at 38 and finished the hour without game. Lester's Shockwave (Lester) found birds at 47 along the north edge of the large bottom which is near the end of the second hour course. He finished the hour well for his Kentucky owner.
Coldwater Spectre's effort was detailed earlier. Lester's Storm Surge had birds at 3 for Lester but moved no other game during his bid.
Riders were still in rain gear as Las Animas Fancy (Larry Huffman) and Rebel Maiden (David Williams) created 10th brace excitement with powerful forward races. Fancy had no birds but ran a strong and intelligent race while owner Dale Bush and Dr. Jack Huffman drove in the road gallery. Rebel Maiden and David Williams were in sync as she produced birds at 50 which sent the owner diligently digging into dense cover for the flush. Both dogs were a credit to their breeding and training and examples of great rapport between dog and handler.
Touch's Gallatin Fire (McLean) and Stash the Cash (Lester). Lester flushed birds at 3 in front of his dog while McLean stood with his dog backing. At 20 McLean asked his scout, Ike Todd, to switch positions with him so McLean then scouted for Todd the remainder of the hour. Fire produced birds for Todd to flush at 34 and again at 47. Cash backed at 47 and both dogs finished this 11th brace well. Therefore, the enjoyment of braces No. 10, No. 11 and No. 12 made the damp afternoon worthwhile as the first and second place winners were braced together in No. 12. They were three nice braces.
Saturday morning was frosty but sunglasses were appropriate eye wear for the day. Erin's Black List (Hurdle) and Whippoorwill Mayhem (Huffman) started at 9:00 a. m. and on the second hour course. Both dogs finished the hour but Black List had no birds. Mayhem had birds at 46 in the bottom before approaching Coffee Gap Road. He had a great second half in the large bottoms which produced an excellent opportunity to show himself and also had a strong finish which was nice to watch.
Sleepless in Sacramento went next in brace No. 14 which was run on the third hour course. Twer flushed birds over his dog at 15 but she was picked up at 49 near the double bridges on Blalock Road.
Coldwater Thunder (Billy Blackwell) had owners Doug and Phyllis Arthur in the road gallery and Rachel Blackwell was in the gallery on horseback. Before the half Blackwell picked up Thunder, realizing she had not fully recovered from her strong three-hour performance at the National Championship where she had run under the whistle of Steve Hurdle the afternoon before.
Dancyville, Tenn., February 14
Judges: Todd Babbel and Quintin Wiseman
OPEN ALL-AGE [One-Hour Heats] -- 29 Pointers
1st--LESTER'S PRIVATE CHARTER, 1668186, male, by Ransom--Nilo Discovery. Dr. Reuben Richardson & Bruce & Karen Norton, owners; Ike Todd, handler.
2d--LESTER'S PETE ROSE, 1668185, male, by Miller's Dialing In--Grace's Sunshine. Gary Lester, owner and handler.
3d--COLDWATER SPECTRE, 1671179, male, by Ransom--Coldwater Snow. Gary McKibben, owner; Weldon Bennett, handler.
OPEN DERBY WINNERS
Worsham's Super Sport won first in the Open Derby competition. He is owned by Joe Worsham of Easton, Mo., and was handled by Ike Todd. Whippoorwill Ripcord won second under the command of Larry Huffman and is owned by Dr. Terry Terlep, Dan McDonald, Terrell Palmer and Kyle Krause. These first and second place winners ran in brace No. 9, the last brace of the 19-entry competition. While neither dog produced any birds, both earned the admiration of the judges and all who watched them with their strong and intelligent 30-minute performances. After watching their performances, there were no surprises when the winners were announced.
Third place was earned by Touch's Grey Street, handled by Ike Todd with his owner, Keith Wright, scouting. Grey Street proved his all-age potential with a strong race and by backing his bracemate when that dog found birds at 10 in the area west of Coffee Gap Road.
The three winners and many, in fact most, of the 19 competing dogs definitely showed all-age potential and will be nice dogs to watch in future years.
OPEN DERBY -- 18 Pointers and 1 Setter
1st-WORSHAM'S SUPER SPORT, 1680553, pointer male, by Touch's Knight Rider--Touch's Maswood Anne. Joe Worsham, owner; Ike Todd, handler.
2d--WHIPPOORWILL RIPCORD, 1679333, pointer male, by Wiggins River Wild--Whippoorwill Gold. Terry Terlep, Dan McDonald, Terrell Palmer & Kyle Krause, owners; Larry Huffman, handler.
3d--TOUCH'S GREY STREET, 1680120, pointer male, by Touch's Knight Rider--Touch's White Assault. Keith Wright, owner; Ike Todd, handler.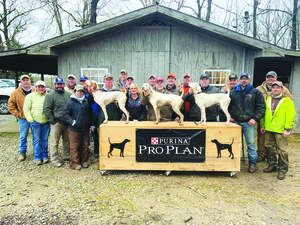 Open Derby Winners. Front (left to right): Ike Todd with Worsham's Super Sport, Larry Huffman with Whippoorwill Ripcord and Keith Wright with Touch's Grey Street. Back: Allen Currie, Ann Forrester, Gene Spiotta III, Ian MacTavish, Marty Todd, Lorrie Beaulieu, Shannon St. John, Bill Currie, Piper Huffman, Crutcher Stoots, Blake Kukar, Gary Brown, Elmer Kohl, Judge Quintin Wiseman, J. P. Hathcock and Judge Todd Babbel.
KEEPING THE FIRES BURNING
A unique element of every gathering of the West Tennessee Field Trial Club is a fire pit located on the west end of the clubhouse never goes out during the field trials. Men, women, boys and girls, and numerous small children are constantly gathered around the pit where conversations, laughter, and the telling of tall tales never ends. By the way, Mark McLean's bobcat story was the best of 2019.
But also unique to the West Tennessee Club is a second fire, this one metaphoric, in the hearts of the bunch of mostly young men and women, the majority of whom do not field trial, but do all the work and so masterfully manage every trial on those grounds.
So how young are they? While some have college-age children, many have much younger families. A couple of examples are that Bill Currie went to the high school on Friday morning to watch his daughter, Campbell, inducted into the Beta Club, and J. P. Hathcock was taking baby seats from the back seat of his truck so he could pull the trailer and shuttle horses and riders between braces.
Haynes Stoots celebrated his sixth birthday during lunch Sunday with a table full of kids his age watching him blow out the candles on his New England Patriots cake. The trials here are definitely family friendly.
Those leaders and workers include Bill Currie who does everything; Allen Currie marshalled every brace; J. P. Hathcock is secretary and an excellent cook; Crutcher Stoots is treasurer; Gary Brown, Josh Poole, Curt Waddell, Carl Thornton, Ike Todd, and Marty Stoots Todd. Most of them perform numerous functions every day and rarely slow down as they see what needs to be done and get it done.
The four days included extraordinarily great food. In addition to the Spiottas' Friday night fish fry, J. P. Hathcock headed up the lunch crew each day and also prepared a great Thursday night dinner of grilled boneless skinless chicken wrapped in bacon and accompanied by twice baked potatoes, grilled asparagus, and other sides.
On Saturday night the club hosted their annual barbeque which was prepared by Connie and Fernon Ferge. Fernon, who logs with mules, brought wonderful pulled pork, delicious grilled chicken, and his famous barbeque sauce. Miss Connie prepared about half a dozen sides and almost as many desserts. Her coconut cake, chocolate cake, cherry pound cake, and cherry pie were unforgettably good and so appreciated by everyone in the packed clubhouse. On Sunday morning, between the first and second braces, a friend of Gene Spiotta III showed up from Mississippi and had a duck club type breakfast spread for all to quickly enjoy.
With the fires steadily burning and the family friendly atmosphere resembling a great reunion of people who love field trials, two excellent judges evaluated 47 well trained and skilled dogs that were watched by appreciative galleries for four days. The 2019 West Tennessee Open All-Age and Derby were declared successful and all departed with anticipation of returning in 2020.
J. A.