Result: Tennessee Open Shooting Dog Championship
Location: Dancyville, Tennessee
Post Date: Mar 14, 2019
Submitted By: Ken Blackman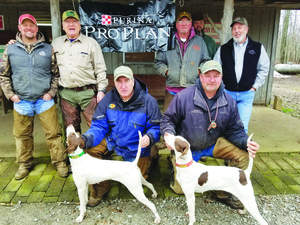 Tennessee Championship Winners. Front (l-r): Eddy Taylor with Tangled Sheets and Shawn Kinkelaar with Upfront's Southern Star. Behind: Zach Parsons, judge; Ed Apple, Dale Poole, judge, and Bill Currie.
DANCYVILLE, TENN. -- It's only about 70 miles from the rolling hills of the Hendrix Farm near Laws Hill, Miss., to wide open farmlands just east of Dancyville, Tenn., in northern Fayette County. Planned in order to limit the down time for the handlers and owners, we've been fortunate to work with the landowners and club officials of both clubs to run championship shooting dog trials on successive weeks in January.
Fresh off an extremely competitive event in Mississippi, we moved to the grounds generously provided by owners Blake Kukar, Larry Umber, (Fayette County mayor) Skip Taylor, Dr. Gene Spiotta and the Currie Brothers -- Bill and Allen. Being in the Currie Family for nearly 100 years, the headquarters building was a converted hog barn. A slab was poured in 1970 and it's been a focal point and welcoming shelter for hundreds of bird dog and coon hound trials. It's a mind-bending effort to try to figure out how many fires have been lit in the ring each night of a trial. A quick glance around the inside walls gives you a wonderful history of thousands of dogs run there and some of the best known "characters" who owned and ran them.
The West Tennessee Open All-Age has been a fixture on the weekend between weeks of running the National Championship at Ames. It might well be the first trial that will qualify a dog for the following year's National Championship at Ames. The faces of people with the last name of Gates, Rayl, Hunt, Lunsford, Huffman, Williams, Eaton, Throneberry, Gardner and Davis and scores more can be seen in the weathered, framed pictures hanging on the walls.
But possibly the most famous is that of Miller's Silver Ending and his trainer-handler David Grubb. He went from a win at the West Tennessee Open to the grounds of Ames Plantation several days later to win the National Championship. The story is as unusual as any writer could conjure up. After David Grubb won at Dancyville, he was rushed to Memphis to undergo emergency surgery. Silver Ending's owner Ray Grace enlisted John Rex Gates and Roy Pelton to team up to, ultimately, win the 1997 National Championship. It's well chronicled in the official record of The American Field, but to get the true picture of the emotional twists and turns of the historical event, I suggest you get a copy of Brad Harter's video and view the entire story.
But enough of the history of Dancyville. The West Tennessee grounds have undergone many alterations in the near century old history of bird dog field trials. Today, the combined efforts of Blake Kukar, Ross Callaway, Dr. Spiotta, his son Gene, Ike Todd, the Curries and several others have ensured we'll have these grounds to run on for many years to come.
An aggressive plan to improve habitat utilizing buffers, native grass plantings, rotational burning, strip disking, varmint control and an early release program of bobwhite quail make impressive results obvious. Also, contributing to the quality of the grounds and birds, Ross Callaway must be credited with his work year-round, especially on the Coffee Gap section of the West Tennessee grounds. With several trials run on these grounds each year, from owners who offer the use of their grounds to trainers who work dogs, coveys are found regularly and throughout the season. With the addition of the NBHA National Open Championship, the West Tennessee grounds have become a "must" stop on the calendar.
Several years ago, the West Tennessee Field Trial Club, in cooperation with the Clarksville Pointer and Setter Club, agreed to host the Tennessee Open Shooting Dog Championship. With an uncertain schedule of activities at the Ft. Campbell Military Reservation, the Clarksville Club felt it was in the best interest of the sport to ensure this major Shooting Dog Championship would continue on grounds that had and will host a quality and challenging event. Thanks to Lisa Little and the Curries who collaborated with the American Field to make it happen.
We welcomed a strong entry of seven setters and 41 pointers. Most of the handlers who competed in the Mississippi Open Shooting Dog Championship a week earlier came to Dancyville. We were joined by Tim Hammons who had judged and competed the previous weekend in the West Tennessee Amateur trial. Tim's stylish red setter female was a welcome sight on the ground. The professional contingent of Joel Norman, Shawn Kinkelaar, Doug Ray, Eddy Taylor and Virgil Moore were joined by amateurs Scott Little and John Burrow to contest for the Championship.
Last year, unfortunately, we had a spate of bad weather. Due to an ice storm which hit us the day before the running, we were forced to cancel the trial. Mother Nature is just one thing we can neither predict nor fight. The 2019 renewal meant we needed to secure a judging panel who knew the area, have run on the grounds and brought horses that are used to the conditions that we have here in the Mid-South. Dale Poole of Atoka, Tenn., and Zach Parsons from nearby Somerville, Tenn., fit the bill. Dale is a retired teamster who has a long history with all-age Brittanys and recently began competing with his own pointers. Zach, along with his wife Jessica, owns and operate Parsons Walking Horse Stables. He's judged several amateur trials in the area and is a stalwart at Ames Plantation in the Mounted Security Patrol. He's also earned a reputation as a trusted scout for several pros in the Mid-South area.
As you would expect, you get accomplished pros and local amateurs who bring dogs to a championship event, and we saw some worthy performances. The judges made mention of eight entries that had championship worthy runs. Miller Unfinished Business (Norman), Mobile Strike (Ray), Southbound Mad Max (Ray), Nyquist (Ray), L F Silver Belle (Ray), C S Pressure Test (Ray) were called out by the judges with nice ground work. But like every trial, two stood out among the 48 that combined the ground game with first class bird work that carried through from early in the trial to the last brace.
Tangled Sheets, six-year-old white and liver pointer female owned by Rita and Johnny Taylor of Greenbrier, Ark., broke to the front in the first brace and turned in an outstanding and nearly perfect hour. Guided by her handler Eddy Taylor and scouted by Virgil Moore, she stuck to the edges of the harvested bean fields. And in the heavy brush of the Taylor Farm, she dug in to show the judges she could cover ground and find game. She had three classy finds and one unproductive, but the judges noted as the hour progressed she got stronger and bolder seeking game. She finished by crossing Blaylock Drive onto the Currie Farm stretching out along the edges of the cut cotton fields.
Competing in the second brace was the runner-up, Upfront's Southern Star, deftly handled by Shawn Kinkelaar. This coming four-year-old white and liver ticked daughter of Bob Walthall and Thorpe McKenzie's Ransom, and owned by Lance Schulz of Bismarck, N. D., struck to the front at the onset of the brace and had, what the judges noted, ". . . the biggest race of the stake." Her head high and tight stature on her two finds impressed.
Just like any successful sporting event, it takes a team effort to ensure we can repeat. Of special note, I'd like to thank Allen and Bill Currie who made sure everything was done, from getting the grounds in shape, making sure the clubhouse was ready and especially marshalling for us. Dr. Gene and his son Gene are special people. Gene Jr. cooked a great meal on Wednesday evening for the gang and all the neighbors who allow us to run on their farms. The Spiottas also hosted the judges and the use of their kennels and stables helped get things organized each day. Ike Todd is a special member of the club. He also did some marshalling but helping me out of the mud was way out of the call of duty. Ross Callaway is an unsung member of the club. He was there every day helping at the road crossing and getting the gallery organized in the Coffee Gap area. And last but not least Purina, and Greg Blair in particular, are a great friend. He knows what it takes to run a trial and he has been our standard-bearer to ensure a trial is successful. Purina's continuing sponsorship of championship sporting dog events nationwide is essential to our viability.
Dancyville, Tenn., January 14
Judges: Zach Parsons and Dale Poole
TENNESSEE OPEN SHOOTING DOG CHAMPIONSHIP [One-Hour Heats] -- 41 Pointers and 7 Setters
Winner--TANGLED SHEETS, 1650848, pointer female, by Miller's Happy Jack--Tina's Tear Drop. Johnny & Rita Ornsby, owners; Eddy Taylor, handler.
Runner-Up--UPFRONT'S SOUTHERN STAR, 1662579, pointer female, by Ransom--Double Wild. Lance Schulz, owner; Shawn Kinkelaar, handler.