Result: Carroll County (Tenn.) Open Trials
Location: Huntingdon, Tennessee
Post Date: Mar 15, 2019
Submitted By: Jim Atchison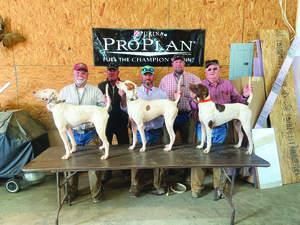 Open All-Age Winners. From left: Larry Huffman with Whippoorwill Justified, Judge Mark Haynes, Jamie Daniels with Miller's Blindsider, Judge Scott Little and David Williams with Rebel Pirate.
HUNTINGDON, TENN. -- Torrential rain caused a gentle creek to rage and fields lying on the first hour course to become navigable by boat, thus the beginning of the 2019
renewal of the Carroll County Open stakes was delayed for two days. Three beautiful days followed the delay, and with some course modification, 20 all-age dogs and 25 Derbies challenged one another over the Carroll County terrain February 25-27 in near ideal conditions.
The Open All-Age is called the Lynn Taylor Memorial Open All-Age in memory of an individual who worked diligently with other members of the Carroll County Club during the reorganizational years when the club and its trials were no longer run in the Milan Arsenal and were moved to the present location.
Whippoorwill Justified, the 2016 National Champion and 2018 winner of this Carroll County Open All-Age, was again the 2019 winner. This outstanding six-year-old is owned by Ronnie Spears of Jacksonville, Ark., and handled by Larry Huffman.
Awarded second was Miller's Blindsider, owned by Nick Berrong of Maryville, Tenn., and handled by Jamie Daniels. Berrong was in the saddle throughout most of the trial.
Rebel Pirate, representing the home team, won third. Pirate's owner-handler David Williams of nearby Beech Bluff heads the Carroll County Club and owns most of the land over which the courses lie.
The Open Derby winners were: first, Lester's Shockwave, owner-handler Gary Lester; second, Las Animas Hombre, owned by Dale Bush and handled by Larry Huffman; third, Touch's Folsom Blues, owned by Eddie and Carole Sholar and Bruce and Karen Norton and handled by Ike Todd. The 25 competing Derbies included several of the most outstanding Derbies in the nation, which heightened the interest in the stake.
Judges for both the All-Age and Derby Stakes were Mark Haynes of Brownsville, Tenn., and Scott Little of Woodlawn, Tenn., in Montgomery County near the Fort Campbell Military installation. Both judges held excellent credentials for serving as judges. Haynes is well known as an outstanding scout and has owned dogs and participated in field trials for many years. Little actively handles amateur dogs owned by himself and wife Lisa. The couple also provide much of the leadership and organization of the Fort Campbell Club.
As mentioned earlier, the running started two days late followed by three almost perfect days, which were much appreciated. The temperatures on each of the three days ranged from low to mid 30s each morning, with frost on two mornings, and reached into the 50s on Monday and Tuesday afternoon and even higher on Wednesday. Ball Creek ditch was probably ten feet higher than normal and was not crossed on the first two days and Duck Bottom, which is part of the first hour course, was not used at all during the running. David Williams' advance planning and abundance of land had an excellent alternative with mowing, feed plots, and everything needed to easily re-route the first hour course. Seeing his development on a part of the property seldom seen fit perfectly as part of the first hour course.
Purina was again the sponsor of the Carroll County Club's 2019 renewal. The generous company provided financial assistance to the club and bags of dog food for the winners in each of the stakes. Appreciation for Purina's support was expressed by several officers of the club.
Many people, Carroll countians and otherwise, worked before, during, and after the three days of the trials to make everything come together so well. Their contributions will be acknowledged in "Highlights" at the end of this report.
OPEN ALL-AGE WINNERS
Whippoorwill Justified won first with a performance that might be classified as near perfect, down in the ninth brace. He ran to the front and dug deeply into the cover throughout the hour. His one find came at 45 in dense bicolor on the third hour course. His style and intensity were superior. The beautiful white and liver pointer male ended the hour with an outstanding finish after returning to the Smith Farm and crossing to the east side of Smyrna Road. His performance obviously impressed the judges and was appreciated by the gallery.
Miller's Blindsider was awarded second place. His owner Nick Berrong was in the gallery. He ran a great race and achieved a beautiful find in the eighth brace which put him on the second hour course. That course crosses Smyrna Road at about 30 and continues to the intersection of Willis and Green Allen Springs Roads. At that intersection stands a vacant yellow house with several dilapidated structures in the rear. Blindsider froze beautifully in broom sedge on the property. Huffman did not move any birds immediately, but on relocation the dog stopped again almost immediately. A large covey was raised with the dog's style remaining perfect. He then continued onto the Vickers Farm and ended the hour strong and forward.
Third place Rebel Pirate was in brace No. 6, run the last hour on the first day. He was fast and showed up at the right places at the right times throughout the hour. On the third hour course he circled the Quiet Place without birds, passed the hill, ran the long adjoining bottom, and went into the mowed area of native vegetation. He soon stopped at 22 in bicolor and David Williams dug deep into the old and dense woody stand to flush birds. His revolver, sounding more like a shotgun, announced the flight and Pirate handled the announcement perfectly. He continued to work well throughout the hour and achieved a strong finish as the beautiful day came to a close.
OTHER ALL-AGE DOGS
Seventeen other all-age dogs, all pointers, competed. Whippoorwill Wild Assault (Larry Huffman) and Dominator's Rebel Heir (Jamie Daniels) were loosed at 8:00 a. m. on Monday. Daniels' dog went left early after being released. At 10 his scout called point after finding him pointed far to the north on the second hour course. Daniels arrived, dismounted, easily flushed birds which were right in front of his dog, and soon returned to the area which was added to the first hour course because of the impact of the rain on another part of the course. Meanwhile, Huffman picked up Wild Assault. Rebel Heir pointed again at 49 but even with multiple relocations Daniels was unable to raise any birds. He did, however, find birds again at 59. That covey was easily flushed from a wooded area and time was up.
Stash the Cash (Gary Lester) was released on the second hour course, breaking away on Harold Miller's farm adjacent to the Ball Creek Road. Stash found birds at 29 on Sickle Pod Hill. He continued through most of the hour but Lester picked him up at 49.
The third brace started from near the hill on the Vickers Farm with Coldwater Odyssey (Weldon Bennett) and Rebel Maiden (Williams). Odyssey had unproductives at 47 and 53 and was harnessed after the second unproductive. Maiden had birds twice in the last 10 minutes of the hour. Those finds came almost back to back at 51 and 55.
Lester's Pete Rose (Lester) and Coldwater Spectre (Bennett), the latter with owner Gary McKibben scouting, were the first to go after lunch. Pete Rose had an unproductive at 47 on the eastern edge of the Miles Farm. Spectre backed. Then both dogs covered lots of ground throughout the remainder of the hour but found no birds.
Las Animas Fancy pointed at 27 on the most southern part of Sickle Pod Hill but Huffman was unable to move any birds. She continued across Smyrna Road but soon crossed to the south side of Willis Road. Huffman picked her up at 37. Funseek'n Hit Man handled well for Daniels throughout the hour and stopped at 58 near an abandoned cabin on the hill at the Vickers Farm. Daniels was unable to move any birds, so the unproductive marked the end of the fifth brace.
Rebel Pirate's (Williams) effort was detailed earlier. Miller's Bushwacker (Daniels) had an unproductive at 30 near the farrowing house on the Vickers place, then continued to finish on the east side of Smyrna Road, north and east of the clubhouse.
Tuesday morning was frosty but sunshine soon prevailed and the weather was excellent for field trialing. Gary Lester took Lester's Storm Surge to the line while Joey McAlexander took Misty Morn Masked Man. Both handlers were owners of their dogs. Storm Surge had an unproductive at 28 to the north on the second hour course. Both dogs handled responsively throughout the hour but no birds were moved.
Rebel Dreamer (Williams) hunted the second course throughout the hour but found no birds. Miller's Blindsider (Daniels) was covered earlier.
Whippoorwill Justified's (Huffman) effort was previously detailed. Cold-water Stoner had an unproductive at 12 and hunted through most of the remaining hour, until Bennett picked him up near the clubhouse at 50.
The last brace was loosed after lunch on Tuesday -- Whippoorwill Mayhem (Huffman) and Miller's Speed Dial (Lester). Both dogs finished the hour but found no birds. The first pair of Derbies was waiting on the Ball Creek Road and that stake started immediately.
Huntingdon, Tenn., February 25
Judges: Mark Haynes and Scott Little
LYNN TAYLOR MEMORIAL OPEN ALL-AGE [One-Hour Heats] --
20 Pointers

1st--WHIPPOORWILL JUSTIFIED, 1656011, male, by Whippoorwill Wild Agin--Sparkles. Ronnie Spears, owner; Larry Huffman, handler.
2d--MILLER'S BLINDSIDER, 1674982, male, by Just Irresistible--Miller's Bring The Heat. Nick Berrong, owner; Jamie Daniels, handler.
3d--REBEL PIRATE, 1654797, male, by Rebel Pride--Dakota Mystery. David Williams, owner and handler.
OPEN DERBY WINNERS

Lester's Shockwave won first place with his strong and forward race. He demonstrated lots of style as he was consistently to the front under the command of his owner Gary Lester. Shockwave used the Vickers hills to great advantage as he mastered an outstanding cast around those hills, all the way to a distant cemetery and back before going through the woods on that property and showing a great finish in an opportune place to show well. Shockwave had no birds during his 30-minute contest, but neither did any of the other Derbies. Yet he left no doubt in the minds of those who saw him that he had tremendous all-age potential.
Second place Las Animas Hombre, owned by Dale Bush and handled by Larry Huffman, was a really showy Derby that presented himself well, always to the front and consistently showing up where he needed to be. Hombre proved that Huffman had him well prepared to compete in anyone's Derby Stake.
Touch's Folsom Blues, handled by Ike Todd, won third. He made really big and nice casts for his handler and showed superior intelligence as he ran to the front and made Todd's role as handler look easy.
As mentioned at the beginning of this report, this field of 25 Derbies was outstanding. A large percentage of the 25 will become well known as successful all-age competitors.
OPEN DERBY -- 22 Pointers and 3 Setters
1st--LESTER'S SHOCKWAVE, 1681623, pointer male, by Ransom--Beanie's Line Dancer. Gary Lester, owner and handler.
2d--LAS ANIMAS HOMBRE, 1675365, pointer male, by Las Animas Rip--Strut's Sally. Dale Bush, owner; Larry Huffman, handler.
3d--TOUCH'S FOLSOM BLUES, 1680549, pointer male, by House's Ring of Fire--Touch's Sandy. Eddie & Carole Sholar & Bruce & Karen Norton, owners; Ike Todd, handler.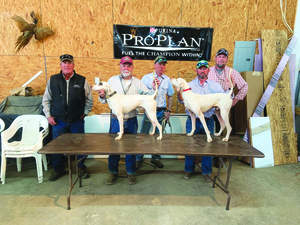 Open Derby Winners. From left: Judge Mark Haynes, Larry Huffman with Las Animas Hombre, Ike Todd, Jamie Daniels with Touch's Folsom Blues and Judge Scott Little.

TRIAL HIGHLIGHTS
A lot of dedicated people work together year after year to enable the Carroll County Club to consistently sponsor the caliber of trials for which it is known. First and foremost, David Williams works all year on the venue. He is burning, planting feed plots, mowing, buying birds, feeding birds, or doing many other things year-round. Just the cost of the birds bought for pre-release and for adding periodically amounts to a huge amount of money. Then Williams says, "The 350 we added last week probably washed away." Gary McKibben takes care of the secretary/treasurer jobs and he and Williams take care of the pre and post activities for each trial. Jim Atchison reports each trial and he and Charlotte keep the clubhouse stocked with supplies and prepare the lunches daily. Phillip Barnett, Danny Stanfill, Jimmy Smith, and Richard Simmons usually clean the clubhouse which is a working farm the rest of the year. Angie Williams and Michelle Clark help serve food and clean the kitchen and clubhouse after every meal. Steve Barnett grilled the entrees for two evening meals and Evelyn Hall prepared the sides.
The dog wagon was manned by Jimmy Smith, Danny Stanfill, and Richard Simmons. David Williams or Gary McKibben marshalled each brace if they were not running dogs or scouting. Weldon Bennett is always nearby and helps in any and every way needed. And I am sure this is just a partial list of both the people and the work that is performed. Obviously, there is much to do and many who help get it done. The hardworking people and their attitudes are an important part of what makes the Carroll County Club so great and enable it to year after year sponsor great field trials, like this 2019 renewal.
J. A.