Result: Sunshine Field Trial Club
Location: Lake City, Florida
Post Date: Dec 1, 2021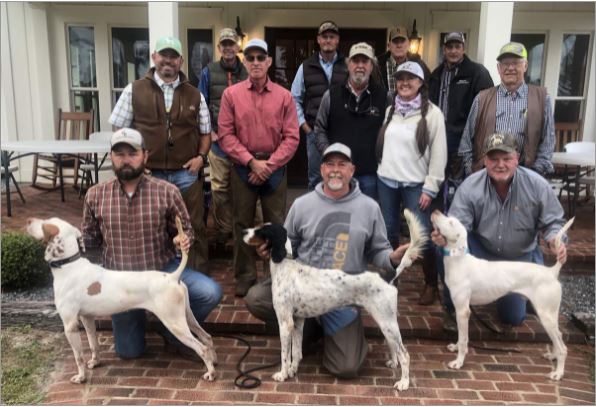 After a year's absence, due to COVID, the Sunshine Open All-Age Classic and companion Open Derby returned to famous Chinquapin Farms south of Lake City, Fla., on October 30.
Chinquapin has been described by many reporters over the years so it is sufficient to say it is a wonderful venue to hold a trial. Mr. Ted Baker and family can never be given enough thanks for allowing us to enjoy their beautiful plantation.
A great amount of appreciation is given Greg Blair and Purina for their support of the Sunshine Club.
We arrived to find all matters in order and prepared for the trial thanks to the efforts of Slade Sikes and his crew. Slade and resident dog trainer Ray Warren were in the saddle every brace. "T" Hicks and Belinda Sikes prepared the lunches.
We all certainly missed Cowboy Summers presence on the dog wagon. This was Don Sparrow's first trial in the wagon and he did an outstanding job.
Unusual cool weather for Florida prevailed and light jackets were needed daily. Heavy rain a few days before had settled the dust.
Judging this year's renewal was ably handled by Rick Furney, Leesburg, Ga., and Dr. Kent Cantrell, Ocala, Fla. Rickey certainly needs no introduction to the field trial world as he has won every major all-age championship in the U. S. and Canada.
Dr. Cantrell is a very successful amateur trainer and handler. He consistently is in the winners' circle when he is able to break away from his very busy vet practice. They gave every entry their undivided attention.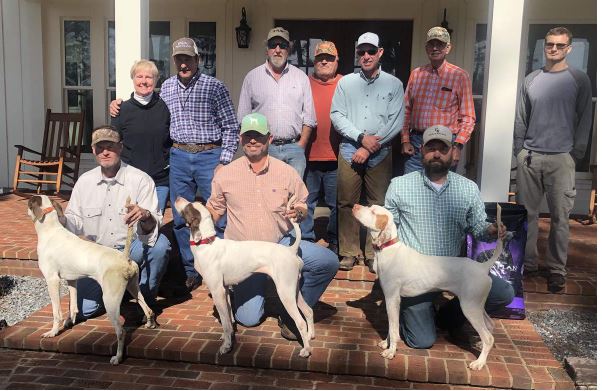 THE WINNERS
This year we drew 23 in the Open All-Age and twelve in the Open Derby. All entries in both stakes were brought to the line and run.
First in the Open All-Age Classic was awarded to Miller's Blindsider, five-year-old white and orange pointer male owned by Nick Berrong of Maryville, Tenn., and handled by Jamie Daniels in the very last brace of the trial. Blindsider carded five beautiful finds and a reaching race. Three of Blindsider's finds were true limb finds.
Second went to Woodville's Yukon Cornelius, four-year-old white and black setter male handled by Mark McLean. Owned by Carl Owens of Awendaw, S.C., Cornelius tallied four stylish far out finds. Cornelius had a big finish. Possibly a little difference in the race separated the two.
Game Ice was third for his first time to Chinquapin handler Jerry Raynor. Owned by Auddie Brown of Kingstree, S. C., Ice recorded two lofty finds and an unproductive. Ice handled the new grounds very well and finished strong to the front.
In the Open Derby, Chinquapin Rusty, handled by Ray Warren was first. Browntown Doc Holiday handled by Jamie Daniels was second. Flak Jacket handled by Judd Carlton was third. All of the Derby winners had acceptable Derby bird work and demonstrated true all-age potential on the ground.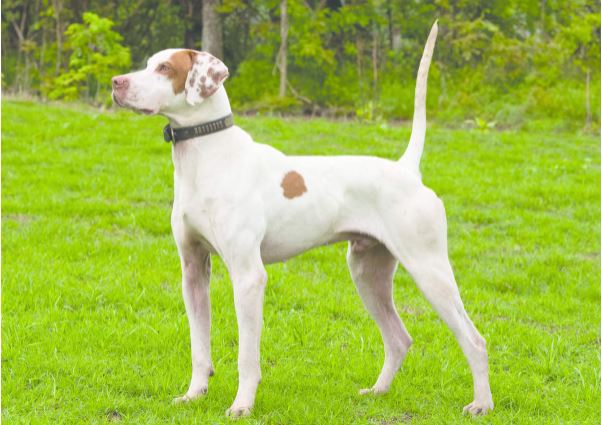 Lake City, Fla., October 30
Judges: Dr. Kent Cantrell and Rick Furney
OPEN ALL-AGE [One-Hour Heats] -- 22 Pointers and 1 Setter
1st--MILLER'S BLINDSIDER, 1674983, pointer male, by Just Irresistible--Miller's Bring The Heat. Nick Berrong, owner; Jamie Daniels, handler.
2d--WOODVILLE'S YUKON CORNELIUS, 1673091, setter male, by Caladen's Davinci--A Tarheel Miss Bo. Carl Owens, owner; Mark McLean, handler.
3d--GAME ICE, 1691410, pointer male, by Dominator's Rebel Heir--Game Snow. Auddie Brown, owner; Jerry Raynor, handler.
OPEN DERBY -- 12 Pointers
1st--CHINQUAPIN RUSTY, 1697430, male, by Chinquapin Spec--Chinquapin Suzanne. E. L. (Ted) Baker, owner; Ray Warren, handler.
2d--BROWNTOWN DOC HOLIDAY, 1695542, male, by Braswell's Goose--Sims Sunny June Afternoon. Auddie Brown, owner; Jamie Daniels, handler.
3d--FLAK JACKET, 1696465, male, by Erin's Redrum--Erin's Deja Vu. Mike Sweet, owner; Judd Carlton, handler.