Result: NBHA National Amateur Invitational Championship
Location: Columbia, Iowa
Post Date: Dec 2, 2021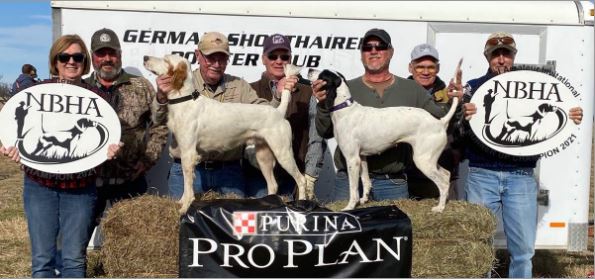 The 2021 running of the NBHA National Amateur Invitational Championship was run November 19-20 on the Dude Hoehns/Wayne Langstraat farms near Columbia, Ia.
This area is rolling hills country in the southern tier of Iowa. Hilltops with harvested corn, sidehills in the conservation reserve program, and timber edged bottom lands make up the course.
The weather was a brisk 25 on the first day of running, but warmed to the mid-40s for much of the day, staying there for the rest of the trial. This event brings twelve of the country's top amateur walking shooting dogs together for a one-hour qualifying heat, followed by a one-hour callback. An unfortunate injury to one competitor right before the stake limited our entry to eleven dogs this year.
It's impossible to put on any trial without a lot of support. We thank Jeff Wallace for planting birds. Thanks to Chris Bender for getting dogs to the line and watching the road for traffic. John Roslien fixed sack lunches for the judges. Jimmy Giles was a big help, and I needed it!
Thanks to Kim Hoehns for putting on our judges' dinner at the Columbia Community Center. As always, thanks to the NBHA for sponsoring this event and to their advertisers, Purina, Garmin, Gun Dog Supply, and Mule Clothing.
Judges for this year's renewal were horseback German shorthaired pointer handler Larry Bradley of Bennett, Ia., and renowned amateur all-age handler Larry Smith from Altoona, Ia., the latter of the "SF" prefix line of successful pointers. We appreciated both judges time and thoughtful attention to the dogs. Their decisions were well received.
This year's champion is Beaucoup Creek Gus, five-year-old white and orange setter male owned and handled by Don Heisner of Pinckneyville, Ill. Gus is a son of 2021 Hall-of-Famer Shadow Oak Bo. Gus is stylish, runs nicely, and put on a bird finding display during the callbacks.
Mike Duvall's pointer female, Thumper's Anything But, seven-year-old white and black. pointer female was named runner-up with a nice forward race both days, coupled with frequent, stylish, clean bird work. Congratulations to both these fine dogs and their owner/handlers!
QUALIFYING HEATS
Thumper's Anything But (Rylee/Duvall) was braced with Abbie Lakes All Juiced Up (Juice), a German Shorthaired veteran handled by her owner, Jill Piechowski. Rylee had a nice find at 7 on our first bottom, backed nicely by the shorthair. Juice had a second stand on the opposite end of the same bottom at 10. A lengthy flushing attempt proved unproductive. Both dogs got around the course well, Rylee with a bit more aggressive race. Both dogs had a find at 52 in separate locations along the course's west creek. Both had birds well located with good manners.
The second brace included setter male Penrosa Hidncash (Cash), handled by Tim Penn, and Beaucoup Creek Gus, setter male handled by Don Heisner. Both dogs broke away quickly with a divided find on the first bottom at 11. Both dogs stylish with birds well located. Both dogs move in similar fashion and were pleasing and to the front. Cash had a second find at 24 on the second bottom, followed by a third at 34 after making the loop below Foltz's, all in order. At 38 Gus had a find below the hairpin turn with Cash backing, both dogs showing good manners. Cash had a final find at 50 requiring a relocation attempt. Both dogs finished the hour.
Pointer female Wind Chaser (Kate), handled by Brent Hoehns, was paired with Gunn's Pistol Pete, setter male handled by Colby Tackett. Kate was found standing in the back corner of the first bottom at 11. All in order. She swapped ends at 18 on the second bottom for her second find. Pete was found standing at 20. After a prolonged flushing attempt in thick cover, Colby produced for the nice setter. Kate scored again on the North side of Foltz's fence at 29. Both dogs were back to the front with Kate being charged with an unproductive in thick multiflora rose below the hairpin turn. Pete backed the barren stand nicely. Both dogs finished the hour with nice forward races.
After lunch, the fourth brace paired pointer male Penrosa Behrdeville, handled by Tim Penn, with the Irish Setter male Brook's White Hot Blaze, handled by Luke Tewes. Both dogs broke away quickly with the red setter scoring at 3 off the breakaway path. Three quail had grouped on the edge of the path and Blaze handled the potentially disastrous situation like a pro. Both dogs were ahead, Behr with a clean find early and another late in his brace. Unfortunately, he crossed a fairly deep creek and was out of judgement for a significant amount of time in the middle of the brace. Blaze went on to have a stylish find below Foltz's corner and went on to finish with a strong forward race.
John Markham's pointer male Three Kansans Takin'a Chance was braced with the German Shorthaired female Piper handled by Oklahoman Weldon Gardner. Chance had a huge move off the breakaway, ran to the back of the first bottom and pointed. We could see him from a very long distance. He was handsome as Markham walked to the dog. As we approached, his bracemate Piper came in for the back; Chance, unfortunately, broke in on the bird. Piper stood the whole incident and continued. Piper had an unproductive on the first draw behind Foltz's at 24. She had a nice dug-in find below the hairpin turn at 35, followed by a find at 51 on Wayne's west levee. Crossing the road at 57 she had a stop to flush as she ran upwind of a small group of quail. She had stylish, clean bird work throughout.
Black and white pointer female Premier's Mystery Spot ran as a bye for Hoehns. Spot had a find on the back of the first bottom at 12, all well-handled. Unfortunately, she took steps at the flush on a second find below Foltz's at 28 and was picked up.
THE CALLBACK
The first brace of the callback had the Irish Setter, Brook's White Hot Blaze, paired with Beaucoup Creek Gus. At 8 both dogs were found at the start of the first bottom standing side by side. Nice manners and great style for a well-handled divided find. Both dogs were found again standing together at 15 in the hidden corner on the first bottom, again all handled well. Gus made a big move across the second bottom and established point at the far end of the field at 23. Blaze came into the area and unfortunately the big Irish Setter failed to back and was picked up. Heisner's charge went on a bird-finding spree with a fourth find below Foltz's at 28 and a fifth at 33 below the hairpin turn. All were well located and handled well. After the turn the scout was sent south along the timber line, but Gus was found standing proudly along Wayne's levee on the north end. A nice location where no other dog had found a bird at this weekend. Gus went ahead and finished nicely ahead on the west end of Wayne's bottom. An attractive, forward race with solid bird work throughout.
The final callback brace paired Thumper's Anything But (Rylee) with Brent Hoehns' pointer female Wind Chaser (Kate). Both broke away strongly with Rylee having a nice find at 10. During a prolonged but successful flushing attempt by Duvall, Kate was found standing at 12, all in order. Both dogs ahead moving nicely with Kate scoring again at 20 and 22 all well located. Rylee stylishly backed the find at 22 nicely. Coming around Foltz's turn, Rylee had a find at 27 on a bird near the path, handled well. Kate then scored at 33 on a dug in find on the loop. Kate pointed below the hairpin at 39, Hoehns accidentally flushing the bird after taking an unproductive and collaring his dog out of the area. Kate had another find at 45 on Wayne's levee, turning to mark flight. Both dogs were ahead on Wayne's bottom and had a divided find at the 50-minute mark, all in order. Kate's bid ended at 54 being seen under a bird. Rylee finished forward with a nice race, a back and three solid finds.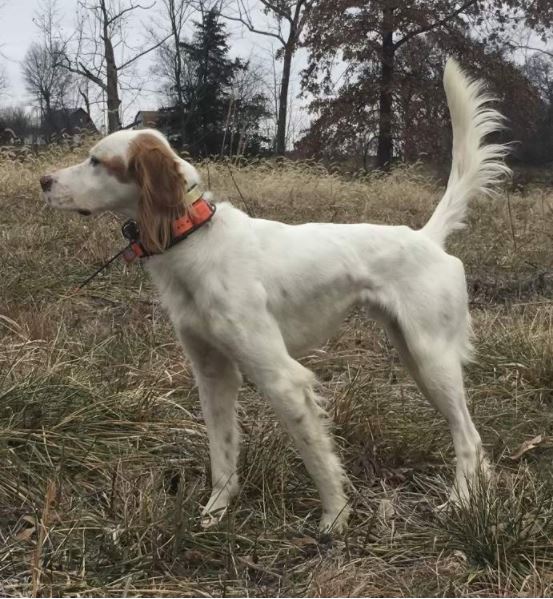 Columbia, Ia., November 19 -- One Course
Judges: Larry Bradley and Larry Smith
NBHA NATIONAL AMATEUR INVITATIONAL CHAMPIONSHIP
[One-Hour Qualifying Heats; One-Hour Finals] -- 5 Pointers, 3 Setters,
1 Irish Setter and 2 German Shorthairs
Winner--BEAUCOUP CREEK GUS, 1666953, setter male, by Shadow Oak Bo--Beaucoup Creek Ellie. Donald R. Heisner, owner and handler.
Runner-Up--THUMPER'S ANYTHING BUT, 1658927, pointer female, by Royal Rocks Mr. Thumper--Brown's Shatarhawk. Mike & Suanne Duvall, owners; Mike Duvall, handler.

COMPANION STAKES
The companion stakes were low in entries, but high in quality. Jack Glover claimed both placements in the Derby with Glover's Flintstone and Glover's Pepper Shaker, respectively. Both fancy setters, with the edge in race and application going to the elder "Flint".
Jack Glover also won the puppy stake with a ten-month-old stylish, active, hard charging female Glover's Liza Menelli. Colby Tackett's fancy setter male Highwayman rounded out the placements.
NBHA AMATEUR DERBY -- 2 Pointers, 1 Brittany and
1 German Shorthair
1st--GLOVER'S FLINTSTONE, 1691597, setter male, by Islander--Kodiak Island Bird Dog. Jack Glover, owner and handler.
2d--GLOVER'S PEPPER SHAKER, 1695618, setter female, by Erin's Wild Atlantic Way--C C Erin's O'Shamrock. Jack Glover, owner and handler.
Judges: Larry Bradley and Brent Hoehns
NBHA AMATEUR PUPPY -- 1 Pointer, 1 Setter, 1 Brittany and
1 German Shorthair
1st--GLOVER'S LIZA MENELLI, 1695569, pointer female, by Hirollins Gone and Doneit--Crimson River Emerald. Jack Glover, owner and handler.
2d--HIGHWAYMAN, 1695219, setter male, by Gun's Pistol Pete--Flying Standby. Colby & Chelsey Tackett, owners; Colby Tackett, handler.