Result: Montana Open Shooting Dog Championship
Location: Circle, Montana
Post Date: Oct 25, 2019
Submitted By: David Huffine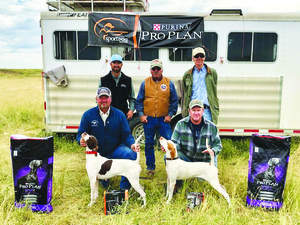 Championship Winners. Front (l-r): Charitable Deed with Shawn Kinkelaar and Thrill Me with Austin Turley. Standing: Tommy Rice III, Judge Eric Mauck and Judge David Huffine.
CIRCLE, MONT. -- Charitable Deed, five-year-old white and liver pointer female owned by Keith Finlayson of Tallahassee, Fla., and handled by Tommy Rice III, won the 2019 Montana Open Shooting Dog Championship in Circle, Mont. The pointer female easily bested the rest of the 52-dog field with a performance that some veteran observers indicated was one of the best in the history of the Championship.
Runner-up champion was Thrill Me, white and lemon pointer female which delivered a sweep of the championship placements to the Rice/Finlayson team.
The Championship, hosted by the Montana Open Shooting Dog Championship Association, began on the morning of August 23 following the National Amateur Pheasant Championship and the Montana Open Derby. Austin Turley and Glenn Conover served as chairmen of the event.
The grounds at Circle were in great shape for the Championship. Spring and summer rains contributed to great cover and produced exceptional amounts of sweet clover. Bird numbers were significantly better than the past two years which had been adversely impacted by drought and poor nesting seasons. Sharptail grouse, Hungarian partridge and a few young pheasants were found during the trial.
Judging the Championship was Eric Mauck of Boring, Ore., well known for his success breeding and trialing classy and successful all-age setters. Alex Mauck was to judge with Eric but Alex had a scheduling conflict and was replaced by David Huffine of Wilmington, N. C., and Melville, Mont.
OPEN DERBY
The Montana Open Derby had many contestants which put down performances worthy of winning.
In the end, Steve Hurdle handled pointer female Fast Money to the win for the excited owner Bud Moore of Toronto, Kan. Money placed first with several displays of finished Derby manners. Money had one broke find, a stop to flush, and exhibited her youth at 25 with some chasing.
Second was Ransom's Pearl, pointer female owned by Marc Maynard of Washington, Ind., and also handled by Steve Hurdle. Pearl had the race of the stake. She managed to pull out a find at time to secure her placement.
Placing third was Touch's White Rose, pointer female handled by John McIltrot of Broadview, Mont. Rose displayed exemplary manners. She had a polished stop to flush no more than five seconds into her brace and finished with a broke find at time.
Circle, Mont., August 23
Judge: Austin Turley and Michelle Tansey-Turley
OPEN DERBY -- 28 Entries
1st--FAST MONEY, 1681232, pointer female, by Stash The Cash--Lester's Speed Queen. C. W. & Patty Moore, owners; Steve Hurdle.
2d--RANSOM'S PEARL, 1681762, pointer female, by Ransom--Quicksilver Rosie. Marc Maynard, owner; Steve Hurdle, handler.
3d--TOUCH'S WHITE ROSE, 1682250, pointer female, by Touch's Big Whiskey--Touch's Lemon Drop. John McIltrot & Alex Rickert, owners; John McIltrot, handler.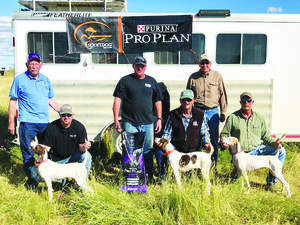 Open Derby Winners. Front (l-r): Fast Money with Justin Crook, Ransom's Pearl with Steve Hurdle and Touch's White Rose with John McIltrot. Standing: Bud Moore, Judge Austin Turley and Chad Hanson.
CHAMPIONSHIP RUNNING
The first brace -- Seranoa's On Guard Annie (PF/Michelle Sutton) and Emmalita (PF/Austin Turley) -- began following the completion of the Open Derby with moderate, fall-like temperatures in the mid-40s. Emmalita had a sharptail find within minutes of the breakaway, all in order. Both dogs moved well to the front with Annie having the more modest race. Emmalita handled well and made an impressive cast to the east at 40 with a good finish. However, neither dog produced any additional birds.
Dekle's Sinbad Son (PM/Tommy Rice II) and Rocky Knoll Annie (SF/Fred Rayl). Rice's dog had a stop to flush at 9, another at 13 and an unproductive at 32. His race was a bit erratic but he finished well. Annie had a find in the trees at 35. She was a bit lateral at 45 but had a good finish with a find shortly after time was called.
The afternoon began with the third brace on the fourth course. Neither Cinder (VM/Brian Gingrich) nor H B V's Ramble On (GSPM/Doug Favor) was on its game and both handlers harnessed their dogs at 16.
Zorra (PF/Shawn Kinkelaar) ran an all-age race but not to the front. She had a limb find at 12 which was well off the course and continued to range widely until Shawn called for the retrieval unit at 30. S F Fall Colors (PF/Hurdle) had a find at 25, all in order. She was a bit lateral early but finished well and completed her hour.
Pointer male Chelsea's Thunder Bolt is owned by George Hickox, who attended the trial, and handled by Kinkelaar, braced with Quicksilver Breeze (PM/Hurdle). Bolt had a limb find in the wheat at 19 but thereafter was over the hills and far away. Shawn called for the retrieval unit at 32. Steve's dog also had a find in the wheat at 19. He displayed a moderate race and was picked up by his handler at 35.
Tuesday morning dawned with the sixth brace leaving the first course breakaway promptly at 7:00 a. m. Ridge Creek Lou (SM/Kinkelaar) and Touch's Katrina (PF/Turley) began on the cool, damp morning. Lou failed to handle as demanded by Shawn and was up at 37. Katrina had a find on Huns at 3 and another find at 55 but ran a modest race.
The ultimate champion, Charitable Deed (Rice III), ran alone in the 7th brace following a scratch by her bracemate. She immediately caught everyone's eye with a beautiful move to the front and a cast from left to right at the top of the bowl on course No. 2. Her first find was at 7 following a perfect relocation. Her style was spectacular, both before and after the flush. This was followed by a limb find at 15, another limb find at 34 and a final find at 39. She had an unproductive at 28 but her penetrating, forward race and strong finish left little doubt that she would be very difficult to beat.
Dekle's Sinbad Peggy (PF/Rice II) was lateral and behind and was leashed by her handler at 32. Sydney (VM/Gingrich) had a stop to flush at 30 but moved on his second bird and was picked up by his handler as well.
Silver W Jill Z (PF/Kinkelaar) is owned by Debbie Ozner who traveled to Circle to watch her dog perform. Jill's bracemate was Erin's Rambling River (PM/Bill Stapleton). Jill had a find at 24 followed by an unproductive at 37. River backed on the unproductive. Jill was thereafter lost and Shawn called for the retrieval unit at 44. River finished the hour but with no additional bird work.
Bombs Away's (PM/Rice III) bracemate was scratched. Bombs Away ran wide early but had a find at 19. Tommy picked him up shortly after the find.
Seekin A Thrill (PM/Rice III) began with a find at 7 but was quickly out of sight. Tommy called for the retrieval unit at 35. C K Post Route Scout (VM/Gingrich) was gone early and handler called for the retrieval unit at 25.
Grand Prairie Thrill (PF/Rice III) and Rebellita (PF/Turley) were in the 12th brace to begin Wednesday morning. Tommy's dog had a good race for the first ten minutes but then became more erratic. She had an unproductive at 38 and was picked up shortly thereafter.
Rebellita started strong and was rarely seen until the road crossing. She finished her hour to the front but produced no bird work.
The 13th brace -- Red (VM/Gingrich) and I Got This (PM/Doug Favor) -- produced some excitement for the handlers and the gallery. Red electrified the gallery with early finds at 2, 10, 17 and 21. All were to the front with impeccable style. Got This ran a really nice ground race and handled two backs of Red's in good fashion, but Doug watched the four finds by his bracemate and elected to pick up and head home. Unfortunately, Red's success didn't continue over the final 30 minutes of the brace with unproductives at 33, 48 and 54 to end his brace.
High Prairie Gypsy (SF/Chad Hansen) ran a shorter race but had a stylish find at 20. She moved on and with her sharptail and was harnessed by Chad. Pointer female R J's Deicer had unproductives at 20 and 27 and was picked up by Kinkelaar.
The temperature had reached 86 by the time the 15th brace broke away on course No. 4. Touch's Hail Stone (PM/ John McIltrot) and Tug of War (PM/ Kinkelaar) broke away boldly. Hail Stone's first move was around the rim of the bowl and right of the course. McIltrot and his scout located the dog standing but waved the point off before the judge arrived. He was subsequently picked up by the handler. Tug took a different route but ranged far off course. Shawn picked him up at 20.
Rambling River Rolling Stone (VM/ Bill Stapleton) ran a wide and erratic race early but settled in nicely for the last 20 minutes. He had a find at 57 and finished his brace. Just Thrillin (PM/ Rice III) had a find at 22, well right of the course, and continued to stay right for the remainder of his run. Tommy called for the retrieval unit at 55.
Course No. 6 hosted the day's final brace. Treerows were holding Hungarian partridge seeking some respite from the warm afternoon. Upfront's Southern Style (PF/Kinkelaar), which had been named champion of the National Amateur Pheasant Championship a few days prior, continued her good work with a find at 4 along the west treeline. Hendrix's Hold Card (PM/Hurdle) joined her for a divided find in the trees on the east side at 9. Another find at 14 had Style in a great position but proved to be her last find of the day. She continued a nice, forward race but was right and lateral later in the brace which required her handler's assistance to return her to the front. The finish was into a stout, warm wind and proved difficult for the dog. Nevertheless, it was a good performance under challenging conditions. Steve picked up Card at 24.
Thursday morning pitted Barshoe Puccini (PM/Justin Crook) against Ridge Creek Kate (SF/Kinkelaar) on the first course. Justin's dog ran a modest race and he picked up at 22. Kate ran far west as the course turned to the north. Shawn and his scout called point at 14. The dog continued to move westwardly and a large group of sharptails was seen leaving the area. Shawn harnessed his dog and delivered her to the dog truck.
Thrill Me (Rice III) handled immaculately with a deep and forward race but always looking for her handler. Her first find was at 23, stylish and well to the front. She followed with another beautiful find at 31. She was found standing again at 38 but no bird was produced. Me's finish was exceptional. Sassy (VF/Gingrich) had a back at 23 and a nice, upwind find on a large covey of Huns west of the treerow. However, she followed with two unproductives and was picked up by her handler.
Touch's Rocketman (PM/Kinkelaar) and Erin's Smooth Shammy (SF/Crook) set off on the third course in the 20th brace. Rocketman had a moderate race with an unproductive at 40. Shawn picked him up at 42. Shammy was long on the breakaway but shortened significantly after her initial run. Justin picked her up at 42 as well.
The afternoon braces began with Burr Oak's Bam Bam (VF/Gingrich) and Smuggler's Society Buck (PM/Kinkelaar) breaking away on the fourth course. Buck left early and was lost. Bam Bam had an unproductive at 34. She was found standing at 42 which converted to a stop to flush on a relocation. Bam Bam completed her hour but with no additional bird contact.
Objective (PM/Crook) and Charlie Hustle (PM/John Junnila) broke away on course No. 5. Justin's dog had a find at 29 but was wide right early and late. Justin picked him up at 37. John's dog had an unproductive but otherwise had a shorter but good race to the front. He looked good on the ground and responded well to John. However, he found no birds and was picked up at the grain bins at 52.
Tallokas Sun Dial (PF/Rice III) and Cayenne (VF/Gingrich) set out on the tough sixth course. The sixth course produced the least birds of any course during the Championship and neither of these dogs was able to locate birds. Tommy's dog had a good forward race. She handled well and finished well in the heat. Brian's dog also had a nice ground performance. He elected to pick her up at 50 as the prospect of birds in the tough conditions seemed unlikely.
In Swami's Shadow (PF/Kinkelaar) and Hurdle's Swift Justice (SM/Hurdle) broke away at 7:00 a. m. on Friday. Kinkelaar's dog moved on a flush and was up at 4. Steve's dog had a find at 48 and a stop to flush at 53, both in order. The stylish setter had a moderate race and finished the hour.
Shagtime Scout (SM/Kinkelaar) and Cactus Jett J R (SM/Crook) went left and long at the breakaway. After some effort they were both harnessed by the handlers and scouts at 10.
The final brace of the Championship began on the "unused" portion of course No. 2. Irresistible Thrill (PF/Rice III) and Prairie Tank (PM/Conover) broke away impressively, showing to the front and crossing the airstrip well ahead of the handlers and the gallery. Both dogs had finds near the wind sock at 13. While they were near each other, the dogs pointed separate groups of birds, all in order. Glenn and Tank had another find at 24. A relocation at 30 produced a bird but with some difficulty. Tommy's dog backed on the find at 30. Both dogs ran a good ground race but no additional birds were produced and they failed to match the performances of the champion and runner-up.
Judges: David Huffine and Eric Mauck
MONTANA OPEN SHOOTING DOG CHAMPIONSHIP [One-Hour Heats] -- 35 Pointers, 8 Setters, 8 Vizslas and 1 German Shorthair
Winner--CHARITABLE DEED, 1658659, pointer female, by Three Rivers--B W Molly. Keith Finlayson, owner; Thomas Rice III, handler.
Runner-Up--THRILL ME, 1661569, pointer female, by Just Irresistible--Snow Thrill. Keith Finlayson, owner; Thomas Rice III, handler.
A Postscript
Trials at remote locations like Circle require a tremendous amount of logistics, hard work and ingenuity. Thanks go out to all of the members of the association who assisted but some are deserving of special recognition.
Glenn Conover did a bit of everything. He collected money, paid bills, drove the dog wagon, handled water detail for the water troughs on the courses and in camp, arranged dog truck repairs and was in charge of lunches after his wife Shawn left to make a living to support the field trial habit. Shawn prepared lunches, helped with the dog wagon and prepared the judges' books. Most importantly, she gave adult supervision to the rest of us in need.
Austin and Michelle Turley were the other stars of the trial. Austin took entries, handled the drawing and supervised the trial in an effortless fashion. Michelle drove the dog wagon and assisted with many "unseen" tasks that are necessary for a successful trial.
D. H.