Result: National Shooting Dog Futurity
Location: Bloomingdale, Ohio
Post Date: Oct 18, 2019
Submitted By: Mike Husenits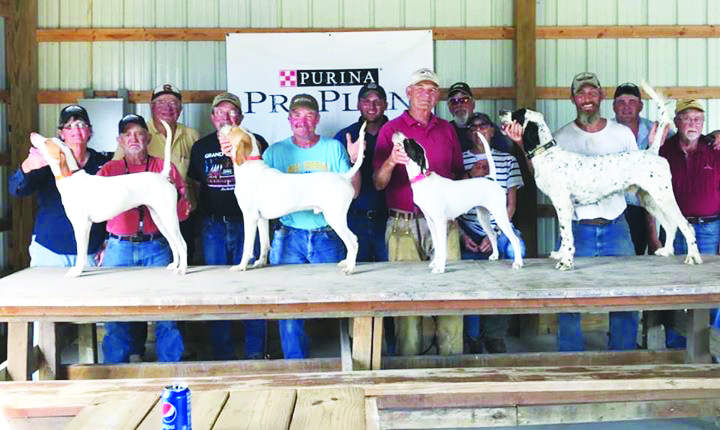 Futurity Winners. From front left: Miller's Record Heat with Fran and Jack Miller, Backcountry Buddy with Chris Catanzarite, Bull Finch with Ernie Saniga and Erin's Big Casino with Eric Russell. Behind: Mike Husenits, Dr. Bob Reynolds and Mark Hughes, the judges; Ted Goodyear, Karen Saniga, Mike Tracy and Bob Reed.
BLOOMINGDALE, OHIO -- The 56th renewal of the National Shooting Dog Futurity was conducted on October 1-2 at the Mingo Sportsman Club grounds located near Bloomingdale, Ohio. The trial was set back a day from the advertised starting date due to the large entries in the National Pheasant Shooting Dog Championship and the Region 2 Amateur Shooting Dog Championship, which were also held on the Mingo grounds.
The venue is rolling hill country, previously strip mined for coal and currently being drilled for natural gas.
The Mingo Club grooms the property nicely and plants numerous feed strips consisting of milo, corn, cover and summer grasses. Native autumn olive and locust groves are rapidly taking over and have created several thick areas that are hard to penetrate, especially this early in the fall before any frost has arrived.
Mingo manager Bill Monk attended daily and helped out with the bird release program, aided by several club members who provided daily lunches at the field barn located at the starting point and parking area.
Purina made a long-term commitment many years ago to support the Futurities and they have upheld their end without fail and provide generous amounts of product for participants and winners, plus financial and advertising support. Without Purina the Futurities would not be the class events they are. Thank you Greg Blair and Karl Gunzer.
Futurities were conceived and implemented as breeders' stakes by the founders, with owners, breeders and handlers all sharing the recognition that comes with such a prestigious event.
This year's 33 starters were all whelped in 2018, the offspring produced by 20 duly nominated litters. It appears the glory days of breeders' stakes may be waning, as the record reveals that nominations in the late 1970s to early 1990s sometimes totaled well over 100 litters. The good news is that even though fewer litters are nominated, there appears to be multiple starters from many of the nominated litters.
Miller's Record Heat was a worthy winner. The orange marked pointer female is owned and bred by Jack and Fran Miller of Barwick, Ga., and was handled by Fran Miller to a superb forward hunting effort and four finds, including three pheasants and a covey of chukar -- an outstanding performance, for sure!
Second was Backcountry Buddy, orange marked pointer male owned, bred and handled by Chris Catanzarite of Scenery Hill, Pa., to a solid forward ground race and a pair of pheasant finds.
Placed third was Bull Finch, liver marked pointer female jointly owned by Bill and Muriel Primm of Cream Ridge, N. J., and Ernie and Karen Saniga of Nottingham, Pa., from a litter bred by Dennis Hood and Tommy Walker of Valley, Ala. Mike Tracy handled the fancy running Finch to a well applied effort and a single pheasant find.
Erin's Big Casino, stout black marked setter male owned by Paul Berdiner of Millersville, Pa., bred by Justin Miller of Oblong, Ill., and handled by Mike Tracy, was fourth on the merits of a wide forward ground race and a pair of pheasant finds.
This year the Futurity followed the National Open Pheasant Shooting Dog Championship and the Region 2 Amateur Shooting Dog Championship and as noted was set back a day from the advertised starting date due to the large entry in the National (69 dogs) requiring six full days to complete and another three days for the Region 2.
Futurity President Bob Reed accompanied by lovely spouse Karen were on-hand for the duration. Chris Catanzarite handled most of the organizational logistics plus took care of the pheasants, provided a truck for shuttling dogs, directed bird planting, marshalled and assisted anyone in need of help.
Ted Goodyear assisted with the bird release program both days and Mary Tracy and Ted Foust handled dog truck duties. The Tracys again provided safe mounts as needed by reporter and judges as they have generously done for the Futurities the last 30 plus years.
Social activities included a Sunday evening chicken bowl dinner at the Mingo clubhouse prepared and served by the local 4H club. The meal was complete with salad and a large array of desserts. The 4H participants did a fantastic job that everyone thoroughly enjoyed.
Monday evening New Yorkers Kevin and Maureen Joyce, owners of last year's Futurity winner Hightailing Pearl, sponsored a dinner at the Mingo clubhouse featuring pork loin, sauerkraut, vegetables, potatoes and dessert. A beautiful painting of Hightailing Pearl done by Alabama artist Mary McPherson was presented to handler Mike Tracy. The Joyces were unable to attend but their dinner was greatly enjoyed.
The Mingo Sportsman Club has worked hard to make improvements to the grounds with meticulous grooming and insightful planting of feed strips. Game birds seem to stay on or near the course routes, which provides plenty of opportunity to find game. The club released hundreds of chukar for an earlier event and nearly 200 strong flying ringnecked pheasants were released prior to and during the trials.
Weather conditions were far less than ideal with high summer-like temperatures and high humidity caused by overnight rain showers. In spite of these conditions, the dogs performed admirably.
The Futurity was fortunate to obtain the services of two knowledgeable fair-minded judges in Mark Hughes of Grampian, Pa., and Dr. Bob Reynolds of Canton, Ohio. Mark judged this Futurity last year and though young in years owns a lifetime of bird dog experience being the son of Hall-of-Famer Dave Hughes. Mark has handled and trained many dogs to the winners' circle.
Dr. Bob Reynolds was a judge in last year's Pheasant Championship and has enjoyed remarkable success with his German Shorthaired pointers in competitive field trials. Both were attentive and set a reasonable pace.
THE WINNERS AND TOP CONTENDERS
One of the benefits, or perks, of Futurities is that recognition goes not only to the winning dogs, owners and handlers, but also to the breeder who took the time to carefully select a proven sire to breed to a treasured female in hopes of producing offspring that will improve on what already existed, the goal being continuous improvement of the breed.
Futurities have proven this theory to be factual as a high percentage of Futurity winners and top contenders develop and perform well at the highest level of competition. Standards established years ago by the founding fathers still apply to the National Shooting Dog Futurity. The dog must:
1. Demonstrate intense desire to find game. 2. Show determination under adverse conditions such as heavy cover, weather, bad footing and terrain. 3. Show willingness to handle by staying forwardly on course and in contact with handler. 4. Intelligently adjust to variations in terrain and cover. 5. Hunt at a range that suits the nature of the cover. 6. Hunt independent of bracemate. 7. Demonstrate class. (Class making reference to speed, loftiness, gait, general appearance and way of going, such as expected from a superlative shooting dog.) 8. Handle game with staunchness and style, not necessarily finished. 9. With all other qualities being equal, finish on game and number of contacts should be taken into consideration.
We are happy to report this year's winners met the prescribed criteria.
First place Miller's Record Heat is owned and bred by Fran and Jack Miller. Fran handled the classy going Derby in the 12th brace on Wednesday morning starting at 8:55.
This repeat breeding has produced several winners. Sired by Just Irresistible, which goes to all-age champions Rivertons Funseek'n Scooter and Funseeker's Rebel, her dam is multiple winner Miller's Bring The Heat which traces to Lester's Snowatch, Miller's Date Line and on back to Miller's Silver Bullett. Indeed, a notable genetic background.
Heat performed on the return to clubhouse course starting down the steep hill and bending right past the first pond where she appeared to be stopping for a drink of water at 6 but locked up intensely in tall reeds with a hen pheasant pinned and taking flight from shallow water. Heat made a short pursuit but stopped nicely for the shot. Sent ahead, she nailed a pheasant along left edge at 11 and repeated at 14 in right side goldenrod, both handled with more than acceptable fall Derby manners. Hunting her way diligently and forward with plenty of eye-catching style, she pinned a covey of chukar at 21 near the long finishing hedgerows.
Heat put the icing on the cake at 30 with a pretty back of bracemate, holding steady as the bird flushed.
Second was Backcountry Buddy, owned, bred and handled by Chris Catanzarite. Chris has made history with his "Backcountry" line of pointers and Buddy appears to have the necessary credentials to carry on the legend. Sired by Ch. Waybetter Rocky, which traces his lineage to multiple champions Belfield Silver, Island Grove Brute, Miller's Silver Bullett, Barshoe Brute and Fiddler.
Buddy's dam is Chris' Backcountry Polly, which also shows Belfield Silver, Fiddler, Rail Dancer and Guard Rail as her ancestors.
Buddy performed in the 3rd brace starting at 9:15 a. m. Tuesday, drawing the outbound course that begins near the field barn. Buddy hunted well forward showing plenty of pizazz and razzle dazzle speed. He pointed stylishly at 5 near the autumn olive hedgerow and had a pheasant pinned precisely, holding his ground until the bird was in the air then a short chase but stopped mannerly for the shot. Sent ahead, Buddy hit the front cover with reckless abandon and handled on the turns like the old kid glove. Reaching well ahead toward the finish line, Buddy was found pointing intensely off to the right side along treeline, a likely spot where a pheasant could run off undetected easily, this proving unproductive, Buddy finishing well ahead going strong.
Third placed Bull Finch made her appearance in the 11th brace, the first of Wednesday morning. Bill and Muriel Primm and Ernie and Karen Saniga jointly own the petite pointer female. Her handler is Mike Tracy.
The litter was bred by Dennis Hood and Tommy Walker. Sired by Dominator's Rebel Heir, the dam is Bullerina, a producing female owned by the Sanigas. Rebel Heir is by Rivertons Funseek'n Scooter, he by National Champion Funseeker's Rebel. Heir's dam traces to Elhew Sinbad.
Bullerina is by Ch. Bulltown which traces to Hook's Bounty Hunter. Bullerina's dam shows The Comanche, Mrawsum and Hyhope Bud in her genetics.
Ernie and Karen Saniga started no less than three pups from the litter, working them until turning all three over to Mike Tracy this summer for further development. All three started in this Futurity and all acquitted themselves well.
Finch's strong point in this Futurity was her superb ground coverage and an extremely eye-catching way of getting through the country. Her lone contact came at 27 where handler called a bird in the air with Finch shown standing stylishly and remaining steady for the shot, good enough for the judges to put her in strong contention.
Erin's Big Casino was fourth, one of just five setters in the starting field. Paul Berdiner owns Casino. Mike Tracy handled him. Casino is quite large in stature, sired by Sean Derrig's multi-champion Erin's Hidden Shamrock. His bloodlines trace back to cover dog and shooting dog champions Wrong Way, Dr. Ray, Stillmeadow's Jim, Hamilton's Blue Diamond, Tekoa Mountain Patriot, Havelock Blacksmith and Destinare.
Casino's dam is Three Stripe's Livewire, she by Northwood's Nirvana and Skydancer bloodlines.
Casino appeared in the 14th brace on Wednesday morning. He ran a strong forward race, unfazed by the heavy cover and the heat. His two finds on pheasants were both handled with sky-kissing pointing style, intensity and very advanced Derby manners. He finished his stint going away at top speed.
In order of appearance, several other youngsters made their presence felt and were carried by the judges for potential placement as follows: Hiett's Game Point, Bronco Bully, Hillhavyn's Drug Runner, Waybetter Jay, Calico's Guns N Roses, It's Closing Time, Iron Bully, Steel City Avenger, Miller's High Heat Index and Miller's Extreme Heat.
The account of the running offers further details.
THE RUNNING
R Q's Saddle (J. Tracy) and Hiett's Game Point (M. Martino) broke away at 8:05 a. m. at the traditional starting line under warm and muggy conditions. Both straight ahead to the long hedgerow with Game standing intently and stylishly at 5, holding well for the flush and shot. Farther up the line Q styled up where a bird had flushed wild. Sent ahead he had a find on a covey of chukar at 15 but was up at 20 after a breach of manners. Game continued to apply himself in fine fashion, stopped at 28 where birds had just flown, sent on to a strong finish.
Waybetter Dude (M. Tracy) and Miller's Triple Digit Heat (F. Miller) started at hilltop on return to clubhouse course. They raced with reckless abandon and soon disappeared with Dude showing up once then gone again. Both handlers requested retrieval units at 15.
Backcountry Buddy's (Catanzarite) winning performance was previously described. Mr. Power Point (M. Tracy) hunted ahead and hit the cover but failed to locate game.
Bronco Bully (M. Tracy) acquitted himself well as he hunted forward showing plenty of running style and a smooth gait. He pointed at 20 in milo strip with nothing raised, then had a great find at 24 along wooded edge, adding a second well handled find at 27 in goldenrod field, holding quite mannerly as the bird lifted early, finishing strong. Wicked Thunder Genesis (J. Tracy) hunted well ahead at medium range, made game at 22 but moved on to finish birdless.
Great River Cody (G. Tracy) started fast and wide, soon out of pocket with the retrieval unit requested at 15. Hillhavyn's Drug Runner (M. Martino) ran a well-directed forward race, showing a strong inclination to handle willingly. He contacted a pheasant at 26 and stopped to be shot over, finishing ahead.
Reedy Creek Q J (J. Tracy) and Town Creek Hardaway (M. Martino). These two tried hard but the heat was starting to take its toll and neither found birds.
War Damn Creek (M. Tracy) went wide from the get-go and was counted out at 12. Waybetter Jay (C. Bishop) handled kindly to the front with a pleasing gait and steady application. He pointed unproductively at 10, and then handled a pheasant with advanced manners at 18, then a stop to flush at 25, shortening near the end in the extreme heat.
Miller's Packing Heat (F. Miller) went through the country with plenty of eye appeal, pointed stylishly at 15 with nothing raised and added a back at 20 then hunted hard to the finish line.
Calico's Guns N Roses (G. Tracy) went with a smooth graceful gait and cracking tail. She stopped to flush on a pheasant at 12 and was shown standing where a bird was espied in the air, then carded a statuesque find at 20, handled with maturity, finishing well ahead.
It's Closing Time (J. Tracy) started fast and hunted to the front with a fancy way of going. He pointed intently near the rock pile at 14 with nothing raised or relocated. He had a find in heavy cover at 28 handled with Derby manners and finished ahead. Iron Bully (M. Tracy) started slow but warmed to the task as the heat went on. He proved to be a bird-finder with three well handled finds with advanced manners and composure for such a young dog.
Backcountry Girlfriend (Catanzarite) went wide from the start and somewhat lateral and became overly exuberant as pheasants lifted and was up early. Doubledee Deeva (J. Tracy) started strong and scored on a pheasant at 15 in locust grove, finishing ahead at modest range.
Bull Finch (M. Tracy) and Watch Catcher (M. Martino). We started Wednesday morning at 8:15, still warm with high humidity. Finch's third place finish was described above. Catcher zoomed away like a rocket and was soon lost to judgment.
Steel City Avenger (J. Tracy) and Miller's Record Heat (F. Miller) put on quite a show. Heat's winning performance was detailed earlier. Avenger showed plenty of potential with a solid stand at 11 to left of trail shared with bracemate. Avenger moved ahead to put the pheasant in the air, then added well handled finds at 18 near the rock pile, at 24 in goldenrod and finished with a solid intense find at 30, giving way to a vigorous chase as the bird lifted. This a fun brace to witness.
McDermitt's Thor (D. Vater) hunted hard the entire time, shortened up in the middle but recouped to finish moderately ahead with no bird contacts. The Secret (J. Tracy) hunted ahead at medium range, scored a Derby find in feed strip at 17 and continued to hunt hard to the finish.
Erin's Big Casino's (M. Tracy) winning effort was described earlier. Miller's High Heat Index (F. Miller) performed well enough to have herself right in the mix for consideration with a fancy forward well directed race and finds at 14 on a big covey of chukar followed by a pheasant find at 30.
Miller's Extreme Heat (F. Miller) turned in a very nice performance as she flitted through the country in stylish fashion, ever mindful of handler. She scored a stylish mannerly find at 10 but her next two stands failed to produce birds. Steel Valley Zipper (G. Tracy) was away fast at the beginning but rambled out of pocket and was lost at 17.
Diamond Hill Mad Max (J. Tracy) had his running shoes on today and rambled to far away places, picked up at 16. Hidden Meadow's Virgil (D. Vater) hunted forward but was short in overall range with one pheasant contacted at 20.
Pine Straw's Tupelo Honey (J. Tracy) ran as a bye, handled well and hunted hard to the front but failed to contact game.
Bloomingdale, Ohio, October 1
Judges: Mark Hughes and Dr. Bob Reynolds
NATIONAL SHOOTING DOG FUTURITY -- 28 Pointers and 5 Setters
1st--MILLER'S RECORD HEAT, 1685700, pointer female, by Just Irresistible--Miller's Bring The Heat. Fran & Jack Miller, owners; Fran Miller, handler.
2d--BACKCOUNTRY BUDDY, 1682654, pointer male, by Waybetter Rocky--Backcountry Polly. Chris Catanzarite, owner and handler.
3d--BULL FINCH, 1686091, pointer female, by Dominator's Rebel Heir--Bullerina. Ernie & Karen Saniga & Bill & Muriel Primm, owners; Mike Tracy, handler.
4th--ERIN'S BIG CASINO, 1682928, setter male, by Erin's Hidden Shamrock--Three Stripe's Livewire. Paul Berdiner, owner; Mike Tracy, handler.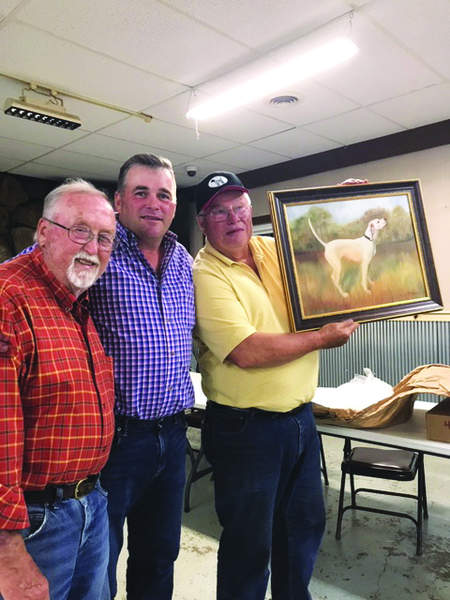 President Bob Reed and Mike Husenits present painting of Hightailing Pearl, winner of the 55th Futurity, to her handler Mike Tracy (middle).