Result: Pennsylvania Grouse Championship
Location: Marienville, Pennsylvania
Post Date: Dec 28, 2018
Submitted By: Joe Cammisa, Secretary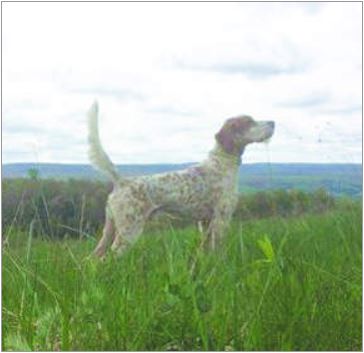 Blast Zone Winner of the Pennsylvania Grouse Championship
The Pennsylvania Grouse Trial Club held the Pennsylvania Grouse Championship and the companion stakes October 31-November 3, 2018 in the Allegheny National Forest near Marienville, Pa.
After running for four days over the famed Lolita and Lamonaville courses, Blast Zone, four-year-old white and orange setter male owned and handled by Thor Kain of Carbondale, Pa., was named champion. Titanium's Jacksin, three-year-old white and orange pointer male owned by Doug Baumann of Plymouth, Wis., and handled by Bruce Minard, was named runner-up.
Birds were found in very suitable numbers on all of the courses over the four days with the two top dogs emerging with great finds and outstanding races.
Weather conditions for the trial were rainy to start and then friendly. A fall series of thunderstorms and downpours followed through after the Venango Grouse trial the preceding weekend. It had rained for almost a week and a half and the weather did not look like it would be breaking soon.
Most days during the Championship there was rainfall and high winds, coupled with the almost full canopy of leaves at the beginning of the trial, making it near impossible to keep track of the dog bells and the whereabouts of the charge being run. Things got better as the week unfolded.
A weather recap showed Wednesday as a downpour, Thursday rain with a slight pause and then Thursday and Friday intermittent rain with a continually cloudy "The Perfect Marienville Grouse Finding" weather.
Handler Bruce Minard said, "I've been coming to Marienville for years and have seen the grouse number range from high to the very lowest. The interesting part is that it is usually all in the same week . . . You go for days without seeing a bird. The weather changes and all of a sudden they appear."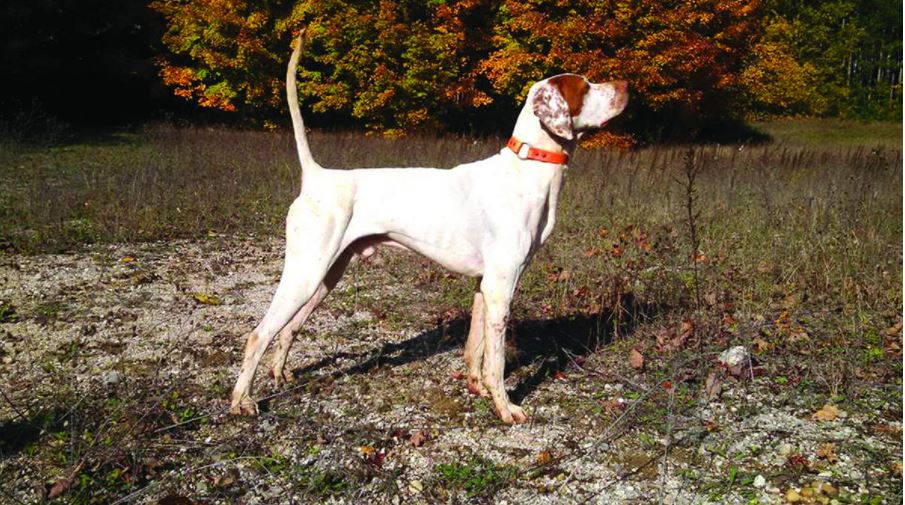 Titanium's Jackson Runner-Up in the Pennsylvania Grouse Championship
This year we were very fortunate as the judges reported seeing grouse on every one of the courses.
The Pennsylvania Grouse Trial Club is a partner with other clubs in the Pennsylvania Grouse Trial Clubs Association. The association is responsible for maintaining the grounds throughout the year, preparing them for the trials and for the routine care that it takes to groom the trails.
Richard Brenneman heads the program, just as he did for so many years before. Bob Stewart once covered the Pennsylvania Grouse Championship and described this as such. "The Pennsylvania Club is known for putting on a trial that seems to run like a well-oiled watch." He went on to say in other words, "It is no small task to run a championship plus a Derby and puppy stake sandwiched in on a two-day trial. The herculean task was accomplished by Dick Brenneman.
"Dick is a magician, the way he is everywhere at once. There are not many that know the intricacies of a field trial as well as he."
Dick has a real way with keeping everyone moving and on track. The Pennsylvania Grouse Trial Club Association is fortunate to have him as such a stalwart of our organization.
Dick has help throughout the year cleaning courses, starting with the summer meeting of clubs and a course cleaning day. Additionally, for the rest of the year there is always the faithful Helen Brenneman, Dave Duell, Dave Hughes, Norm Meeder, Joe Cammisa and the occasional other.
The weeks leading up to the Championship were plagued with rain and wind storms. This year was a job well done, as those same wind and heavy storms continued into October, knocking down an unusually high number of trees that blocked the way. Week after week the courses were cleared and re-routed, re-routed and cleared again, up and until just three days before the trial season started. Dedication and perseverance ran high on both sides, the side of storms and the workers.
This year's judicial panel consisted of two fine gentlemen who own, trained and handled championship caliber dogs. Russ Richardson of Guys Mills Pa., and Steve Madeiros of Toms River, N. J. Both judges are commended for their attention to the handlers, dogs, willingness and stick-to-itiveness to ride in the rain and impending weather. Both are grouse woods seasoned veterans who were looking for the "right stuff".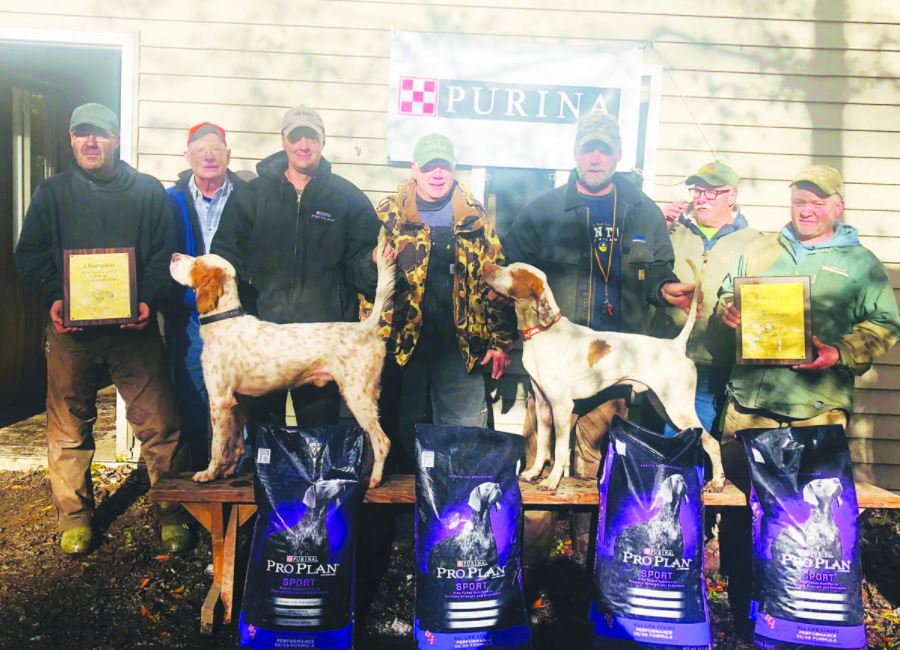 Pennsylvania Grouse Championship Winners. Front, from left: Thor Kain with Blast Zone and Bruce Minard with Titanium's Jacksin. Behind: John Stolgitis, Bob Watts, Judge Steve Madeiros, Joe Cammisa and Judge Russ Richardson.
THE WINNERS
The new champion, Blast Zone, entered the field in the 21st brace of the stake and ran the Lolita No. 4 course. The course is well known for requiring a dog that can fill it up and that is exactly what he did.
"Strike" broke away and dug deep right off the bat. His bell was heard to the front and he was seen twice down to the creek. Thor lost his bell as Strike laid to the front and into the blueberries. Before reaching the creek, John Stolgitis was dispatched as scout. Minutes later while looking near the creek, the judges and Thor heard the scout holler point. Judge and handler ended up crawling on hands and knees into the blueberry field and came upon a "beautiful scene of a picturesque dog pointing," how Judge Richardson described the scene. Handler flushed an old grey fazed grouse that roared out of the cover.
After perfect manners and handler firing his gun, Strike was led back to the course and was directed on. He immediately took to the front. Strike caught the front with the other handler and it was five or more minutes before Thor could catch up. Judges reported that Strike inished forward, hard and strong.
Runner-up Titanium's Jacksin is a young second year shooting dog that drew the No. 2 Lamonaville course. He started like a cannon shot and dug deep, right from the breakaway. He did not show for the first five or so minutes and was beginning to worry his handler about having taken the first sidehill to the left and drifting away. He did show in that first five to ten minutes and then took another good swing forward. He drove right through the blowdown bottom area and forward to the big valley. He was remarkably forward in range, showing at each turn.
Jacksin's bird work was a limb find at 45, a grouse approximately eighty to one hundred yards off to the left of course. Minard produced a large mature grouse, fired his gun and all was in order. Mature older grouse are as tough as they come in The Big Woods.
The judges reported Jacksin had great application and that "you could tell he was really hunting for a bird."
The judges were also rewarded by several other good performances.
Open Derby Winners. Front, from left: Mark Hughes with Pine Swomp Woody, Judge Dave Blakeley, Thor Kain with Power Forward, Judge Mike Oxenrider and Dave Hughes with Caliber Peak Gunslinger.
River's Edge Bailey, setter female with Scott Forman, had a good race and a find during the eighteenth brace only to have the grouse blow out far ahead during a second relocation, with no dog involved.
A forward running setter female, Rockland Ridge McGraw, pointed during her bid and Midnight Kennels' handler Robert Ecker produced a woodcock, but no grouse was to be found.
La Sombra, pointer male with Dave Hughes, and Panola Bacon, pointer male with John Stolgitis in the 25th brace, had a grouse leave a tree and while both dogs were trying to stop to the flush, another took flight. When the dogs stopped and pointed, both handlers flushed further, and a grouse was produced for a divided find.
Coming into the pump house on Lolita No. 1, Straight Forward, setter female, was getting birdy and in the pines/blueberry road edge pointed. Braggabull, pointer female, came into the same area on the other side of the pines and pointed just as the running birds were lifting.
I'll Be Back, setter male handled by Mark Hughes, was mentioned for his strong ground race. Sterlingworth Jack, setter male with Robert Ecker, was described as fast, forward with a big race.
Claremonts Lucky Brin, fancy setter female with Dave Hughes, was forward, attractive and nice moving with good application.
Good looking strapping setter male Game Winner, in the 10th brace on Lamonaville No. 3, stacked up over a grouse at 45 minutes during his bid.
Marienville, Pa., October 31
Judges: Steve Madeiros and Russ Richardson
PENNSYLVANIA GROUSE CHAMPIONSHIP [One-Hour Heats] --
26 Pointers and 26 Setters

Winner--BLAST ZONE, 1656272, setter male, by Full Blast--Hardcore. Thor Kain, owner and handler.
Runner-Up--TITANIUM'S JACKSIN, 1661113, pointer male, by Miller's Happy Jack--Hifive's Sin Again. Titanium Bird Dogs LLC, owner; Bruce Minard, handler.
Accompanying Stakes
Setter male Pine Swomp Woody won the Open Derby with a great forward race for handler Mark Hughes. Woody is owned by Nick Blakley of Dubois, Pa. Power Forward, a very fancy setter female, jumped into second place with her race and easy going way. She was owned and handled by Thor Kain. The yellow ribbon was picked up by Caliber Peak Gunslinger, pointer male owned by Sarah and Jessee Gomes of Welland Port, Ontario, Canada. "Triggs" was handled by Mark Hughes, for Mark's second placement of the day. Triggs showed great application to seal up that third spot.
In the Open Puppy, Deb's McKeachie Road, a gorgeous little setter female, set the pace and never looked back. She won the stake with ease for owner-handler Deb Kennedy of Hanover, N. H. Upland's Dana, also a setter female, not to be left behind, pushed the winner to garner the red. Dana is owned and handled by Isabel Troiano of Ionia, N. Y.
Judges: Thor Kain and John Stolgitis
OPEN PUPPY -- 4 Setters
1st--DEB'S MCKEACHIE ROAD, 1680807, female, by Ponderosa Mac--Grouse River Woodcock Annie. Deborah Kennedy, owner and handler.
2d--UPLAND'S DANA, unreg., female, by Upland's Super Copper--Upland's Wendy Lou. Isabel Troiano, owner and handler.
Judges: Dave Blakley and Mike Oxenrider
OPEN DERBY -- 9 Pointers and 19 Setters
1st--PINE SWOMP WOODY, 1675869, setter male, by Full Blast--Jar's Way Shirley. Nicholas D. Blakley, owner; Mark Hughes, handler.
2d--POWER FORWARD, 1679007, setter female, by Blast Zone--Straight Forward. Thor Kain, owner and handler.
3d--CALIBER PEAK GUNSLINGER, 1677296, pointer male, by Cover Charge Search Engine--Double Deuce Molly. Sarah D. & Jesse Gomes, owners; Mark Hughes, handler.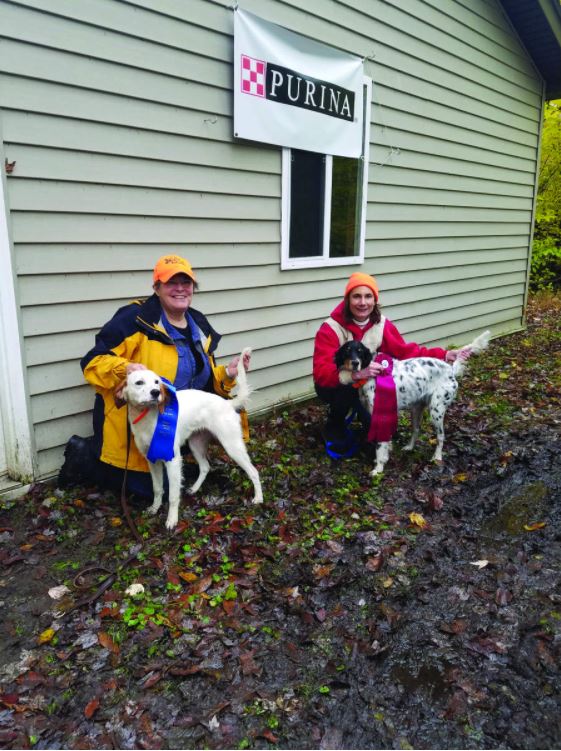 Open Puppy Winners. Front, from left: Deb Kennedy with Deb's McKeachie Road and Isabel Troiano with Upland Dana.
SOME SIDELIGHTS
This year's officers for the Pennsylvania Club are President Thor Kain; Secretary Helen Brenneman; Directors: Dave Hughes, Tom Mains, Scott Forman, Joe Cammisa, Mike Spotts, Dick Brenneman and Tim Perschke. Thank you to every one of them and all are to be commended for the part that each plays in the success of the Pennsylvania Grouse Trial Association.
Last year's champion, La Sombra, was honored as his owner Carlos Escalante of Altoona, Pa., sponsored the Thursday evening banquet at Bettina's Italian Restaurant in Marienville. The dinner sponsorship is a tradition that has been followed for years and it was done in fine manner. The banquet was well attended and a special thank you to Carlos for the enjoyable evening.
A very special thank you goes to Dean Reinke and Nestl Purina. As is always the case, Dean has provided the grouse trial clubs in Pennsylvania with not only the products to fuel the canines we run, but also the background support that keeps our passions and sport alive.
The Pennsylvania Club would also like to especially thank Dave Duell, Tom Mains and Thor Kain for marshalling braces during the Championship. Dave Hughes, Mark Hughes, Marc Forman, Scott Forman and Joe Cammisa for moving people and cars, George Tinkerhoff for his all-around help moving cars, tending the needs of others and keeping the fire going. A huge thank you goes out to Helen Brenneman for all the lunches, pastries, desserts and for the coffee breaks.
Grouse trialing in Pennsylvania for more than 100 years is not just a tradition, it's a way of life.