Result: New England Open Championship
Location: East Windsor, Connecticut
Post Date: Dec 28, 2018
Submitted By: John Olfson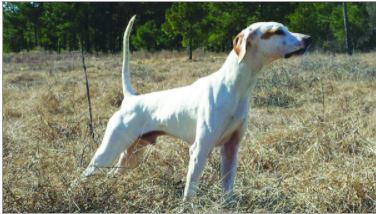 Waybetter Rocky Winner of the New England Open Championship
The 90th running of the New England Open Championship commenced Monday morning, October 15, at 7:45 a. m. in cold rainy conditions.
The Championship is sponsored by the New Britain Field Trial Club and Association of New England Field Trial Clubs. It is the fourth leg of consecutive events which we promote as "New England's Grand Slam".
Roots of the trial date back to the late 1920s when the Championship was held at Lee White's farm in Scotland, Conn., which held grouse, woodcock, wild pheasant, and wild quail.
Eventually, after those grounds were no longer available, the trial struggled to find a suitable location and for awhile became a walking then a horseback quail championship when the event settled in for a lengthy tenure at the late Harry Townshend's Ragged Hill Farm in Pomfret, Conn., where it thrived for many years under the chairmanship of Dick Bembenek.
Some seasons after Harry's passing the New England Championship[ moved to its present-day location, the Dr. John E. Flaherty Field Trial Area in East Windsor, Conn.
The fall of 2018 New England received record rainfall which created a great deal of clay based mud sucking area.
Despite this, under the joint effort of the Dr. John E. Flaherty Field Trial Clubs Association, and its devoted President Dick Frawley, as well as the State of Connecticut Department of Energy and Environmental Protection, and Eastern District Wildlife Biologist Ann Kilpatrick, the grounds were in as good a condition as could be expected with several spots having improved drainage, and stability. We are thankful and appreciate this continued joint effort.
The conditions took their toll on all nvolved, especially the dogs, and horses, most of which lost shoes. However we persevered.
The Winners
Judges John Olfson of West Hartford, Conn., and Stacey Goodie of Vincentown, N. J., named pointer male Waybetter Rocky the champion.
The five-year-old white and orange pointer male is owned by Bill and Muriel Primm of Cream Ridge, N. J., and Carl and Collin Bishop of Punxsutawney, Pa. He was handled by Mike Tracy.
Rocky was bred by the Bishops. His record, with his win here, stands at 33 placements. He won both the National and United States Quail Shooting Dog Futurities in 2014 and 2015, respectively. His record is repleat with both horseback and walking stakes wins, both open and amateur.
Having run in the first brace of the stake, he was always forward. His effort was the strongest race I've seen from him, and this together with his classy six finds proved to be too much to beat, as he was carried the balance of the Championship. Late in the hour the course goes through a tricky section with a swampy creek bed, and a narrow chute for passage. Rocky hunted the swampy bottom, made it across, handler Mike Tracy collected him, and kept him forward for an impressive strong finish.
Matt Basilone handled five-year-old white and black pointer male Steel City Alabama for owners Karen and Bob Reed of Gettysburg, Pa., to runner-up laurels. Alabama ran a nice forward race, was classy on point in his six-find effort. He is a very nice dog, and is capable of winning anywhere.
There were other performances worthy of mention. These came from pointer male Cheyenne Jack which impressed me with his diligent hunting, covering all objectives with snappy moves producing seven finds. Veteran pointer male Jayhawk Thunder showed a great deal of heart in his four-find gutty effort.
We thank Purina for their continued support. We are proud to award Pro Plan Sport to the winners. We all appreciate Purina's effort and support of all sporting breeds. They are far and away second to none.
We thank Mary Tracy for preparing the handlers' dinner on behalf of Laura and David Steele, owners of 2017 Champion Walden's Ridge Shadow Dancer.
Thanks to all who helped, and supported the trial. Special thanks to our longtime chairman Dick Bembenek who attended the trial for perhaps his last time as he has relocated to Arizona. Dick cared for the decades old championship silver tray, which has not had room for additional winners for many years, as well as the hand-carved Harry Townshend award. Both have been retired to the National Bird Dog Museum in Grand Junction, Tenn.
Hope to see everyone next year to help carry forward the tradition of this longtime Championship.

East Windsor, Conn., October 15 -- One Course
Judges: Stacey Goodie and John Olfson

NEW ENGLAND OPEN CHAMPIONSHIP [One-Hour Heats] -- 22 Pointers, 3 Setters and 1 Irish Setter
Winner--WAYBETTER ROCKY, 1652783, pointer male, by Brown's Tom Tom--Waybetter Reba. Carl & Collin Bishop & Muriel & Bill Primm, owners; Mike Tracy, handler.
Runner-Up--STEEL CITY ALABAMA, 1656990, pointer male, by Jayhawk--Raisin Hell. Karen & Bob Reed, owners; Matt Basilone, handler.