Result: American Brittany Club Quail Championship
Location: Grovespring, Missouri
Post Date: Dec 28, 2018
Submitted By: Burton Wice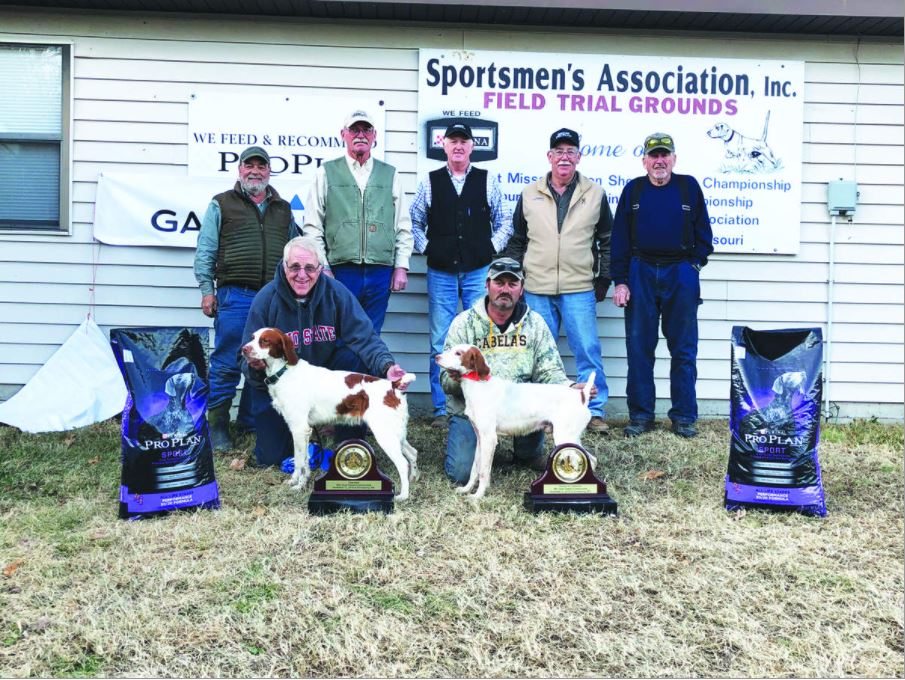 Championship Winners. In foreground, from left: Owner Joe Williams with J B W's Levi The Lionheart and handler Tom Tracy, Jr. with Glade Run Irish. Standing: Burton Wice, Stan Truksa, judge; Kent Patterson, John Hott, judge, and Jerry McGee.
The 2018 American Brittany Club Quail Championship was hosted by the Greater St. Louis Brittany Club and run from November 12-16 at the Sportsmen's Association Field Trial Grounds in Grovespring, Mo.
These private grounds are groomed and maintained solely for field trials. In addition to birds planted each day, the grounds hold numerous large coveys of pre-released quail which allow dogs to really show their skills.
In addition, kennels are available for dogs, electric hook-ups are available for trailers, and the clubhouse has facilities for cooking, eating and sleeping.
To limit pressure on the birds, three braces were run on the three one-hour continuous courses in the morning and another three in the afternoon. Coveys of pre-released birds were found in nearly all braces regardless of when the dogs ran.
Many people and sponsors helped make this event possible. Dave Capstick, Tim Self, Ed Janulis and Jerry McGee planted birds on the continuous course. The club provided meals and snacks for all of the attendees. Sharon Wice prepared hard boiled eggs for morning coffee breaks at the dog wagon between braces. Burton Wice prepared dinners that were well received.
Margaret Horstmeyer, Donna Janulis, and Kathy Gulembo helped with kitchen duties. Valerie and Bob Burchett cooked a steak dinner one evening and kept the supplies stocked.
Dave Capstick and Donna Janulis took turns driving the dog wagon.
Purina donated small pouches of Pro Plan Sport dog food for all entrants as well as large bags for the winners.
Garmin donated a Pro 550 advanced training system. Collectively, these folks helped make this year's renewal a huge success.
The quality of the stake is reflected by the fact that there were 54 entries including nine of the top 15 dogs in contention for the Purina Award.
Participants from Arizona, California, Idaho, Illinois, Kansas, Michigan, Missouri, Nebraska, Ohio, Oklahoma, Oregon, Tennessee, and Wisconsin attended and competed in this event which also served as a tune-up for the All-Age Nationals which started the following week.
Stan Truksa of Firth, Neb., and John Hott of Hoopeston, Ill., spent five days in the saddle evaluating the dogs.
The weather for this year's event was challenging for the dogs and everyone involved. Conditions started out more like what might be expected in January rather than November. On the first morning, a light drizzle changed to snow which made it hard to see the dogs. It was decided not to run the afternoon braces. The running continued Tuesday morning with temperatures in the low teens which only reached the low 20s for the high of the day. Temperatures were just as cold on Wednesday. Temperatures finally started to warm up on Thursday and reached nearly 60 as the stake was finishing Friday afternoon.
THE WINNERS
Named champion of the Quail Championship was J B W's Levi The Lion-heart, five-year-old white and orange Brittany male owned and handled by Joe Williams of Grovespring, Mo. Nearly six years old (whelped January 24, 2013), Levi ran in brace No. 21 and showed that he is back after missing all of last spring while being treated for heartworm.
Levi handled well, ran a smooth and forward race, and finished strong to the front. Levi had four finds spread over the hour which included two limb finds. Levi pointed all of his finds with excellent style.
The runner-up was Glade Run Irish, nine-year-old white and orange Brittany male owned by David Webb of Valencia, Pa., and handled by Tom Tracy, Jr. Irish ran in 12th brace and showed why he is a perennial winner. Irish had excellent range, was forward and responsive to his handler, and hunted hard the entire time he was on the ground. He had four finds and finished strong.
Pressing the winners was Whiskey's Little Tip, male owned by Weston and Gaylord Jowett of Frankfort, Mich., and handled by Bob Burchett. Tip ran in brace No. 26, handled well, hunted hard, and had solid bird work on each of his three finds.
Hehe's Slim Chipley, five-year-old male owned by Matt Healy of Birmingham, Mich., and also handled by Bob Burchett, ran in brace No. 9, hunted hard and had good style on each of his three finds.
Grovespring, Mo., November 12
Judges: John Hott and Stan Truksa

AMERICAN BRITTANY CLUB QUAIL CHAMPIONSHIP [One-Hour Heats] -- 54 Brittanys
Winner--J B W'S LEVI THE LIONHEART, 1666510, male, by Spanish Corral's Sundance Kid--Sam's Sandbank Rose. Joe Williams, owner and handler.
Runner-Up--GLADE RUN IRISH, 1624850, male, by Ortho Acres Booker T--Flying Feathers Cocobean. David Webb, owner; Tom Tracy, Jr., handler.