Result: National Open Shooting Dog Championship
Location: Union Springs, Alabama
Post Date: Feb 22, 2019
Submitted By: Heather Klinck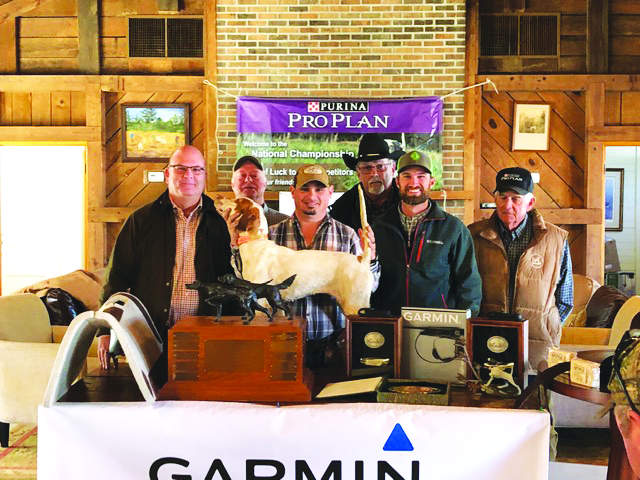 The Winner. From left: Owner Keith Finlayson, Judge Ray Wheeler, Michael Martino with Thrill Me, Judge Dr. Jim Mills, handler Tommy Rice, and Judge Mike Jackson.
UNION SPRINGS, ALA. -- The 2019 National Open Shooting Dog Champion is Thrill Me, four-year-old white and orange pointer female that bested a field of 69 dogs from across the country and Canada and a rare second series with Touch's Mae Mobley (George Tracy) to clinch the win at Sedgefields Plantation in Union Springs, Ala.
Pea, as she is called, is owned by Keith Finlayson of Tallahassee, Fla., and handled by Tommy Rice III. She was scouted by Michael Martino of Union Springs.
Pea was sired by Mary Devos' Just Irresistible, which also sired last year's champion, Miller Unfinished Business. Her dam is Snow Thrill, she by Lester's Snowatch. Tommy Rice III bred and raised the litter which also includes Seekin a Thrill and Just Thrillin.
The National Open Shooting Dog Championship win highlights a very successful season for Tommy. He's also won all three placements in both the Conecuh Station Open and the Dixie Classic, both held locally last fall.
Thrill Me was named champion at the Masters Championship last spring and runner-up at the South Carolina Championship in December. She also won the Bama Quail Classic in Tuskegee in December.
Owner Keith Finlayson is just two years into the field trial game. He met Tommy through a mutual friend and purchased Thrill Me and Just Thrillin as first year dogs. A health issue prevents him from riding a horse, but he was on the dog wagon each time his dogs ran.
Tommy is a quiet and humble young man. Snow Thrill was the first field trial dog he trained and campaigned. His first trip to the National Open Shooting Dog Championship, as well as his first time at Sedgefields, was in 2014. Now, just five years later, Tommy said he "soaked in the moment" of the callback with Hall-of-Famer George Tracy. "Before we broke away," Tommy said, "I shook his hand and told him I will remember this forever."
Raymond and Kathryn Harbert purchased time-honored Sedgefields Plantation in 2010 and put the field trial grounds back together. They have added on to the field house and replaced the field trial barn with a brand new one. They graciously and generously allow the National Open Shooting Dog Championship and the National Amateur Free-for-All Championship to take over the field trial grounds for most of the month of February. Their generosity is greatly appreciated as the opportunity to hold a trial on a perfect bird hunting plantation is a rarity these days.
The Championship began February 4 and lasted ten days. Weather conditions were varied. They started unseasonably warm and cooled off as the trial progressed.
This year's Championship was dedicated to the late Dr. Jerry Champion, the longtime president of the National Open Shooting Dog Championship. Dr. Champion passed away last July.
The judges are all well known and well respected in the bird dog field trial world.
Dr. Jim Mills returned again from Searcy, Ark., for the second year along with his wife Marian. His dry humor is much appreciated by those who share the same wit.
Mike Jackson of Battle Ground, Ind., was on his last judging assignment of his big January/February swing through the South before a brief trip home and on to more trials.
Ray Wheeler of Shelby, Ohio made his first visit to the Bird Dog Field Trial Capital of the World and Sedgefields Plantation. All three judges paid close attention to each entry, rode hard when needed and allowed each handler to show his dog in his or her own way.
Advertised reporter and board member Mike Husenits became ill while conducting the United States Shooting Dog Futurity at Hoffman, N. C., directly before the Championship. He returned home from there to tend to his health and he was missed.
Board member Perry Hicks stepped up and performed a grand service by riding all but two braces (I rode those plus the last few days) and using a hand-held recorder to cover the events so that this report could be filed. It was not the ideal situation for the most prestigious shooting dog championship, but as a last-minute option, it worked well for us and we, the Board of Directors, offer our apologies to the owners and handlers who may not have gotten the coverage from an official reporter that they deserve in a trial of this caliber.
When the Championship began Monday morning, February 4, the weather was warm and overcast, with high humidity. Temperature would peak in the upper 60s. As usual, with the exception of last year, the morning braces started from up the road, at "the grain bins" on the wild bird side, with a very large gallery in attendance. The mood was upbeat and exciting, as it should be for this prestigious Championship.
The grounds are groomed to perfection for bird hunting. The Harberts employ a large staff led by manager Jason Howard. Bill Lee covers the quail hunting program. His knowledge and experience means these field trial grounds get better and better every year. These are truly the best field trial grounds in America.
The Championship runs only four braces a day, at ninety minutes each. Each owner and handler knows when their dog will compete, barring any weather delays. This year we were lucky, only one afternoon was delayed by storms. The judges have the option to ask handlers to pick up their dogs if they are not beating what has already run. In most cases the judges give about an hour to make this decision.
There are two times in the morning that the course crosses a paved county road. Dog Wagon Master Charles Klinck coordinates the safety of all with assistance from the local game warden and constable. The dog wagon, a single cab style pick up with a custom back end with ten dog boxes, also has four seats on top of the boxes for spectators. This was a popular place to ride during the trial. Additionally, on Friday afternoon, Joe Moorer brought a tractor and hay wagon and pulled the Ladies Lunch cocktail party around the course.
The National Open Shooting Dog Championship is honored to be sponsored by Purina and Sedgefields Plantation as well as 5 Star Equine Products and Garmin.
Besides the $20,000 purse, the winner receives an original oil painting of their dog by Ross Young, a trooper saddle, 24 bags of Pro Plan dog food, a Garmin Pro 550 training unit, a custom saddle pad by 5 Star and another for the scout, unique scrimshawed knife and pewter belt buckles for both owner and handler, jackets from Purina, a Franklin Mint engraved silver quail plate, a Covey Rise statue by Stan Bentall, a rotating trophy, bragging right and good memories.

The Running
Sugarknoll War Paint (G. Tracy) and Quail Roost Accolade (M. Martino) were delayed by fog until 8:40 a. m. Owners Pete Del Collo and Allen Linder rode for War Paint and Susan Wells was there for Accolade. Both made the first road crossing and Accolade had a good find at 20. Crossing the big house road, Martino had his dog up front and Tracy was looking for War Paint. At 35 both dogs were up front and hunting well and they crossed the big lake dam at 39, War Paint being the wider running of the two. War Paint had a good find at 50, birds lifted before the gallery could see them, but the covey was seen in judgment. Martino called point at 51, flushed and relocated Accolade, but no birds flew and he suffered an unproductive. On his way to the front he wheeled and pointed on the edge of the road for a nice covey at 54. At the hour mark, War Paint was deep to the front. Accolade had a second unproductive at 1:09 and was picked up. War Paint got birdy and worked across a ditch and up a hill for a second find at 1:19 which must have been running quail as it was a long but successful flushing effort. At pickup War Paint was far ahead on course.
The eventual winner, Thrill Me (Rice), and Dixie Delight (Moore) were loosed from the Coke Barn. Point was called for Delight at 6. Thrill Me came in and backed stylishly. Handlers relayed that birds had already flown and unfortunately they were quicker than the officials. The handlers attempted to relocate their dogs but to no avail and they were taken on. Thrill Me had a good find at 13. Moore called point at 23 but flushed a large wild hog. [Hogs are an ongoing concern in this area and although much effort is made to eradicate them, they are prolific.] Delight was picked up after an unproductive at 48. At the same time, Thrill Me had a find on the Clearview line at 50. At 1:02, behind the Blackmon's compound, Thrill Me had a find that showcased her great style. She carded her fourth at 1:12 and finished the hour and a half heat strong.
After lunch the breakaway is from behind the barn on the traditional afternoon courses. This side of the property has pre-released quail that mimic wild birds.
Great River McKenzie (J. Tracy) and Caladen's Davinci (Raynor) broke away at 1:30 p. m. McKenzie had a find at 15 with Davinci backing. Both dogs were to the front, running well behind Bill Lee's house. Davinci went out of pocket and Raynor asked for the retrieval device at 48. The judges gave Tracy her device at the hour mark.
Steel City Karen (J. Tracy) and C S Pressure Test (Ray) turned loose at the traditional spot across the road from Bill Lee's driveway. Pressure Test made a wrong turn off the breakaway and was not seen again. At the duck pond Karen was up front and hunting. At 32 she pointed a large covey. Karen was busy and industrious; however, at 57 she was picked up at the judges' request.
Tuesday morning was even warmer with a mix of sun and clouds, the temperature rising quickly.
Bombs Away (Rice) and Pinestraw Sweet Tea (J. Tracy) were loosed on time at 8:00 a. m. Bomb was bold in his application, while Tea eased through the cover. Both crossed the first road handily. At 20 Rice called point but on arrival of the officials the dog moved on and no birds were seen. Both dogs were ahead at the big house driveway, Bomb being the bigger running of the pair. Tea had an unproductive at 38 near the big lake. Bomb crossed the dam and dropped off deep to the right. He was found standing at 43. Tea was up at 45 after an error on a relocation. Bomb had a good find requiring relocation for a large covey at 52. He looked very sharp, but after being loosed he headed out the front and was out of pocket. At an hour and five minutes, the judges opted to give Rice his retrieval unit.
The 6th brace was father/son handlers and scouts, George and Mike Tracy with Bill and Harrison Lee. Miller's Vanilla Snow (G. Tracy) and Sedgefields Shadow Rises (Lee) left from the Coke Barn. Shadow had a solid, stylish find at 16 on a single near the creek. Snow had an unproductive at 22. Both dogs were up front at the Joe Varner Road. At 43 Shadow scored a second covey and Snow scored at 44 and again at 47. Judges handed the retrieval units to both handlers at the power line road crossing.
It was in the mid 70s and sunny when Bo Bunda (Martino) and Coosawhatchie Smooth Ride (M. Tracy) turned loose. Eighty-eight-year-old Jack Arlington rode for Bo and Casey Hollander and her young son Wyatt rode for Smooth. Smooth had a find at 11 just past the small pond. Bo came in to back. Bo suffered an unproductive at 24 but went on to have a nice find at 51 with the birds flushing all around him, the dog standing impressively. Judges elected to end the bids at 1:20.
The final brace on Tuesday commenced at 3:30 p. m. with puffy clouds in the sky and a temperature of 76 . Cory's Easy Holy Water (G. Tracy) and Just Thrillin (Rice) both ran good forward races, hunting deep to no avail until 33 when Holy Water had a covey pinned on top of the hill. Thrillin had an unproductive to end his bid before the hour mark. The judges gave the unit to Tracy at 57.
C S Coldwater Rex (Ray) and Miller's Just Plain Rowdy (G. Tracy) were loosed on time Wednesday morning in misty, humid, warm conditions. Both dogs made the first road crossing. Rex had a find at 19. Rowdy ran bold and forward and so boldly that Tracy requested his unit at 24. Rex showed well coming toward the big house. He crossed the dam and hunted well but the judges had seen enough by 57.
Seekin A Thrill (Rice) and Bully Bragg (G. Tracy) were loosed at the Coke Barn, with Bragg scoring right away at 3. Unfortunately, Bragg was lost shortly thereafter. Thrill had a picture perfect find at 9, and again at 12 and 20. He suffered an unproductive at 22. Thrill made a long cast on the ridge heading to Clearview and swapped ends and pointed at the edge of the sedge at 40. This was the find of the trial. He scored again up front at 53 in the triangle. He crossed the road at the power line, and then crossed the bridge and headed to the front hunting well. However at 1:17, after a long relocation, and begging for a bird to fly, his bid was ended by his second unproductive. It was a sad moment after a beautiful attempt.
Cheyenne Jack (M. Tracy) and Chelsea's Thunder Bolt (Kinkelaar) were both deep in their initial application. Just past the pond at 12, both dogs were standing, Thunder Bolt in front and Jack a few feet to the side of him. A nice covey was flushed and both handlers shot. Behind Bill Lee's house at 22, Thunder Bolt had a dug up find, while Jack scored at the same time in a different location nearby. Jack carded an unproductive in front of Bill Lee's house. Thunder Bolt scored again at 40. Thunder Bolt was lost about 1:10 when the course turned right and he headed left. Jack finished the time with a good race.
Grand Prairie Thrill (Rice) and Miller's Honor Code (G. Tracy) both hunted well to the front. Tracy called point at 28 for Code and Thrill came in for the back. A flushing attempt was made. Code was relocated but no birds were found. Both dogs were picked up early at 50 at the road crossing.
It was pleasant but humid Thursday morning. In Swami's Shadow (Kinkelaar) and Waybetter Rocky (M. Tracy) both scored before the half hour mark. Soon after, Shadow had a single bird pinned then went on to have a third find at 35 near the big lake. Rocky made a big swing around the bottom at the big lake and Mike called point at 43 but no birds were home. At 52 Shawn called point but picked his dog up for an error. Rocky pointed at 53 and all was in order. At the hour mark Rocky suffered a second unproductive and was harnessed.
Jayhawk Thunder (Basilone) and Miller's Lock and Loaded (G. Tracy) left from the Coke Barn as temperatures increased. The forecast high for the day was 80 with full sun. At 26 Loaded pinned a nice covey on the far right on top of the hill. Point was called at 37 for Thunder on the left and Matt flushed a large covey. Tracy picked up his dog early and at the hour mark the judges elected to end the bid for Thunder.
Deerfield Game (Basilone) had owner Karen Lordi watching from the dog wagon and scored on the west side of the road at 15. Zorra (Kinkelaar) had birds quickly at 4. Zorra had a good find near Bill Lee's house at 22, and Game suffered an unproductive about the same time. Both dogs crossed the road and Zorra scored again at 47. After crossing Bill Lee's driveway near the road, both dogs were ahead and found pointed. Kinkelaar relayed birds left but as he collared his dog more flew. Both handlers shot and the judges elected to pick up both dogs up after this as the hour mark had come and neither was winning the trial. The warm temperature was tough on the animals.
Miller's Handsome Ransom (G. Tracy) and Zip Tye (Ray) turned loose at 2:50 p. m. headed toward the duck lake. Will Dunn had come for the afternoon to watch his Zip. Both dogs ran the edges well. Ransom scored at 38 near turkey ridge, the first find on this afternoon course. At the road crossing near the barn at 48 the judges had seen enough of Zip. Then 10 minutes later they called it off on Ransom. It was a hot afternoon.
Friday morning was much cooler with windy conditions for Miller's Stray Bullet (Norman) and Lancelot's Tall Knight (Stretz). Knight had a stylish find at 13 with Bullet backing about four yards away. Norman called point at 25 off to the right and a large covey was flushed in front of Bullet. He scored again up front at 31 with the main gates in the background. Knight had a find near the big house at 34 further to the right of Bullet's covey. Both dogs made the critical dam crossing. At 47, on the edge of the ridge behind the big house, Bullet had another good quail contact. Knight had a period of absence but was found. At 1:07 Norman called point but while flushing saw signs of hogs in the area and took his dog on. Both dogs finished the brace, Bullet the stronger of the two at the end.
Touch's Mae Mobley (G. Tracy) scored a nice covey at 23 on the edge of the ridge. Both dogs ran deep and forward. Class Act Express got involved with a deer and Ray asked for his retrieval unit at 30. Mae had another find across the Clearview road, the gallery calling point after Tracy had passed her by on a faithful covey that was home every day. At 1:10, before the power line crossing, Mae was to the far right and Tracy had to ride hard to get her gathered to cross the road. Scout found Mae pointed to the front at 1:29 and her time ran out at the conclusion of the find. She had run a good strong race for the ninety minutes and scored three times.
Urban Fantasy (Basilone) and Touch's Diamante (Rice) had to run into a stiff breeze. Diamante pointed but a doe and two bucks were the only game flushed. Both dogs covered the ground nicely. Fantasy had an unproductive at 36. Both handlers were asked to pick up at 56.
Erin's Prometheus (Ray) and Bail Me Out (M. Tracy) headed to the front, both deep. Ray called point at 17 on the ridge past the duck pond but could not flush anything for Prometheus. At 28 Prometheus was rewarded with a covey, style excellent on point. At 31 Bail also had an unproductive. Prometheus scored again at 37. Both made the road crossing near the barn to continue their bids past the hour mark. At 1:05 both dogs were in front with the Lee Mansion in sight. Bail suffered his second unproductive at 1:27. Prometheus had been out of pocket, but was visible at the 90-minute pick up time.
Miller's Unbridled Forever (G. Tracy) and Hale's Kickstarter (Taylor) were off to chilly conditions Saturday morning. Kickstarter was fresh off his runner-up at the National Amateur Shooting Dog Championship. Scout called point at 10 for Kickstarter but no birds could be produced. At 25 Forever had a nice find and Kickstarter came in for a back. In front of the big house baby pigs and dogs got together, an unfortunate but not unusual situation in our area. Taylor was looking for his dog at the big lake dam crossing, a critical juncture, as there is no other way around except over the long dam. Taylor asked for the unit at 40. At the judges' request, Forever was up at 57.
Strut Nation (Scott Jordan) had a good covey at 24. Both Strut and Foolish Agin (Raynor) had some back and forth patterns to begin with. They crossed the Clearview Road at 36. Strut had another good find at 40, the everyday covey. Foolish was up at 45. At the power line road crossing, at the hour mark, Strut's bid was ended by the judges.
Mobile Strike (Ray) had Georgia owner Doug Hinton riding. Strike and Backcountry Tornado (M. Tracy) broke away behind the barn in cool weather with cloudy skies and had a divided find at 3. Tornado scored again at 8. Strike had a good covey at 17. Tornado swapped ends going down a line and pointed at 31; birds did not fly. At 35 Strike scored his third covey. At 40
Tornado had his second unproductive. At the hour mark Strike was running well but slowed and at 1:11 the judges decided Strike was finished.
Jamback's Johnny Be Good ran well but went birdless and was picked up by George Tracy at 1:10. L F Dyno Mike (Moore) scored at 32 and again at 45 just across the dirt road to the left. Birds were out feeding. He was asked up at 1:07 near Bill Lee's house.
Jessie's Bojangles (J. Tracy) and R J's Deicer (Kinkelaar) started Sunday morning in pleasant conditions. Deicer had a find at 5 before the road crossing and Bo came in for the back. Kinkelaar called point for his dog at 27, Deicer on the top of the ridge off to the right. Bo scored his second back as well. At 38 both dogs crossed the big lake dam. Deicer was running a good race and Bo was a little short. Bo had an unproductive across from the big house and he was picked up at this time. At 58 the judge and gallery were headed to the front and found Deicer on point again. Upon being loosed he made a big cast to the right and didn't return, much to everyone's disappointment. The retrieval unit was transferred at 1:27.
American Pharoah (Williams) had an unproductive at 18, with last year's champion Miller Unfinished Business (Norman) backing. Williams picked his dog up at 45. Business had a find at 46 in the triangle. Business didn't show the race he had last year and was asked up at the hour mark.
Upfront's Southern Star (Kinkelaar) and Lone Tree Splish Splash (Gellhaus) had pleasant weather, but an east wind. Owner Bill Owen scouted for Splash. Star had an unproductive at 6. At 35 Splash was pointed to the right. He self relocated as the officials rode in. Travis whistled Splash again before flushing, and he moved in too close and birds flew, ending the bid for Splash. Star had a nice covey at 31. He made some good casts but seemed hard headed in his application and the judges ended it at 1:05.
Charitable Deed (Rice) and Miller's Miss Calamity Jane (G. Tracy) both crossed the duck lake dam at 10 and toward the end of the dam Tracy raised his hat; when we got to him both dogs were running. At 17 both dogs were standing ahead. Both handlers flushed to no avail and they relocated. Deed stopped again and Jane came in for a back this time. Still no birds could be produced. Deed showed wonderfully, with big casts and a nice ground pattern. At 40 Rice called point up ahead and Jane came to back. A passel of pigs were seen in the area but Tommy decided to continue flushing. Jane was harnessed. Deed made a good effort and another relocation but his bid was ended without bird contact.
C S Trump made it across the road but was hard headed and Ray got the retrieval unit at 10 as he was not pleased with Trump's handling. Zumbro Stinky Pete (Gellhaus) had owner Terry Reinke riding along with her husband Doug White. Pete had a nice find at the driveway at 37. He crossed the big lake dam at 39. At the crossroads at 45 the retrieval unit was handed over.
Tangled Sheets (Taylor), newly named National Amateur Shooting Dog Champion, ran well in the beginning. She made a great cast in the bottom to our right at 13 but had trouble returning. Miller's Heat Seeker (G. Tracy) had a find on the Joe Varner line at 20, birds lifting quickly, but seen in judgment. The faithful everyday covey was at home in the triangle for Seeker at 39. Sheets had a find to the left at the same time. Seeker made a great cast at the Clearview line as we headed toward the oak tree. Passing the buzzard house, Seeker was handling well, but Sheets was not around. At the deer stand house before the road crossing, Sheets pointed, Seeker backed and both handlers collared their dogs and called it quits just before the hour.
C S Li'l Ann (Ray) and Northwoods Charles (Gellhaus) left from the barn on the second Monday afternoon of the trial. Weather was overcast. Charles was up at 4 with an error on birds. Ann pointed at 35 but didn't have them pinned. Relocation didn't help and Ray elected to pick his dog up.
Pure Gossip (Stretz) and Erin's War Creek (G. Tracy) made it across the duck lake dam, turned left and hit the cover. Gossip pointed at 16 with Creek backing. Stretz flushed to no avail and asked Gossip to relocate. She moved up about 15 feet and pinned the birds, a perfect relocation. Creek had a large covey at the top of the hill at 33. After crossing the main road, Gossip suffered multiple absences and the retrieval unit was transferred at the hour. Creek had birds again at 1:12, pointing one of Bill Lee's house coveys. At 1:19 the judges ended the bid.
Mama's Broken Heart (Basilone) and Hale's Southern Touch (Kinkelaar) started Tuesday morning in warm, humid conditions with fast moving clouds and a threat of storms for the day. Touch had a find at 4 on the edge of the paved road before the crossing. He scored again at 17 and was found on point near the main gate at 31; no birds were flushed. Heart made a good ground application and found birds just across the road at 11. They both crossed the big lake dam at 37. At 42 Touch was pointed again. Kinkelaar took him on as he relayed that birds had flushed before the judicial party had arrived. At 57 Touch had his fourth contact, found on point by the scout. At the hour mark, Martino was handed his unit. Touch had some absences in his race and was lost after his fourth find.
Jacked Up Jasper (Moore) and Born On Fourth July (Gellhaus) broke away after a very quick break at the Coke Barn. Weather was moving in and a line of storms was heading east. Jasper pointed the everyday faithful covey at 40. He went on to pin some more on the other side of the ditch and fifty yards up at 42. Jasper was picked up at 55. Unfortunately, July was lost on breakaway.
Steel City Alabama (Basilone) was loosed from behind the barn as soon as possible due to threat of strong storms. At 17 the rain began. Bama had a find at 21 and the rain got heavier. It was determined that the best course of action would be to pick him up and give him another chance to run the next morning as the rain turned to flood and conditions were unsafe for all.
Back at headquarters the announcement was made that Steel City Alabama would be turned loose Wednesday morning at 8:00 a. m. from behind the barn. It was also announced that Thrill Me, which ran in brace No. 2, and Touch's Mae Mobley, from brace No. 18, were to be on standby to run on the traditional first morning course if need be.
Wednesday morning was brisk and sunny. There had been half an inch of rain and it was sloppy in places. Steel City Alabama was loosed from behind the barn at 8:00 a. m. sharp. He pointed at 9, in a location birds had been seen throughout the trial, but none were put in the air. He scored a nice covey at 30 but his bid was up at the hour.
Second Series

With the three judge format, and indecision between them, the second series was called to run.
Thrill Me had owner Keith Finlayson riding atop the dog wagon. Touch's Mae Mobley had owners Muriel and Bill Primm riding. A moderate gallery followed. The weather was cool and sunny at the 9:36 a. m. breakaway. The side of the road covey was home for Thrill, and Mae backed at 4. The main road crossing went smoothly and as the course eased right following the fenceline, both dogs turned left and scouts, Michael Martino and Mike Tracy, rode hard to gather them, and they were easily collected. As we came to the left hand turn near the side gate, "Pea" was hunting toward the right. Mae was not in sight and Mike Tracy was looking hard for her. Pea headed up front from her right side cast before the handlers made the left turn and ran toward the head of the big lake. At 20 Pea was up front and Mae was off to the right as we passed the wetlands on our right. Between here and the driveway, we lost sight of both dogs and scouts went hard right. It's an area that's tough to get a good visual picture as there are multiple ridges and the course parallels them. Eventually, both dogs were seen to the right making nice swings, Mae first, then Pea running in the same pattern, just below a ridge and headed to the front. At 30, after the driveway, Pea was pointed in the cover between the dam road and the county road. Rice attempted to flush and then relocated his dog, but no quail were home. They caught the front just as Tracy had collected his dog and was about to head over the big lake dam. Rice sent his dog on across the dam and Tracy heeled Mae across then turned her loose into the picnic area. At 44 Mae was pointed up ahead. Birds were in the sedge and Mae stood at the edge of a plowed field as the quail flew over her. Upon being loosed she had a hard time catching the front and it appeared as if she may be stiff or slightly hurt. Rice called point for his dog at 53, down the hill from the course over to the right. She had a good covey pinned and her style was once again outstanding with a high head and 12 o'clock tail. Close to the hour mark, the dogs were off to the right, hunting the cover between the green field and the creek, east of the big lake. This area has some ridges that the course crosses and it's tough to see where a dog goes once it tops a hill. Both dogs disappeared for a bit. Pea returned from the left and Mae was brought back from the right. After and hour and ten minutes, the judges called pickup and we rode to the Coke Barn and awaited transport back to headquarters for the announcement. At headquarters a good size group gathered inside for the announcements. President Dwight Smith thanked the judges and reporters, the Harberts, Jason Howard, Bill Lee and the Sedgefields staff, sponsors, Purina, Garmin and Five Star, the marshals, Charles Klinck, dog wagon master and Steve Hutto, the doer of all unwanted duties, and the owners and handlers and field trial directors.
Thrill Me was announced the winner to much applause.
Union Springs, Ala., February 4
Judges: Mike Jackson, Dr. James Mills and Ray Wheeler
NATIONAL OPEN SHOOTING DOG CHAMPIONSHIP
[Ninety-Minute Heats] -- 60 Pointers and 9 Setters
Winner--THRILL ME, 1661569, pointer female, by Just Irresistible--Snow Thrill. Keith Finlayson, owner; Tommy Rice III, handler.
Some Sidelights

THE drawing was held Saturday, February 2, at the field house with the Union Springs Country Club catering. A large crowd of over eighty people attended and the cocktails and food were excellent. The group's emphasis seemed to be on the cocktails.
Sunday evening Steve Hutto and Heather Klinck served chips and dips and pizza for those who came to watch the Super Bowl in the field house.
Monday night Purina sponsored a steak dinner at the Union Springs Country Club. Seventy-nine guests were in attendance including Becky Champion, Stephanie Smith, Dr. Lindsey Roberts and Amy Roberts. President Dwight Smith made a lovely presentation honoring the late Dr. Jerry Champion and Dr. Lindsey Roberts for their many years of service as president and vice-president, respectively, of the National Open Shooting Dog Championship. Dwight, Becky, Lindsey and Perry Hicks all spoke, and there were tears in many eyes as we remembered the good times and memories of years past.
Tuesday night cocktails, appetizers and dinner were served directly after the running at the field house. A catered affair came from Pike Road with a delicious meal of pork tenderloin. Approximately ninety diners were served with quite a few people coming from town to see old friends and meet new ones.
Wednesday evening, Teresa and Benjy Griffith hosted dinner at the Union Springs Country Club in honor of their win last year with Miller Unfinished Business. They were presented with a beautiful Ross Young painting of their dog. Dinner was beef tenderloin and grilled quail, cheese grits, multi colored baby carrots and brussel sprouts with bread pudding for dessert. It was a most lovely event.
Thursday night, Taco Mama from Auburn catered the meal at the field house. Their spread was large and enjoyed by nearly eighty guests.
Saturday night David Allen and Hunter Smith cooked up a shrimp boil and served 100 people. It was a great party and one of the highlights of the evening activities.
Sunday night Becke Blanton, Jane Rutland, Renee Peek, and Molly Barnett served up a lovely barbecue supper for all. The crowd seemed to continually grow and fun was had by all.
Monday night, Amber Anderson of the FPH Bakery catered a lovely Italian meal. Not only was it delicious, but the presentation was beautiful.
Tuesday night, Heather Klinck and Lynn Goodyear heated up the leftovers from taco night and a good time was had by those who were in attendance, which were few, but still a fun crowd.
Breakfast was prepared and served daily by Savannah Fitzpatrick and Cierra Likely. The Tourism Council of Bullock County collects donations for field trial hospitality each year and the majority of this money goes toward providing a complimentary hot breakfast to field trial participants at this Championship and the National Amateur Free-for-All Championship held later in the month.
The Union Springs Country Club catered lunches. Managers Ginny and David Allen do an excellent job serving the community and February field trials bring much extra work to them and their staff.
Ray Wheeler also recorded the braces on a hand-held recorder and allowed me to listen for additional information on the dogs. I heard some jokes and "other commentary" recorded for me. It was most entertaining as Ray and I have known each other many years.
Owners in attendance included Allen Linder and granddaughter Madison, Bill and Muriel Primm, Carl Bishop, Stacey Goodie, Karen Lordi, Pete Del Collo, Susan Wells, Keith Finlayson, Karen and Bob Reed, Karen and Ernie Saniga, Becky and Tony Gibson, Doug Hinton, Jack Arlington, Casey Hollander, John Mathys, Harold Johnson, Ruben Richardson, Ted Faust, Bill Owen, Terry Reinke, Will Dunn and others I regret I missed. There were also many potential owners of future qualifiers including some that came from the West Coast, some Brittany owners and some AKC field trial folks.
Board Meeting News
Heather Klinck and Joe Varner, both of Union Springs, were named as directors in the fall of 2018. Newly elected to serve on the Board of Directors were Jimmy Bassett of Hardaway, Ala., and Hunter McDuffie of Cecil, Ala.
The Board of Directors voted to adjust the qualifying period from 21 months to 24 months. To be eligible to run in the 2020 National Open Shooting Dog Championship, a dog must have placed in a recognized Purina Top Shooting Dog Awards Points Trial between February 3, 2018 and February 1, 2020.
H. K.