Result: NBHA National Free-for-All Championship
Location: Berea, Kentucky
Post Date: Apr 12, 2019
Submitted By: Terry Boatright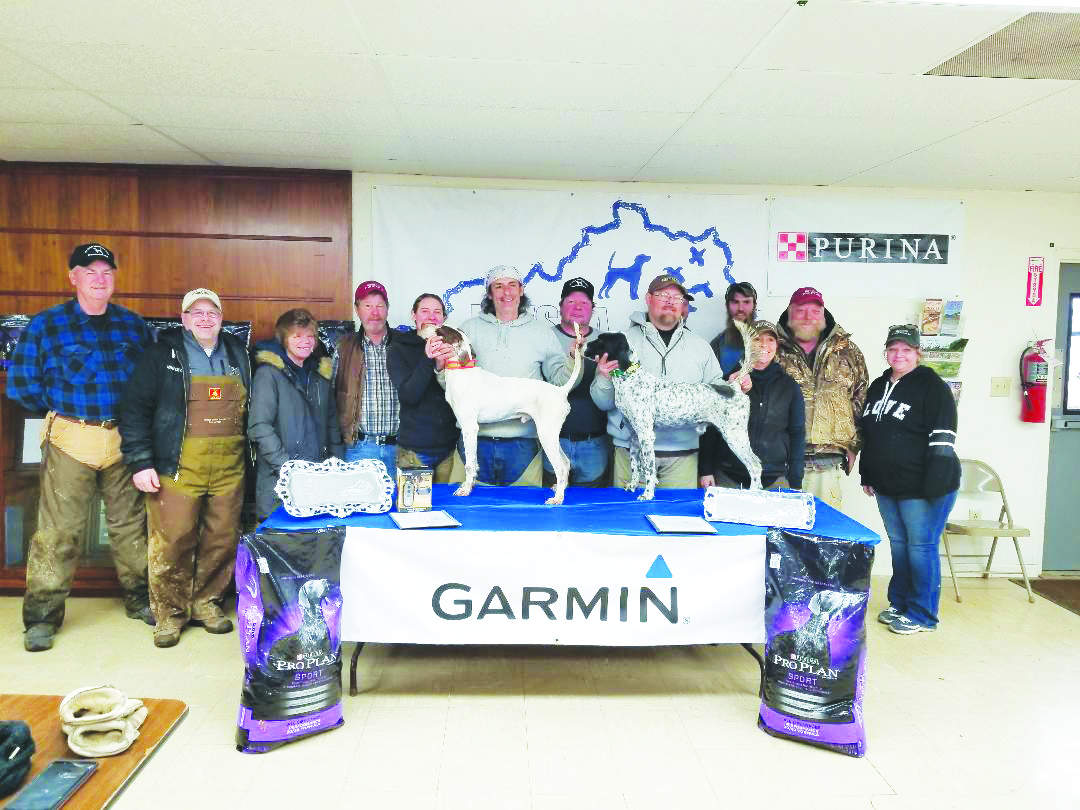 Championship Winners. From left: Rick Meadows, Ron and Debbie Levitan, Judge Arnold Hall, Jill Stuhr, Garry Malzone with Indian Creek Bocephus, Judge Terry Boatright, Tom Waite with Blair's Witch Project, unidentified participant; Andrea Ward, Gary Vitali and Donna Boatright.
BEREA, KY. -- The Licking River Bird Dog Club and the newly formed Kentucky Walking Shooting Dog Association hosted this year's running of the NBHA National Free-for-All Championship on the famed Miller Welch Wildlife Area in Berea, Ky.
Weather conditions -- cold temperatures, rain, and wind -- made scenting conditions at times very poor for the dogs, and uncomfortable for everyone involved in the trial.
A new course had to be laid out due to excessive water on the ground, which followed the highest ground possible to avoid ground water. In fact I think I heard someone mention that they had seen Noah's Ark float by.
We would like to thank everyone who helped in the running: Trial Chairman Gary Vitali, Judges Terry Boatright of Richmond, Ky., and Arnold Hall of Morristown, Tenn., Ron and Debbie Levitan, last year's winners who hosted our outstanding Friday evening dinner prepared by Smokehouse Grill of Berea, Ky. Also for all their hard work behind the scenes, Donna Boatright, Marie Vitali, Ann Panko (Terry's sister who came down from Ohio just to help with the trial), and Bob Kester.
We thank all the participants and guests who attended the trial. It was great seeing old friends again and making new ones. We extend a special thanks to Mike Fox for going way above the call of duty.
The trial drew 31 shooting dogs and fourteen Derbies. Under NBHA format, judges called back the top six dogs for the championship finals. The dogs were randomly drawn for the final three one-hour braces.
The Callback
The first brace in the callback was Peach Twist, pointer female owned and handled Marty Robinson, and Indian Creek Bocephus, pointer male owned by Edward Marron, handled by Garry Malzone. Peach Twist had finds at 34, 52 and 59; all of her finds were dug in deep in the cover going where no other dogs dared to venture. Peach Twist finished strong with all finds in order. It should be noted that Andrea Wood Ward scouted for Peach Twist and Marty. Her skills in scouting this dog were outstanding; she found the dog dug in deep and looking good. Indian Creek Bocephus scored at 27, 41 and 48. "Bo" had his running shoes on today, covering some real estate. After a large cast of about 15 minutes Bo appeared to the front hunting all the right places and handling well for his handler after his return. Bo's performance would hold out and he would be named champion.
Blair's Witch Project (SM/owner Greg Blair, handler Tom Waite) and Hifive's Passin Time (PF/owner Ron Levitan, handler Garry Malzone). Witch Project scored at 13 and 53. He had a strong race looking in birdy places for his finds. His strong race coupled with his two flawless finds held on to capture the runner-up position. Passin Time, last year's champion, had dreams of a repeat. Those dreams were cut short as she was out of tune with her handler on this day and after a long absence handler elected to pick up at 37.
Rounding out the final one-hour callback braces were All Out (SM/Joe Hopkins/Brian French). All Out had a back at 7. After that he showed his young age and went into a self-hunting mode. His performance lacked the drive of the winners. All Out will surely be a contender for years to come. Pure Confidence (PM/Labella and Cavanaugh /Garry Malzone) came to win but fell a bit short.
In the writer's opinion, Pure Confidence had the best overall ground performance in his first brace to make the callback. His performance in the callback was also outstanding. Hard driving, taking in all the right lines, handling with ease, looking in all the right places only to have an unproductive at 7 and finish birdless. Had Pure Confidence had even one bird in the callback the championship placements would most likely have looked different.
Berea, Ky., February 28 -- One Course
Judges: Terry Boatright and Arnold Hall
NBHA NATIONAL FREE-FOR-ALL
CHAMPIONSHIP [One-Hour Qualifying Heats; One-Hour Finals] --
15 Pointers, 14 Setters and 2 Irish Setters
Winner--INDIAN CREEK BOCEPHUS, 1656742, pointer male, by Brown's Tom Tom--Indian Creek Riptide. Edward Marron, owner; Garry Malzone, handler.
Runner-Up--BLAIR'S WITCH PROJECT, 1646203, setter male, by G F Witch Doctor--Blue Jett's Fancy. Greg Blair, owner; Tom Waite, handler.
Open Derby
The Derby drew a lot of very nice young dogs. Judges for this stake had their work cut out for them as many dogs had birds and run and style. When the dust had settled Garry Malzone took home the blue, red and yellow.
Judges: Matt Hadley and Rich Meadows
NBHA OPEN DERBY -- 5 Pointers, 7 Setters and 2 Irish Setters
1st--ERIN'S HOLLYWOOD, 1674240, pointer male, by Erin's Redrum--Erin's Macey. Sean Patrick Derrig, owner; Garry Malzone, handler.
2d--INDIAN CREEK ALIBI, 1679846, pointer female, by Waybetter Rocky--Calico's Touch of Class. Black Meadow Kennels, owner; Garry Malzone, handler.
3d--JUMPING FOR JUNE, 1671974, pointer female, by Sugarknoll War Paint--Premier's Parolee. Steven Tacey, Jr., owner; Garry Malzone, handler.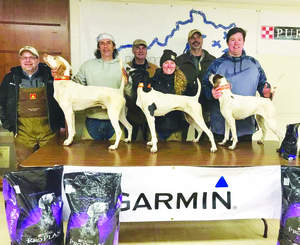 Open Derby Winners. From left: Ron Levitan, Garry Malzone with Erin's Hollywood, Jill Stuhr with Indian Creek Alibi and Steven Tacey with Jumping for June. Behind: Judges Rick Meadows and Matt Hadley.