Result: U. S. Complete National Open Shooting Dog Championship
Location: Hoffman, North Carolina
Post Date: Mar 29, 2019
Submitted By: Margaret C. Drew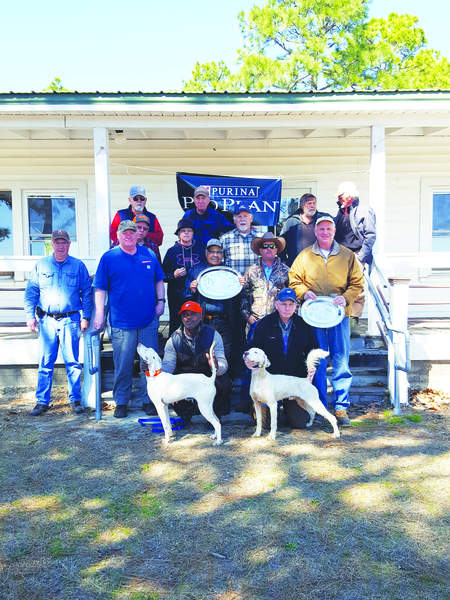 Championship Winners. From left front: Sean Melvin with Brown's Miss April andDonald Terrell with Stoney Run's Bojangles Middle: Bob Little, Dave Hughes, Reverend Andrew Brown, John Outlaw and Dennis Snyder. Back: Larry McDonald, Earl Drew, Margaret Drew, Jim Emerson, Ted Riley, Ed Marquis and Bobby Phillips.
HOFFMAN, N. C. -- The Southeast Region hosted the running of the U. S. Complete National Open Championship for the second time at the R. Gordon Field Trial grounds in Hoffman, N. C., beginning on February 20. Chairing the event for a second year was Ted Riley, assisted by regional officers, Dave Huffine, president, and Southeast Vice-President Earl Drew.
The national organization helped to provide embroidered jackets for the returning judges, Dave Hughes of Grampian, Pa., and John Outlaw of Warsaw, N. C.
Purina assisted with the ad and sent Purina representative Kelsey Tope to answer questions. Coupons for Purina product were given to the champion and the runner-up.
Another sponsor is the Garmin group which provided collars to the winner and runner-up. The U. S. Complete organization provided keeper trays for the champion and runner-up.
The dog wagon was driven daily by Larry McDonald, as he does for all events at Hoffman.
Each morning Jenny Riley served hot breakfast, assisted at times by Elizabeth and Whitley Moss. These ladies also cooked a hot lunch for five days. On Friday evening Jenny prepared a great chicken dinner for Purina. Saturday evening's dinner was provided by Rich Warters in honor of last year's champion Bo of Piney Woods. Bill Lentz of Hunter Run Farm catered the meal.
The Hoffman grounds are part of the Sandhills Game Lands easily accessible off Rt. 1 in Hoffman, N. C., south of Raleigh. At the center of this designated field trial area is a modern clubhouse, a large horse barn with stalls, outside horse corrals and dog kennels. There is running water in several areas along with a few electrical hookups for trailers with a nominal fee of $10 a day. Parking is spacious.
The grounds have six one-hour courses. Three courses used in the morning and three courses used in the afternoon. When the walking group uses the grounds we use only two of the morning or afternoon courses.
The rental fee includes the use of a people gallery wagon, which has 12 built-in dog boxes under the people seating. Within 15 miles of the grounds there is every necessity one could want in the line of restaurants, shopping, lodging, feed stores and great medical facilities for people and animals.
The clubhouse was refurbished a few years back, providing two large refrigerators, two ovens, a cook top, microwave, a prep table and a serving counter and table, a sink and dishwasher. Inside the hall are picnic tables. The hall has heat and air conditioning. The clubhouse walls are a walk-around history with plaques and pictures of the past.
Judges Dave Hughes and John Outlaw returned for their second year in the judicial saddles. Dave is a Hall-of-Famer who has trained, bred and raised dogs for many years, as well as supported field trials and helped establish clubs and guidelines to run trials. John Outlaw has been a hunter, horse trainer, as well as run and assisted with running bird dogs for several years. These two men rode in the high temperatures last year and this year in the cold and wet for four and a half days. The last day and a half the rain had moved on, the sun was out and the temperatures reached 70 on Sunday, with a return to the 60s with a breeze on Monday when we ran the Derbies.
The judges asked that in addition to the winners Bo of Piney Woods, Cock'N'Fire Justice and Stoney Run's Dan be recognized for their ground races. Santee River Dini Mite was carried for a time with a nice find, albeit an inconsistent race.
This was a poor bird year on the grounds; many birds were seen and pointed in October; however, their sightings have diminished each month. In the six days we ran, weather conditions were horrible, even conditions that a hunter would probably not go hunting, so that should be taken into consideration. That being said, in these six days only seventeen single or coveys were seen.
In 2018 we drew 50 shooting dogs and this year, 51; two more were scheduled to run but were withdrawn before the drawing. Thank you to all who entered and then braved the weather to attend.
There were so many guests who came to watch that I can not name all of you. Please know that the southeast officers and Chairman Ted Riley appreciated your interest and support.
The Winners
Brown's Miss April, six-year-old white and orange pointer female owned by Reverend Andrew Brown of Garland, N. C., was named champion. (For readers who do not know Reverend Brown, even at his 80 plus years he has a field trial love for good hunting dogs and fine horses. You will find him in attendance at many area trials.)
Miss April was handled by Sean Melvin. She began her puppy training with Melvin, went to Jeanette Tracy for her Derby season and a while after; however, she has been with Sean for the past few years. Before this win Miss April had a few shooting dog wins both walking and horseback.
Under very poor weather conditions, Miss April completed her hour displaying a consistent range with plenty of style. She hunted all the proper objectives, covering thick grassy patches, as well as the shorter grasses in the piney woods. Her good hunting sense was rewarded at 45 when she was exiting the woods, paused to circle a brushy clump and then staunched up. As handler, judge and your reporter moved toward her one of the horses pushed three quail to flight followed by two more near the judge with several more seen on the ground. Handler's gun misfired several times and finally a shot was fired by scout. Brown's Miss April stood patiently waiting for release after flush. Melvin took her back to the course and whistled her on to finish her hour.
Stoney Run's Bojangles, six-year-old white and orange setter male owned and handled by Donald Terrell of Ararat, N. C., was named runner-up. Donald is an 85-year-old veteran "bird dogger" whose love of the sport is obvious to all who meet him. Donald has bred dogs, trained his own dogs and run in field trials for many years. He used the U. S. Complete handicap rule and rode an ATV for his hour. He was slow in covering the course, remained behind Ecker until Ecker got behind with his dog on point.
Donald took direction from the judge as to speed and leaving his ATV when point was called at 22 for Bojangles. On the breakaway both dogs were happily forward, despite the heavy mist, and determined to locate game. At 22 Bojangles had moved forward down the long field and point was called by the gallery. Terrell slowly made his way to his dog which, although ticking at first, was solid long before handler arrived. When quail were flown all was in order. Handler took Bojangles on and began catching the front. At 27 Bojangles was making his way to the front and snapped into a back with poise and style, a completely automatic and pretty event. Bojangles reached to the front with a happy motion and finding birds on his mind and covered the ground smoothly with a pleasing stride. Terrell was unable to see him well due to the mist on his glasses, giving just an occasional call, in other words the dog just doing most of the course on his own.
The Running
Bob's Elhew Jill (PF/Bobby Phillips) and Ringo's Sweet Heart (PF/Tony Bingham) were down the sand pathway in a light mist. Both dogs crossed to the front, checking in early, apparently not sure they wanted to run on this chilly wet morning. Jill began to slow at the half. She had surgery last winter and Phillips elected to pick her up. Heart showed her dislike of running in the cold 36 ; when she lost her bracemate handler elected to pick her up at 40 as well. Her owner Verlene Stephenson came to the grounds in time to watch her run.
Last year's winner Bo of Piney Woods (PM/Ecker) had owner Rich Warters present in the car gallery to watch. Conditions last year were hot and humid; this year the temperature never rose above 37 on day No. 1, with intermittent rain with mostly heavy mist. Bo and Indian Creek Alibi (PF/Garry Malzone) were rapidly out of sight. Bo suffered an unproductive at 27 after a promising stand produced no birds. He ran a forward race, covering the territory well. Alibi covered the grounds with a snappy gait, although showed some immaturity. At 35 she stood in a potentially good bird area; however, no birds were located. Her race ended at 55 when she decided to help handler flush.
Brace No. 3 was the first brace with bird excitement, three coveys seen and pointed. Cap'n Sam (SM/Dave Huffine) was first to point a covey. Sam and Lambo's Koby (PM/Melvin) complemented each other in their opening casts, both dogs reaching spiritedly toward the far hillsides through patches of waving grasses, as well as piney woods. At 23 Sam slowed as he rounded the top of a distant hill, feathered briefly then staunched up. It took Huffine several minutes to reach his dog. As handler arrived to attempt flush, Koby came bouncing down the mowed path and obediently backed with fine style and manners. With flushing delayed a few minutes longer as Melvin hurried to the scene, Sam stood firm and tall. When Huffine walked 30 feet into the grasses and five quail burst out of the cover Sam spun and took a few steps in the direction of flight. Huffine picked Sam up. Koby continued to hunt to the front as the rain increased, at times the rain seeming to distract his hunting pattern. At 47 he was found pointing intensely and remained firm for a lengthy search. When asked to relocate, he covered the area thoroughly and began a cast forward when he slowed and stopped for a stop to flush. By now the rain had increased and Koby had to be coaxed to continue. At 55 Koby was moving in the tall grass where he slowed, then pointed. Melvin went and stood beside him appraising the situation. As soon as Melvin stepped in front of Koby a small covey lifted with all in order as time ended.
Brace No. 4 was on the line at 1:00 p. m. while the weather was in a brief pause. Erin's Battle Cry (PM/Dennis Beauford) and Maximum Resistance (SM/Ecker) were pleasing to watch. Resistance pointed with good style at 22, Battle Cry backing. When no birds were found, Resistance was asked to relocate, although he moved forward. At 27 Resistance locked up for a second time. Once again no birds were produced and his hour concluded. Battle Cry ran a good race, plenty of range and style, although no bird contact. For a young dog he seemed to have all the necessary traits for a promising future.
Cock'N'Fire Justice (PM/Bingham) and Texas Free Mason (SM/Ecker) were soon distant white dots, seen just enough to keep handlers happy. At 20 Justice had point called by the wagon as they awaited the hunting party to cross the road. A quail lifted, was not seen by handler or judges. Handler took the dog on. Justice reached forward with a determined pace, catching up to his bracemate after his long stand in the woods adjacent to the crossing. At 55 point was called as Mason stopped and then slowly moved forward, repeating this for a few steps before standing tall. As both handlers and judges approached, both dogs were found standing extremely close. Justice seemed intimidated, while Mason stood tall and positive. Handlers searched without success. Mason was moved on, while Justice was asked to relocate. Two unproductives were recorded. They both ran big races but no birds were found.
Stoney Run's Rebel (PM/Bingham) and Grouse Ridge Gambler (SM/ Ecker) bounced off the line and were soon out of sight. Rebel never returned and the retrieval unit was requested. Gambler returned and began a cast just inside the wooded area as he moved forward and crossed to the right side in front of the wagon. Although the wagon saw him, by the time a scout arrived he was not seen and handler called for the retrieval unit.
Brace No. 7 opened day No. 2 -- Lincoln County Pleasure (PM/Bingham) and A Tar Heel Total Package (SM/ Roger McGuire). Not pleasing his handler, Pleasure was up before 33. Nearing Baggett Lake, Package stopped; point was called by scout. His pose was attractive but as four quail lifted he gave a merry chase.
Stoney Run's Dan (PM/Bingham) and A Tar Heel Addiction (SM/ McGuire) were rapidly out of sight. Dan returned briefly before a nine minute absence. Addiction was out of sight, not seen again, the retrieval unit requested. Dan continued with a wide searching race, staying out there with great appeal. He was often seen deep in the woods with good pattern. Below the clubhouse he scored an unproductive at 41; however, when he lost intensity he was tapped to relocate. No birds were flown.
Clayhill Bones (PM/Bingham) had owner Bill Britt mounted to watch his charge. Bones was seen sparingly and eventually a retrieval unit gathered him up. At 5 Boston (PM/Ecker) was casting through the grasses under the piney woods where he stopped proud and sure of himself. A wide and thorough search produced nothing. Boston hunted at a good range with positive style. At 57 he was found standing in a rose thicket. No birds were flown even with a long relocation attempt which included several hesitant stops before time expired.
Rockland Ridge McGraw (SF/Ecker) and Smoke Rise Cece (PF/Bingham) jumped off the line and out of sight. By 15 Ecker called for a retrieval unit. Cece continued forward to complete her hour. She ranged forward in wide swings, albeit several close returns when hunting closely, get some water and then range forward again. At 54 she received some additional water before being strongly whistled for the finish.
Decoy Lakes Winning Harley (PM/ Ecker) had point called at 8; an unproductive was scored. We saw little of Harley, although the front hunting party called that he had traveled to the front after his unproductive. When he had not returned to hunt with handler the scout was given the retrieval unit. Lincoln County Chase (PM/Gary Whitworth) also reached wide and forward. What we did see of him was a powerful stride and a determination to hunt. He and his bracemate were seen taking long strides in a foot race in a deep lateral direction. At 37 we neared McGee's Castle where Chase scored an unproductive. After hunting on he scored a second unproductive at 43 and was done for the day.
Indian Creek Bocephus (PM/Malzone) and Attitude's True Grit (SM/Ecker) broke away and displayed determined reaching patterns to the front. Attitude pointed attractively at 11 but moved on when no birds were flown. Bocephus had an unproductive at 20. Both dogs were near the road in this stretch of the course so the judges sent two scouts to parole the area and return any dog near the road. We watched both dogs move forward in the woods and at the end of the field the scouts also returned. At 38 both dogs were found standing near a rose thicket. Following a thorough flushing attempt where nothing was produced both were leashed.
Cairds Little Macy Mae (PF/Bob Little) and Miss Penn Star (SF/Ecker). Dr. George Najor was down from Michigan to watch his Penn Star. This early morning brace started down the sandy path and up the slight incline with both dogs hunting independently. Each had a scout sent when we reached the second hill and no dogs were seen. Ecker walked toward the edge of a knoll in search of Penn Star, putting three quail to flight but finding no dog. A judge commented that he (Ecker) might need to be picked up for "not stopping at flush". Macy Mae returned after a long cast off the right hillside toward course No. 2 as Ecker had put the birds in the air. Macy Mae stopped and Little took her on. Macy Mae pointed again at 57 looking promising but no birds were found by handler. She completed her hour with a snappy attack of the cover, at a good range and to the front. Penn Star had suffered a long absence and did not finish her hour.
Brown's Ace (PM/Melvin) and Bob's Elhew Kate (PF/Phillips). Sam Ridings and his dad were up from Georgia to watch Kate's performance. Sam will be working with professional Calvin Curnutte this summer out west. Sam will be handling Kate soon. Ace's powerful stride carried him forward. He had no bird contact and had a brief letdown at 45. Kate swung forward with a determined gait, showed mature hunting sense, although required a few sharp commands from handler to stay in contact with him. She also was birdless.
Brown's Miss April's (Melvin) effort was detailed earlier, braced with Hifive's Passin Time (PF/Malzone). Both of these white and orange pointers were attired with orange collars making everyone sit tall and watch closely. Time completed her hour with a nice race, good range, although her hour did not include any bird contact.
Brace No. 16 was released at 1:30 following another great home-cooked meal by Jenny Riley, accompanied by a delicious dessert. Erin's Deja Vu (PF/Malzone) and Crazy Mountain Buck (SM/Huffine) hunted forward with good range and spirited motion. At 46 Deja Vu caught scent but could not immediately pin it down. Malzone encouraged and waited for her to search it out, which led them both to the edge of the creek. Standing very proudly she awaited Malzone's flush; however, he must have taken too long as she also helped and was leashed. Buck completed his hour with a continued reaching range and happy carriage causing everyone to say a quick prayer for a bird to be pointed. He had no bird contact.
Bye dog Cairds Lefty (PM/Little) was moved up due to the scratch of Nic of Time (Ecker). Bracemate was Lincoln County Bandit (SM/Whitworth). The two were a little hesitant off the line, although began scouring the woods within 10 minutes. Scout called point for Lefty and all were pleased to see him standing solid and sure on the knoll in the piney woods. Two birds lifted before anyone could reach the dog, as well as his bracemate racing by putting more quail into the air. All this excitement was too much for Lefty and he joined for a brief chase. Following a discussion with the judges both dogs were up.
Sunrise Star (SM/Ecker) and Doc's Haven Gem (PF/Bingham). Dr. Billy McCathern, Gem's owner, was present to watch the event. Sunrise displays great animation. Gem is an athletic pointer. Each dog had a spirited race, and varied patterns. Ecker called point at 18 for Star. As he began to flush, he found Gem buried under the downed tree branches. The reason for the casual stand by Star was now evident. Ecker returned to stand beside Star as Bingham came to attempt flush for Gem. No birds were located and both dogs were soon hunting ahead. Star completed his hour making wide casts with attractive carriage and at a good range. Gem was seen infrequently, eventually requiring a retrieval unit.
While talking about this part of the afternoon course, I need to thank Gary Whitworth, Dennis Snyder and Calvin Curnutte for getting to the side of the woods and the road on several afternoons to be sure dogs were not near the road and hopefully traffic slowed. The judges were thankful for your help. Thank you from everyone.
Brace No. 19 began the fourth morning, once again cloudy, misty and 38 . Sterlingworth Judge (SM/Ecker) and Black River Ruby (SF/Melvin) were off the line as soon as announcements were completed. With the mist hitting our faces everyone was focused on searching every direction to keep the dogs in sight. As we rounded the first knoll Ruby was found standing stylishly to the left beyond the grassy patch and the woods. This three-minute time stretched out to near seven as handler searched extensively and asked Ruby for a relocation. While hunting her way to the front, Ruby cast off course and made game near a small water hole. When she established point Melvin moved down to attempt flush. He thrashed the bushes and fell against a tree while calling flight and firing his gun. Neither judge, reporter or gallery member had seen the bird. Ruby had taken the liberty of joining the search and was picked up.
At this same time the judge realized that his horse was favoring a right front leg. Not wanting to hurt the horse, he got off and began walking toward the wagon looking for a ride back to get a new horse and someone to walk his horse back. The southeast vice-president was in the gallery and offered his horse to the judge. He got on the dog wagon, while handler Melvin volunteered to walk the horse back to the barn.
During this delay, Sterlingworth Judge had been able to hunt by Baggert Lake and was crossing the road into the woods adjacent to the long field. Although Judge had not located birds today, a covey had been ridden up by his scout. With increased precipitation and no competition Judge slowly hunted in and out of the woods and neighboring grasses until picked up by his handler.
Mooselook Mac (SM/Little) and Upper Ammonoosuc Violet (SF/Ecker). Ed Marquis, owner of Violet, was present, assisting with dog wagon driving and shuttling dogs when Ecker was handling. At 14 we watched Violet making game at the edge of a water crossing and then disappear into the brush. Mac approached, stopped momentarily to back before moving on. Little and Mac went on, while Ecker and Violet searched the soggy area for birds. Following a relocation attempt Ecker took Violet by the collar out to the road and whistled her on. She moved forward at good speed and range to stop again buried in a plum thicket below the clubhouse. Once again handler failed to produce game and elected to leash Violet. Mac moved
moderately forward, swinging left and right while making some good casts. At 57 he made game, circled a small tree clump before standing. As handler approached tweety birds were seen lifting and Mac's hour expired.
Rock Solid Casey (SF/Ecker) and Santee River Dini Mite (PF/Bingham) eyed each other on the breakaway, then jumped forward to briefly cast independently before hunting in close proximity. At 15 Casey bumped Dini Mite and again at 30 a similar bodily contact occurred. Whenever separated both covered the ground appropriately. At 41 they backed each other as one exited the woods and one was entering the woods. Casey covered the ground with pleasing speed, often lateral, but still made several good casts. Dini Mite swung through the tall grasses and woods, early on with a lot of enthusiasm, slowing a little in the middle and then finishing with spirit after her find at 50. Dini Mite hunted in all the right areas, being rewarded with the largest covey find of the Championship at 50. She was found by her scout deep in the middle of the grass patch where handler had seen her go. As handler approached the covey thundered out of the cover, handler firing and Dini Mite standing proudly until handler came to take her on. She finished with a strong burst of energy.
Bud of Piney Woods (PM/Ecker) and Stoney Run's Bojangles, the latter covered with the winners. On the breakaway both dogs were happily forward, despite the heavy mist, and determined to locate game. At 23 Bud pointed in the woods, which appeared to be a good location; however, an unproductive occurred. Bud moved in a wide circle before making his way forward to stop again at 27. Bojangles was making his way to the front and snapped into a back. When no birds were flown, Bud was tapped and Bojangles encouraged to move on as well. Bud stopped a third time and would end his hour. However, when the handler gave the scout the retrieval unit to get him, Bud raced to the front and was hunting to the front for another 10 minutes before handler got his hands on him.
Islander (SM/Ecker) was attractive covering the edges and woods, stopping at 10 and again at 36 with no birds being produced. He did not complete the hour. Santee River Glacier (PM/Bingham) hunted with a determined gait and in appropriate areas. He carded unproductives at 34 and 43.
Brace No. 24 -- Sterlingworth Jack (SM/Ecker) and Stoney Run's John (PM/Bingham) -- closed out the chilly and rainy Saturday afternoon. John's owner Phil Culberth, a past U. S. Complete officer on both the national and regional level, was in attendance. Tricolor Jack was a little difficult to see in the rain, moved rapidly forward and out of sight. When we did see him he was hunting well and casting far to each side with classy carriage and at good range. He had unproductives at 23 and 40 which led to an early pickup. John ranged well to the front, his black head and very white strong body easy to follow. He hunted the course both forward and lateral into the woods before swinging forward again at a long range. He was unable to point any birds.
Brace No. 25 -- Bob's Elhew Holly (PF/Phillips) and Cock'N'Fire Maggie (PF/Bingham) -- completed the running Sunday morning. Maggie was down the path, crossed to the side, then turned forward and was seen only a few times before vanishing. Holly ran for 47 minutes, forward at a moderate pace, not responding well on our last wet morning.
Hoffman, N. C., February 20
Judges: Dave Hughes and John Outlaw
U. S. COMPLETE NATIONAL OPEN SHOOTING DOG CHAMPIONSHIP [One-Hour Heats] -- 40 Pointers and 11 Setters
Winner--BROWN'S MISS APRIL, 1648341, pointer female, by Brown's Tom Tom--Stoney Run's Lady. Andrew Brown, owner; Sean Melvin, handler.
Runner-Up--STONEY RUN'S BOJANGLES, 1650744, setter male, by Shadow Oak Bo--Smokey Rise Kattie. Donald Terrell, owner and handler.
Southeast Derby Classic
In the companion 45-minute Derby Classic, nineteen dogs were drawn. Judges Dave Hughes and John Outlaw remained. When judging or running Derbies, desired Derby qualities are to kept in mind. A Derby needs to have enthusiasm while running and a developing relationship to please his handler. He does not have to be broke; however, finding birds, a desire to point and style on point are to be considered. Derbies are to be judged on possessing the qualities to become a champion as an adult.
In this stake two placements are awarded. Purina coupons, a ribbon, along with a monetary compensation.
The winner was Cairds War Train, pointer male owned by Bob Little of McAdam, New Brunswick, Canada. He was bred by Jim and Ginny Emerson of Maryland and Elerbee, N. C. They were present at Hoffman for the trial. Calvin Curnutte had been training with Cairds War Train since early December and he handled.
War Train had a good opening race in front of the clubhouse where course No. 1 leads to course No. 2. During his 45 minutes he showed speed and the desire to reach out, swinging through the piney woods, then popping out in the grasses to the front. He tried to point, showing great style and patience while waiting for handler to attempt flush; however, only a few tweety birds were seen lifting. As time expired, he was still hunting strong and forward having shown a lot of potential and setting the bar high for the seventeen dogs to follow.
Runner-up was awarded to the setter male Knob Mountain Monarch, owned by the U. S. Complete national secretary Mike Spotts. Monarch is part of the Midnight Kennels team. He is handled by Robert Ecker who spends three months training in North Carolina. This tricolor setter moved at a medium range, showing a desire to hunt, the intelligence to hunt in the right spots and respond to handler. His flashy carriage kept your eye on him as he moved forward with a good forward ground race. As time was about to expire he pointed high and tight, although only a pile of feathers was found by handler and judge.
OPEN DERBY CLASSIC -- 12 Pointers and 7 Setters
Winner--CAIRDS WAR TRAIN, 1678126, pointer male, by Sugarknoll War Paint--Sizzlin Julie. Robert Little, owner; Calvin Curnutte, handler.
Runner-Up--KNOB MOUNTAIN MONARCH, 1674678, setter male, by Erin's Hidden Shamrock--Bo's After Party. Mike Spotts, owner; Robert Ecker, handler.