Result: New England Brittany Grouse And Woodcock Championship
Location: Exeter, Rhode Island
Post Date: Apr 23, 2019
Submitted By: Pat Carney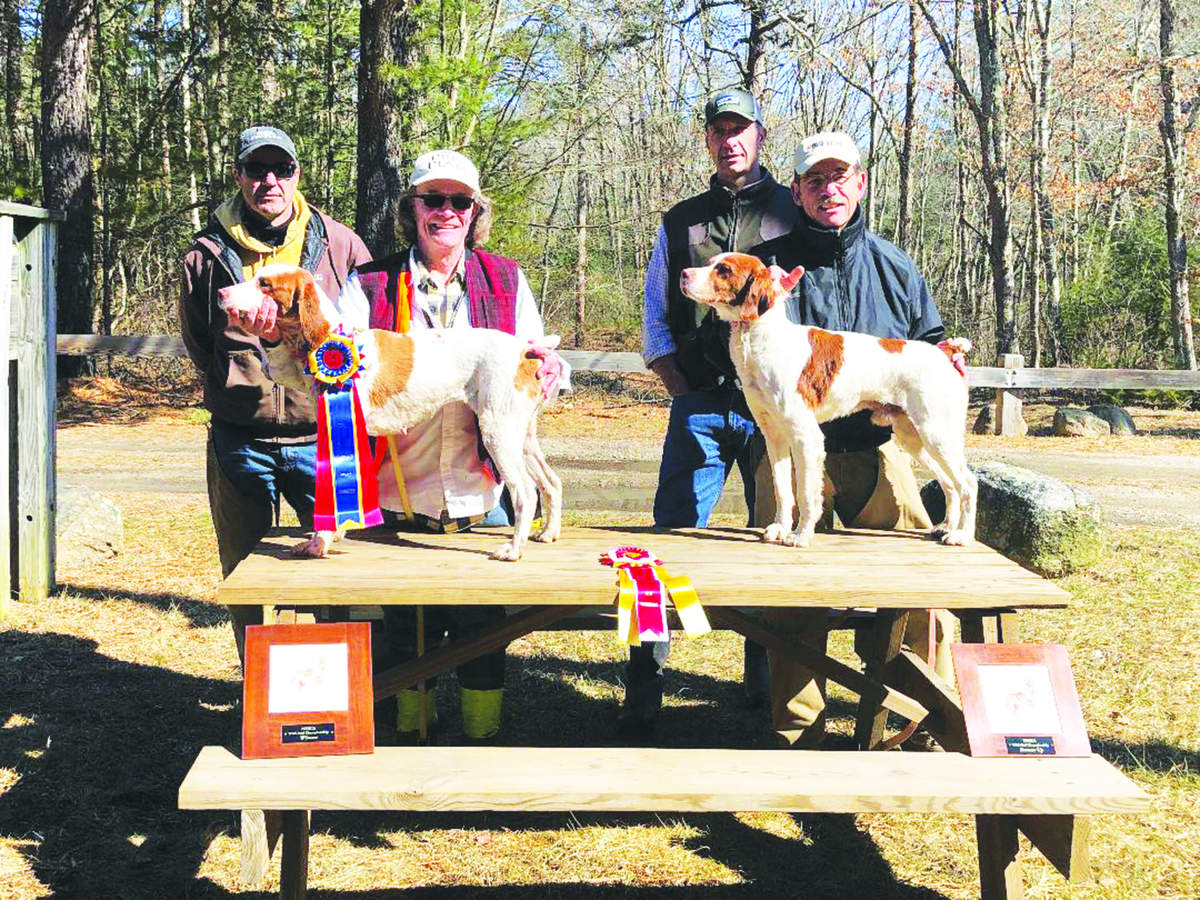 Championship Winners. Front (l-r): Ken DeLong with K Del's Eagle's Chance to Soar and Mike Mercanti with Burning Glen Encore. Behind: Judges John Stolgitis and Brian Breveleri.
EXETER, R. I. -- NEBCA was just getting its "feet wet" in the wild bird arena when in 1981 it ran their first Grouse and Woodcock Championship at the Arcadia Management Area in Exeter, R. I. And then, after several years of running at Arcadia, it was just shy of 30 years ago that we said goodbye to the venue in search of more productive grounds for this Championship.
Brownfield Bog in Fryeburg, Me., filled the bill for a couple of years before the event was moved to the Kilkenny Management Area in Berlin, N. H. And for the next 27 years or so, Kilkenny was the site of an annual pilgrimage each fall for the many Brittany competitors willing to try their hand at the wild bird game.
Kilkenny proved to be a rugged venue for all that attended the event. Many thanks are owed to Ray Gorman for spearheading/organizing the Championship over the Kilkenny years. And now we have come full circle!
This spring the New England Brittany Championship Association has returned to the Arcadia Management Area in Exeter, R. I., for its signature wild bird championship with Bob Fleury leading the way.
With the cancellation of last fall's event at the Kilkenny Management Area, the return to Arcadia was a welcome change of venue for competitors and handlers alike. Although not all dogs had contact with birds, with never a birdless brace, the opportunity was there -- win or lose. And, in spite of some recent snow/rain making for somewhat muddy going in spots, walking was significantly easier than the rugged terrain of Kilkenny.
We had competitors from Rhode Island, New Jersey, New York, New Hampshire, Connecticut, Massachusetts, Maine, Pennsylvania and Michigan. AKC rep Gary Sadler came from Tennessee. All seemed to appreciate the new digs and enjoy the two days spent handling the dogs over the pretty much flat cover. This early in the spring cover is down, making it easier to keep a handle on the dogs.
There are three one-hour courses at Arcadia which are run in the morning, followed by a lunch break and then back to the same three courses in the afternoon. Lunch break was a welcome mid-day respite giving everyone the opportunity to kick back, relax, converse and enjoy the chili, salad, sandwiches and desserts that were so fortuitously delivered by Leslie Fleury. As always, everything was delicious and we can't thank Leslie enough for singlehandedly taking care of this.
A few more thanks are in order for Bill and Fran Gorman who handled delivering premiums and trial information, drawing for the bracing, emailing/printing brace sheets, etc. Also Art Hembrough, a quick study when it comes to understanding courses/terrain, and marshalling handlers/dogs to the proper courses, deserves thanks as well. The cooperation of Will Walker, the Rhode Island official in charge of Arcadia, was instrumental in the success of this year's event. And last, but not least, a huge thank you to Purina, our perennial supporter for this event -- we couldn't do it without you.
The forecast for Friday night was overnight snow, with temperatures rising above freezing on Saturday. The earlier braces had to deal with as much as three inches of snow that rapidly disappeared by lunchtime. A total of eight braces (16 dogs) were run under the ever-watchful eyes of judges John Stolgitis of Hopkinton, R. I., and Brian Breveleri of Belchertown, Mass. We are thankful and grateful to both for their attentiveness and decisions.
At the conclusion of Saturday's running, Bob and Leslie Fleury were our hosts for dinner at their home in North Stonington. A lot of work and planning went into the dinner as Leslie pulled out all the stops to make the evening delicious as well as unforgettable for all in attendance. It was a great way to spend the evening after a long day of trialing. Thank you Bob and Leslie for your hospitality.
The final two braces were run Sunday morning and placements were then announced back at headquarters.
THE WINNERS AND OTHERS
Named champion was K Del's Eagle's Chance to Soar, handled by Ken Delong of Greenville, Mich. "Chancey" ran in the 8th brace on course No. 2. She had a very strong, forward, well applied ground race, never underfoot. Chancey would drift beyond the bell, returning to maintain just enough contact and cast off forward into the cover again. She showed impressively in the distance as she raced over the course and had three finds at 20, 25 and 28 with a strong finish.
The runner-up was Burning Glen Encore, handled by Mike Mercanti of Clarks Summit, Pa. "Scout" also ran on course No. 2. He applied himself well to the cover and finished his hour with three finds and one unproductive. Handler elected to take Scout off point and send him on a couple of times as well.
Pushing the winners was Centerville's Sonny, handled by Sarah Conyngham. Sonny ran in the very first brace and had the requisite ground race and bird work, but had to deal with circumstances most of the field was fortunate to avoid, three inches of snow on the course and a clogged bell that made it difficult for the handler to keep track of him. Handler was not present to handle him on his two finds. The cold and the wet snow took its toll at the end of the hour.
Another dog that deserves mention is Shirley's Britt from Saratoga, handled by Paul Shirley. Judges liked "Toga's" performance, but for his single find he was found standing after a lengthy 15 minute search well to the rear of the course and judges couldn't overlook the delayed chase factor. Had Toga been found standing to the front, that would have changed things.
Thanks to all who participated -- judges, organizers, all who helped in any way and especially all who entered. Hope everyone enjoyed themselves and we'll get to see you all next spring.
Exeter, R. I., March 23
Judges: Brian Breveleri and John Stolgitis
NEW ENGLAND BRITTANY GROUSE AND WOODCOCK CHAMPIONSHIP [One-Hour Heats] -- 16 Brittanys
Winner--K DEL'S EAGLE'S CHANCE TO SOAR, 1659339, female, by K Del's Eagle Flyboy Roy--Chance's Hope. Kenric J. Delong, owner and handler.
Runner-Up--BURNING GLEN ENCORE, 1668157, male, by Buck's Parker of Pine Bush--The Mighty Moe. Michael Mercanti, owner and handler.