Result: Grand National Grouse and Woodcock Invitational Championship
Location: Gladwin, Michigan
Post Date: May 22, 2019
Submitted By: Denise Peters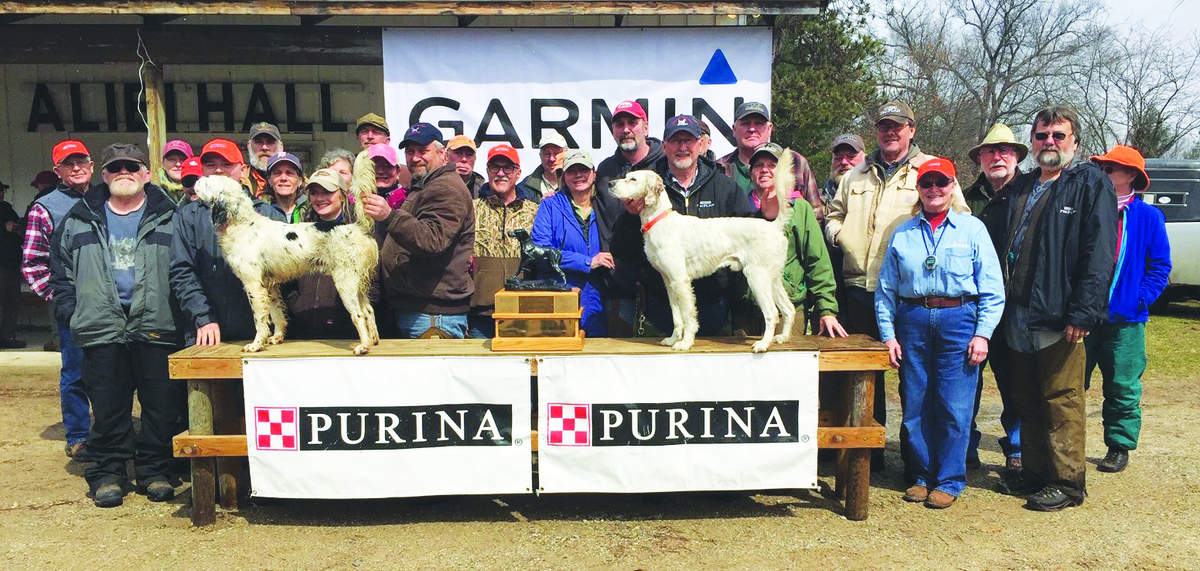 The Winners. From left: Wayne Fruchey, Bryan Wood, Ann Naus, Bruce Barlow, Ricky Hollister, Jr., Eric Naus, Diane Wheelock, Randi Hollister, Jennifer Wyatt, Bob Wheelock, Jenny Hollister, Richard Hollister, Sr. with Dun Rovens Drifter, Craig Doherty, Joe Cammisa, Ken Moss, Margie Ervin, Judge Colin Ervin, Scott Chaffee with Ponderosa Mac, Judge Dave Hughes, Tammy Chaffee, Gary Vitali, Steve Snyder, Denise Peters, Roger Johnson, Brent Peters and Deb Sloan.
GLADWIN, MICH. -- The 29th Annual Grouse and Woodcock Invitational Championship was held on April 10-12 on the historic Gladwin Field Trial Grounds in Mere-ditch, Mich., hosted by the Beaverton Grouse Dog Club and sponsored by Purina and Garmin.
These grounds, now 103 years in existence, are acclaimed for their streams, lakes, beaver ponds, swamps, new and old aspen cuts, berry briar thickets and the historic black forest. Those of us who are caretakers for this land that god granted us the opportunity to take care of are proud to continue to hold trials here with the continued support of the local clubs, state and local DNR.
As venues like this continue to diminish in our United States, it takes all of us to help and support the game that we all live and love.
One of the two crown jewels of the Grand National Grouse Association is the Grand National Grouse and Woodcock Invitational Championship.
On Tuesday night, April 9, our 29th annual festivities began with a meet and greet at the Alibi hall. Hors d'oeuvres were provided by the GNG Invitational Championship and supplied by Fruchey's market. Along with some extras brought in and personally baked items from Suzie Cammisa, Bob Wheelock manned the grill adding hot dogs to the mix (fitting for the occasion).
We enjoyed a social hour prior to getting to the business of doing the draw. It was camaraderie at its best. Everyone present enjoyed the evening with anticipation of the coming three days. Secretary Joe Cammisa conducted the draw with all due diplomacy, as we all would have expected.
This year our esteemed judges were picked carefully. Dave Hughes of Grampian, Pa., who was inducted into the Field Trial Hall of Fame in 2015, has 49 years of experience training and handling dogs in both the grouse woods and quail fields. Dave has also been credited with Cover Dog Handler of the Year on multiple occasions. All of us know Dave and were thrilled to have him here this year and know that someday his will be big shoes to fill.
Along with Dave, we were honored to have Colin Ervin of Mercer, Wis., who brings years of cover dog experience, having competed all over the U. S. Colin has owned and handled dogs for over 37 years and has been an often sought out judge in many venues throughout our cover dog world. Having his own GNG Invitational win in 1998 with 2x champion Thornapple Smokey Bell as owner-handler and GNG Grouse champion Grover in 1990.
We not only had the best of the best dogs, we had the best of the best judges.
THE INVITEES
Introducing our "Best of the Best", this year's contenders included:
Last year's Grand National Grouse Champion Ponderosa Mac, owned by Steve Snyder and handled by Scott Chaffee; last year's Grand National
runner-up Chasehill Little Thudd, owned by Timothy Kisieleski and handled by Craig Doherty.
Blast Zone, owned and handled by Thor Kain; Hershner's Grouse Gunner, owned by Scott Hershner and handled by Scott Chaffee; Highbank's Back'N'Black, owned by Bill Nelson and handled by Scott Chaffee; Shady Hills Whiskey Bonfire, owned by Shady Hills Kennel and handled by Scott Forman; Blast Off, owned by Justin Evans and handled by Marc Forman; (declining) Long Gone Mersadies, owned by Long Gone Kennels and handled by Lloyd Murray; Titanium's Jacksin, owned by Titanium Bird Dogs, LLC and handled by Bruce Minard; (declining) Higby Rilo, owned by Judith Hamilton and handled by John Stolgitis; Rebellious Fearless Fred, owned and handled by Mike Luebke; Bud of Piney Woods, owned by Richard E. Warters and handled by Robert Ecker, Jr.; Nobody's Shadow, owned by Bob and Diane Wheelock and handled by Bob Wheelock; Dun Rovens Drifter, owned by Richard Hollister, Jr. and Jack Harang and handled by Richard Hollister, Sr.
Due to declines, brought up were: All On, owned and handled by Thor Kain, and Wild Apple Calvados, owned by Tim Kisieleski and handled by Craig Doherty.
[Of note, Grouse Trails Pride, owner-handler John McKellop, declined at the onset due to his dog's injuries.]
THE WINNERS
The 2019 Grand National Grouse and Woodcock Invitational title was awarded to Dun Rovens Drifter (affectionately called Luke), owned by Richard Hollister, Jr. of Roscommon, Mich., and Jack Harang of Moscow, Tenn., and handled by Richard Hollister, Sr.
Drifter has been a winning dog since he was a puppy, handled many times by his owner Richard Hollister, Jr. Drifter has many accomplishments to date. He has a runner-up in the Flanagan and Ricky took fourth place with Drifter in the Grand National Grouse Futurity in 2014. Drifter won the Michigan Woodcock Championship in 2016.
Drifter earned his bid this year by placing in an amateur shooting dog stake, (handled by Ricky) and taking runner-up in the Northern Michigan Cover Dog Championship, with Richard Sr., handling him.
Drifter is a six-year-old setter male born and raised at the Dun Roven Kennel. The tri-color setter is good looking and runs with personality and enthusiasm.
Whelped on August 16, 2013, sire, Dun Roven's Gary, dam, Dun Rovens Boofay, Drifter has been a consistent competitor in these woods in Gladwin all his life. Traveling south and west, training in Texas, South Dakota and Kansas, he has also competed in the quail fields in Ohio.
Drifter was acknowledged as being the most consistent for both days throughout the running with superb ground application, handling and bird work. The actual running is covered below.
Runner-up was awarded to last year's Grand National champion, Ponderosa Mac, owned by Steve Snyder of Ellendale, Minn. Mac was born and raised at Pioneer Kennel and has been handled by Scott Chaffee for all of his career.
A four-time champion and three-time runner-up, Mac is also a consistent competitor on these grounds and not only did he make the cut by being last year's Grand National Grouse and Woodcock Invitational Champion, he won the Grand National and the Wisconsin Cover Dog Championship.
Mac is the only dog to win Grand National events for two consecutive years (the above mentioned events and 2017 runner-up at the Grand).
The handsome white and chestnut setter was whelped May 19, 2012. Mac had consistent ground application both days, giving an outstanding performance on his bird work the second day.
DAY NO. ONE
Our day began at 7:48 a. m. with overcast skies and cooler temperatures, in the low- to mid-30s, the ground covered with frost. Stake Manager Bryan Wood introduced Judges Dave Hughes and Colin Ervin, along with Secretary Joe Cammisa and this reporter.
The first brace, on courses No. 1-2, saw All On (Thor Kain) at the line with Highbank's Back'N'Black (Jack/Scott Chaffee). Both dogs hit the ground ready to go to work, starting well out front, and hitting the edges. All On is a great looking pointer and handled well. He got sticky for a bit at the beginning, making some wide casts. Checking in as he should, he continued forward, working the edges well. At 26, on the last leg of course No. 1, both scouts were sent in when the bells could no longer be heard. We figured they both got hung up somewhere along Joy Road. At 31 both handlers went in as well with their judge to try to locate their dog. Thor went out toward Joy Road, while Scott began looking toward the logging grade that runs to the birdfield. While Thor was out looking, All On's bell started up at 39 and was back in the race, moving forward again. As All On moved forward, we heard Jack's bell start up at 44. He had been silent out there for quite awhile. Jack pointed just right of the course at 45. Scott went in to flush and at 47 a woodcock flew (we heard the tweet), the shot was fired, all finishing proper. After crossing onto the beginning of course No. 2 at 49 Thor sent out his scout when his bell could not be detected. After a bit we heard "get on him". All On was back on the move. At 54 as we could hear a grouse drumming, Jack went on point. Scott's attempted flush was made, but produced no game. Jack, also a well put together pointer owned by Bill Nelson, continued forward at 55. Both dogs finished without further bird work. Five grouse were observed flushing wild during this brace.
Courses No. 3-4. Dun Rovens Drifter (Richard Hollister, Jr., and Jack Harang/Hollister, Sr.) and Bud of Piney Woods (Richard E. Warters/Robert Ecker) headed for the first ravine at release and after covering it well moved on. At 6 we lost Drifter's bell and Rich sent in his scout to check the edge of the ravine by the first berm. At 10 his bell was heard and all moved on. Drifter pointed at 23, Rich going in to flush. At 25 he looked a little loose so Rich tapped him on to relocate. He moved a few yards and slammed to a stop again, but no bird was found (only an abundance of splash). Bud continued covering the edges and was ahead to the front with his handler. With course No. 3 behind us, both dogs were moved through the tubes and on up the hill on course No. 4. On the uphill, both bells stopped. Both handlers and judges went into the left of the course through the thick cut. Two shots were heard at 34 with the result being a divided find on a grouse. It was reported that the grouse lifted from between the dogs, which were located about 40 yards apart. At 42 Bud's bell went silent in the rolling hills to the left of the course. Robert went in with the judge to search for Bud, while owner Richard Warters looked on. Rich moved to the front and at 46 we heard Rich whoaing Drifter. While Robert was looking for Bud on the left, Rich went in on the right with scout Diane and judge in search of Drifter. The search was lengthy and much area was covered. At 56 we heard the report of Rich's gun and shortly after the report of Robert's gun. After everyone made it out, we heard that both dogs had a woodcock. At time Drifter was on point again, looking good and carding a grouse to finish his brace. This was a fun brace to watch as both dogs handled well and never let up, start to finish.
Six woodcock and two grouse were sighted during this hour as overcast skies continued.
After our coffee and doughnut break, we moved on to courses No. 5-6.
Ponderosa Mac (Chaffee) and Wild Apple Calvados (Tim Kisieleski/Doherty) began with fire in their bellies, quickly hitting the ridges at the beginning of course No. 5. Mac's owner Steve Snyder was able to be on hand to walk this brace, observing Mac stopping at 3, Scott going in to flush. At 5 Scott tapped him on and Mac continued covering the ridges to the top of the big hill. Calvados continued forward, doing a good job, hunting all the time. Both dogs were gathered in to move past the big hill, stopping briefly in the water. At 22 Mac stopped again, but the flush ended bearing no fruit and Scott moved Mac on. Moving through the turn at the half, Calvados got a little sticky in the pines, while Scott moved on ahead with Mac. Craig was able to pull Calvados out to move back on to the front. At 40 Mac seemed to let up a bit, but continued to hunt the cover. Stopping at 44, again with no bird produced, Mac was moved on at 50, finishing stronger at the end. Calvados handled well, but finished with no bird work.
Two grouse and one woodcock were sighted during this brace.
Our fourth brace began with temperatures bumping up into the low 40s on courses No. 7-8. Nobody's Shadow (Mickey/Bob Wheelock) and Shady Hills Whiskey Bonfire (Scott Forman) hit the cover hard at the beginning. This being a very thick and thorny area, the dogs moved cautiously but smoothly through the cover. Wasting no time getting to the road, Mickey stopped at 4 with Whiskey coming in to back. After flushing Bob moved Mickey on. Scott gathered up Whiskey and moved forward. At 8 Mickey again pointed in the thick of the raspberry and blackberry briars. Bob flushed, relocating again at 11. Mickey again bolted for the front, leaving a frustrated Bob behind. Whiskey continued moving through the covers efficiently, leaving nothing untouched. As we moved through the hardwoods, Mickey got down into the cedar swamp on the left. When his bell was not heard at 17, Bob sent scout Diane in to take a look. We continued to move forward with Whiskey ranging well. After a bit Bob decided to go in to also look for Mickey, along with his judge. As they paralleled the boggy bottom, we heard Mickey's bell start up farther forward at 22. Everyone crossed the road onto course No. 8, the dogs covering the first part of this course expediently. As we moved into the pines, Mickey stopped again at 32. When no bird could be flushed, Bob moved him on at 34. Mickey quickly moved through the pines and pointed again at 35. Whiskey came in and backed. Bob flushed a woodcock, Mickey standing with high head and tail, all ending in good order. This was a beautiful performance by both dogs. Course No. 8 was very wet, with both dogs continuing to cover the river bottoms with energetic casts. At 44 Whiskey came to a stop. With good manners, Whiskey stood while a running grouse teased him. After a successful flush, Scott shot to card a significant find for this brace. At 55 we couldn't hear Whiskey in the thick wet cedars. We rounded the curve and heard Whiskey up ahead. Mickey got a bit sticky through these last cedars, finishing with no more activity. Whiskey finished well, never letting up from beginning to end. This was an exciting brace, two great looking setters. With a flawless performance, Whiskey ended his day being named "Dog of the Day". Two woodcock and one grouse were sighted on this brace.
Lunch was graciously provided by Ch. Ponderosa Mac and owner Steve Snyder. And after a short respite at the Alibi, we were off to courses No. 9-10 with Hershner's Grouse Gunner (Scott Hershner/Chaffee) and Blast Off (Justin Evans/M. Forman). At 2 Blast Off stopped across the ravine on the big side hill, while owner Justin Evans looked on. After a minute or two of Marc flushing, Blast Off started to get anxious and Marc moved him on. Blast Off scoured the hill and continued to the front. Meanwhile, they lost Gunner's bell and went in to search. The rest of us moved forward and by 9 Gunner's bell started up again and Scott worked to get him back with him. As the rest of us had moved forward, Gunner stopped on the side hill cut, creating more separation between handlers. The shot rang out, Gunner carding a nice woodcock find. At 26 Gunner caught the front and pointed at 32, standing tall and handsome as Scott hurried to get there. As Scott approached and attempted a flush, Gunner loosened up a bit so Scott just grabbed him and moved him out of there. At 42 Blast Off's bell went silent. We found him about 150 yards off the trail, pointing by a blow down. As Marc flushed he loosened up, Marc choosing to move him on at 43. Blast Off continued to hit the cover, still hunting the area. Both did a nice job covering the ravine before heart attack hill. After the hill both dogs were to the front. At 53 Scott sent Tammy in when he didn't have Gunner's bell. Shortly after at 56 we had his bell again. At 58 Blast Off pointed and both judge and handler went in to look for him. At time we still had not found Blast Off. Retracing our steps, we found him standing under a pine tree where branches had been blown down. Having been there awhile, he was looking around. Marc attempted a flush, but then chose to move him on at 1:02. When no game was found, the brace was over. Gunner finished with no further action. Both dogs gave their all on a course that we would have expected more action on. The woodcock was the only game sighted in this brace.
Courses No. 11-12. Chasehill Little Thudd (Tim Kisieleski/Doherty) and Titanium's Jacksin (Doug Baumann/ Bruce Minard) dug into the cover at the get-go and checked in with their handlers with reasonable timing at the beginning. Jacksin's owner Doug Baumann was on hand to walk the brace as the weather continued to be overcast and cool. Both dogs seemed to have agendas of their own today as they preferred the edges. Both handlers worked hard to keep their dogs in check. Jacksin made some wide casts deep into the cover. Thudd got hung up at the end of course No. 11 as we walked through the grass area. He wanted to stay in the corner as we moved toward the road, causing some separation. After getting the dogs reigned in and after the road crossing, both dogs dug into the scrub oak. Jacksin was working out front at the end. At 55 Jacksin pointed and was solid. We were all hopeful for some action, but to no avail. When Bruce went in to flush, he found a heap of grouse feathers from a wild kill. Both dogs finished, but with no bird work. Three grouse were observed as flushing wild during this brace.
Courses No. 13-14. Blast Zone (Thor Kain) and Rebellious Fearless Fred (Mike Luebke) hit the cover with energy to burn. Blast Zone would have a rough day of it, giving Thor a tough go. After several stops and starts, Thor persevered to get Blast Zone to the end, hoping for a better day tomorrow. Fred is a dog that likes to take care of his owner. The dog seems to touch base right at the right time and hunt with amazing enthusiasm. When Fred would go out on a cast and be out awhile, all Mike had to do is give the whistle and Fred would show. Fred ran great and handled well throughout but did not see any qualified bird action today. Course No. 14 was pretty wet and sometimes it was hard to keep from getting the handlers a bit separated. Both dogs finished with their handlers.
We observed two woodcock and two grouse throughout the course.
The day was tough for the bird count. With the snow just recently receding and still ice and snow in the woods, the woodcock had not wanted to move this far north yet. The next day's weather forecast was just down-right nasty. Snow and rain on the horizon.
Everyone repaired to the Alibi for the announcement of the "Day Dog". We had watched some very great dogs, the judges having to take some time to deliberate. Shady Hills Whiskey Bonfire came out on top for the first day's running.
DAY NO. 2
As was forecast, the weather for the second day was nasty. We woke up to snow and cold and wind. Not something any of us looked forward to.
We were able to get started on courses No. 1-2 at 7:50 a. m., hopeful that the birds had not hunkered down for good.
Blast Off and Rebellious Fearless Fred had come off day No. 1 with a good run and no bird count. The judges were hopeful that the weather would not inhibit the birds. They wanted to see these two with some bird work. At 3 Mike Luebke sent his scout in because he did not have Fred's bell, but heard it again at 6. Fred came in and touched base. At 7 Marc Forman sent scout in to check the ridge as we lost Blast Off's bell. Shortly after the bell was accounted for, all moving forward again. At 28 we could not register either bell. At 29 Marc sighted Blast Off, attempted a flush with no luck. Marc tapped Blast Off on at 30 and he took a quick stop, but moved on immediately. It was snowing hard and Mike had not been able to account for Fred's bell for too long so he called for his retrieval unit at 36. With the miserable conditions, he felt it time to get his dog safely in hand. At 47 we all dismounted because conditions worsened and with the terrain it was the safe choice. Marc was working hard to get Blast Off to show when we spotted a grouse just walking around in the snow. As we stood waiting for Blast Off to come in, we also spotted two woodcock hunkered down in the snow. With this opportunity, and Blast Off coming in, we waited to see what would happen. Luck not being with Marc today, Blast Off touched base, but did not come in close enough to catch the bait. At 52 Marc chose to leash Blast off.
Courses No. 3-4. Hershner's Grouse Gunner's owner Scott Hershner was watching the brace, as was Titanium's Jacksin's owner Doug Baumann. Due to the conditions, we chose to walk this brace. Both dogs hit the ground running to the pine bottom ahead. Snow continued to fall and at times it was hard to hear the bells. At 19 Gunner stopped with Scott going in for the flush. At 20 the woodcock flew, all in order. Moving on, Gunner stopped again at 23. With no birds coming up, Scott moved him on at 24. Gunner continued to hit the cover cautiously, staying in the pocket. Jacksin, handling well with all conditions considered, had a couple of stops, but was not able to produce game. Running well, hunting the swamp edges, Jacksin continued to hunt. Onto course No. 4, both dogs covered the cut on the hill. At 40, when we didn't have Gunner's bell, Scott sent scout in to search. Soon his bell came up and all moved forward. Jacksin's bell stopped later in the cut. Due to separation, I had moved forward with Bruce. We found Jacksin on the left standing on a knoll, looking like a million bucks, head high, tail poker straight. The judge was just behind and yelled for me to go in, so as not to lose the moment. About 10 yards in front of Jacksin we found fresh grouse tracks in the snow. Try as we might to find the bird, we couldn't. Bruce released Jacksin and he scoured the area. The bird was nowhere to be found. Both dogs finished the hour with no further bird work. Three woodcock sighted throughout.
After a much needed coffee break, we proceeded to courses No. 5-6. Blast Zone and Chasehill Little Thudd blasted off the line with agendas of their own. We chose to walk again due to the hills. We moved through the first valleys with both dogs working the ravine. By the big hill each handler had gathered up his dog to move down the hill. At the top of the other side, both dogs scattered, looking for the good cover. At 21 Blast Zone had been sighted only a couple of times, making a hard handle for Thor. At 23 Thor requested the retrieval unit, feeling that with the conditions it was best to get the dog in hand. After the hill Thudd was working the fringes, checking in occasionally. As we approached the north boundary, Thudd was working the edge along the road. We crossed over to course No. 6 and Craig was unable to get Thudd to come around with him. Since we were close to the half, he chose to call it a day and go gather up his dog. No birds sighted this brace.
Moving on to courses No. 7- 8 with Dun Rovens Drifter, owner Richard Hollister, Jr. in attendance, and Highbank's Back'N'Black, owner Bill Nelson in attendance. We chose to remount as this course was a better venue for the horses. Both these dogs bolted off into the thick brush, in the first cut, aiming to get game. Staying with us until the road crossing, both dogs checked the cover thoroughly. "Luke" handled well for Rich all through course No. 7, but no game to be had. At 25 we were at the end paralleling the road when Luke stopped across the road by the deer pen. "Jack" and Chaffee continued to hit the cover and check the swampy bottoms, following the course. We were at the spot where we come close to the road and Rich knew Luke had crossed the road. Rich had sent in his scout to search the pines just off the road. They found Luke just in the ditch by a downed tree and very swampy. If there was to be a bird in there, it would be tough rooting it out with all the downed timber. Rich kicked the cover with grouse tracks covering the ground. The judge reported that a grouse lifted, Drifter standing staunch and looking like a billion bucks. All good for the wing and shot. Rich moved him back to the course and we all moved on. After both dogs and handlers crossed the road and turned into the cut, Jack's bell stopped at 32. We then heard Rich shout "whoa" in the same vicinity with Drifter. Rich quickly moved Drifter on while Scott went in to take a look for Jack. When he realized Drifter was running silent, Rich reined him in to clear the bell of snow, while we were still looking for Jack. Finding Jack, Scott attempted to flush, but then chose to move him on. Jack quickly headed to the front, not letting up. At the tote road we didn't have Jack's bell so Scott sent in his scout to take a look. They worked awhile looking through the cut, which seemed the most obvious place. Finally his bell sounded on the other side of the pond. The rest of us were heading for the pines where it starts to get really wet toward the end of the course. At time Drifter's bell had gone silent. We easily located him to the left in a boggy area by a blow down, looking very pretty on his point. Rich accessed the situation after seeing some fresh grouse track, choosing to take what he had and walked Drifter out. Drifter ended his second day with a race very consistent with his first day. When Jack finally popped out he had given his all, finishing this brace with no bird contact. The grouse was the only bird contact this brace.
We were wet and tired and retired to the Alibi for a much needed respite and lunch. The weather seemed to let up and the ground got warmer. The afternoon would be better for horses and riders.
All On and Ponderosa Mac, the latter's owner Steve Snyder in attendance. Courses No. 9-10 have proven themselves in the past and we were hoping for some action today. Both dogs bolted off the line up the hill and into the cover to get to the first ravine. At 7 we were not able to pick up Mac's bell. Thinking he was stopped in the ravine, they began to search. At 14 we observed a grouse fly out of a tree along the course, but no dog involved. All On moved forward, while we found Mac in the big hilly cut on the left. Shot was fired at 10, carding a woodcock for the first find of the afternoon. At 15 All On stopped down in the piney bottom to the left of the course. While we were there, we heard Scott shoot again not far from his first location, still in the cut. Judge reporting that Mac had another stylish woodcock find with multiple birds. Looking like the game was on, everyone perked up with anticipation. Thor was still flushing the pines while All On stood with head high and tail straight. A woody took flight and shot was fired, all in order. This woodcock popped up and went right back down under a pine. Thor took care to move his dog on so as not to interfere with the same bird twice. With the energy level moving up a notch after early bird work, both dogs worked the cover with new determination. With 3-4 inches of new snow, the going was a little slower for the handlers and gallery. With a little separation through the new cut, All On came to the front, with Thor working hard to catch up. All crossed the road onto course No. 10, both dogs taking the ravine pretty deep. It took a bit to get them both reeled back in. Mac continued to handle well, All On also working well with his handler. Both checked in when needed and then dove deep back into the cover, proving one of the best braces of the day to watch. At 42 Mac was checking around the bottom of a pine to the right, just off the course. Boughs were drooping with the snow. He did a 180 and stopped, a woodcock taking immediate flight. Scott fired his gun; all went as it should. He quickly took Mac out of there, where he shot forward with enthusiasm. At 46 Mac's bell went silent. Judge and handler went in to look. They were on a side hill, with the dog just over the top. At 47 shot was fired. Judge reported a grouse blew out while Mac stood staunch. Both dogs finished forward to the end. With this performance, Mac clearly met his challenge for this day, and would later be named "Day Dog". Bird count growing, we sighted six woodcock and two grouse, despite the snow conditions.
No. 6 -- Bud of Piney Woods and Shady Hills Whiskey Bonfire on courses No. 11-12. Bud's owner Richard Warters was in attendance, but due to conditions chose to stay with the truck. With these conditions the dogs never cease to amaze me. They hit the ground, going for the cover like a fall hunt. At 19 Bud's bell stopped "down in the piney woods"! After a thorough flushing attempt, Robert moved Bud on. Bud never settled in and moved on. After the relocation the marshal caught up to tell the judge that as he approached out of our purview, he saw a grouse blow out of a tree, not making much noise, in a direction that none of us could have seen. Scott and Whiskey had moved forward. At the end of the grass area at the end of course No. 11, Whiskey stopped at 33 with head and tail high, downwind from a stand of pines. When no game was flushed, Scott moved Whiskey on. Both dogs worked hard through course No. 12, but no further action occurred. Both giving a good bid, their game was over for today. That fleeing grouse the only game sighted this brace.
The last brace of this two day competition was on courses No. 13-14 -- Wild Apple Calvados and Nobody's Shadow. With the snow cover it had been a challenge to find these white dogs in our cover. Both dogs worked well forward through the scrub oak and across the road. At 18 Calvados' bell was not heard so Craig sent out his scout to take a look in the cut just before the pole timber. At 20 Craig went out to take a look himself. Bob moved ahead with "Mickey". At 21 we heard Calvados' bell again, and he headed to the front. At 23 Bob sent scout Diane (wife and co-owner of Mickey) in to take a look when no bell was sounding. We were still in the pole timber. Craig and Calvados continued to move forward. At 35 Mickey's bell came back. With separation Bob had to make haste to the front as that was where Mickey was headed. At this point both dogs were giving their handlers a wild ride. At 41 Calvados had stopped. When we located him we found Mickey on point with Calvados backing. Realizing that Mickey had been standing there a really long time and with Bob and Diane struggling to catch up, the judge asked Rich Hollister to go in and handle Mickey. We were in a very wet area with blow downs all around. No bird was flushed so at 44 Mickey was relocated to no avail. Craig moved Calvados on and Bob caught up. All was moving forward at 46. No birds sighted or counted this brace as both dogs finished.
Everyone went back to the Alibi to hear who would be named "Dog of the Day". The judges deliberated for awhile and after careful consideration Ponderosa Mac was named "Day Dog".
For the finals, the judges named Ponderosa Mac (Chaffee) and Dun Rovens Drifter (Hollister, Sr.) for the day No. 3 callback. They would run on courses No. 13-14. Understanding that this course has not had the birds, the judges wanted to see the dogs handle as they had already observed their bird work. Feeling that this course would give them the best purview of their ground application.
They further announced that the first reserve dogs were Shady Hills Whiskey Bonfire (S. Forman) and Hershner's Grouse Gunner (Chaffee) on courses No. 11-12, and second reserve dogs Nobody's Shadow (Wheelock) and All On (Kain) on courses No. 9-10.
The callback was to start at 8:30 a. m. If there was an ice crust we'd wait until 9:00 a. m. for better conditions.
After the announcement, we enjoyed a steak dinner, hosted by the Beaverton Grouse Dog Club in recognition of this prestigious event. Chief cook Ken Moss, who manned the grill with the help of Mike Singleton and Wayne and Marlene Fruchey, made sure all was set inside. Thank you for all who helped with this.
THIRD DAY FINALS
Conditions were better for day No. 3. Stake Manager Bryan Wood introduced Jimmy Gretsinger from Michigan Out-Of-Doors, who came to cover this event and the entire day here at the Gladwin Field Trial grounds.
Dun Rovens Drifter and Ponderosa Mac were off on courses No. 13-14. Both dogs dove into the scrub oak with high anticipation headed to the front. Drifter's co-owner Richard Hollister, Jr., and Mac's owner Steve Snyder joined us in the gallery, each with high expectations. In the early scrub oaks, Mac got a little birdy on the left, working a little closer to the trail. Drifter was working the edges to the road. At 12 both checked in as we moved to the cut across the road. After the road crossing, both dogs worked the left edges in the scrub oak with bells fading at 21. The handlers took some time to try to gather them up prior to hitting the hardwoods. Dogs being dogs, they decided that the cut was more interesting than the pole timber ahead and went back into the cut. Rich and Scott worked to get them forward. At 25 after a wide cast to the left, Drifter cruised in and went forward with Rich. Mac moved forward as well and at 27 Scott sent Tammy in when Mac's bell was missing at the turn at end of the pole timber, just edging the cut ahead. At 31 Mac was still up in that cut but by 32 Mac was with us again. Drifter continued making some nice casts out front. Moving into the pines onto course No. 14 at 36, both dogs got a little sticky. At 39 as we approached the first tote road, Scott sent Tammy in to look for Mac. Judge and Scott went left onto the tote road to gather up Mac as Rich moved forward with Drifter. Drifter seemed to be a little bit better handle for Rich today as he was moving progressively forward as needed. At 42 they got Mac back into the fold and he headed to the front. Lots of turns at this point of the course, the dogs having an easier go to get to the front than the handlers. We moved into the wet and mucky part of the course and at 45 we lost Drifter's bell. We came around a curve where several downed trees in a swamp were at our left. As we went forward we discovered Drifter stopped by the blow down. Rich observed the situation and determined that just moving Drifter on was the best choice. He moved Drifter on while Scott and Mac regained the front. At 47 Mac went up into a cut and his bell was lost. Sending Tammy in to take a look, Rich moved on with Drifter. At time Scott and Mac were headed to the front and Drifter stopped again. With today's objective in mind, Rich pulled Drifter out to end with what he had. Both dogs finished, completing the objectives set by their judges. It was decided that the deal was done and all ventured back to the Alibi for the announcements.
Back at the Alibi, Stake Manager Bryan Wood and Secretary Joe Cammisa took control to announce the win. Bryan then thanked the plethora of people who helped to make the trial the success that it was. Those being: Purina and Garmin for sponsoring this event; the Beaverton Grouse Dog Club for hosting the event; Secretary Joe Cammisa for organizing the event; Tom and Kelly Fruchey for providing the lunches graciously provided by 2018 Ch. Ponderosa Mac and owner Steve Snyder; Wayne and Marlene Fruchey for making sure the coffee and doughnuts were available daily; Roger Johnson, Ken Moss, Ann and Eric Naus, Brent Peters, Doc Holmes, Margie Ervin, the Formans and Deb Nihart, Bob and Diane Wheelock, Bill Nelson, Craig Merlington, Carl McRae, Scott and Tammy Chaffee, Rich and Jenny Hollister for their outstanding horses (Boots, Ed, Dusty, Doc, and Red); Thor Kain, Dave Duell, Mike Luebke, Bruce and Neal Minard, Russ Gingras, Mike Singleton, Craig Doherty and everyone. Apologies if I missed you.
As Joe Cammisa put it, there is nowhere that can beat the support we get here in Michigan for marshals. Bryan and Joe thanked the reporter and the judges, Dave Hughes and Colin Ervin, their work and awarded us each with a nice Mud River Dog bag and a big thanks for all our work and consideration. Bryan went on to announce runner-up Ponderosa Mac with handler Scott Chaffee and awarded him the customary silver pin (these pins made by Laviano Jewelers of New York) with much enthusiasm and applause. At that point, we all knew that the champion was to be Dun Rovens Drifter, handled by Richard Hollister, Sr. Along with receiving the customary silver pin, he also was awarded a Garmin (supplied by Garmin), followed by an up-roaring hurrah and applause! For those who frequent Michigan, you know that Rich Hollister and Scott Chaffee are very good friends and at all times have each other's back. It was a pleasure to see these two congratulate each other with warmth and respect. Pictures, congratulations and celebration continued.
Congratulations to you all! And, thank you for giving me the opportunity to witness such an awesome event!
Gladwin, Mich., April 10
Judges: Colin Ervin and Dave Hughes
GRAND NATIONAL GROUSE AND WOODCOCK INVITATIONAL CHAMPIONSHIP [One-Hour Heats on Consecutive Days; One-Hour Finals] -- 6 Pointers and 8 Setters
Winner--DUN ROVENS DRIFTER, 1655062, setter male, by Dun Roven's Gary--Dun Rovens Boofay. Jack Harang & Richard Hollister, Jr., owners; Richard Hollister, Sr., handler.
Runner-Up--PONDEROSA MAC, 1645586, setter male, by Jetwood--Cooper Mountain Pepsi. Steve C. Snyder, owner; Scott Chaffee, handler.