Result: New York State Grouse Championship
Location: Berne, New York
Post Date: Oct 4, 2019
Submitted By: Ann Naus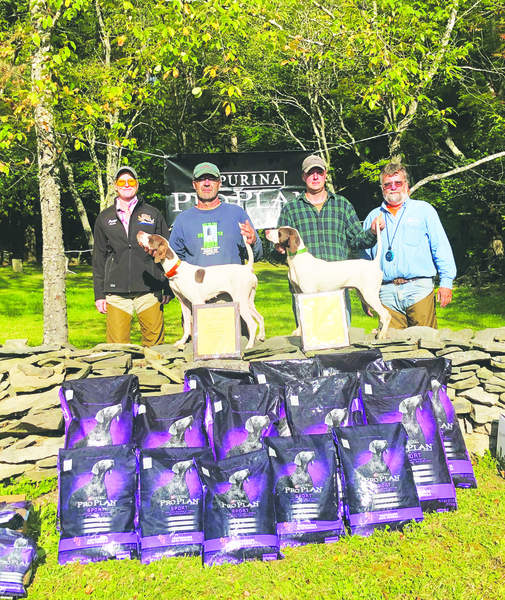 The Winners. From left: Judge Ann Naus, John Stolgitis with Chasehill Little Izzy, Thor Kain with Panola Bacon and Judge Brent Peters.
BERNE, N. Y. -- The annual New York State Grouse Championship, held just outside Berne, N. Y., at the Partridge Run Management Area, began promptly at 7:30 a. m. on September 4.
Fifty dogs (one scratched) were entered in this early start to the nationwide fall series, all vying for top of the lists.
The weather gave participants a seasonal mix each day. Most mornings started out cool and damp, as if late fall was already in the air. The heavy dews would keep the air cool for the first few braces each day. As slight breezes worked with periodic sunshine to dry out the lush cover this rolling terrain encompasses, by late afternoon the days ended on a warm summer's eve note.
With t-shirts and thirst-quenchers out first . . . then the stories could begin.
Entertaining accounts of fond memories make for enjoyable and boisterous laughter, that might have carried down the slopes and o'er the hills to small towns and hamlets. If by chance a by-stander heard, they might think, "Sounds like someone's having a good time." And, indeed, we do! How could we not?
Surrounded by all this glorious upland habitat. I must mention the historic stone fencerows seen through the courses. Property markers and pasture lines joining land to distant family plots prove the effort, grit, fortitude and integrity it took for those who settled here long ago. All of nature's resources at the ready; it would have been an incredible place and time to live, everything a man and his family could need or want, right here, to make a go of it.
Many of the slate fencerows have survived time and weather, a rare quality it seems these days. It only adds to the visual charm of this area; some edges follow paths of this management area, others dip in and out of the woods, following high ridges and then down rolling slopes, crossing through lush valleys. Included is an abundant amount of varied food sources; between green, twisting wild grape vines and wild cherry trees, mixed in with a multitude of berry canes and bushes, all growing along alder edges and bottoms, coming up from ponds and small lakes, there was food everywhere.
Various aged oaks, young pines, beech, maples starting to turn colors, all provide food, protection or a nightly perch. So many apple trees scattered throughout the courses and gathered together in wild orchards, an easy food source off the ground, and needed for the upcoming hunting season. In thick spots, young and old growth pockets, open or tight, streams and run-off trickling everywhere, offering good ground escape or easy flight along open edges, combined with heavy snow cover through the winters, contribute to opportunity for grouse and woodcock to thrive here.
The bird numbers were adequate for getting the job done, and impressive in size and health. Good food sources next to thick edges of open cover change added to the stealth and elusiveness grouse seem to possess. The birds showed who had the true home advantage. There were fifteen wild flushes heard or seen along six one-hour courses during the four-day event. Along with the same number pointed, in a total of nine clean finds, adding four woodcock to the tally, there were enough for dogs to show their attributes.
The Winners
The champion this year was Chasehill Little Izzy, three-year-old white and liver pointer female owned by Erin Stolgitis of Ashaway, R. I., and handled by John Stolgitis. This young, focused pointer showed a classy and flowing race you might see from an older dog. She needed minimal handling, appearing up ahead when she needed to, and confidently dove into new covers.
She went right to work once inside, sweeping across the pockets and searching the edges. Showing style with a smooth pace in the open, Izzy made several forward casts, reaching for cover and finding the edge of her bell. Her search never hampered her connection to handler John. When he talked to her, she made note and charged forward, head-first into an alder ditch. With a quick stop, and an even quicker flush, it would give her the grouse find desired and needed. Her determination and agility gave way for a steady pace to finish strong and be nowhere near ready to quit the hunt at time.
Panola Bacon was awarded runner-up. Another put-together pointer under the handle of John Stolgitis, Bacon is a two-year-old white and liver pointer male owned by Mac Stidham of Columbia, S. C. The handsome pointer moved with desire, never staying in the open for long; his obvious purpose was to get into the best cover. He had a large brood find in the first half, along a nice edge where the cover started to change. Multiple grouse blew out, one and two at a time, with Bacon holding steady. It seemed to only intensify his application throughout the hour.
He made bold moves over ridges, handled sharp turns with only a few words from John, always finding the front. He continued to hunt every pocket of cover along course No. 6. Still launching himself off rock walls to get to better cover, pushing through thick and thorny growth without hesitation until time was called. He finished strong and ready for more.
The Running
The first brace started us off with Bud of Piney Woods (PM/Robert Ecker) and Shady Hills Whiskey Bonfire (SM/Scott Forman). Both dogs dove into the cover straight ahead at the first turn of the course. Bud's bell stopped abruptly on the left. A flushing attempt followed but a bird was not found. Each dog continued along the course, doing their best to locate a bird. Whiskey's bell stopped just before the half, down to the right. Bud's bell stopped within a few moments in the same area. The alders are thick in this area. Scouts were called in to help locate dogs. Found just inside the heavy edge, both dogs were moved on. Bud was taken up the course a few yards, while Whiskey was relocating. He stopped again quickly as a reluctant woodcock finally lifted, credited with a stop to flush at 33. He continued to search the boggy cover along the finish of course No. 1. Bud stopped at 53 in a nice pocket of cover next to an old pine forest edge, with Whiskey coming in to honor the point. Both handlers opted to move their dogs on after a grouse was seen flushing off the far back edge as they approached.
Meredith Grade Annie's (SF/Tammy Chaffee) handle was nicely done, crisp and forward. She made good work of the cover along the way and into the pockets nearing the end. Daddy's Little Boy Butch (PM/Stolgitis) made several casts into nice edges, down to the right off the start, charging through the open, looking for better hunting. His bell stopped at 36 in the corner of a left bend. Unfortunately it did not result in wings taking flight for either nice effort seen.
Grouse River Rocken Roll (SM/Marc Forman) had a brazen run, hanging out on the edge of the bell. Not even a brief rain shower slowed him down as he was seen moving forward, hunting lush spots along the water's edge. He finished in good cover, but sadly did not house the bird today. Rockland Ridge Maggie (SF/Ecker) also had a fast moving, forward run, finding her way through fields of goldenrod. Seeking out the change in cover and working her way through it and on to the next. Making a big cast around the wrong side of a swamp edge, the struggle to reconnect concluded her bid just before the half.
Brae Val Bearcat Laddie (RSM/Gregor McCluskey) and Glassilaun War Paint (PM/Toby Tobiassen) had quick starts. Both dogs made big, forward casts along the start of course No. 4. Laddie's bell stopped just up and to the right in some thick and mucky cover at 10. It was unclear if a grouse was heard to flush as handler and judge searched for the dog. So, it could not be carded. War Paint, sweeping to the right and then the left, steadily progressing forward until his bell faded. At 23 the retrieval device was requested. Laddie went on to card a woodcock find just past the half, finishing the course working the cover.
After a quick tailgate lunch provided at "headquarters'' Duck Hook (PM/Stolgitis) and Leslie's Jigster (SM/S. Forman) started the afternoon off. "Jigs" maintained a steady pace, hunting hard. His efforts were rewarded on the right in thick cover as his bell stopped. A large grouse was heard and seen. With good manners, he was moved on after the shot, continuing to handle well to the finish. Duck Hook's pace was fast and far reaching. At 30 the handler decided to ask for the retrieval unit after losing contact during another rain shower.
Upper Ammonoosuc Sadie (SF/ Ecker) had a front moving run, diving into the best cover near the course. It wasn't a surprise to hear her bell stop at 50 along a lake edge adjacent to a group of apple trees. With a quick flush, two grouse blew out. Another good find in the books. Zuk's Rambling Man (PM/ Marty Zukovich) had a smooth run, responding well to his handler. His consistent effort would go unrewarded.
Day No. 2. The seventh brace started with cooler temperatures than the morning before. Snyder's Pioneer Scout (SM/T. Chaffee) handled well through the sharp turns and heavy cover of course No. 1. At 39 his bell went silent in nice cover to the right. After several flushing attempts and a couple thorough relocations, the bird remained elusive. This was also the brace of champion Chasehill Little Izzy (Stolgitis) which was forward and hunting for the full hour. She had a smooth and direct pace that made it even more enjoyable to watch her go to work through some of the best cover. She needed a minimal amount of handling, always being in the right place showing independence and grace. Just after they crossed the road at the half, Izzy's bell stopped sharply. The handler only had to take a step in the alder edge to force a big grouse to bust out low and to the right. Izzy's head snapped up to mark it as the bird came across her nose. With her feet firmly planted until released after the shot, all was in order. Honoring Scout's point just a few minutes later, she finished her run strong and attentive, giving the run to beat.
Chasehill Baby Bella (PF/Stolgitis) and Leslie's Cisco Kid (SM/S. Forman) had good starts, Bella making some big moves at the edge of her bell. She hunted hard in the right spots but was not compensated for her strong effort. Cisco, a fancy running setter, became too connected with the handler and struggled to stay in the cover. His handler opted to end his run at 25.
The ninth brace gave us one of the best relations seen between dog and handler. Oscar Robinson (SM/Al Gehm) was a pleasure to watch. This setter moved with dual purposes; one to locate birds and one to take care of his senior handler. Oscar covered the course with style and flash, staying connected with Al as he made wide casts into pockets of cover. Minimal handling was needed, just a gentle nudge here and there to keep him moving in the right direction. Even without bird contact, it was one of the most memorable runs of the stake. Seasoned setter Quail Trap Will (SM/S. Chaffee) always puts on a consistently forward run. Moving with enthusiasm and drive, he hit all the cover in his valiant search. Unfortunately bird contact was missing from his effort.
The 10th brace was hard charging from the start. Both Wynot Atom (PM/Stolgitis) and Grouse Hill Bullet Proof (SM/S. Forman) were heard making big moves to the front. At 33 Atom's bell stopped with Proof's bell stopping abruptly in the same area. In an old, over-grown apple orchard, Atom's bell started up before handler and judge could reach him. After Proof was located, the handler moved him on. Both dogs finished strong and forward.
After lunch, it was Maximum Resistance (SM/Ecker) and Blast Zone (SM /Thor Kain) searching the edges of cover along the start of the course. As they started to wind through course No. 5 both setters hunted harder into deeper cover. Blast Zone's bell stopped at 23 with Max's bell stopping right behind it. A flush and relocation commenced. Without the desired results, the handlers moved dogs on to continue the hunt. Max charged forward, while his bracemate stopped again just a few minutes up the course. A long search found the setter tucked under heavy overhanging cover just inside the edge. A decision was made to move him on without flushing. His bell stopped suddenly one more time deep to the right. After flushing and a relocation put nothing to flight, his handler decided he was done for the day.
Brace No. 12 ended the day on a good note. Paired together were Hershner's Thunderbolt Jet (SM/T. Chaffee) and Higby Rilo (SF/Stolgitis). Jet had a quick stop at 3, carding a woodcock find. He continued his fast and forward run adding a stylish grouse find at 30. Jet finished strong and hunting the cover. His performance throughout the hour would carry him into the last day. Rilo moved nicely along the course, using all of her bell. She stopped at 35, but without a flushing attempt, moved on to stop again near the end of time with similar results.
Day No. 3. This morning was quite a bit cooler and damp, causing everyone to layer a bit more.
The 13th brace started with Highbank's Back'N'Black (PM/S. Chaffee) moving fast and far beyond his bell. He struggled to maintain contact during the first half, resulting in the retrieval unit being requested. Pointer male Bo of Piney Woods had a smooth and moderate run while responding well to Ecker. Bo's bell stopped at 20, 38 and 50.
After extensive flushing and relocation attempts each time, the desired results were not achieved.
Seasoned setters No Limit (SF/Kain) and Hypointe Left Turn (SM/S. Chaffee) had easy flowing, forward runs. Both were just out of bell range at times. Lefty's bell was the first to stop at 27. A flushing attempt and relocation were made; unfortunately, this solid effort did not result in a bird. No Limit's bell stopped at 40 near an opening in the cover so was moved on without flushing. Both dogs had a steady finish.
By the 15th brace, the sun started to peek out between the clouds. Grouse Hills Annie (SF/Stolgitis) was struggling to put it together during the first half. At 34 her handler asked for the retrieval unit. Blast Off (SM/M. Forman) settled into the cover just before the half. His bell stopped moments after and again at 53. An aggressive flush was made each time, along with a chance to relocate. Neither time resulted with a find.
Upper Ammonoosuc Violet (SF/ Ecker) and Fireside Aidan (SM/T. Chaffee) started the hour with the enthusiasm that young shooting dogs should have. At 30 Violet's bell stopped. Without a bird after an extensive flush and relocation, her handler chose to end her bid at 40. Moments before this Aidan's bell stopped just up the path. He was allowed a relocation before moving him along. His bell stopped again at 59, providing on-lookers with a stylish point. After flushing and a quick relocation, the birds were still elusive.
With a handful of wild flushes in the last couple of braces, there were renewed hopes of getting more birds pointed in the afternoon. The first brace after lunch paired Autumn Rain (PF/T. Chaffee) and Chasehill Speck (PM/Stolgitis). "Bessie", as her handler affectionately calls her, hunted hard and forward for her full hour. She carded a divided find on a woodcock with brace-mate Speck. This was his second staunch point. The first was at 24 with the flush producing a grouse. Speck stopped again at 30 but this resulted in an unproductive after an extensive flushing and relocation attempt.
Shady Hills Zeena (PF/M. Forman) and Rock Solid Casey (SF/Ecker) were off to a spirited start. Zeena roared down into a pocket of cover to the right of a left bend in the course. She swept through quickly and deep, her bell finally stopping at 15. After a prolonged search, her bell started up again just before reaching her. She headed deeper into the corner, ultimately becoming disconnected with her handler. The retrieval unit was requested at 25. Casey continued to flow through the course, sweeping left to right searching the changing covers. At 45 her bell stopped in an area that did not seem "birdy" and her handler sent her on without incident. Moments later he opted to end her run as her spirit seemed to lessen.
Day No. 4. The 19th brace started on time with Young Grouse Freddie (SM/ M. Forman) and Texas Free Mason (SM/Ecker). Freddie put down a lively, quick-moving pace. His bell stopped early at 10 but resulted in an unproductive. Mason's run was forward and well paced. Each dog finished the hour strong and searching the cover.
River's Edge D J (SM/Pat Cooke) and Islander (SM/Ecker). These mature males ran with confidence, laying out to the front. D J had a steady pace in his thorough searching of cover. He checked in at the right moments and was always moving forward. Islander dug into some deep pockets and worked edges where the cover changed. At 37 and then again at 42 his bell stopped. He was relocated after flushing both times. As Islander began his second relocation, a woodcock popped up next to him. He stopped at the flush but the handler, not satisfied with his initial movement, opted to pick him up.
Sterlingworth Jack (SM/Ecker) handled nicely, making forward casts into cover. He got hung up halfway along the bottom of a deep slope. With contact interrupted for too long, Ecker requested the retrieval device. Hershner's Grouse Gunner (SM/S. Chaffee) was doing a nice job of staying in the cover, then moving quickly through the open areas. He stopped at 37 and again at 47. Both flushes and relocations ending in sending him on. At 57 his bell stopped sharply to the right in a nice mix of food and young trees. As handler and judges walked up to a stoic Gunner, a grouse blew out on his right. All in order, a nice way to finish the hour.
Springbrook Maximus (PM/Stolgitis) had a powerful run. He was head-first into covers, never hesitating or indecisive with his movements. Always moving onward, he needed minimal handling. Flycast Rollie Fingers' (SM/S. Chaffee) run was well paced, making swings across the pocket. He responded quickly to handler's instructions, while hunting efficiently through some nice covers until the final moments of the hour. A grouse blew out from an edge at time, Rollie froze mid-stride, carding a stop to flush.
Energetic pointer males Texas Elhew Bodie (S. Forman) and Boston (Ecker) showed their determination, hunting out to the edge of the bell's range. Boston stopped quick on the far side of an alder bog. Still staunch when located, the handler got out in front of him. With no result, a sequence of relocations began. Each time he stopped, a pep appeared in our steps. Three times should be the charm, right? Not today. His lead was clipped at 50. Bodie continued to work hard at finding good covers to search valiantly. He handled well throughout the hour, finishing ahead in more cover.
Panola Bacon (PM/Stolgitis) ran as a bye. A late scratch of his bracemate had occurred. Bacon made great use of having course No. 6 to himself, maybe knowing every spot was all his to find and hunt. He handled well through a new winding loop at the start. After charging across some open fields, his bell stopped hard just inside the cover's edge. Bacon was statuesque when found standing next to a rock wall. As handler approached grouse started busting out in all directions. Remaining tight through the shot, Bacon was released to continue a smooth and bold run. He made nice casts along the course, ensuring he checked every enticing spot. Bacon finished the hour strong, forward and hunting in some of the thickest and thorniest cover until time was called.
Normally the day would end here, but with only one more brace to complete the Championship and lots of daylight left, it was agreed to run on course No. 1 again. Most hoped it would be a different course in the late afternoon than it had been on previous early mornings.
The final pair: All On (PF/ Kain) and All Out (SM/S. Chaffee). Despite having similar names, these two dogs had completely different runs. All On moved quickly from the breakaway. She made far reaching casts to the right, swinging across to the left. After the course turned sharply left, she went deep to the right. Sound struggled to travel correctly over some deep gullies in that area. Having difficulty staying connected, the handler asked for the retrieval unit at 15. All Out's bell had stopped about this time. He carded his first grouse find; a quick shot followed. He continued with his easy paced run, methodically searching large pockets of cover. He added another grouse find at 32 and again in the final ten minutes.
Soon after the announcements began. A big round of applause for John Stolgitis, with handshakes and hearty congratulations. Twice! Another clean sweep for John, adding to his impressive win record spanning well over twenty years. Every trophy, plaque and ribbon he and his well-bred dogs receive honor the hard work, time, effort, knowledge gained and love he gives for this sport.
Congratulations again to John, the owners and the breeders. Great job everyone!
Berne, N. Y., September 4
Judges: Ann Naus and Brent Peters
NEW YORK STATE GROUSE CHAMPIONSHIP [One-Hour Heats] --
17 Pointers, 32 Setters and 1 Irish Setter
Winner--CHASEHILL LITTLE IZZY, 1669623, pointer female, by Erin's War Creek--Richfield Almond Joy. Erin Stolgitis, owner; John Stolgitis, handler.
Runner-Up--PANOLA BACON, 1675813, pointer male, by Daddy's Little Boy Butch--Richfield Rose. Mac Stidham, owner; John Stolgitis, handler.
Well-Deserved Kudos
The reliable and earnest support from Greg Blair and Purina PetCare is firmly appreciated by all who participate. From helping out with ads, supplying food for winners and participants, to providing additional gifts for placements, it is part of everything we do to keep this sport thriving for future generations.
We all know how much it takes to host any trial; these things don't just happen.
A big thanks to Pat Cooke from fellow judge Brent Peters of Gladwin, Mich., and me for putting on a smooth, well run event. Pat always gives a strong commitment to achieve this and is accompanied by a great group of people who help move cars, marshal braces and serve lunches and refreshments for everyone: Bob Melville, Deb Nihart, Billy Ballin III, Joe Malone and all the handlers who stepped in when needed -- Thank You.
Thanks also to Dave from Nittany Valley Horses for being prompt every morning and having the horses and trailer where it need to be.
Thanks again for asking me to be your returning judge this year. It was my great pleasure and honor to be a part of this truly great event.
See you all next year!