Result: Michigan Woodcock Championship
Location: Meredith, Michigan
Post Date: Dec 18, 2019
Submitted By: Bill Nelson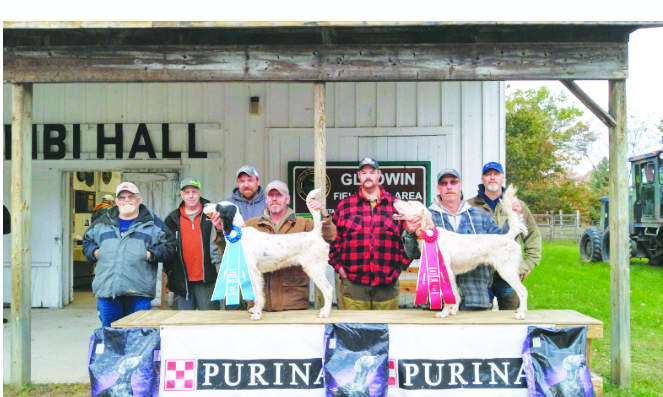 Championship Winners. In foreground, from left: Scott Forman with Grouse Hill Bullet Proof and Marc Forman with Blast Off. Behind: Bryan Wood, Craig Merlington, Judge Doug McMillen, Judge Bill Ballin and Bill Nelson.
MEREDITH, MICH. -- The 2019 annual running of the Michigan Woodcock Championship was hosted by the Ruffed Grouse Field Trial Club at the Gladwin Field Trial grounds in Northern Michigan.
Considered to be one of the most prestigious and historic grouse and woodcock refuges in North America, it is celebrating its 103rd year. Gladwin has a strong tradition of recognizing true wild bird dogs running on wild birds in their native surroundings. Over the four days of running, 61 woodcock and 42 grouse were moved on all the courses.
The Michigan Woodcock Championship is a trial for the senses. It's held during the peak of Michigan's vibrant autumn colors. Cool frosty mornings and aromatic fragrances such as maple, pine, aspen and cedar fill the air and the sound of small trout streams trickle in the background and, most importantly, wild bird sounds, the thundering roar of a flushed grouse and the whistling sound of a fluttering woodcock as it crests the aspen tops.
Once again, Purina's support was evident. Purina provided ample bags of performance dog food and hats for all the winners and companion stakes placements. Purina has always been very supportive of our cover dog trials and we cannot thank them enough for all of the behind scene support. They truly are great ambassadors for field trials and we look forward to the cooperative partnership between topflight wild bird dogs and Purina's consistent dedication to many of our Michigan clubs.
The Ruffed Grouse Field Trial Club works hard to not only provide a first-class trial but it also goes to great lengths to preserve the integrity of the drawing process. Ken Delong graciously hosted the drawing at his home on Saturday evening where there was food and beverages for 30+ participants including pros, amateurs and bird dog enthusiasts. Start times, course order and the number of braces per day were all agreed upon by the club directors before the first dog was drawn. The transparency was well received by all those gathered.
This year's Championship drew 45 dogs ready to run starting Wednesday, October 9, and finishing Saturday, October 12. The week's weather was mixed. Pretty typical for Michigan this time of year. Early in the trial cool fall mornings would slowly climb into the low 70s by mid-afternoon. Friday afternoon got ugly with heavy rain and high winds. Saturday was cool with some sun and clouds.
Judges for this year's running were Doug McMillen of Dubois, Pa., and Bill Ballin of Norwich, N. Y. Both judges, in this reporter's opinion, worked very hard each day to give every dog the attention it deserved.
Doug McMillen is a veteran trialer and his dogs, pointers and setters, have won numerous walking and cover dog championships. We appreciated his keen eyes for the best dog and his judicial experience at high-stake trials.
Bill Ballin is also an experienced dog man, working many years as a trainer for the notable Grouse Ridge Kennels in New York. Bill has been well received for his judicial experience. He has also judged big championships throughout the Northeast and Midwest with positive feedback.
THE WINNERS

After four days of running, the judges named Grouse Hill Bullet Proof champion. The four-year-old white and black setter male is owned by John Capocci of Katonah, N. Y., and was handled by Scott Forman of Shady Hills Kennel.
Runner-up honors went to Blast Off, a sturdy five-year-old white and orange setter male owned by Justin Evans of Duncannon, Pa., and handled by Marc Forman.
This was the first championship win for Bullet Proof, a well-built setter male. Bullet Proof ran on courses No. 9-10 on a cool calm morning. This young dog ran to the front and put on a bird-finding expedition. Four finds in his hour, no unproductives and a smooth far-reaching race with little handling. He had a great rapport with his handler the whole hour. Most notable to this reporter was that he had his birds well located, his birds exactly where he was pointing.
Blast Off is no stranger to the winners' circle. Blast Off won the 2015 Grouse Futurity. Soon after he was on the podium with a runner-up title at the Ontario Grouse Championship, followed by a big win at the Northern Michigan Cover Dog Championship in the fall of 2018. Returning to Michigan, Blast Off took the runner-up honors in the 2019 Michigan Woodcock Championship.
In this reporter's opinion, Blast Off ran under some tough conditions. The air was hot and slightly humid but this setter could have cared less. He ran with speed and heart, never showing any letdown. At times he needed calling on at the corners, but always showing to the front, exhibiting tremendous bottom in the heat of day.
Handler Marc Forman should be mentioned for handling Blast Off. He ran in beast mode for most of his hour and had a nice limb find deep off course but Marc had a good line on the dog and was able to get the judge and himself to the dog for a great find. Marc continued to hang on until Blast Off had his final find late in the hour. A very exciting performance.
Much appreciation goes out to Club President Chuck Langstaff, Vice-President Craig Merlington, financial Secretary Theda Langstaff; Directors Bryan Wood, Eric Naus, Brian Trimmer and Bill Nelson.
Additional thanks go to members Ann Naus who marshalled 95% of all the braces, Eric Naus who also marshalled some, and our favorite stake manager Bryan Wood for having dogs to the line on time for each and every brace.
Thank you to members Ken Delong, Christy Helms, Bruce Barlow, Brian and Tracey Trimmer, Dave Hawk, Carl McRae and Wayne and Marlene Fruchey and the people who always chip in moving vehicles such as Deb Nihart- Forman, Harold Holmes and Paul Renius.
And let us not forget Rich and Jenny Hollister for providing excellent sure footed horses, and Burney Bauman for hauling the horses to many of the courses.
There also seemed to be a food trial going on as well during the Championship. Large elaborate lunches were served daily by club members at the historic Alibi Hall. One lunch preparer trying to out-do the other. No one left hungry and some were wishing for a hammock to string up between some nearby oak trees.
The large barbecue dinner prepared for Friday evening was the true winner. Smoked brisket, smoked pulled-pork, barbecued chicken, mac and cheese, Texas toast and a host of desserts were well-received by the large gathering of friends and family.
The Langstaffs provided hot coffee and breakfast treats with a smile each day after the conclusion of the second brace to keep everyone smiling on those cool mornings.
THE RUNNING
Courses No. 9-10. Travel Alert (Holmes) hunted wide right in the cut on course No. 9 to start the brace. Travel Alert's bell faded out and Holmes called point. During the search a shot was heard forward on course. Ash Creek Domino (Ecker) had his first of two woodcock finds. Travel Alert's bell started up and then quickly stopped. A grouse was flushed and Holmes was back on course. Domino's second woodcock find came at 15, again on the right in the young aspens. Travel Alert backed briefly and moved on. Domino stopped at 20 forward on course; Ecker made a wide flushing attempt to no avail. This grouse would not be pointed again and was heard leaving the area during relocation.
Courses No. 12-13. Faith's Maximum Justice (Delong) and Shady Hills Whiskey Bonfire (S. Forman) keyed off each other for the first 30, a very exciting start to this brace, neither dog ever coming from behind. Whiskey wound up around a flighty woodcock at 35. With the course to himself, Justice took advantage and rolled through the cover nicely. After the road crossing on course No. 13, Justice stopped on the left about 50 yards in. Delong quickly found Justice pointing and flushed a grouse. Justice finished forward without further bird work.
Courses No. 14-15. Larry (Hollister) and Texas Elhew Broadie (Forman) hit the ground running. At 35 Larry stopped briefly and moved on with a woodcock in the air at the road crossing. Larry's bid was over. Broadie finished the hour with no contacts.
Courses No. 1-2. Bo of the Piney Woods (Ecker) and Bawl of Fire Slipper (Minard) worked hard for the entire hour. At 59 Bo stopped to the left of course No. 2. Ecker flushed and relocated with no bird seen. Fire Slipper did not have any bird work in her effort.
Courses No. 5-6. Both Call Me Maggie (Merlington) and Glenrae's Wango Tango (Naus) broke away running to the edge of bell range. At 20 handlers had bells stopped in mixed cover. As handlers walked in Naus found Tango pointing and produced a woodcock. Merlington, not too far away, put a bird in the air. Both dogs looked good. They continued forward races without further bird work.
Courses No. 9-10. Grouse Hill Bullet Proof (S. Forman) and Baxter's Apache John (Peters) started the first brace of the second day. Apache John was forward and way up on hill right of course when point was called at 7. Peters was able to put a woodcock to flight. All in order, "AJ" was brought back to course and sent forward. Meanwhile, Bullet Proof was making deep casts to the front with little handling when his bell had gone silent. Short scouting attempt found Bullet Proof pointed and Forman was able to flush woodcock at 11. As AJ caught the front from the previous find a bird got spooky slightly off course when AJ was coming up over the hill and failed to stop and was on the leash before the half. Bullet Proof continued to hunt forward feverishly down in swampy area just before road crossing when his bell fell silent. Three grouse boiled out in different directions. Bullet Poof stood poised and confident. Forman immediately cracked off a shot and wasted no time getting Bullet Proof back to task, sending him toward tote road. Past the gate and up the hill only to find him standing in thick cover just off course at 28. Forman was able to flush a whistler into the blue sky for all the gallery to see. Bullet Proof stood like a statue with lots of intensity. He continued to flow through the course requiring little handling, getting stronger fading to the front in and out of bell range, occasionally showing when cover funneled him in. At 50 Scott had bell stopped in mixed aspen and scrub oak up to the front. Handler and judges were off the horses for lengthy walk on a limb find, handler cautioning his dog knowing he had a special performance that would be tough to top. He walked in where the dog was pointing and the woodcock screamed away. That would be his fourth and final find. Forman sent him on and Bullet Proof finished strong and to the front to finish a very exciting and enjoyable hour.
Courses No. 12-13. Ponderosa Mac (Chaffee) and Maximum Resistance (Ecker) broke away just south of the north loop. Resistance was making a big cast and was out of pocket and was up at 33. Mac is no stranger to the winners' circle, owned by Steve Snyder of Minnesota. Mac was hitting all the objectives and hunting bird cover intelligently when his bell went silent at 34 near road crossing. Chaffee was able to produce a woodcock but he informed the judge that Mac looked injured and ended his hour.
Courses No. 14-15 . Thornapple Cody (Minard) and Glenrae's High Roller (Naus) broke away mid-morning, temperatures ramping up. Cody made consistent forward casts and was found standing at 26 left of course. Minard's flushing couldn't produce a bird. Sent on Cody continued forward and at 37 was found standing again. Minard was able to put a woodcock to flight, Cody looking very nice after the flush. He continued forward and finished his hour. High Roller, a powerful young male, hunted aggressively ahead, showing good rapport with handler. At the half Naus noticed an injury and picked him up.
Texas Free Mason (Ecker) and HighBank's Down'n'Dirty (Nelson). Last brace before lunch, the temperature reaching 70 . They were away on courses No. 1-2. Free Mason made a deep cast off the breakaway left of course. Dirty was more handy, making moderate casts. Free Mason continued to be out of pocket. Both dogs birdless at 40, handlers elected to pick up.
Courses No. 5-6. Fireside Aidan (T. Chaffee) and Bud of Piney Woods (Ecker) were the first brace after lunch. Both dogs were quickly off running in the heat of the day. Bud made big casts to the front and continued to get stronger as the brace went on. Ecker requested the retrieval unit at 45. Aidan ran a forward-searching race and was hunting likely bird cover when he was rewarded with a well-deserved woodcock find at time for Tammy Chaffee.
Courses No. 8-4. Autumn Rain (Chaffee) and Blast Off (M. Forman) ran in the hottest part of the day. Rain made moderate, forward casts. Blast Off stayed very forward in and out of bell range. Forman had bell stopped left of course. Marc had a good line on dog and he and judge went searching. Meanwhile bracemate was heard stopping in nearby heavy cover. Judge Ballin made his way over to the now stopped bracemate and found Blast Off pointed with bracemate backing. Forman was able to send a woodcock to wing at 17. Dogs returned to course, Blast Off hunting cover well to the front, showing lots of bottom in the afternoon sun. He continued to hunt in and out of bell range. Rain was found standing at 25, no bird produced. Rain was tapped on and was pointed again and self-relocated. A nervous grouse was put to flight and put Rain on the hook. Blast Off continued on course far to the front and was found standing at 53. Forman produced a bird exactly where Blast Off showed him. He continued to finish his hour as strong as he started.
Courses No. 9-10. Rockland Ridge McGraw (Ecker) and Snyder's Pioneer Scout (Chaffee) were released just behind the tubes on course No. 9. Both dogs were up on the right, Scout's bell going silent up on the hillside right of course. Judge and handler took some time to find Scout pointed but eventually able to flush a grouse at 10. Meanwhile, McGraw's bell was heard back at the start and was behind for the first five minutes, eventually catching the front with bracemate Scout. Dogs continued hunting forward when Ecker called point and flushed a grouse at 28, and had a nice find on a pod of woodcock at 41. Both dogs continued to hunt above tote road just past the gate when Scout's bell fell silent at 42 with McGraw backing. Chaffee could not produce a bird but pointed out lots of splash in the area. Scout was relocated and worked backward down toward the tote road at the bottom of the hill, got too far behind, fell out of judgment at 50 and was leashed. McGraw continued forward, looking better in the second half, and finished the hour.
Courses No. 12-13. Snyder's Full Rage (Chaffee) and Centerfold Sioux (Merlington) broke away from the north road, making nice forward sweeping casts for the first half hour. Rage's bell went silent just past the north loop west travel corridor left of course and had a nice stand on a woodcock. Sioux, slightly ahead and past road, had a stand at 47. Merlington was able to put a woodcock in the air. Both dogs continued to hunt moderately. Sioux was standing at 51 for her second woodcock find and suffered an unproductive in birdy cover at 57. Rage continued forward to finish a strong hour.
Courses No. 14-15. Sterlingworth Jack made big casts to the front, Ecker having a hard time reeling him in. Flycast Rollie Fingers (Chaffee) hunted more moderately. Ecker called point at 15, Jack standing with great intensity. Ecker was able to flush a grouse in front of Jack. Jack continued to hunt the second half with much better control and finished his hour. Chaffee elected to pick up Rollie at the half.
Courses No. 1-2. Dunroven's Drifter was far to the front making big moves, showing good rapport with Hollister. Leslie's Jigster (Forman) hunted hard, applying herself well. Her bell went silent just off course left of trail. Forman called point and attempted to flush when a grouse took flight and Jigster got a little too jiggy and was on the hook at 15. Drifter continued making big forward casts in and out of bell range. Bell went silent at 42 but Hollister could not produce a bird. Moved on, Drifter continued forward. He was stopped again at 45 right of course, a couple hundred yards west of Joy Road. Several flushing attempts were made but nobody was home and that would end Drifter's bid for the day.
Courses No. 5-6. Shady Hills Colt (Forman), a robust pointer male, was to the front and hunting likely objectives. Hypointe Left Turn (Chaffee), also on the outer limits of bell range for most of his brace, was too much dog for the day's weather conditions and was picked up at 30. Colt hunted a consistent hard-charging, forward race and was rewarded at time with a nice grouse find in mixed cover to finish his hour.
Courses No. 8-4. Titanium's Hammer (Minard) and Miller (Ralph) broke away during heavy rain. Both dogs dug into heavy cover, Hammer's bell going silent at 6. Minard flushed a woodcock, all in order. Miller was hunting hard out to the sides as Hammer flowed nicely, making consistent forward casts. Minard gathering Hammer up at the road crossing and was sending him to the start of course No. 4 when his bell went silent up ahead. As handler was walking down course path toward Hammer a woodcock flushed and Hammer was found standing at 39. Minard fired off a shot and sent him on his way. Miller was running hard but found himself lateral and was picked up shortly after the half. Hammer continued and was pointed at 53. Minard didn't like what he was seeing and cautioned Hammer and then tapped him on. Hammer went forward and an anxious grouse took to flight to end Hammer's bid at 53.
Courses No. 9-10. Glenrae's Mr. Finnigan (Naus) and Highbank's Back'n'Black (Nelson) started just above the tubes on a calm, cool morning. Bells could be heard way off, high on the ridge off to the right. Nelson requested scout to go look up on top of ridge up in cut; scout called point at 12. On the judge and handler's arrival, a cluster of woodcock flushed out in front of Black. Finn was running on the outer limits of bell range and stopped at 20, Naus firing her gun, all in order. Both dogs continued forward, in and out of bell range. Black stopped off right of course at 25; a bird was produced. Both dogs were funneled into likely bird cover and bells went silent. Black was found backing Finn and Naus put a bird to flight at 40. Both dogs continued forward, Black handling rough the last 10. Finn finished in the pocket.
Courses No. 12-13. Shady Hills Zeena (Forman) and Meredith Grade Annie (T. Chaffee) broke away quickly. Both dogs shot forward and were hunting likely bird cover. Zeena made game just off the course but couldn't wait for handler to help flush a grouse and was leashed at 33. Annie continued to hunt the front showing good rapport with handler and was stopped at 38. Chaffee made a flushing attempt with no luck and tapped her on for relocation. Annie ran up 50 feet and had a grouse pinned at 38. All in order, Annie continued forward in the scrub oak and was stopped again at 43 where again she had another nice grouse find, showing handler exactly where the bird was. Annie continued hunting hard and was rewarded with two woodcock finds at 50 and 53, suffered an unproductive at 59 and continued to finish her hour with a very solid performance.
Courses No. 14-15. Ammonoosuc Violet (Ecker) never returned from first cast and was found pointing, with Rock N Roll (Forman) backing. A woodcock was flushed at 3 for Violet. Both dogs were guided back to course, Rock N Roll hunting enthusiastically while Violet hunted in and out of bell range at times. After the half Violet settled in to pocket more and had a stand at 46. Ecker was able to put a woodcock to flight. Both dogs continued on to finish.
Miss Penn Star (Ecker) and Hershner's Thunderbolt Jet (Chaffee) broke away at the top of the hill on courses No. 1-2. Star was last seen at 10 heading toward a far clear cut known for birds; she had been there before. Ecker could not reel her back in and requested retrieval unit at 20. Thunderbolt hunted steady and forward and pointed woodcock at 25. He continued forward cast and was pointed again at 45. Chaffee could not produce bird. The dog was relocated and slowly moved on and had another stand in thick cover and another woodcock was flushed at 48. Thunderbolt finished the hour in good fashion.
Courses No. 5-6. Hershner's Grouse Gunner (Chaffee) and Autumn Annie (Renius) began running to the front and moderate. Gunner had a stand at 10. Chaffee could not produce a bird. Both dogs continued a hunting race. Windy conditions made it difficult for dogs to stay in tune with their handlers. Gunner had a second stand at 24. Annie backed with Renius by her side. Chaffee flushed out front. The area was chalked up but no bird was home and Gunner was done for the day. Annie continued, made some nice moves, but Renius elected to pick up at 39.
All Out (Chaffee) ran on courses No. 8-4 as a bye dog, running in extremely windy conditions. All Out ran an eye-pleasing forward race on cruise control, had a stand at 34 near road but no bird could be produced. All Out was moved on, crossed the road and had a stand at 41 right of course. Chaffee flushed a woodcock. He continued on and quickly had a stand at 42 and a woodcock whistled upward. All Out was hunting hard at this time and was rewarded with another find at 46 followed by a quick find at 47. Chaffee was looking for more bullets in his pocket when All Out pointed again at 53. Chaffee was not confident and relocated All Out. A spooky woodcock took to wing to conclude All Out's bid.
Meredith, Mich., October 9
Judges: William Ballin III and Doug McMillen
MICHIGAN WOODCOCK CHAMPIONSHIP [One-Hour Heats] --
14 Pointers and 31 Setters
Winner--GROUSE HILL BULLET PROOF, 1664897, setter male, by Waymaker Super Sam--Vitali Grouseringer Purdy. Giovanni Capocci, owner; Scott Forman, handler.
Runner-Up--BLAST OFF, 1657342, setter male, by Full Blast--Moss Meadow's Rose. Justin Evans, owner; Marc Forman, handler.
Companion Stakes

The Bill Wendt Memorial Derby was held on Sunday, October 13, and drew 17 contestants for Judges Mike Brown of Flint, Mich., and Mike Goulet of Royal Oak, Mich.
The day's weather was overcast with occasional showers.
First place was awarded to setter female Back Creek Lucy, handled by Rich Hollister of Dun Roven's Kennels. Lucy ran a flashy strong forward race and had a nice stand on a grouse at 7. She finished hunting strong and had good rapport with handler throughout her brace.
Placed second was setter female Flash Forward, handled by Craig Merlington. Flair ran with speed and grace, always forward and had a well located grouse at 29 to secure her placement. Third, as in most cases, was the toughest placement. There were other dogs that did well but judges felt Mac's Girl Maggie, setter female handled by Bruce Minard of Hifive Kennels, ran a smooth moderate race with a beautiful grouse finds at 6 and 29 to secure her placement. The judges commented on many good performances they saw with solid bird work and believe there should be many nice young shooting dogs coming up through the ranks.
RUFFED GROUSE FIELD TRIAL CLUB
Judges: Michael Brown and Michael Goulet
BILL WENDT MEMORIAL OPEN DERBY -- 4 Pointers and 13 Setters
1st--BACK CREEK LUCY, 1683067, setter female, by Peyton's Legacy Kip--Girl's Little Dixie. Steve Graham, owner; Richard Hollister, handler.
2d--FLASH FORWARD, 1686454, setter female, by Ponderosa Mac--Call Me Maggie. Craig Merlington, owner and handler.
3d--MAC'S GIRL MAGGIE, 1683444, setter female, by Ponderosa Mac--Snyder's Oak Rose. Jonathan Dunn, owner; Bruce Minard, handler.
Judges: Greg Hill and Debra Nihart
KIMME KINNE OPEN PUPPY -- 6 Setters
1st--STAN THE MAN, 1683677, setter male, by Ghost Train Cody--Ghost Train Sassy. Ghost Train Kennels, owner; Tom Fruchey, handler.
2d--BAXTER'S INDIAN ARROWHEAD, 1685299, setter male, by Baxter's Apache John--Baxter's Mary Katherine. Brent & Denise Peters, owners; Brent Peters, handler.
3d--DUN ROVENS ZIP, 1686123, setter male, by Dun Rovens Drifter--Waymaker Hello Becky. Mark & Tom Fernandez, owners; Richard Hollister, handler.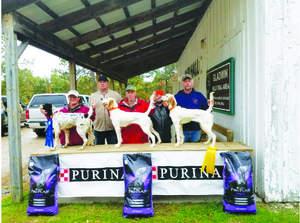 Open Derby Winners. In foreground, from left: Jenny Hollister with Back Creek Lucy, Craig Merlington with Flash Forward and Bruce Minard with Mac's Girl Maggie. Behind: Judge Mike Brown and Judge Mike Goulet.