Result: Big Sky Field Trial Club
Location: Winnett, Montana
Post Date: Jun 13, 2019
Submitted By: David Huffine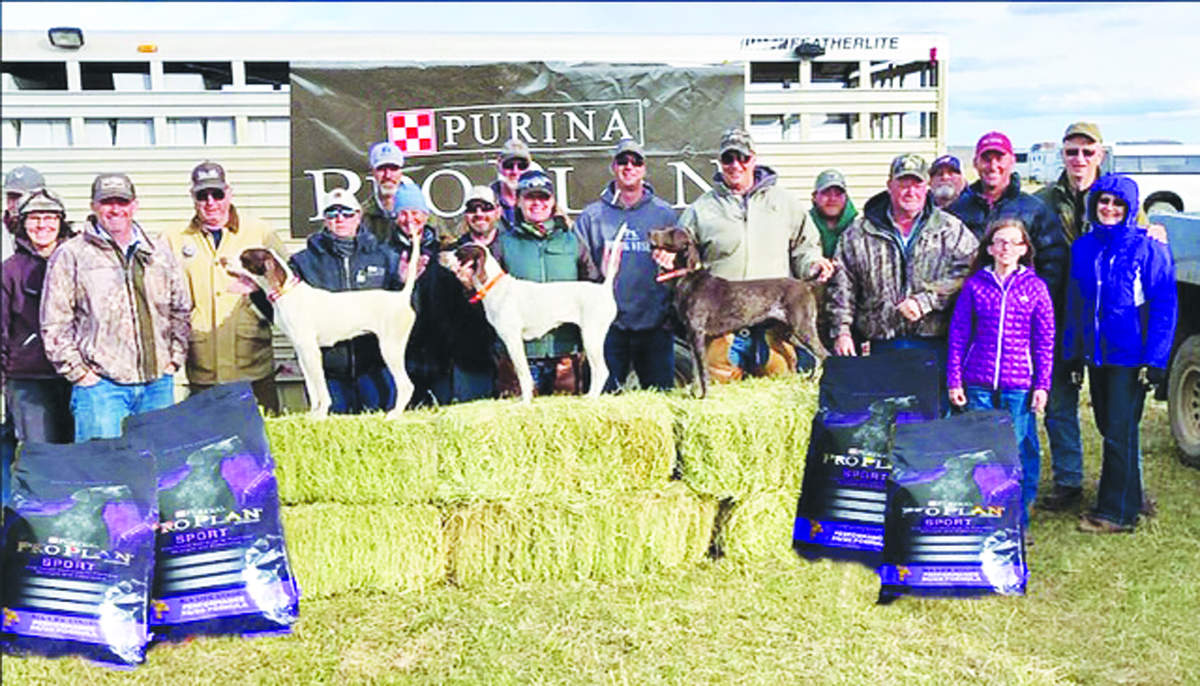 Open Shooting Dog Classic Winners. From left: Emmalita, I B Sweet Jane and Perkins Renegade Jade. Paticipants, from left: Pat Lockhart, Marilyn Lockhart, Gordy Jones, Glenn Conover, Bill Joyner, Michelle Sutton, Tyler Stiens, Nikki, John Mahoney, Lillian Favor, Alex
Rickert, Doug Favor, Cody McLean, Mark McLean, Mike Mathews, Mike Robbins, Sophie Robbins, Dr. Clark Lundgren and Rita Lundgren.
WINNETT, MONT. -- Montana had a "real winter" in 2019. February and March brought extended sub-zero temperatures and uncommon amounts of snow to all of the state including central Montana.
Apparently, the field trialers were ready to get out and run some dogs as the Sharptail Open Shooting Dog Classic was blessed with a 42-dog entry and competitors from Montana, Idaho, Utah, Colorado, Illinois, Washington, Florida and North Carolina.
The Classic began April 12 at the King Ranch, a fifth-generation cattle operation located about ten miles east of Winnett, Mont. The ranch is particularly scenic with approximately 11,000 rugged and undulating acres of sage and native grasses which supports sharptail grouse but also presents the thrill of a sizeable population of sage grouse.
The Classic was run on seven continuous courses, most of which are unmarked except for the occasional two track.
John McIltrot, the trial chairman, was successful in obtaining Purina Points status for the Classic this year. We all appreciate the efforts of John and the support of Purina in making this trial a success.
The trial featured Georgians Mark McLean and Cody McLean as judges for the Classic. Mark is a successful all-age trainer who was the Purina All-Age Handler of the Year for 2017-2018. Cody manages a quail plantation in Albany, Ga., and teams with his father to campaign some of the best bird dogs in the world. It was nice to hear those southern accents and to soak in a bit of their knowledge about field trialing and bird dogs.
Mark runs two dogs on the all-age circuit for our friend and club member Alex Rickert who was responsible for these fine gentlemen judging this trial.
Birds were scarce again this year. The winter of 2019 followed a tough nesting season in 2018. A single good find and a solid race were enough to put dogs in contention.
Ultimately, the 13th brace on Saturday afternoon produced the first and second place finishers.
Emmalita, pointer female owned and handled by the Oracle of Molt, Mont., Austin Turley, took first place. No Montana trial placement is secure until Austin has run his last dog. Emmalita edged out her bracemate I B Sweet Jane, another pointer female, which is owned and handled by Lillian Favor of Pocatello, Ida. Third place went to Perkins Renegade Jade, German Shorthair female owned and handled by Chris Perkins of American Falls, Ida.
THE RUNNING
The Sharptail Classic began with David Huffine and Brian Gingrich releasing Cap'n Sam (ESM) and Sunset Trails Reasonable Suspicion (VF/Sydney) into the 22 cold. Sydney had an early unproductive. She pointed again at 12. Brian was unable to produce a bird and Sydney was picked up. Sam had a moderate, forward race and handled well. He backed at 12 and was found standing at 30. Huffine could not flush a bird. The relocation was problematic and produced another unproductive so Sam was roaded to the dog wagon.
Rocky Knoll Jackson (SM/Pat Lockhart) and R C's Batman (PM/Mike Mathews) broke away well on the second course. Jack ran an excellent forward race but seemed to tire and shorten at 30. However, the ten-year-old setter found his second wind and finished impressively but with no bird work. Batman had a nice forward race and a find at 24. However, he put up a bird at 30 and his run was over.
The third brace showed some real firepower. I Got This (PM/Lillian Favor), callname Blitz, and Wamsutter (SM/ John Mahoney) warmed up the third course with big casts and consistent races that were standard for prairie shooting dogs. However, neither dog was able to produce a bird.
Chad Hanson ran setter female High Prairie Gypsy in the fourth brace. It was their first horseback trial competition. Both dog and handler have been competitive in foot trials and they both put on good opening performances. Gypsy was beautiful on the ground. She began a bit short but lengthened as the hour progressed, showing that she possessed the speed and range to make a horseback dog. However, a bird up at 55 ended her day. Canadian Elhew Jocko (PM/Clark Lundgren) began tentatively but lengthened in the middle of the brace. Jocko's finish was a bit short but he finished his hour.
In the first brace after lunch, Too Hot to Handle (VF/Brian Gingrich) was picked up shortly after breakaway. Prairie Tank (PM/Glenn Conover) showed well to the front until 22 when movement on a single sharptail put him in the harness.
Sawtooth Sam Lil Cooper (BM/Tyler Stiens) initially made a snappy move to the front and was rewarded with a clean find at 10. Although he went on to finish the hour, the early contact seemed to put him in "bird hunting mode" and his race shortened. Redrock Rebar, a good-looking pointer handled by Mike Mathews, had a fine forward race. He was found standing as the hour expired but Mike was unable to flush a bird.
Alpine's Playing with Fire (VM/Gingrich), callname Cinder, was just warming up when he racked up an unproductive at 8. Cinder had another unproductive at 18 and was harnessed by Brian. Touch's Hail Stone (PM/Alex Rickert) had his motor running and laid in a race that bordered on all-age. After an absence at 30, "Bill" showed well to the front, still rolling as the course bends to the east along a creek. An unproductive stopped him near the end of the hour before he again opened up for a strong close to the front.
Saturday morning was a bit warmer with temperatures in the high 20s.
Prairie Addition (PF/Conover), callname Shirley, was braced with Marcos Puiggari's pointer female Rebel Stroke in the eighth brace. Shirley ran a really nice race until a failure to stop on a flushing bird at 37 ended her morning. Marcos' dog produced the first true heartbreak of the trial. A nice race with a find at 50 and a stop to flush at 55 had him in a fine position to move to the top of the judges' lists. However, Marcos called point as time expired and his dog went with the last bird.
Perkins Lakeside Wild Child (PF/ Chris Perkins), callname June, had an unproductive at 20 and was found standing on a bird soon after. June went with the bird as Chris flushed. Seranoa's On Guard Annie (PF/Michelle Sutton) had a very nice ground race and looked "snazzy". However, she was slow to back on June's find and moved slightly on the flush. Michelle picked her up.
Touch's Katrina (PF/Turley) had an unproductive at 5. She backed her bracemate at 11 but moved too much to meet Austin's standards and was picked up. Rocky Knoll Annie (SF/Lockhart) had an unproductive at 11. She was picked up at 40 as her handler determined that her ground application was not going to result in a placement.
Setter male Olfactor (Mahoney), callname Bob, was far right at the breakaway and had difficulty finding the front. John picked him up early in the hour. Burr Oak's Bam Bam (VF/Gingrich) laid in a tremendous, smooth race. After a brief disconnect where the course bends back to the west, Bam Bam showed high on the hills to the north, always to the front and consistently running to objectives. Bam Bam finished strongly but found no birds.
No. 12 began Saturday afternoon on the north side of the camp. Chris Perkins handled his German Shorthair female Perkins Renegade Jade, while David Huffine handled his setter female Miss Annie. Both dogs began with modest to short races, Jade having the better run. Annie remained "clingy" and Huffine picked her up at 30 at the road crossing. Jade had a nice find and completed her hour, meriting her third place finish.
The first and second place dogs were paired in the 13th brace. I B Sweet Jane (PF/Lillian Favor) ran a good, forward race with a stop to flush at 50 and a find as time expired. First place Emmalita had an unproductive at 45 but also had a find as time expired to secure first place.
Turley ran pointer female Rebellita in tandem with Gingrich's Vizsla female C K Touchdown Sassy in No. 14, the last brace on Saturday. Rebellita had an excellent, forward race but no bird contact. Sassy matched Rebellita for the first 30 minutes but missed a turn and Brian called for the retrieval device at 40.
Sunday arrived with warmer temperatures but stronger winds. Edelman (PM/Gordy Jones) had a good and attractive ground race early. He had an unproductive at 20. The wind picked up and communication with the dog became more difficult. Gordy's dog was absent later in the run but returned for his finish. Chalk Creek's Lil Cedarbug (PM/Stiens) was very strong early but shortened a bit in the middle of the hour. The race lengthened and the finish was good. Stiens dismounted and fired at 40 on a stop to flush but neither of the judges saw a game bird.
John Junnila was relieved of dog wagon duties long enough to run his pointer Charlie Hustle. John's dog had an unproductive at 12. The dog continued his good shooting dog race until he was picked up at 48 for failure to stop on flight. There was no indication that John's dog bumped the bird but the judges were of the opinion that he saw the bird and failed to stop. Perkins Beautiful Disaster (PF/Perkins), callname Mollie, had an unproductive at 40 and was significantly right of the course thereafter. Chris picked her up at 45.
C K Post Route Scout, another of Brian Gingrich's big going Vizslas, ran with Perkins Trace of Snow (Abbie), pointer female owned and handled by Chris Perkins in No. 17. Scout stretched the limits of his handler throughout the brace. Brian ultimately called for the retrieval unit at 40. Abbie had an unproductive at 5 and was found standing again at 20. As Chris approached her intensity subsided. Concerned about a second unproductive, Chris whistled her in which unfortunately produced a bird.
Bangert's Red Baron (VM/Gingrich) challenged the ability of the retrieval unit and was MIA shortly after the breakaway. Pointer male Upland Elhew Idaho handled well and to the front but he wasn't running the race desired and Mike Robbins picked him up at 20.
The wind was howling by the afternoon with 30-40 mph knot gusts.
Guilty Filthy Soul (SF/Mahoney), callname Stig, and C K Touchdown Guy (VM/Gingrich) were turned loose into a strong crosswind. Stig went long and right. She made the turn to the north but was wide, lateral and marginally in contact with her handler. John picked her up at the road at 30. Guy went straight at the turn to the north and was retrieved by Brian about seven miles away.
The 20th brace was into the face of the wind. H B V's Ramble On (GSM/Doug Favor), callname Bones, and Crazy Mountain Buck (SM/Huffine) broke away strongly. Bones was following too closely and Doug picked him up early. Buck continued a good shooting dog race early. He suffered an unproductive at 20. Thereafter the wind and heat took their toll and he slowed significantly until hitting a pond at 45. He finished moderately but with no bird contact.
The last brace added the real excitement of the trial. R C's Bobtail (PM/ Mathews) was west and behind early but Mike did a great job getting him to the front at 30 and finished him, albeit with no bird work. Wiggins Miss Fernie (PF/Marcos Puiggari) put down the race of the trial, verging on an all-age but showing up at the right time and in the right place after each absence. At 45 she stopped approximately 300 yards from the judges and the gallery, looking exceptionally stylish. Marcos and the judge closed the gap quickly but it was a long distance. Fernie put the bird to flight and her trial and our trial was over.
Winnett, Mont., April 12
Judges: Cody McLean and Mark McLean
OPEN SHOOTING DOG CLASSIC [One-Hour Heats] -- 42 Entries
1st--EMMALITA, 1670912, pointer female, by Busterado--Seranoa's Union Station. Austin Turley, owner and handler.
2d--I B SWEET JANE, 1644241, pointer female, by The Green Monster--I B Jodie. Lillian & Douglas Favor, owners; Lillian Favor, handler.
3d--PERKINS RENEGADE JADE, 1657407, German Shorthair female, by H B V Dunfur's Plan B--Slicks Slump Buster. Chris Perkins, owner and handler.
COMPANION STAKES
The Open (Shooting Dog) Derby was judged by Mike Mathews and David Huffine. First place was awarded to Blue Ridge Simon, an impressive setter male owned by Chris Pfister and handled by John McIltrot. Simon's race would have been competitive with the classic dogs as John had him forward and handling with ease. Second was Alpine's Name of the Wind, another strong running Vizsla owned by Jessica Mackey and handled by Brian Gingrich. "Denali" and her bracemate had the only bird contact in the Derby Stakes. Third was awarded to Canadian Elhew Indy, a nice pointer male owned and handled by Clark Lundgren.
The Open (All-Age) Derby was won handily by longtime field trialer Dr. Clark Lundgren and his Canadian Elhew Jack which showed a true all-age Derby race. Clark did a great job finishing the big running dog. Second was Gingrich's Burr Oak's Born Again, another big running Vizsla which put down a mature race. The third spot went to Quilomene Sumac, setter male owned and handled by Tim Powell.
Judges for the All-Age Derby were John Junnila and David Huffine.
Judges: David Huffine and Mike Mathews
OPEN DERBY -- 14 Entries
1st--BLUE RIDGE SIMON, 1680777, setter male, by Wamsutter--Seranoa's Simple Pleasures. Chris Pfister, owner; John McIltrot, handler.
2d--ALPINE'S NAME OF THE WIND, 1677567, Vizsla female, by Mackey's Trail Blazing Sitka--Vanguard's Make Her Mark. Dr. Jessica Mackey, owner; Brian Gingrich, handler.
3d--CANADIAN ELHEW INDY, 1679593, pointer male, by Canadian Elhew Jocko--Canadian Elhew Roxie. Rita & Clark Lundgren, owners; Clark Lundgren, handler.
Judges: David Huffine and John Junnila
OPEN DERBY -- 12 Entries
1st--CANADIAN ELHEW JACK, 1678915, pointer male, by Canadian Elhew Jocko--Canadian Elhew Abbey. Rita & Clark Lundgren, owners; Clark Lundgren, handler.
2d--BURR OAK'S BORN AGAIN, 1676176, Vizsla male, by Ranger's Red Baron--Burr's Oak's Reve. Jim Gingrich, owner; Brian Gingrich, handler.
3d--QUILOMENE SUMAC, 1679207, setter male, by Straight Up Western Sky--D's Red Hot Mama. Tim Powell, owner and handler.
Special Thanks
Field trials in remote locations take excessive work and effort by those in charge. Michelle Sutton and John McIltrot deserve special recognition for their efforts at this trial. John worked with the landowner to obtain permission for the trial. He spent several days setting and re-setting courses. John marshalled all but two braces of all of the stakes.
Michelle prepared brace sheets, judges' books, ran the dog wagon and fed all of us. There are a myriad of other tasks that they handled willingly, easily and without recognition. The Big Sky Club and the entrants appreciate their efforts to put on this trial.
John Junnila was on hand to pick up dogs and run the dog truck. John was always at the appointed place at the appointed time. His efforts are commended and appreciated.
Pat and Marilyn Lockhart did substitute "dog truck duty", a difficult task with unmarked courses and little two track contact.
Shawn and Glenn Conover provided a great lunch and assisted with administrative duties as well. Mandy Drysdale was her usual "pitch in" self. Mandy helped with lunches and snacks, drove the dog wagon and assisted in other chores as needed.
We would also like to thank Mike Robbins and Marcos Puiggari for including their daughters, Sophie and Emma, in the trial experience. It is so nice to have them ride with the gallery and we are all sure they will be winning their share of placements as soon as their dads turn them loose.
D. H.