Result: Beaver Valley Pointer and Setter Club
Location: Rochester, Pennsylvania
Post Date: Oct 25, 2019
Submitted By: Allen Fazenbaker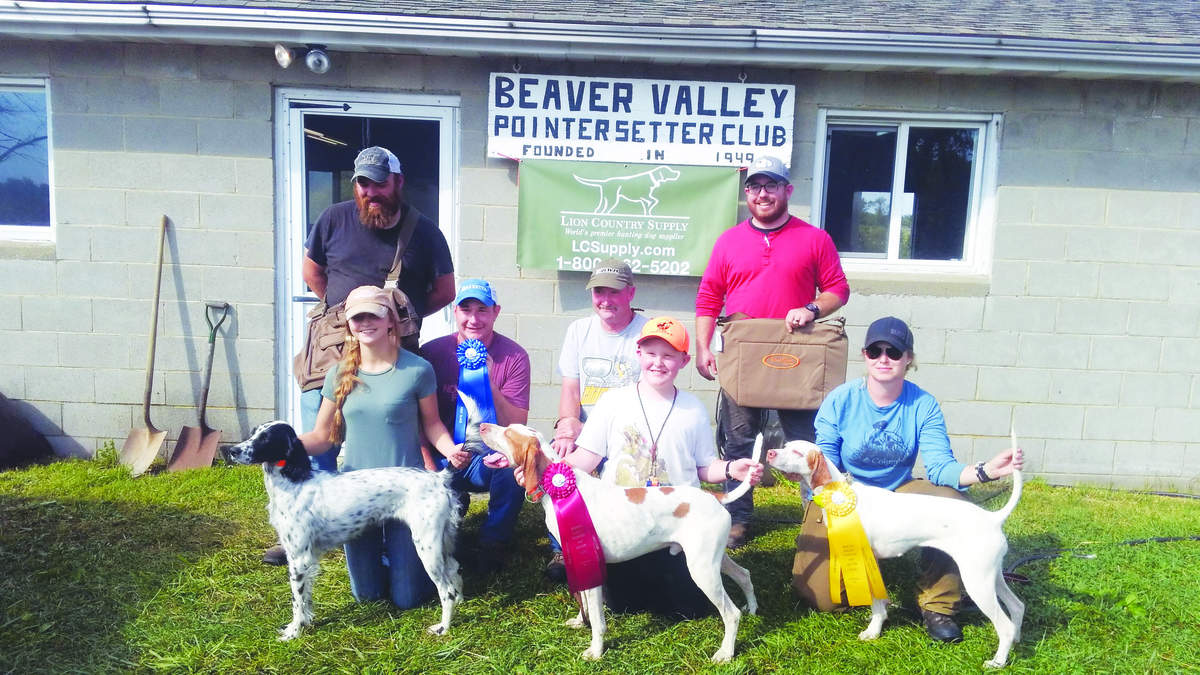 Amateur Shooting Dog Winners. In foreground, youth scouts show Larke Stormin Trexette and Backcountry Bruiser; and Caliber Peak Storm Warning with Sarah Gomes. Behind: Doug McMillen, judge; Brandon Kreuer, Chris Catanzarite and Lucas Poloff, judge.
ROCHESTER, PA. -- In 1949 a group of gentlemen gathered in western Pennsylvania with the intent to form an organization that would offer a venue for local bird dog enthusiasts to compete with their dogs in horseback field trials.
Thus came about the Beaver Valley Pointer and Setter Club. Little did these gentlemen know that the Beaver Valley Pointer and Setter Club would become an icon of American Field bird dog competition for Pennsylvania, Ohio, New York, and surrounding states.
On Labor Day weekend 2019, well-wishers and competitors alike gathered at these well-known grounds to celebrate the 70th Anniversary of the founding of the club, and to continue the tradition of running pointing dogs to determine the "Best of the Day" in the field.
We owe a note of gratitude to those founders who had the foresight and initiative to push forward and offer these grounds to the field trial community. Bill Miller, Ed Honhold, George McCreary, Sam Overholt, Dick Baglan, Dick Hudson, and John Lippscomb raised funds and purchased 368 acres in the rolling foothills north of Pittsburgh, in Rochester Township, Pennsylvania.
In the next few years, a clubhouse was erected, a barn refurbished, and the first field trials became a reality. It wasn't long before walking trials were introduced. Beaver Valley never looked back.
Today, the Beaver Valley Club is the embodiment of walking field trials in the region. If the walls of the Beaver Valley Club could talk, what stories we would hear. Beaver Valley not only serves as a center of walking trials, it also is a stalwart supporter and member of the Pennsylvania Walking Shooting Dog Association, itself a longtime advocate of American Field supported walking trials in the region. Beaver Valley is frequently the location of the PWSDA annual meeting, and has been a member of the Association since its inception.
William F. Brown, longtime editor of The American Field, said it best: "The object of field trials is the promotion and development of the high-class bird dog. It is a means of enjoying the great out-of-door sport of bird hunting in the most aesthetic fashion. It aims to provide competition of the highest kind among bird dogs, to stimulate enthusiasm among owners, and to act as a practical guide for breeders by setting a high standard of performance. Field trials mold opinions of conformation and perfect the mechanism of the ideal bird dog.
"There is a particular physical makeup of the well-bred bird dog that is indispensable to the performance of those duties wherefore he is highly valued. Without this equipment he is not so well fitted to perform those duties in a finished fashion. Bird dog trials thus influence physical standards. Although field qualities are all-important in the utility bird dog, is it desirable to have beauty of conformation, with brain power, intelligence, and bird sense." ["Field Trials: History, Management, and Judging Standards," William F. Brown, 1982.]
This is the spirit and the intent of the Beaver Valley Club which carries the club to its present day.
Our anniversary celebration could not have been a success if not for the many helping hands who pitched in to make for a great weekend. Bob Smith was our bird planter, ensuring a good supply of game in the field for our dogs to hunt. The dog wagon duties were handled by Tom Butts and Joe Cammisa. Steve Dudas, Kathleen Smith, and Anne Smith handled the kitchen duties, no small task on this busy weekend, and they did so with smiles and good conversation. The food was delicious.
We had a slate of experienced and capable judges. Eric Munden (Phillipsburg, Pa.), Marty Festa (Sugarloaf, Pa.), Sarah Gomes (Wellandport, Ont.), Chris Young (Rochester, Pa.), Carlos Escalante (Plum, Pa.), Doug McMillen (Dubois, Pa.), and Lucas Poloff (Spring Church, Pa.) contributed their expertise in the judicial saddle. This crop of men and women are enthusiastic, honest, fair, and have a good eye for a quality bird dog. We couldn't have done better. Thank you.
While it takes people to run a good trial, it also takes support. Two stalwarts of the bird dog world stepped up to the plate and provided the support needed to keep this sport alive and well. Purina, maker of Pro Plan products, is certainly no stranger to the field trial community. Where would we be without them? If you haven't tried Purina products with your bird dog, your dog is missing out on some high quality nutrition. Pick up a bag and try it; you won't be disappointed.
Lion Country Supply, an icon of bird dog and hunting supplies, is the place to shop for all of your bird dog and hunting needs. Located right here in the heart of walking field trial country, Lion Country Supply is noteworthy, not just for good quality supplies, but outstanding customer support. With Lion Country you're not just a customer, you're a valued patron.
This reporter would be remiss if he did not make note of the trial chairs who planned, organized, and brought this trial to a successful fruition.
Joe Cammisa and Norm Meeder, both longtime club members, deserve a special note of thanks for their efforts. It has been said by some that the sport of field trials is on the downturn, and perhaps it may be. You would not have had such an impression at this event. Joe, Norm, and the members of the Beaver Valley Club deserve special thanks, not simply for organizing and implementing a great weekend trial, but also for their extra efforts at sponsoring a Youth Stake during this weekend.
If there is anything that is needed to keep our sport alive, it is young people. Beaver Valley Club had no shortage of young people this weekend. Well done!
Beaver Valley Pointer and Setter Club is located just a few miles northeast of the junction of the Beaver and Ohio Rivers in western Pennsylvania. Being in the foothills of the Appalachian Mountains, the terrain is rolling to undulating; the grounds themselves are a mixture of woodlands and open areas, with the open areas planted to feed strips and crops designed to hold birds.
During this weekend the weather was warm and humid, and during the mid-day was challenging for dogs, horses, handlers, and judges. But, with plenty of water barrels scattered throughout the course, the dogs showed their worth and gave many worthwhile performances.
THE WINNERS
Normally, the report is given in the order of running, but this reporter digresses a bit.
The Youth Stake, held Saturday afternoon, in this reporter's opinion, was of the highest importance; it is these young people who are the future of our sport, and on this weekend Beaver Valley Club members showed that there is a good future if we are willing to grasp it. The Youth Stake featured nine excited and energetic entries, each with a bona fide bird dog graciously provided by a weekend participant, and a blank gun.
Running as a "bye", each handler hit the whistle and sent his or her dog to the front to find and point a bird. Running to catch up, the handler went to his or her dog, with an enthusiastic flushing attempt, and then a shot as a quail rose from the feed strip. There was even some good aiming at the bird just to be sure. It's difficult to describe the visible excitement that emanated from these youngsters. The youngest handler was six years old; the oldest, fifteen.
When asked about the event, the most common statement from the handlers was, "When can I do this again?" Out of the mouth of babes.
I think the Beaver Valley Club has an answer to that. Let's spread that enthusiasm. Every handler who participated received a certificate, and a bag of "goodies" to take home. Because, in this particular stake, everyone was a winner.
The 30-minute stakes opened on Friday with the Open Shooting Dog. It was hot and scenting conditions were not the best. Many dogs went birdless and the heat had an impact on performance. In spite of those challenges, Bo of Piney Woods, pointer male handled by Robert Ecker, showed an outstanding race with two finds handled with perfection to take the blue ribbon. Close behind was Suemac's Sashay, pointer female (Mark Hughes), that rendered a very respectable race and two nicely handled finds to secure second place. Anna Lake Sophie, setter female (Dave Hughes), rounded out the placements with one dug-up find and a forward race.
Saturday morning brought the Open Puppy entries to the line, with Pretty Bayou Georgia Bell, pointer female (Bruno), taking the win with a pleasing and forward handle.
The Open Derby was won handily by Backcountry Buddy (Chris Catanzarite), pointer male, with a stylish and forward race and several bird contacts with good Derby manners, including a significant relocation nicely handled. Taking second was pointer male Ramapo Mountain Doc (Ecker) that showed a pleasing handle, stayed forward and scored several finds handled nicely. Twilight Shadow, pointer female (M. Hughes), rounded out the placements.
The Amateur stakes were conducted on Sunday. Weather was still warm and humid, but scenting conditions seemed a bit better. Most dogs had bird work.
Larke Stormin Trexette, setter female (Kreuer), took the blue, showing a wide and forward race with two nicely handled finds and a pleasing handle. Backcountry Bruiser, pointer male (Catanzarite), showed classy and eye-appealing style with three nicely handled finds to take the red ribbon. Wrapping up the stake was Caliber Peak Storm Warning, pointer female (Gomes), that carded a single, followed by a nicely handled covey on the far reaches of the course. The judges noted that there were multiple dogs in the stake that showed high quality.
The Sunday running concluded with the Amateur Derby. Blue Ribbon's Harper Bella, pointer female (Festa), lived up to her name, earning a blue ribbon for her efforts. Big Run Rebel, setter male (Bogar), was second, and Fairleah's Hollyberry, Brittany female (Johnson), finished out the placements.
Plan to join the Beaver Valley Pointer and Setter Club at their spring renewal. Come visit old friends, meet new, and run some bird dogs!
Rochester, Pa., August 30 -- One Course
Judges: Carlos Escalante and Chris Young
OPEN SHOOTING DOG -- 36 Entries
1st--BO OF PINEY WOODS, 1643462, pointer male, by Chasehill Little Bud--Racey Kate. Richard Warters, owner; R. J. Ecker, Jr., handler.
2d--SUEMAC'S SASHAY, 1658242, pointer male, by Chasehill Little Bud--Richfield Stella. Roger, Daulton & Susie McPherson, owners; Mark Hughes, handler.
3d--ANNA LAKE SOPHIE, 1674196, setter female, by Long Gone Studly--Anna Lake Kiah. Robert Matson, owner; Dave Hughes, handler.
Judges: Marty Festa and Eric Munden
OPEN PUPPY -- 1 Pointer and 2 Setters
1st--PRETTY BAYOU GEORGIA BELL, 1684476, pointer female, by Titanium's Hammer--Hifive's Unsweetened Sara. Mark Cantrell, owner; Arthur Bruno, handler.
Judges: Marty Festa and Sarah Gomes
OPEN DERBY -- 8 Entries
1st--BACKCOUNTRY BUDDY, 1682654, pointer male, by Waybetter Rocky--Backcountry Polly. Chris Catanzarite, owner and handler.
2d--RAMAPO MOUNTAIN DOC, 1680932, pointer male, by Bo of Piney Woods--Sweet Valley Stevie Nicks. Bob Shaban, owner; R. J. Ecker, Jr., handler.
3d--TWILIGHT SHADOW, 1681868, pointer female, by In The Shadow--Shadow From Dancyville. Carlos Escalante, owner; Mark Hughes, handler.
Judges: Doug McMillen and Lucas Poloff
AMATEUR SHOOTING DOG -- 26 Entries

1st--LARKE STORMIN TREXETTE, 1652542, setter female, by Slamming Point Dynamo--Larke Cabela Blue Jewel. Brandon Kreuer, owner and handler.
2d--BACKCOUNTRY BRUISER, 1672645, pointer male, by Erin's War Creek--Backcountry Tornado. Chris Catanzarite, owner and handler.
3d--CALIBER PEAK STORM WARNING, 1677332, pointer female, by Cover Charge Search Engine--Double Deuce Molly. Sarah D. Gomes, owner and handler.
AMATEUR DERBY -- 6 Entries
1st--BLUE RIBBON'S HARPER BELLA, 1682768, pointer female, by Bud of Piney Woods--Blue Ribbon Bella. Marty Festa, owner and handler.
2d--BIG RUN REBEL, 1680875, setter male, by Attitude's True Grit--Bo's After Party. Andrew Bogar, owner and handler.
3d--FAIRLEAH'S HOLLYBERRY. [Placement Voided].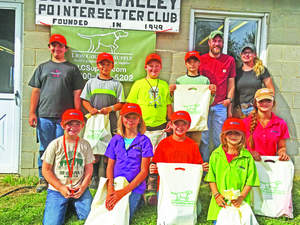 Enthusiastic Youth Stake Competitors. Behind (right) are Judges Eric Munden and Sarah Gomes.