Result: Region 11 Amateur All-Age Championship
Location: California City, California
Post Date: Jan 29, 2019
Submitted By: I. M. Stuck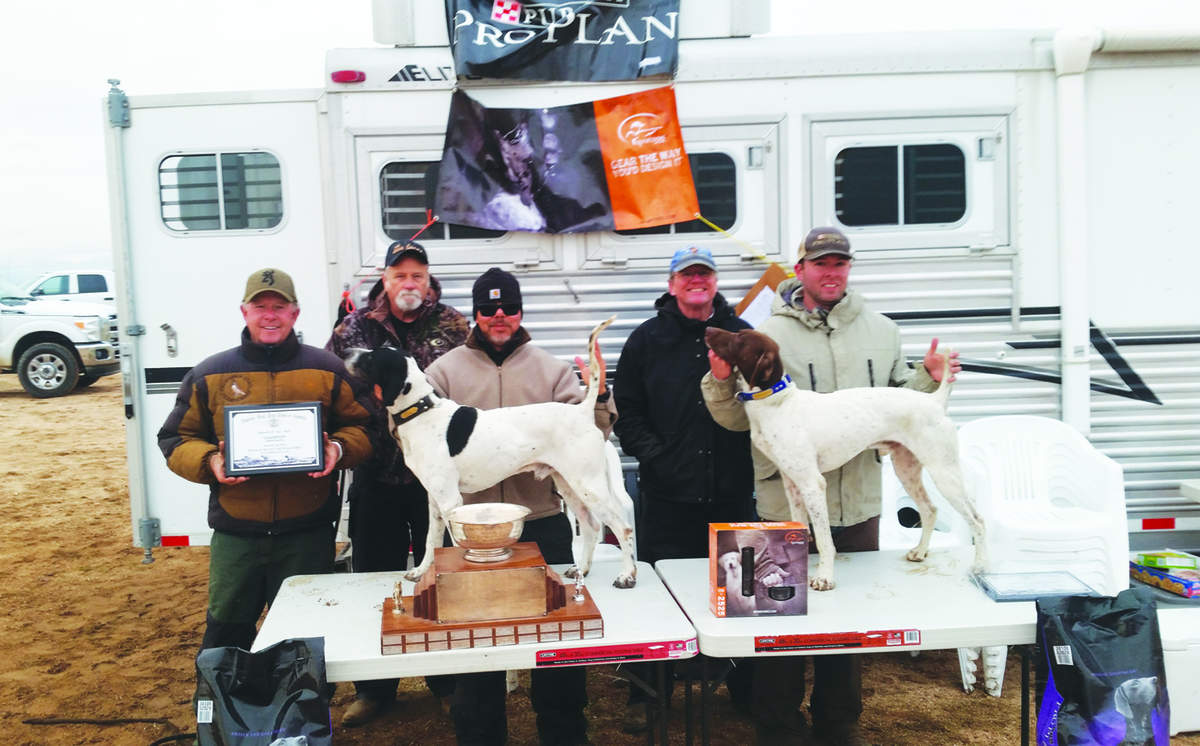 Region 11 Amateur All-Age Championship Winners. From left: Bruce Hale, Judge Gregg Knight, Terry Erickson with Hale's Main Event, Judge Joe Gower and Brandon Blum with B M B's Free Ride.
CALIFORNIA CITY, CAL. -- The Region 11 Amateur All-Age Championship was held once again at California City on January 12. This venue is a historical site for bird dog
trials going back as far as 1945. With endless wide open country, rolling hills, and some steep mountain rock outcroppings it is a true test of the West Coast all-age dog.
This year we were blessed with good weather. A little rain, as well as some light wind, made the normally dry conditions much better on our dogs and competitors.
We would like to give a special thanks to Purina Pet Food once again for their continued support. SportDog also supported us this year by awarding the winner with a Pro Hunter 2525 e collar.
Also we would like to thank our judges, Joe Gower of Auburn, Cal., and Gregg Knight of Alta Loma, Cal., for their time in the saddle. A thank you to Ed Mayhew and Ed and Linda Dixon for taking care of our lunches as well as Terry Erickson for scouting and bird planting and Glenn Johnson for handling our dog truck duties.
This year's champion was Hale's Main Event, callname Champ, eight-year-old white and black pointer male owned and handled by Bruce Hale of Riverside, Cal. Champ ran a strong forward race. After leaving the breakaway he was seen at 15 heading into the rocky hills straight to the front. At 20 he was found on point where a single quail was produced. He was sent on and once again headed to the front. At the end he was seen headed down course for the distant hills. He turned in a very strong all-age performance.
Named runner-up was B M B's Free Ride, coming five-year-old white and liver German Shorthair male owned and handled by Brandon Blum of Acton, Cal. "Louie" also ran a strong race. He had two nice finds, both to the front. His first half hour was very strong. His second half suffered a bit due to a headwind that seemed to force his pattern to become a bit erratic. Despite his second half he finished handling the course with plenty of punch.
California City, Cal., January 12
Judges: Joe Gower and Gregg Knight
REGION 11 AMATEUR ALL-AGE CHAMPIONSHIP [One-Hour Heats] --
7 Pointers and 2 German Shorthairs
Winner--HALE'S MAIN EVENT, 1625121, pointer male, by Erin's Stoney River--Erin's Butterfly. Bruce Hale, owner and handler.
Runner-Up--B M B'S FREE RIDE, 1660979, German Shorthair male, by Kimber Tactical--Time To Pay The Piper. Brandon Blum, owner and handler.
The Antelope Valley Club Open All-Age ran prior to the Region 11 Championship. We had seven starters. Our winner was Frontline Rebelator's Fly, owner-handler Blake Edwards. Second was Horizon's Americus, owner-handler Terry Erickson. Tucalota's Rebel Buck, owner-handler Ed Mayhew, was third. All three dogs were placed on race, style and application.
Judges: Bruce Hale and Glenn Johnson
ANTELOPE VALLEY OPEN ALL-AGE -- 6 Pointers and 1 Setter
1st--FRONTLINE REBELATOR'S FLY, 1678314, pointer female, by Frontline Rebelator--Worth The Wait. Blake Edwards, owner and handler.
2d--HORIZON'S AMERICUS, 1674850, setter female, by Audubon Americus--Gertrude. Terry Erickson, owner and handler.
3d--TUCALOTA'S REBEL BUCK, 1662660, pointer male, by White Powder Grip--Rivertons Funseeker Riley. Ed Mayhew, owner and handler.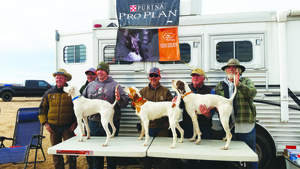 Antelope Valley Open All-Age Winners. From left: Judge Bruce Hale, Troy Kresha, Blake Edwards with Frontline Rebelator's Fly, Terry Erickson with Horizon's Americus, Ed Mayhew with Tucalota's Rebel Buck and Judge Glenn Johnson.