Result: National Amateur Shooting Dog and National Amateur Shooting Derby Championships
Location: Mayflower, Arkansas
Post Date: Mar 25, 2019
Submitted By: Steve Messick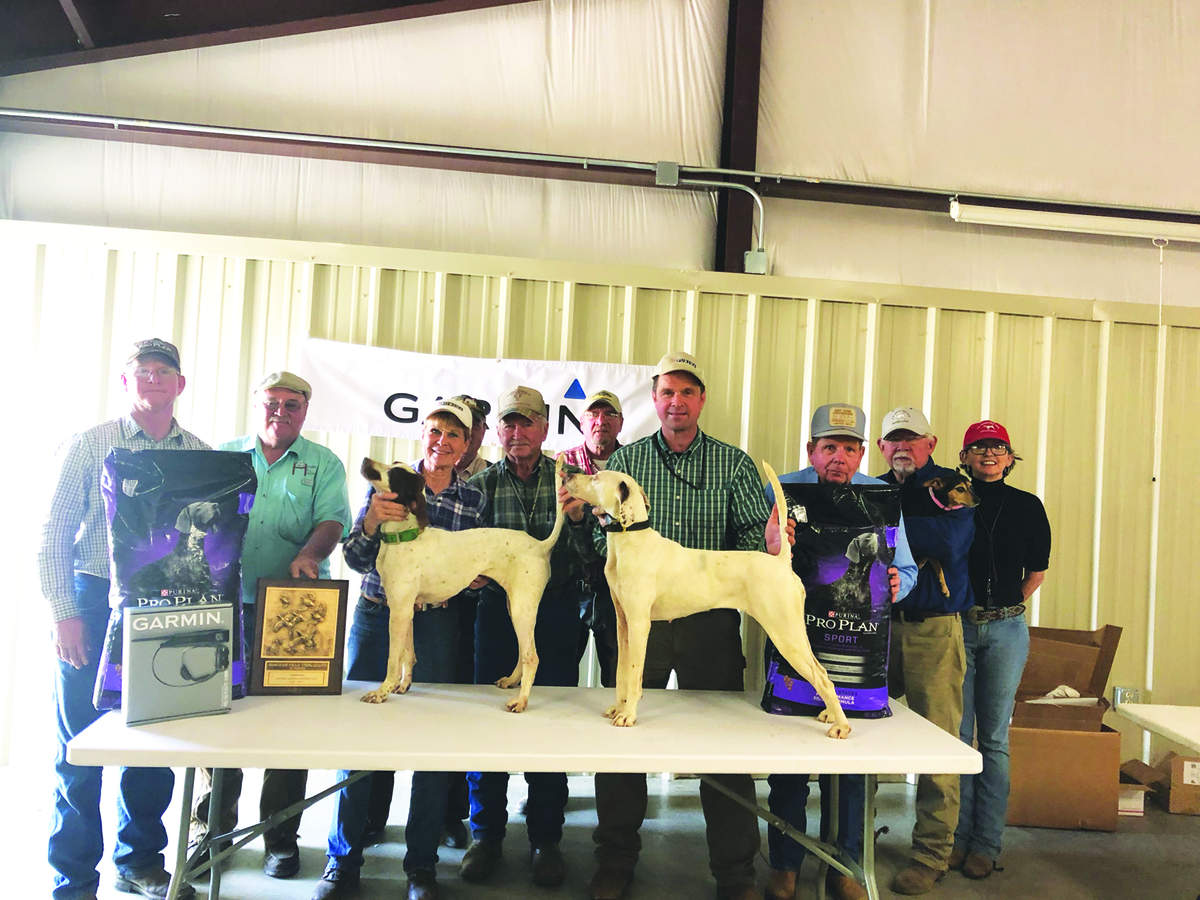 National Amateur Shooting Dog Championship Winners. From left: Dr. Buck Neil, Buck Heard, Rita Ornsby with Tangled Sheets, Johnny Ornsby, unidentified participant, Dr. Jeffrey Hale with Hale's Kickstarter, Judge Gary Young, Johnny Taylor and Joyce Taylor.
MAYFLOWER, ARK.. -- Two premier National Amateur events ran over the historic grounds of Camp Robinson Field Trial Area. First on the slate was the National Amateur Derby Championship followed by the National Amateur Shooting Dog Championship.
The judicial panel consisted of two top amateur handlers, Dr. Buck Neil of Fort Worth, Tex., and Oklahoma's pride Gary Young. Both men come with the knowledge most needed to pass judgment over such an event. We appreciate their time and commitment to this grand ole sport.
The Amateur Derby drew fourteen top youngsters for the one-hour event. Emerging as the winner was home owned and home bred Rebel Survivor, proudly owned and handled by Tennessee sportsman David Williams and scouted by lovely wife Ms. Angie. The new champion ran a strong race with a well handled find to gain top honors.
Runner-up was Erin's Ty Breaker, white and liver pointer male owned and handled by Ted Roach of Fort Wayne, Ind. Ty ran an intelligent race capped by a big covey find. Both the champion and runner-up represented the sport in great fashion.
The Shooting Dog Championship had a field of 44 entrants from all over the country competing. There were many performances that could have gotten the nod and many have had their own suppositions, but only one counted, the judges'!
Tangled Sheets, six-year-old white and liver pointer female owned and handled by Johnny Ornsby of Greenbrier, Ark., and partner Rita. The threesome has been a force to be reckoned with. The first half she was out of pocket at times but the second half was the proving pot. She tallied three covey finds in her second half, in the eyes of judges convincing fashion. Hers stood strong throughout the trial. Congrats to a job well done!
The runner-up came out of the pack as another dark horse, Hale's Kickstarter, six-year-old white and black ticked pointer male owned and handled by ever popular Dr. Jeff Hale of Russellville, Ark., and his entire family, Melanie and all the girls! His charge ran a good hunting dog race with bird work of championship quality. Kickstarter makes very few errors anytime you put him down. Jeff is becoming a true handler. He deserves a great deal of credit for this win!
Mayflower, Ark., January 31
Judges: Dr. Buck Neil and Gary Young
NATIONAL AMATEUR SHOOTING DOG CHAMPIONSHIP
[One-Hour Heats] -- 37 Pointers, 4 Setters and 1 Brittany
Winner--TANGLED SHEETS, 1650848, pointer female, by Miller's Happy Jack--Tina's Tear Drop. Johnny & Rita Ornsby, owners; Johnny Ornsby, handler.
Runner-Up--HALE'S KICKSTARTER, 1654074, pointer male, by Westfall's Jumpstarter--Button's War Dance Kim. Dr. Jeffrey Hale, owner and handler.
NATIONAL AMATEUR SHOOTING DOG DERBY CHAMPIONSHIP
[One-Hour Heats] -- 16 Pointers
Winner--REBEL SURVIVOR, 1680246, pointer male, by Rebel Pride--In Swami's Shadow. David Williams, owner and handler.
Runner-Up--ERIN'S TY BREAKER, 1678678, pointer male, by Erin's Redrum--My Minnie. Ted Roach, owner and handler.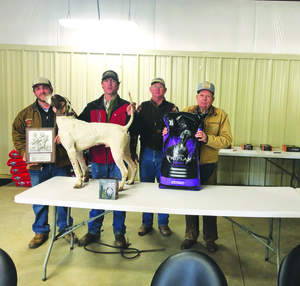 National Amateur Shooting Dog Derby Championship Runner-Up. From left: Ted Roach, Bo Brewer with Erin's Ty Breaker, and the judges, Dr. Buck Neil and Gary Young.
A Postscript to the 2019 Running

An event of this importance takes a lot of parts. The field trial group of Arkansas deserves a big thank you for all who contributed. Retired area manager Roger Martin handled the dog wagon duties with his always smiling face and attitude of, "It's great to be alive." Many thanks friend. The Arkansas game and fish stepped up by promoting Josh Fortner to area manager with Roger's retirement. Josh hit the ground running and the grounds were in great shape.
Rain, rain. It kept coming. Mud to the degree I've never seen. The birds came through as it if were a sunny day.
If the field trial family doesn't know by now the future of Camp Robinson is in the hands of our field trial group.
To keep this history going takes money. Saturday night was a celebration and fundraiser event. I would like to thank all great supporters who donated stud fees, dog feed, tack, paintings, training services, training collars, horse feed and all the items literally too many to mention.
These great patrons of the sport are invaluable to continuing this great field trial game. Our hearts are filled with joy and our hats are off in your honor. All the funds raised went to great needs. Next year's birds and feed throughout the year and a great unsung hero to the game, the 20th Century Fund. With the kindest of all we raised $3257.50 to be sent to the 20th Century Fund. This organization is truly a lifesaver in many situations.
Congratulations to all who work on this committee. I would hope we all would invest in this group. They truly give back.
Now to the our financial support of the AFTCA. Purina, what a great partner; the team that represents is topnotch. The dinner was complimentary on their behalf. Garmin, the leader of training products, is also one of the AFTCA corporate sponsors. Many thanks for your support.
On a personal level, I would like to thank all who helped, supported and made this great event come off so professionally and smoothly. I also would like to give my two cents in the thought in the future. Any national amateur event should try to be held on native game or a pre-released program. We should strive to make this event a true test of a champion, and make the event special. In closing, attached is a great article of the history of the National Amateur Shooting Dog Championship and the past winners dating back to the first in 1952. I hope you enjoy the information. Also a great deal of thanks to Mr. Trey Reid of the Arkansas Game and Fish who brought his traveling sports show to our event. His team filmed the event on Friday to be aired this fall.
A copy will be sent to the AFTCA for their summer meeting. This might help gain support for future sponsors and growth of the sport. S.M.