Result: International Endurance Shooting Dog Championship
Location: Conway, Arkansas
Post Date: Mar 22, 2019
Submitted By: John Van Horn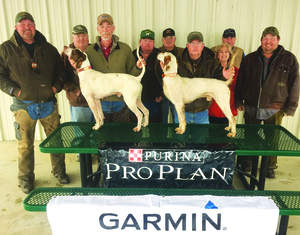 The Winners. From left: Shawn Kinkelaar, Roger Martin, Virgil Moore with Chelsea's Thunder
Bolt, Scott Beeler, judge; John Van Horn, Ronnie Miller with Erin's Prometheus, Sandy Van Horn, Judge Steve Messick and Doug Ray.
CONWAY, ARK. -- The International Endurance Shooting Dog Championship drew a strong field of 34 contenders to the Camp Robinson Field Trial Grounds in Conway, Ark. Man and beast endured rain, sleet and minor flooding.
Chelsea's Thunder Bolt, striking white and liver pointer male coming seven in April, emerged victorious, capturing his 15th championship and his second victory in less than a week. Bolt won the United States Invitational Shooting dog Championship completing the 90-minute finals in that stake three days previously. Shawn Kinkelaar handled Bolt for owners Dr. Tom Jackson of Columbus, Ind., and George Hickox of Carson, N. D.
Bolt had his first find at 25 just before the mountain crossing at the shooting range. Once over the mountain he backed his bracemate at 40. At 50 he had an unproductive at a known covey location. Bolt had been on point for a few minutes and the birds probably left him. His next find came at 1:10. Kinkelaar flushed a well located covey. Bolt was still covering ground and demonstrating the stamina, strength, heart and brains this trial was conceived to showcase.
Handler and scout Virgil Moore had some frantic moments showing the dog at pickup. He was found on course still on point with birds.
Erin's Prometheus, seven-year-old white and orange setter male ran in the last brace of the trial and was handled by Doug Ray for owner John Mathys of Green Bay, Wis. Prometheus was turned loose on top of the mountain. Ray called point at 3, bracemate Hale's Southern Touch (Kinkelaar) backing. His second find was at 24 with all in order. At 53 both dogs were found on point. During the flushing attempt Ray spotted an armadillo in front of his dog and elected to go on. Kinkelaar acknowledged the
armadillo as well and took his dog by the collar. As they turned to leave birds flushed. Neither dog was credited with bird work. Both dogs were found on point at 1:15. Both dogs demonstrated shooting dog manners at the flush.
Hale's Southern Touch and Erin's Prometheus had the judges' attention for the 90 minutes. The judges awarded the victory to Prometheus.
Notable performances challenging the winners were rendered by Hale's Southern Touch, previously mentioned, and Zip Tye, pointer male handled by Doug Ray. Each dog had two finds.
Overall the Championship had two three-find dogs and five two-find dogs. Birds were available for the driven; endurance and ground effort separated the winners.
Judges Scott Beeler of Lancaster, Mo., and Steve Messick of Greenbrier, Ark., rode hard and gave full attention to all entries. The dog wagon was manned by Roger Martin, a past area manager for the Arkansas Game and Fish Department.
Marshalling duties fell on Gordon Hazlewood and Ronnie Miller. Hot lunches were provided by Sandy Van Horn who left no one hungry. The seasoned help took the work out of putting the trial on.
The Endurance was conceived to promote the breeding of a dog capable of an extended hunting effort. Originally the Championship featured three-hour heats. This later changed to ninety-minute heats after Chuck Taylor of Woodward, Okla., took the trial over. Chuck changed the venue because it wasn't economically feasible to run four dogs a day over the trial. Ninety-minute braces still test the heart and stamina of the dogs.
Several dogs finished the heat but shortened somewhat after the one-hour mark. The two winning dogs ran the time and probably could have run another hour. This is one of the things the judges were using to separate the performances.
The Camp Robinson Conservation Association deserves huge thanks for the effort they have made with the grounds. The CRCA is a 501c nonprofit organization that provides all of the pre-released quail, feeders and feed for the area; 5,000 birds have been released in August for the last three years. By February covey sizes are still 8-12 birds and the birds are as wild as any late season Texas quail you can find hunting. They run if the cover is open, they flush wild if pressured, they move when the time is right and they sit in a little tight ball when it's not.
The grounds truly provide a test for a real bird dog. Seventeen braces produced 20 wild covey finds. Numerous other coveys were ridden up by the gallery and scouts. Plenty of birds were still around to reward the true bird dogs. Both winning dogs had three finds.
Thanks to Tri-Tronics and Purina for their quality products and support.
Conway, Ark., February 18
Judges: Scott Beeler and Steve Messick
INTERNATIONAL ENDURANCE OPEN SHOOTING DOG CHAMPIONSHIP [Ninety-Minute Heats] -- 27 Pointers and 7 Setters
Winner--CHELSEA'S THUNDER BOLT, 1649213, pointer male, by Whippoorwill Wild Agin--Butler's Jill. Dr. Tom Jackson & George Hickox, owners; Shawn Kinkelaar, handler.
Runner-Up--ERIN'S PROMETHEUS, 1649460, setter male, by Ridge Creek Cody--Erin's Skydancer. Johnny Mathys, owner; Doug Ray, handler.