Result: Illinois Open Shooting Dog Championship
Location: Chandlerville, Illinois
Post Date: Apr 4, 2019
Submitted By: Jeff Wagoner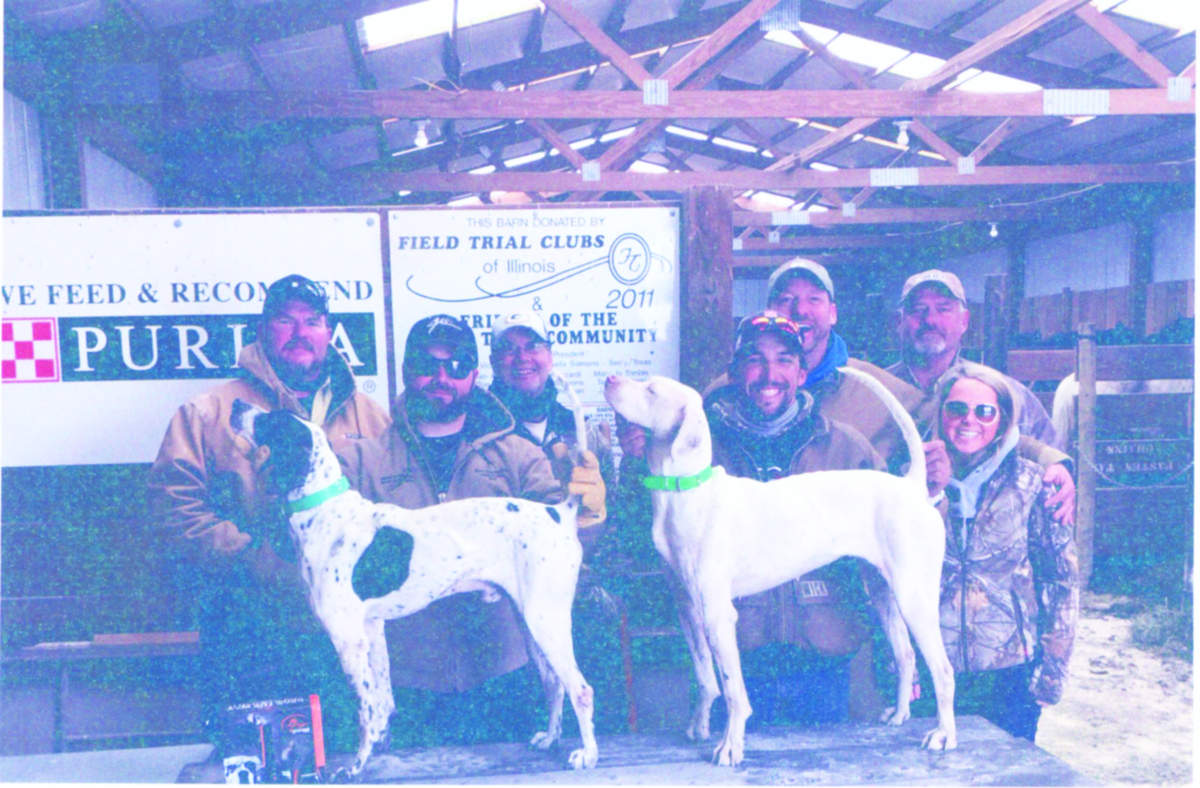 Championship Winners. Jay Lewis, judge; Zak Wagoner with Buckheart's Ace of Spades, Jeff Wagoner, Mike Panovski with Joho's Grand River Bess, Stacy Perkins, Eddie Berendzen, judge, and Steph Wagoner.
CHANDLERVILLE, ILL. -- The Illinois Open Shooting Dog Championship and Max Eldred Open Derby were held at the at Jim Edgar Panther Creek Area in Chandlerville, Ill.
Buckheart's Ace of Spades, white and black pointer male coming eight (May 17), owned and handled by Jeff Wagoner won the Illinois title. Joho's Grand River Bess, three-year-old white and liver pointer female owned by John L. and Lewis R. Hott of Hoopestown, Ill., and handled by Stacy Perkins, was awarded runner-up.
As always there is a list of people and sponsors to thank. Jim Edgar's state work crew hauled water daily and opened up the barn and had the grounds groomed to perfection.
Purina, as always, generously supported this trial. SportDog also donated to the winners and is much appreciated.
You can not have a successful field trial without properly planted birds and fair practices and Pat Sheehan was the man for the job. Thank you.
Mark Livingston came, as always, from Iowa to help keep me in line and marshal, scout, and keep things moving smoothly.
Sean Patrick Derrig took time from work and gambled with a expecting wife at home to help at whatever task needed and scouted fairly for anyone who asked.
For you owners out there, so you know where your professional handlers were, we had a nice list and some amateurs also. Harold Gearhart, Stacy Perkins, Chuck Stretz, Jeff Wagoner, Chad Chadwell, Sean Pat Derrig, Brian Sheehan, Mike Duval, Jack Glover all attended this year.
Larry Burgard and John McIntosh took care of dog wagon duties. Terry Trzcinski for Purina was also here.
Owners of last year's winner, pointer male Oak Grove Pacemaker, Doug and Judy Reisner of Black River falls, Wis., hosted dinner Friday evening at the Riverbank Lodge. Thank you for dinner and spirits.
Well, you say, who did we have judge and ride every brace and pay strict attention to every dog that was turned loose? Two men who handle and ride at field trials and know birds dogs. Drum roll please: Eddie Berendzen of Higbee, Mo., and Jay Lewis of Ashland, Mo.
MAX D. ELDRED OPEN DERBY
We drew twelve Derbies and third place honors went to Anchor Down Sunny Mike, pointer male handled by Harold Gearhart for owner Terry Harris of Erin, Tenn. Second was Grand River Double Ransom, pointer female handled by Stacy Perkins for Grand River Kennels. The winner was Hackberry's Ice Chip, pointer female owned by Robert Konz of Shelby, Ia., and handled by Harold Gearhart.
Chandlerville, Ill., February 28
MAX D. ELDRED OPEN DERBY -- 11 Pointers and 1 Setter
1st--HACKBERRY'S ICE CHIP, 1673047, pointer female, by Hackberry's Ice Patch--Westfall's Miss Ice. Robert Konz, owner; Harold Gearhart, handler.
2d--GRAND RIVER DOUBLE RANSOM, 1683030, pointer female, by Ransom--Double Wild. Grand River Kennels, owner; Stacy Perkins, handler.
3d--ANCHOR DOWN SUNNY MIKE, 1679236, pointer male, by Lester's Sunny Hill Jo--Wiggins Sin On Line. Terry Harris, owner; Harold Gearhart, handler.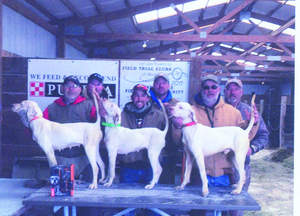 Open Derby. Mark Livingston with Hackberry's Ice Chip, Judge Jay Lewis, Mike Panovski with Grand River Double Ransom, Harold Gearhart with Anchor Down Sunny Mike, and Judge Eddie Berendzen.
CHAMPIONSHIP WINNERS AND OTHERS
As noted, Buckheart's Ace of Spades pointer male handled and owned by Jeff Wagoner, won the stake. Ace has been a consistent winner for the past several seasons, amassing now 41 placements. He was runner-up in this stake in 2017.
Runner-up Joho's Grand River Bess, pointer female for owner John Hott who was riding watching co-owns Bess with his dad, Lewis R. Hott.
Buckheart's Ace of Spades was turned loose with Thumper's Anything But (Duval), the first brace after lunch on Friday. At 5 Ace was up front on the edge of cornfield two rows in pointing to the center of the field. Jim Edgar is Illinois' release pheasant hunting location and a surprising ringneck was found. Wagoner flushed a bit and decided to catch the front. "Riley" for Duval was punching forward as Ace reached the front and both dogs were found standing at 12. Wagoner took the back while Duval flushed. All in order. At Watkins Road it is always a good idea to gather your dog even with a great road crew blocking traffic. Ace was found pointing, high on both ends, at 20. The bird was located some twenty yards in front and flushed. Ace stood solid with no letdown.
On course No. 1, we call it "the bottoms". Both dogs were seen entering the bottoms on a shooting dog pace. It usually takes a 12-minute ride to pass through this area. Once we climbed horse killer hill Ace was posing again on the right side of a bean stubble field and all was perfect on shot. Duval's scout was heard off in a distance calling point for Riley and both the judge and handler rode, and all went as planned. Ace then had the course to himself for a bit and was found in a pocket field of grass on his third find. Once the bird was flushed, Ace and Riley punched forward. Riley seemed to take a edge and would not stop until the very end and finished forward. Ace applied himself like a true shooting dog and took an edge then a pocket field and was always hunting forward with style looking for birds. He finished still moving forward at time.
Joho's Grand River Bess was turned loose with Hackberry's Danaka (Gearhart) the first brace of the Championship.
Bess and Danaka both charged forward, showing the wanted to compete. Five minutes into the brace, Perkins called point with owner John Hott following to see the first find of the Championship. All went as we train and hope (perfect, right?). Bess was sent on and had us watching. At 9 she pointed again to the front, all in order. Bess is a fancy dog on the ground and pointed again before Watkins Road. At the road where we gather, Perkins could sense something odd with Bess. After checking her pads on her fourth find, she had torn her front pads and out of heart and desire was released forward. Perkins knew a new strategy needed to be put in place. He would ride forward a bit and send her forward then sit back and wait a bit. We found her pointing two more times in her hour. Sometimes you can't judge what you don't see, on what would have been her fifth find, Perkins was a head a bit and a bird had left before we all could get there to see. He fired and took her on.
At this point she really did not need that find to show her bird-finding and style and forward race. She pointed again before the hour was up. Perkins then just sat back and waited a bit for Bess to charge forward. We all new after the first brace the stage was set for a competitive stake.
This Championship had nice dogs with proven performances. Judges spoke of shooting dog races and all-age races and the two dogs the named champion and runner-up, they felt, did just that: shooting dog performances.
Dogs on the other side of the coin included Brian Sheehan's Erin's Coin Toss, which had won the Region 5 Amateur All-Age Championship just five days earlier and put you on the edge of your seat. Coin Toss stacked up four times with huge casts that would have won another all-age championship.
Sean Pat Derrig with Erin's Fatal Attraction put down at times a big race with Sean needing a catch and release pattern to keep her to the front.This dog will be a champion someday.
Mike Duval's Thumper's Anything But, mentioned earlier, had a big race. Her second find wasn't just a limb find but an awesome scouting job that saved her day.
Until our paths cross again, thank you everyone mentioned and whoever I may have forgotten. 2020 will be here before we know it.
Judges: Eddie Berendzen and Jay Lewis
ILLINOIS OPEN SHOOTING DOG CHAMPIONSHIP [One-Hour Heats] -- 30 Entries
Winner--BUCKHEART'S ACE OF SPADES, 1642926, pointer male, by Erin's Kentucky Gambler--Xtreme's Diamond. Jeff Wagoner, owner and handler.
Runner-Up--JOHO'S GRAND RIVER BESS, 1670123, pointer female, by Miller's Happy Jack--World Class Snow. J. L. & Lewis R. Hott, owners; Stacy Perkins, handler.