Result: Arizona Open and Region 12 Amateur Shooting DogChampionships
Location: Kingman, Arizona
Post Date: Apr 26, 2019
Submitted By: John Beauchamp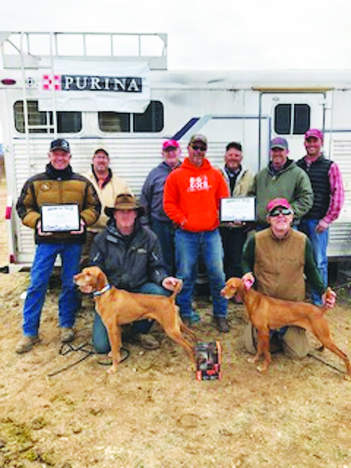 Arizona Open Shooting Dog Championship Winners. From left: Bruce Hale, Karl VonWolf, Brian Gingrich with C K Touchdown Guy, Dr. Jim Sellett, Brian Smith, Ed Mayhew, Gordon Jones with Burr Oak's Bam Bam and John Beauchamp.
KINGMAN, ARIZ. -- Well, the weather forecasters finally pegged an El Ni o cycle correctly. Arizona has been treated to some much-needed moisture after a relatively dry winter. I just wish they would have pegged the rainfall total a little more accurately for the trial grounds. We couldn't have changed a lot but maybe have been better prepared.
We were expecting a half inch cumulatively for the time we were there and a second round storm for the road home. A half inch over a couple of days; that's nothing to get worked up about. We didn't have rain gauges at the grounds, but we figure we got three times that. And across the valley they got almost three inches of rain. Now we had a challenge -- greasy roads, lost some entries, a couple of laps out there were pretty miserable. But we persevered.
Despite the challenges we had a good draw and good series. Our support crew was on the mark every time. Special thanks to Karl VonWolf for coming up and bringing his ranger for planting in the dark every morning. This allowed us to make use of the full course and introduce changes. Also, James "Doc" Sellett was up to run the dog truck; he and Karl made sure we always had the next brace ready and recovered from early handlers picking up nicely. Patti Beauchamp provided a couple of lunches and Brian and Sherri Smith covered the others. We ate very well again this year; maybe that is why folks stop by to visit us around lunch . . . . Thank you all again. The old adage, "It takes a village to raise a child." Well it takes a good size camp and everyone helping to run a trial.
Our sponsors do so much for us and really help keep the sport alive. We want to thank Mr. Greg Blair with Purina for all their support and encouragement. Mr. Jim Morehouse with SportDog as well. Both are really good to work with. I was kicking myself just before the trial. I had meant to invite you guys out for the trials. But as it worked out, you were spared.
The first day of the Arizona Open Shooting Dog Championship was cold and windy (up to 30 mph) with light sprinkles as the front pushed in. The second day much more rain and still pretty good wind. Cold and wet.

The Running
We had a judging change just before the trial. Joe Rogers was unable to attend. We were very lucky to be able to have Mr. Schultz of Flagstaff, Ariz., accept the assignment. Jim, thanks again.
Brace No. 1 broke away at 8:05 a. m. Tucalota's Bandit (Ed Mayhew) was credited with a back at 7 and a divided find at 55. C K Touchdown Guy (Brian Gingrich) put down a strong forward race even into the strong wind and had two clean finds, with all in order, to claim the championship title. Guy set the bar early.
Smith's Hope (Brian Smith) ran a nice race and we thought had a find up on the mountain. Our assumption was she was on some gamble quail up there. Turned out to be two coyotes, probably eating the pen raised birds. Touchdown Sassy (Gingrich) needed a little more push in here race, but did have a clean find.
No. 3 broke away at 10:45 after everyone had a quick cup of coffee to warm the bones. Almosta's Wile E Coyote (Beauchamp) had a strong race, but had an unproductive on an empty station. He had a find later in the brace. Ramblin Rivers BGK Fire Woman was picked up about mid-brace, not pleasing Brian Gingrich.
Almosta's Mighty Mouse (Beau-champ) put down a reasonable brace. Point was called on an empty station. Mouse could have used a bird.C K Post Route Scout's day ended when Gingrich picked up.
Following lunch, the next brace was away 2:00 p. m. Dezasterous Here We Go Jake was not pleasing Matt Smith and was up 25. Alpine's playing with Fire (Gingrich) was up shortly after Jake.
Dezasterous Jax the Ripper did a nice job for Matt Smith. He was credited with two finds and a back in the hour. Burr Oak's Bam Bam (Gingrich) had a very good go round, scoring three finds and staying forward for the full hour.
Tucalota's Sassy (Ed Mayhew) had an even race and handled well. Ed elected to pick up just before the end of the brace, no bird work. Sunset Trails Reasonable Suspicion (Gingrich) finished the hour without bird work.
February 14. The forecast was for rain and wind starting around 10:30 and increasing through the day. It didn't wait that long. It hit about 20 minutes into the day's first.
Brace No. 8 broke away at 8:15 a. m. Traveler's Split Rail (Greg Sand) had a nice find on the way down the wash from cast off, scoring again just after the corner. He shortened a bit going into the wind and had trouble on what would have been his fourth find. Burr Oak's Reve (Gingrich) put forth an effort, but was not on her game.
At 9:20 the rain was steady and wind gusting. Traveler's High Point (Sand) had a strong race and with the wind it was tough. Greg picked up. Too Hot to Handle (Gingrich) was also up early.
After the 9th brace everyone ran for a warm place and dry clothes.
Kingman, Ariz., February 13 -- One Course
Judges: Kevin Rogers and Jim Schultz
ARIZONA OPEN SHOOTING DOG CHAMPIONSHIP [One-Hour Heats] --
2 German Shorthairs, 5 Pointers, 2 Setters and 9 Vizslas
Winner--C K TOUCHDOWN GUY, 1628014, Vizsla male, by Touchdown Kid--Shiloh's Happy Go Lucky. Ron Chenoweth, owner and handler.
Runner-Up--BURR OAK'S BAM BAM, 1651702, Vizsla female, by C K Touchdown Guy--Vanguard's Make Her Mark. Jim Gingrich, owner and handler.
Bill West Derby
What a difference 24 hours makes. The rain quit during the night and the wind kept it up until the early morning hours, drying out the upper soils. At dawn we had thin clouds and a cool breeze. A great day for field trialing.
Just a quick note of remembrance of Bill West before we get into the running.
Bill West passed away in 2006 and had not been trialing for awhile before his death. Bill's teachings live on in many of today's professional trainers and amateurs who were willing to listen.
Bill was a teacher of the sport. He was able to make his points concisely and truly wanted you to learn. He left the game better than he found it.
Developing young dogs was his passion, so it is only fitting we remember him with a Derby stake.
This year's stake had ten starters. Not a huge field, but encouraging for field trialing out west. Between Regions 11 and 12 the last couple of years, we have canceled most of the Derby stakes. And it doesn't take a math wizard to come to figure out if you aren't able to field Derbies, you are in trouble. So thank you to everyone who supported this year's stake.
And thank you to our judges, Bruce Hale and Ed Mayhew. You were fun to run under.
[Side note, remember all that rain across the valley I mentioned earlier? Well, our planned judge John Nelssen of Kingman, Ariz., couldn't make it -- he lives on the side of the valley that got close to three inches of rain and was stuck. Ed Mayhew was considerate enough to step in.]
Brace No. 1 broke away at 8:10 a. m. Alpine's Name of the Wind (Gingrich) had a find at 4 and a solid race throughout. Smith's Almosta Justice (Brian Smith) had to be scouted a couple of times and was really fired up to find birds, and did have a find.
Nova (Gingrich) was picked up early. Traveler's Straight Line (Sand) went the distance and showed good energy and handled well.
C K Redheaded Flying Dutchman (Gingrich) started strong, had a find and then shortened a bit. Almosta's Fred Flintstone (Beauchamp) showed lot of puppy, but at times extended a bit.
Burr Oak's Born Again (Gingrich) rolled around pretty good, but could have used a bird. Almosta's Wilma Flintstone (Beauchamp) started fast, but had too many puppy moments.
Ramblin River's Red Rock (Gingrich) had a couple of finds. Edelman (Gordon Jones) had a strong race throughout. His mature race coupled with a nice find were enough to claim the win.
Judges: Bruce Hale and Ed Mayhew
BILL WEST OPEN DERBY CLASSIC -- 4 Pointers, 1 Setter and 5 Vizslas
1st--EDELMAN, 1682222, pointer male, by Miller's Light Cruizer--Heard Hill's Queen Mary. Gordon Jones, owner and handler.
2d--C K REDHEADED FLYING DUTCHMAN, 1680729, Vizsla male, by C K Touchdown Guy--Twenty Gauge Over N Under. Matthew Roesner, owner; Brian Gingrich, handler.
3d--ALPINE'S NAME OF THE WIND, 1677567, Vizsla female, by Mackey's Trail Blazing Sitka--Vanguard's Make Her Mark. Dr. Jessica Mackey, owner; Brian Gingrich, handler.
Region 12 Amateur Shooting Dog Championship

The region wants to thank everyone who came out and ran dogs and those who helped. Karl and Doc, again a big thank you for all the help throughout the trial. Bruce Hale came over from Riverside, Cal., to judge for us and his partner Brian Smith came up from Queen Creek, Ariz.
Sherri Smith took care of lunch.
Mr. Greg Blair with Purina covered some expenses and provided dog food certificates for our winners. Jim Morehouse with SportDog helped out with a collar 35 for the winner. Thank you both.
The fair weather we enjoyed for the Derby basically carried over. A little colder, but basically dry. We had some gusts that got up to 20 mph but they were not sustained. The bad weather cost us a few entries as some just could not make it. A couple more were lost to pad issues.
Birds were pretty plentiful with multiple covey finds and contact in pretty much every brace.
Brace No. 1 was away at 8:15 a. m. Pintado's Cactus Joe (Tim Baranski) handled well, worked the course and scored a find at 25. Tucalota's Buck started strong for Ed Mayhew but was up by the mid-point.
Almosta's Mighty Mouse. (Beau-champ) started fast and had a clean find at 12. Then bit off a big chunk of hills, on the wrong side of a fenceline. The retrieval device was pulled at 25. Dominator's American Rebel (Gordon Jones) didn't have his usual and expected punch this morning and was up at 20.
Tucalota's Bandit (Mayhew) was looking good, but had some trouble with a bird and was up at 25. Almosta's Wile E Coyote (Beauchamp) had a strong forward race. Climbing the big hill behind camp, Wile stood on empty stations twice and was up just before time was called.
Traveler's Split Rail (Sand) had a nice forward shooting dog race coupled with two finds to claim the championship title. Congratulations to Greg and "Chase". B M B's Freeloader didn't have his A game this morning and Brandon Blum opted to pick up.
Everyone got a good lunch, thanks to Sherri Smith, and we were back after it again.
No. 5 broke away at 2:02 p. m. under sunny skies. Tucalota Blew put together a full hour for Ed Mayhew. Blew handled well and handled his game well. He was credited with a find and back. Blew earned his runner-up title, his second on these grounds. B M B's Samsquanch (Brandon Blum) finished the hour and gave the judges something to talk about with a clean find at 56.
Traveler's High Point (Sand) is a setter with an extra gear; she can really move. And she was in high gear. Unfortunately, she locked onto the big wash and carried well beyond the course and Greg had to resort to the retrieval unit to gather her up.
Judges: Bruce Hale and Brian Smith
REGION 12 AMATEUR SHOOTING DOG CHAMPIONSHIP
[One-Hour Heats] -- 3 Pointers, 6 Setters and 2 Vizslas
Winner--TRAVELER'S SPLIT RAIL, 1662940, setter female, by Shadow Oak Bo--Star's Last Chance. Greg Sand, owner and handler.
Runner-Up--TUCALOTA BLEW, 1653037, pointer male, by White Powder Grip--Tucalota's Rubee. Ed Mayhew, owner and handler.
[This report was sent February 26 but the email got lost.]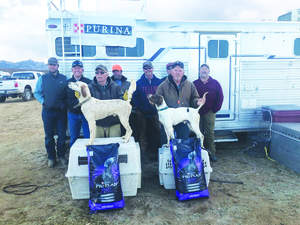 Region 12 Amateur Shooting Dog Championship Winners. From left: Clint Plagge, Bruce Hale, Greg Sand with Traveler's Split Rail, Tim Baranski, Brian Smith, John Beauchamp, Ed Mayhew with Tucalota Blew and Karl VonWolf.