Result: Southeastern Open Shooting Dog Championship
Location: Leesburg, Georgia
Post Date: Apr 23, 2019
Submitted By: Joel Norman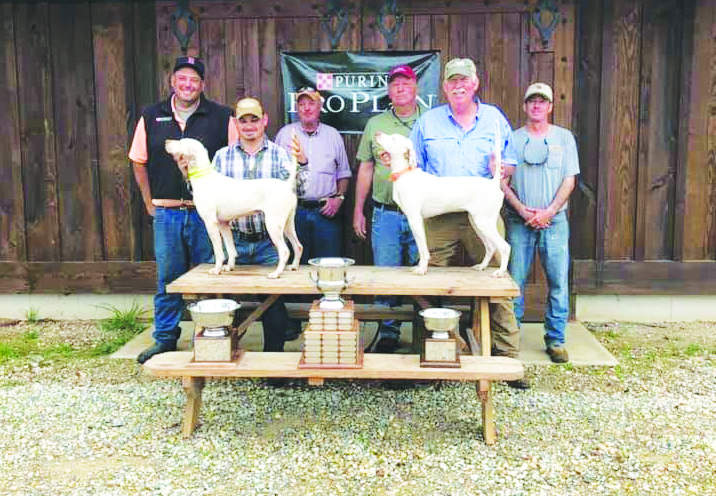 The Winners. From left: Matt Basilone, Michael Martino with Deerfield Game, Judge John Malone, Joel Norman, John Neely with Miller's Stray Bullet and Judge Jason Armstrong.
LEESBURG, GA. -- The Southeastern Open Shooting Dog Championship followed the Masters Open Shooting Dog Championship and began on March 6. Sixty-four dogs were drawn and ran under mixed conditions. The first few days were unseasonably cool, followed by less favorable temperatures.
Judges John Malone of Bolton, Conn., and Jason Armstrong of Montrose, Ga., found their winner in Deerfield Game, six-year-old white and liver pointer female owned by Karen Lordi and Richard Gillis and handled by Matt Basilone.
Judges' notes stated that Game had one find, two divided finds, an unproductive and a commendable race.
The runner-up placement went to Miller's Stray Bullet, classy white and orange pointer male owned by Benjy Griffith of Macon, Ga., and handled by Joel Norman.
Judges' notes stated that Bullet had an excellent strong forward race with no scouting, coupled with two classy finds.
Thanks to the Senah Staff and special thanks to plantation owner Benjy
Griffith for continued support of bird dogs and field trials.
Leesburg, Ga., March 6
Judges: Jason Armstrong and John Malone
SOUTHEASTERN OPEN SHOOTING DOG CHAMPIONSHIP
[One-Hour Heats] -- 57 Pointers and 7 Setters
Winner--DEERFIELD GAME, 1654932, pointer female, by Erin's Stone Cutter--A Whiskey Lullaby. Karen Lordi & Richard Gillis, owners; Matt Basilone, handler.
Runner-Up--MILLER'S STRAY BULLET, 1661403, pointer male, by Just Irresistible--Miller's Bring The Heat. Benjy Griffith, owner; Joel Norman, handler.