Result: Pacific Coast Open Derby Championship
Location: Reno, Nevada
Post Date: May 24, 2019
Submitted By: Kim Sampson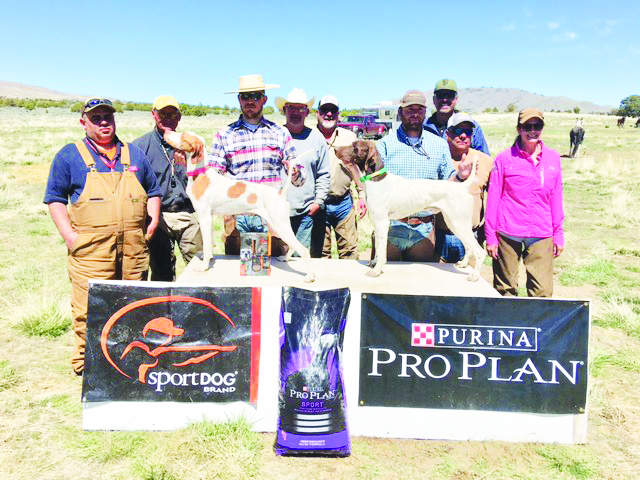 The Winners. From left: Bradley LaVerne, Larry Smith, Jason Staley with S F Fullcolor, Tim Schillereff, judge; Jarry Walton, Brandon Blum with B M B's Freeloader, Sean Kelly, judge; Rich Heaton and Kim Sampson.
RENO, NEV. -- The 2019 Pacific Derby Championship began on the morning of April 15 following a successful running of the National Amateur Chukar Championship. Ground cover in the lower valleys was matted in most places and the north facing slopes of the Peterson Mountains still harbored several feet of snow, a testament to a long and brutal winter in this area of Nevada.
It was warm and windy at breakaway and the wind continued to increase as the day went on, a definite challenge to big running Derby dogs and handlers' attempts to keep contact with their charges. By the second day, snow was on the ground and the running was delayed until fog and low lying clouds had moved out. Welcome to Reno, Nev., in the spring!
Judges for this year's renewal were Sean Kelly of Loomis, Cal., and Tim Schillereff of Portland, Ore. Both gentlemen have experience judging and have had success with their own dogs. They knew what they were looking for in naming the winners. We thank them for their time and attention in assessing Derby dogs, the future of our sport.
The Bay Area Bird Dog Club always puts on a quality event and this year was no exception. Any successful trial takes a lot of man/woman power. Jarry Walton, Jared Tappero, Holly Higgins, Sean Kelly, Torben Hansen, Lori Steinshouer, and others behind the scenes selflessly gave time and effort to help make this event a success.
Of special mention is Bradley LaVerne, who came from Sacramento, Cal., as he has every year of the last decade, to drive the dog wagon. Without Bradley's dedication and know-how, dogs wouldn't have been where they needed to be, when they needed to be there, and the entire operation would've been in disarray. Thank you Bradley for the endless hours on bumpy roads each day, and taking in stride direction from multiple people charged with making the trial run smoothly. Not an easy task and we appreciate all you do.
Purina (Jim Smith) and SportDog (Jim Morehouse) were our sponsors again this year and their support is invaluable. Purina covered the cost of the ad in The American Field and awarded dog food to the champion and runner-up. SportDog donated a 1825 training collar to the champion.
We especially revere the presence and support of Jim Morehouse from SportDog. Jim has built valuable personal relationships over the years and is willing to help in any way possible; his reliable attendance is always noted and appreciated.
The Winners And Others
S F Fullcolor, pointer female owned and handled by Larry Smith of Pleasant Hill, Ia., set the bar high early on. Running in the first brace, Fullcolor took full advantage of the big country, running with range and purpose for the full hour.
Point was called at 24 and all we could see was the outline of a dog's head, perched above the rock on a distant hillside. A lengthy ride ensued and when we finally arrived on the scene, Fullcolor was indeed pointing, but it was in classic "chukar dog" style, with front feet up on a boulder in front of her, back feet on the ground below. Who would've thought a dog from the Midwest would ever do this? Good dogs adapt, and adapt she did! Larry Smith climbed up on the rocks and somehow got a stubborn chukar to fly, all in order at flush and shot.
Turned loose after her find, Fullcolor raced to the front and stayed there the rest of her hour, running with impressive range, ground speed and eye-catching animation. The only interruption to her smooth front running race was when point was called for finds at 50 and 56. A finish to the front capped her hour.
The runner-up came from the 5th brace. B M B's Freeloader, German Shorthair male owned and handled by Brandon Blum of Acton, Cal., had a strong, front running hour. "Hewey" ran on the first course after lunch in the windy heat of the day. From the beginning Hewey was singular in purpose, appearing as a small dot to the front periodically, glancing back to see which way his handler was going, turning to the front and continuing on.
His first find came at 19 when he was seen standing high on a hillside in the rocks. Even from a distance, it was evident the dog was zeroed in on birds, absolutely firm and stylish. After a rocky ride we found him in the same position, rippling with intensity. Blum chased the bird around a bit, finally getting it airborne, all in order at flush and shot. Released after his find, Hewey took in big swaths of country, hunting the likely spots for birds.
Point was called again at 30 up in rocks where Blum again chased running birds in front of the stylish dog which displayed perfect manners throughout. The last 25 minutes were spent by the dog cruising through the sage, hitting the hillsides and showing periodically. A strong finish to the front was the appropriate end to a well spent hour.
S F Fullcolor was covered previously. Bracemate Frontline Rebelator's Fly (Blake Edwards) had a slow start and was eventually picked up at 25.
Picayune Utah Chief (Sampson) had a nice forward race for the first 25 minutes, when he was last seen cresting a hill to the front. Unfortunately, that was the last we saw of him and the retrieval unit was requested at 45. Indian Head Pistol ran a conservative race and had a well handled find at 15. Tappero elected to pick up at 20.
Tucalota's Rebel Touch (Mayhew) was last seen going forward at 5, the retrieval unit requested at 25. Indian Head Intrigue (Tappero) had a moderate forward race and a find at 47. A chukar walking around in front of the dog was too much and her day was done.
In No. 4 was Far West Builder's Ace (Wilkin) which had a somewhat erratic race; an error on birds at 35 ended his day. Rocking J's Amy (Walton) had an impressive ground race with a stop to flush at 25 and a find at 59. Too much movement on the find likely kept her out of the winners' circle.
B M B's Freeloader was covered previously. T's Jesse (Smedley) had some nice moves during her hour but no birds.
S F Benchmark (Smith) and Indian Head Whiski (Tappero) both had conservative races and no birds.
Sonoma Strong wasn't pleasing Sheldon Twer and was picked up at 10. Shearjoy's Morning Glory (Tappero) made some nice moves early on, which required some scouting. Thereafter, she settled into a moderate race and had a find at 53, which she flushed and chased as the handler was approaching.
S F Stetson (Smith) had a huge forward race for the first 30 minutes. Point was called at 14 but no birds could be produced. The dog shortened up after the half and was picked up at 47.
Dezastrous Game Time (Edwards) was scratched.
Reno, Nev., April 15
Judges: Sean Kelly and Tim Schillereff
PACIFIC COAST DERBY CHAMPIONSHIP [One-Hour Heats] --
13 Pointers, 2 Setters and 1 German Shorthair
Winner--S F FULLCOLOR, 1675689, pointer female, by S F Bandwagon--S F Rushhour. Larry L. Smith, owner and handler.
Runner-Up--B M B'S FREELOADER, 1678664, German Shorthair male, by B M B's Free Ride--Hightailing Saddle's Mandolin. Brandon Blum, owner and handler.