Result: Region 17 Amateur All-Age Championship
Location: Abilene, Kansas
Post Date: May 23, 2019
Submitted By: Doug Meyer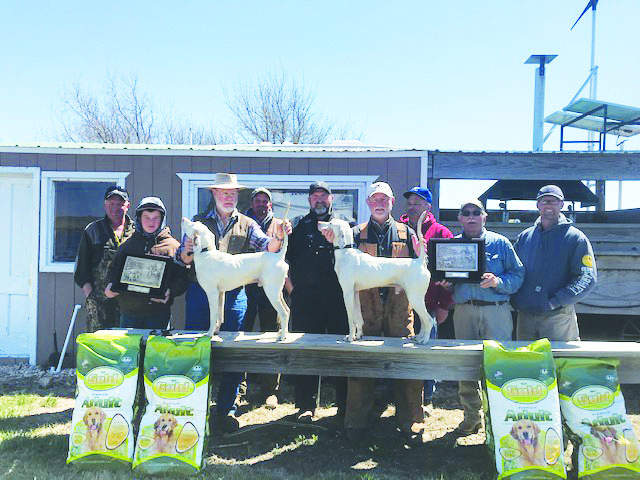 Championship Winners. From left: Rodney Shoemaker, Jess Reece, John Vanada with
Touch's Grey Street, Judge Matt Cochran, Keith Wright, Joe Worsham with Touch's Smooth Rider, Jim Reece, Judge Greg Sand and Steve Auxier.
ABILENE, KAN. -- The Region 17 Amateur All-Age Championship was conducted over the prairie courses at Holler Point Farms in the Kansas Flint Hills south of Abilene April 13-14. Our trial had originally been scheduled for mid-December on the Z Bar Ranch and later rescheduled for late February. Weather and the vagaries of scheduling forced postponement until April but resulted in a very good renewal. Weather was very mild allowing the dogs great running conditions and for some excellent performances.
Keith Wright and John Vanada traveled from Indiana to show judges Matt Cochran of Reydon, Okla., and Greg Sand of Hill City, Kan., their charges and they did not disappoint. Pointer male Touch's Grey Street filled up the country the right way out here and had a single stylish find about two-thirds of the way through the hour to earn the championship title. His response to his handler and his finish were outstanding.
Pointer male Touch's Smooth Rider was on birds twice with a good out-front find on quail and later a well executed piece of work where he had a stop to flush running with the wind on a pheasant hiding in prairie grass. Rider had just caught scent when the pheasant flushed; he stood perfectly awaiting Wright's arrival and shot. These efforts were enough to best a quality field and other strong efforts to be named runner-up.
Our judges were two experienced trialers with Matt Cochran having handled professionally for a number of years in the shooting dog world before trying his hand now on the all-age circuit. His Whippoorwill Forever Wild is currently half qualified for Grand Junction. Matt manages a multi-purpose ranch in Oklahoma focused on quail hunting. Greg Sand has been at the game for many years and judges frequently in the Midwest and western regions including assignments at wild bird championships at Mortlach, Saskatchewan and in Wisconsin. He competes with his English setters and has won a number of championships with his dogs over the years.
The judges complimented the dogs and wished to mention two other performances of note. The dogs were Amazin Ziva for handler Kirk Swanson of Red Oak, Ia., and Greypointe Luminoso for Doug Meyer of Tonganoxie, Kan. Both dogs ran prairie all-age races with solid bird work to be under consideration.
The Holler Point grounds are a mixture of Flint Hill horizons and draws that hold birds interspersed with small patches of woods plus crop fields and fencerows. Dogs can be seen at great distances and in order to show well must get in there deep and hunt. Many dogs did this including a few without bird work that also might have changed things. Prairie chickens frequent the short grass hillsides here with pheasants and quail coveys utilizing the bottoms and brushy areas. A good place to both hunt birds and show a dog.
Rodney and Diane Shoemaker purchased property along the highway here which connected to Diane's family farm with expanded holdings now operated by her brothers. Rodney puts in food plots and other improvements to encourage the native game and built a clubhouse, horse corrals and a large parking area for trailers. An excellent place to host a trial and Region 17 appreciates the opportunity to run on these grounds.
Grace Meyer came out to support the trial by cooking and having a hot lunch ready for the group each day.
Region 17 also hosted a grilled pork chop supper on the grounds Saturday night and tailgating was popular at the end of each day's running.
Relatively new to trialing came Jim Reece and his son Jess who manned the dog wagon and were on the spot for each brace. Believe me this isn't easy. The dog wagon cannot easily get everywhere in this country.
Jess, a good baseball player, is in the seventh grade, has been winning with a couple young dogs and appears to have been bitten by the sport. He was riding one morning to watch the dogs closer also. Sean Hauser took Jess' picture with his National Champion Miller's Dialing In as a memory keepsake for Jess. Jim said he thought his son went to sleep dreaming of running Dialing In at Ames!
Abilene, Kan., April 13
Judges: Matt Cochran and Greg Sand
REGION 17 AMATEUR ALL-AGE CHAMPIONSHIP [One-Hour Heats] -- 20 Pointers

Winner--TOUCH'S GREY STREET, 1680120, male, by Touch's Knight Rider--Touch's White Assault. Keith A. Wright, owner and handler.
Runner-Up--TOUCH'S SMOOTH RIDER, 1661245, male, by Touch's Knight Rider--Burrow's Sinbad Lady. Keith A. Wright, owner and handler.

OPEN DERBY
Region 17 ran the Gyp Hills Open Derby as a companion piece to this Championship and finished late Sunday afternoon.
Matt Cochran was joined by Missourian Lynn Oxendine in looking at the fourteen contenders in the Derby.
Both Worsham's Super Sport for Joe Worsham and Greypointe Oso for Doug Meyer had strong forward races and a single broke piece of bird work to garner first and second places. H P Diamond Back for Rodney Shoemaker bested a number of good performances to get the nod for third.
Region 17 appreciates our sponsorship from Nutri-Source/Tuffy's pet foods, Perham, Minn., for their support and to representative Warren Stice for providing product to our winners.
Thanks again to all who attended and pitched in with gates, marshalling and all the tasks that go into holding a field trial.
Congratulations to our winners. Hope to see everyone back again next year.
Judges: Matt Cochran and Lynn Oxendine
GYP HILLS OPEN DERBY -- 14 Entries
1st--WORSHAM'S SUPER SPORT, 1680553, pointer male, by Touch's Knight Rider--Touch's Maswood Anne. Joe Worshman, owner and handler.
2d--GREYPOINTE OSO, 1678566, pointer male, by Whippoorwill Justified--Greypointe Invierna. Douglas Meyer, owner and handler.
3d--H P DIAMOND BACK, 1681401, pointer male, by Wiggins Elhew River--Wiggins Miss Match. Rodney Shoemaker, owner and handler.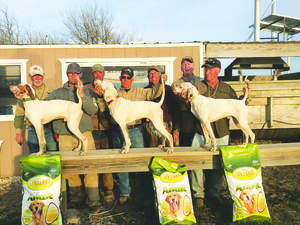 Open Derby Winners. From left: Joe Worsham and Steve Auxier with Worsham's Super Sport, Judge Matt Cochran, Kirk Swanson and Doug Meyer with Greypointe Oso, Judge Lynn Oxendine and Rodney Shoemaker with H P Diamond Back.