Result: National Amateur Chukar Championship
Location: Reno, Nevada
Post Date: May 29, 2019
Submitted By: Jared Tappero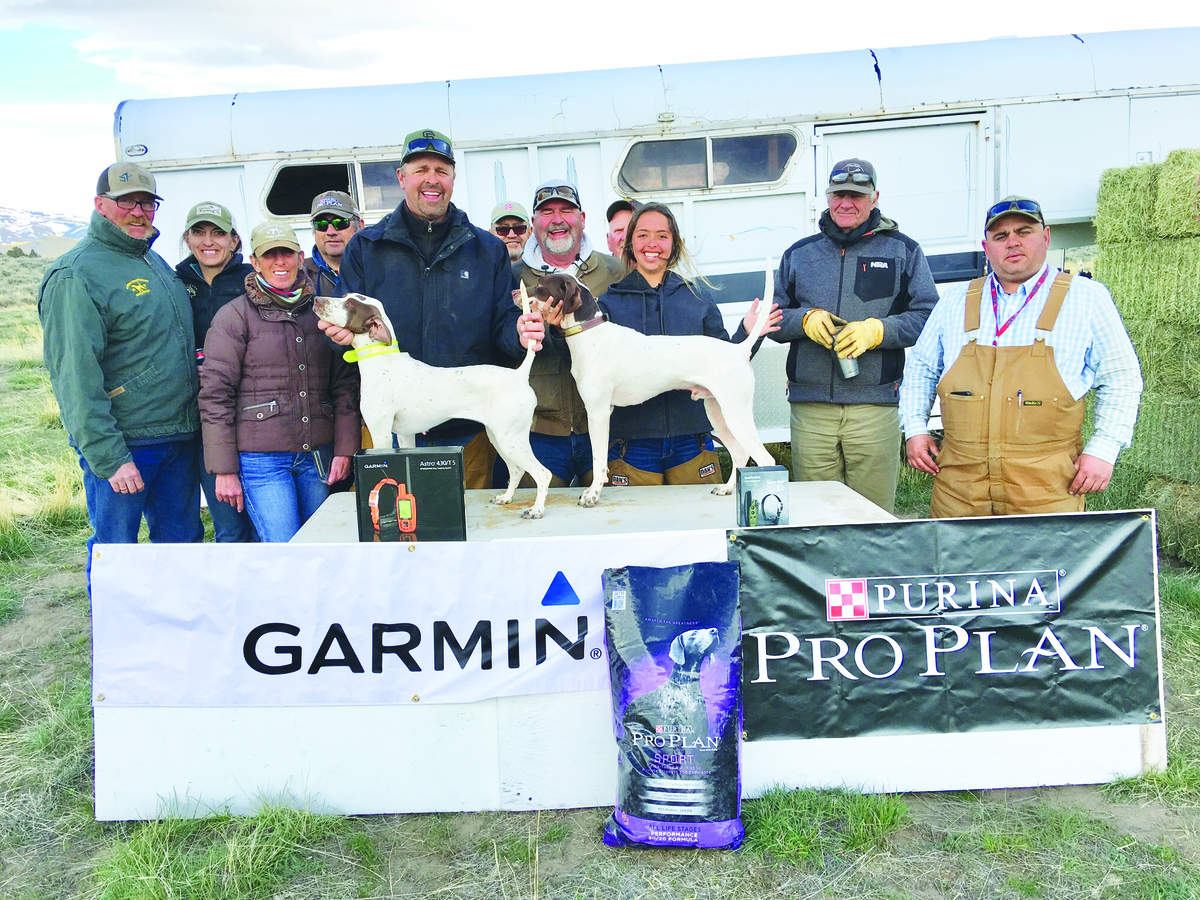 The Winners. From left: Jared Tappero, judge; Holly Higgins, Lori Steinshouer, judge; Todd Schaaf, Sean Kelly with Rocking J's Amy, Mike Wilkin, Jarry Walton, Ed Mayhew, Kay Kelly with Kelly's I B Butler, Bill Owen and Brad LaVerne, Jr.
RENO, NEV. -- The AFTCA National Amateur Chukar Championship was held this year in Region 11 at the BLM Red Rock venue, Reno, Nev., co-hosted by the Bay Area Bird Dog Club, and held in conjunction with the Western Championships which followed.
The Chukar Championship is on a three-year rotation between venues in Regions 9, 10 and 11. All three regions have native chukar habitat.
The Chukar Championship was drawn along with the stakes of the Western Championships Friday evening, April 12, at the Bonanza Casino in Reno. The banquet room was once again the venue. AFTCA and the Bay Area Club providing appetizers and a no-host bar for all who attended.
Dogs were on the line promptly at 8:00 a. m. Saturday, April 13. The stake concluded late afternoon on Sunday, April 14, after two full days of running.
This Purina Amateur All-Age Award Points stake drew and started a total of 24 entrants -- 22 pointers and 2 setters. A contingent of field trialers representing Nevada, Idaho, California, Oregon, Washington and Iowa, helped make this a very successful event.
The Winners

Named champion was Rocking J's Amy, two-year-old white, liver and ticked pointer bitch owned and handled by Jarry Walton of Reno, Nev. Amy ran in the 11th brace into a gusty headwind. Her race was edgy and extreme, and did require some scouting at times.
Initially Amy was through the junipers and high on the first ridgetops. In the rocks she was back to the front and then forward across the road where she was found standing at 25 next to the big rock pile; head and tail high, her birds were flushed, all in order at the shot.
Amy was then forward across the big plateau and onto the lower contour of the Peterson's where she showed nicely at range. Amy finished her hour in the basin near the second spring with plenty left in the tank.
Kelly's I B Butler, coming three-year- old white, liver and ticked pointer dog owned and handled by Sean Kelly of Loomis, Cal., was named runner-up.
Butler ran in the fourth brace which started at the upper spring. At cast-off Butler was forward rounding the bluff and showed distantly in the upper basin while moving toward flox hill. As the gallery approached flox hill, Butler was found standing at 12 on the flat, his birds pinned. Head high and tail at 12 o'clock, his birds were flushed, all in order at the shot. Butler then ran the edge of the plateau and through the lower rocks where he showed at range. Through the gate, across Brittany road, and through the junipers, Butler's race was forward, pushing the limit. He finished his hour going away near the last juniper patch.
Sorting the two dogs out came down to the edginess of Amy's race versus the more direct race run by Butler. On that day Amy showed the "runs off, but not quite" type of race sought by the judges.
Both dogs are young and show great promise.
THE OTHERS
Brace No. 1. Gotta Little Project (Todd Schaaf) was seen briefly after breakaway fading right and never returned to the front. The retrieval device was requested at 25. Touch's J Class (Marc Cuneo) made some big moves initially on the first high ridge, then ran a more circumscribed race. J Class ran with a high head and tail and was forward throughout his hour which he finished birdless.
Booneville Bullet (Cuneo) stretched things out initially, then came to the front and stayed in the pocket. He had a find at 50 above the junipers and finished at moderate range. Kelly's Rebel Louie (Kelly) ran big and was to the front the entire brace. Louie had a well-handled and stylish find just before time at the last juniper patch.
Painted Mad Max (Ledington) had two well-handled finds at 5 and 19, both producing chukar. Max's race was a little erratic and he didn't push the limits of the course. Lone Tree Splish Splash (Bill Owen) was found standing at 10 in the rocks with high style. After a prolonged flushing attempt, in which some movement did occur, a chukar was seen buried in the rocks and a shot fired. Splash showed nicely and pushed the limits at times.
In No. 4, Kelly's I B Butler, the runner-up, was braced with Far West Ridge Runner (Mike Wilkin) which had a big forward race but produced no birds.
Frontline Rebelator's Fly (Blake Edwards) had a moderate and wide uphill hour into the wind. At 50 on the contour of the Peterson's, Fly had a stylish find. At flush and shot all was in order. Northwoods Charles (Owen) went through the country nicely and stylishly backed Fly at 50, but finished his hour birdless.
Game Time (Edwards) was lost, last seen running to the front. The retrieval unit was requested at 20. Set Up Man (Jim Rose) was big and wide at times, but for the most part ran a more moderate race. Man had a stylish find at 15, and another at 20 in which he showed a little movement. He finished his hour at the junipers at the edge of the big basin.
Tucalota's Blew (Ed Mayhew) was wide right at first then came to the front after a good lapse in contact. At 22 Blew was found standing in the rocks with 12 o'clock style, all in order at flush and shot. Blew finished his hour at moderate range along the end of the Peterson's. Sonoma Strong (Cuneo) was to the front his entire hour and ran a moderate race. At 55 on the contour where the big basin meets the Peterson's, "Hank" went on point, all in order at flush and shot.
West Mountain Lucky Luke (Rich Heaton) made some big moves initially, finishing his hour at moderate range without bird work. Painted Owyhee Toad (Ledington) had well-handled finds at 9 and 14, but his race did not meet the standard.
Tekoa Desert Firewheel (Higgins) was forward but short her entire hour, finishing without bird work. Rocking J's Liz was picked up at 20, her performance not pleasing handler Jarry Walton.
S F Fullcolor (Larry Smith) scored at 5 near the first bluff above the trail. Head and tail high, all in order at flush and shot. Fullcolor's race was moderate at first then she opened up and got big and wide. She finished her hour going away at range. Tucalota's Rebel Rush (Mayhew) had two well-handled and stylish finds at 15 and 58. He was to the front the entire hour, having a couple big moves, but was mostly at moderate range during the hour.
S F Bandwagon (Smith) was consistently big and forward, into a gusty headwind his entire hour, but went birdless. Rocking J's Amy, the winner, was covered earlier.
S F Stetson (Smith) was to the front and forward across the bluff, and at 10 was found standing along the edge of the big basin. Head and tail high, all was in order at flush and shot. Stetson finished his hour to the front but his range never met the standard. Idaho's Lucky Duramax (Heaton) was to the front across the bluff, then found standing at 8; a short flushing attempt produced a running pair of valley quail for the staunch dog, all in order at the shot. Duramax ran a moderate race initially, then went wide and extreme to the front. He was shown to the judges just before his time had elapsed.
Judges were Lori Steinshouer of Reno, Nev., and Jared Tappero of Greenville, Cal. Both judges have competed in and won in all-age competition with dogs they have raised and trained, and are avid chukar hunters when not field trialing. Their time in the saddle, and eye for a good all-age performance, was much appreciated. Their decision was well-received.
There were a total of nineteen finds in the twelve braces, eighteen on chukar and one on valley quail. There are a fair number of wild chukar in the area, but not enough to run a trial solely on wild birds. Liberated birds were released every morning and during each brace, to help ensure there would be sufficient bird numbers.
Weather both days was moderate with morning temperatures in the mid-to-high 30s, and highs in the high 60s Saturday, and mid-50s Sunday. The Peterson Range, which borders a good portion of the grounds, was still heavily snow-capped.
Sponsors for the stake included Garmin and Purina. Garmin supplied an Astro 430/T5 tracking collar to the champion, and a Tri-Tronics Sport Pro training collar to the runner-up. Purina supplied dog feed to both champion and runner-up, and covered the ad in The American Field. Both companies provide high quality performance products and we are fortunate to have them as sponsors for our events.
The Bay Area Bird Dog Club and AFTCA provided lunches, snacks, and refreshments daily for all participants and attendees. Both organizations would like to thank those who helped tackle chores on the grounds during the stake; Holly Higgins, Mike Wilkin, Sean Kelly, Bill Owen, Ed Mayhew, Rich Heaton, Todd Schaaf, Larry Smith, Jim and Bridget Ledington, Jim Rose, Blake Edwards, Hunter Grundmeyer, and Marc Cuneo for supplying a case of wine for the mid-week dinners.
Brad LaVerne, Jr. was back again this year as wrangler, dog truck driver, and go-to guy; his help was much appreciated.
Many thanks again to all who travelled great distances to participate and provide sufficient numbers to put on a quality field trial. We were fortunate to have such a great turnout.
Reno, Nev., April 13
Judges: Lori Steinshouer and Jared Tappero
NATIONAL AMATEUR CHUKAR ALL-AGE CHAMPIONSHIP
[One-Hour Heats] -- 22 Pointers and 2 Setters

Winner--ROCKING J'S AMY, 1676205, pointer female, by Smaks Lemon Express--Cache Creeks Most Wanted. Jarry Walton, owner and handler.
Runner-Up--KELLY'S I B BUTLER, 1675374, pointer male, by Kelly's Rebel Louie--Wells Fargo First Lady. Sean Kelly, owner and handler.