Result: National Weimaraner National Championships
Location: Conway, Arkansas
Post Date: Jul 26, 2019
Submitted By: Chris Meyer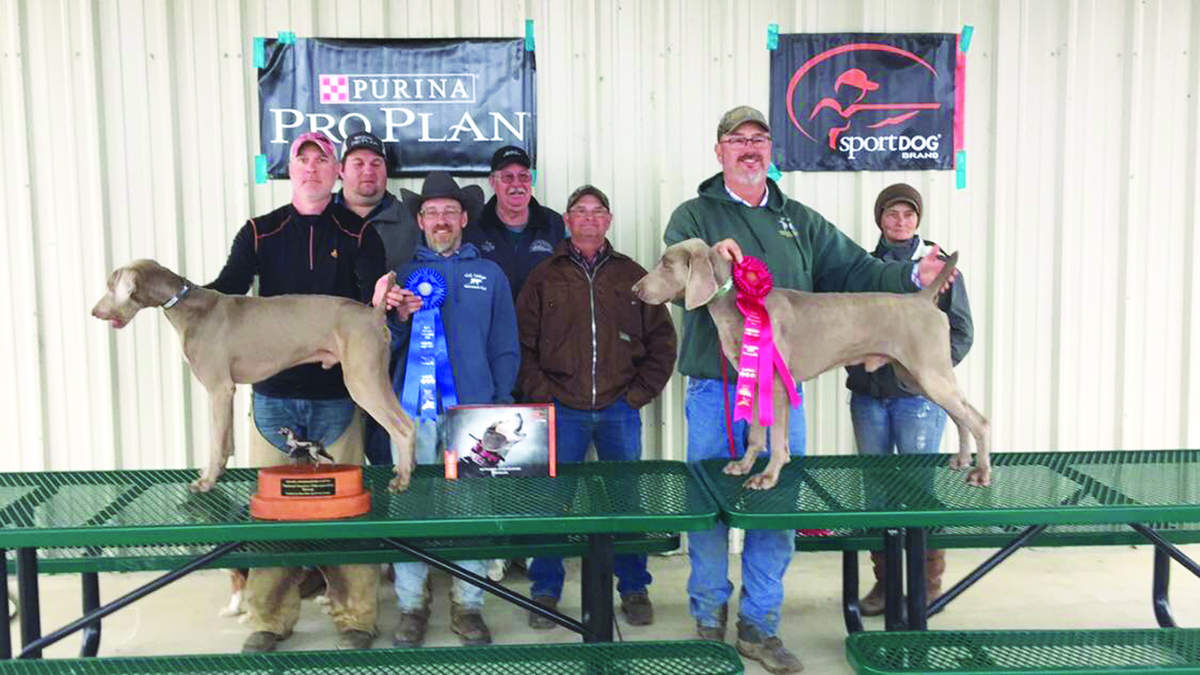 Amateur Championship Winners. From left: Mike Green with Silvershot's Otto v Knapp, Gary Lytle, Mike Wiacek, Ray Nowell, Judge Jim Wallace, Brian Reynolds with Brymar's Ode To Reiteralm and Judge Meredith Mays.
CONWAY, ARK. -- We once again gathered at the Camp Robinson Field Trial Grounds for the running of the National Weimaraner Association National Open and Amateur Championships, and Open Derby.
The grounds and company were outstanding as always. It was also nice to see a few new faces among the competitors. The weather cooperated for the most part aside from a little bit of fog and rain that we were able to work around.
Open Championship
Grau Geist's On The Prowl Fins Up (Shark/Diane Vater) and Brymar's All Throttle No Bottle (Nitro/David Reynolds) started independently and handling kindly but with some inconsistency in their patterns. Shark encountered birds twice during his hour, the second was with Nitro close by. Unfortunately the judges were unable observe any actual bird work.
Silvershot's Otto v Knapp (Vater) ran an independent race but lacked the punch the judges were looking for. Silverthorn's Snapper Jim (Michael Green) hit the cover hard and looked in likely places for birds. Unfortunately neither dog was able to find birds.
Neither Heartbeat's Livin For Lumpy's Slim (Vater) nor Brooksberg's Rolling Thunder (Spark/Cooper) was pleasing their handler and both were picked up before time.
Saga's Major Cage (Vater) and Brymar's Six Pack Cuda (Charlie/Reynolds) hunted hard and were checking the lines. In spite of their efforts neither dog was able to pin down a covey during their hour.
She Thinks My Trax Tor's Sexy was not hunting to handler Cooper's liking and was up early. Westweim's Dodge City's Marshal Trax v Edelweiss (Vater) did not fare much better and was up a short while after.
Brymar's Lambeau Leap JDB (Reynolds) was up early after moving on a stop to flush. Heartbeat's Stone Cold Stihl (Vater) hit the cover hard but only produced an unproductive.
Higear's Ottomatic Overdrive (Otto/ Ray Nowell) and Brymar Unser Graf v Braunfels (Reynolds) hunted hard with Graf taking to the cover a bit more. Graf did slam a hard point but when Mr. Reynolds went to flush all he saw was a skunk. The judges did offer him a chance to make the critter fly; however, he elected to move on before causing a stink.
Unfortunately with no clean bird work during the stake the judges had no choice but to withhold all placements.
Conway, Ark., March 8
Judges: John Hott and Mike Martin
NATIONAL WEIMARANER OPEN SHOOTING DOG CHAMPIONSHIP [One-Hour Heats] -- 14 Weimaraners

[Placements Withheld]
AMATEUR CHAMPIONSHIP
Winning the Amateur title was Silvershot's Otto v Knapp, coming six-year-old male owned by Gary Lytle of Lanesville, Ind., and handled by Mike Wiacek.
Runner-up laurels were won by Brymar's Ode to Reiteralm, eight-year-old male owned and handled by David Reynolds of Troy, Tex.
Judges: Meredith Mays and Jim Wallace
NATIONAL WEIMARANER AMATEUR SHOOTING DOG CHAMPIONSHIP [One-Hour Heats] -- 14 Weimaraners
Winner--SILVERSHOT'S OTTO V KNAPP, 1685235, male, Heartbeats Chevy Stingray--Silvershot's Artful Dodger. Gary Lytle, owner; Mike Wiacek, handler.
Runner-Up--BRYMAR'S ODE TO REITERALM, 1657162, male, by Camelot's Knockin on Heaven's Door--Axels Reiteralm Chica v Kasamar. David Reynolds, owner and handler.
Judges: John Hott and Mike Martin
NATIONAL WEIMARANER OPEN DERBY -- 8 Weimaraners
1st--CRIS D'S MAKING A STATEMENT, 1683583, male, by Thorton Hey Hugh Frank Der Hand Ca--Heartbeat's Anita Cookie. Diane Vater, owner and handler.
2d--SOUTHPAW'S OTTERCREEK LET ME SEE YA GIRL, unreg., female, by Silverthorn's Snapper Jim--Southpaw's Ottercreek Bailee Belle. Jamey Kit Tanner, owner; Diane Vater, handler.
3d--SMOKEY TOPAZ N BARRETT'S SANTA MARGARITA, unreg., female, by Knight Barrett's Pioneer Mountain Man--Weimshadow N Smokey Topaz's. Barry & Kim Burnell, owners; Kim Burnell, handler.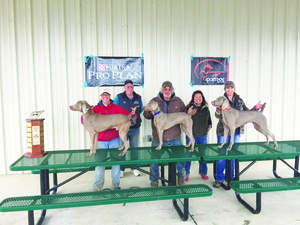 Open Derby Winners. From left: Diane Vater with Cris D's Making A Statement, Ray Nowell, Chuck Cooper with Southpaw's Ottercreek Let Me See Ya Girl, Kim Burnell and Annette Rogers with Smokey Topaz N Barrett's Santa Margarita.