Result: Central Connecticut Bird Dog Club
Location: East Windsor, Connecticut
Post Date: Jun 27, 2019
Submitted By: Tom Gates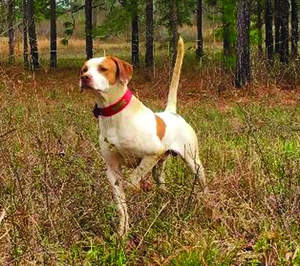 Miller's Big Iron Second in the Open Shooting Dog Stake
EAST WINDSOR, CONN. -- The Central Connecticut Bird Dog Club staged its annual spring trial May 17-19 at the popular Dr. John Flaherty Field Trial Area in East Windsor, Conn. The five-stake event attracted dogs from up and down the East Coast. This was the 59th consecutive renewal of the club's spring trial.
The Casale family again hosted the event. Chairman Gene Casale was joined by his wife Pam, daughters Anna and Heather with their boyfriends John and Mike. Additionally, Gene's son Dr. Joel Casale was up visiting from Boca Raton, Fla. Joel is a great dog man. He assisted in bird liberation and judging.
The Flaherty Field Trial Area has quietly undergone a very positive transformation over the past few years. Flaherty Association President Dick Frawley has created a major renovation plan for the area.
This location was first used by the Associated Field Trial Clubs of Connecticut in the early 1930s. The venue (aka Pelton's Pasture) has evolved into the premier location of major field trials in the Northeast. Over thirty field trials will be run at this location in 2019, many of which are bird dog and continental breed championships.
In cooperation with the fantastic people from Connecticut Department of Energy and Environmental Protection, Dick Frawley has scheduled major culvert replacement and road projects for this summer to allow better drainage and land access. Major mowing and grooming efforts will follow in the fall with clubhouse projects almost completed for the year.
The Central Connecticut Club wishes to thank Dick and all the hardworking folks at Connecticut DEEP for their support and contributions.
The club wishes to extend a huge thank you and "well done" to Kevin Stuart, Dave O'Brien, John Malone, Mike Tracy, Gene Casale and Dr. Joel Casale for their fine judicial work. Their decisions were applauded by all.
The Central Connecticut Club is famous for their handlers' dinners. The club has always persevered to provide an opportunity for everyone attending to gather and socialize. This year Gene Casale provided a fried chicken, potato salad and cole slaw dinner on Friday night. Saturday evening Tony Forte served a fantastic offering of chicken cutlets, ziti, sausage/onion/peppers, garden salad and bread. Tony is "the" expert at preparing a fantastic dinner. For nearly forty years, Tony has provided the club's Saturday night handlers' dinner. I truly believe that some folks attend the trial just to enjoy Tony's cooking!
Pam Casale topped off the meal with a great strawberry shortcake dessert. With over twenty attending, the dinner was again a great success with a good time being had by all.
At Tony's direction, a moment of silence and prayer was held to remember Hall-of-Famer and longtime club president Eugene L. Casale who passed away in February, 2019.
OPEN STAKES
The Open Shooting Dog started things off on Friday with all-day heavy rain and a chilling north wind.
Mike Tracy put on a show with Winterset's Attitude (Joe), a snappy setter male that took the blue for his first placement of the weekend. Joe was fast, hitting all the edges and finishing strong to the front. His three quail finds noted a very lofty stance and he was frozen like a statue at flush. Nice dog. Miller's Big Iron (Tex) earned second. The classy pointer male also carded three nice quail finds in the constant rain. Tex took the muddy cover with great style and endurance, finishing far to the front. Mike guided Miller's War Bonnet to third completing a sweep of the stake. This pointer seemed to enjoy the sloppy, muddy conditions. "Sis" was a fireball. She knew where to find birds and hit the cover aggressively in a heavy downpour. Two covey finds and a far-reaching finish made her a sure bet.
The Scotty Creel Open Derby is run in remembrance of a club member who touched everyone's heart. Scotty was a true hero in life, saving many people as a Waterbury, Conn., fireman. Scotty's life was cut short from numerous episodes of smoke inhalation and horrific injuries fighting fires. His memory will live on forever.
Suemac's Tiger Rose won the coveted stake for Mike Tracy. The pointer female impressed everyone with a driving performance and three finds in terrible conditions. She earned this one. Rose took the hard route. She found birds where others didn't; showing a picture-perfect stance on each find -- nice high tail. Matt Basilone has one to watch in the future with Harbor City Crusher taking second. This Tom Brigman dog has a future. He logged two covey finds and a wet single with all the style necessary to win any shooting dog stake -- anywhere. Very nice dog. Out On Bail carded third for Mike Tracy with a show of determination during another very heavy downpour. The pointer scored twice on wet singles. He had a lot of bottom and finished going away as a distant dot at time.
The Guard Rail Open Shooting Dog is a very competitive and cherished event. Each year the top dogs of the East Coast gather to compete for a placement in this coveted event. Named in honor and remembrance of Gene Casale's Hall of Fame pointer, the club feels that placing in this stake is like placing in a championship due to the high level of competition. This year twenty top dogs competed for the honors.
Lloyd Miller was in the gallery on Saturday as handler Matt Basilone took first with Limbsmoke Polar Express. This setter was just "perfect" carding three spectacular covey finds and a back of bracemate. He ran the limits, but just flowed with Matt. Nice high straight tail on point. On one find Polar Express had perfect manners with birds running all around him. He finished way to the front being pointed out on the power line at time. Very nice job.
Sal Morelli was on hand as Mike Tracy took his Cheyenne Jack to second in this highly competitive stake. Just back after gaining runner-up laurels at the 48-dog Michigan Open Shooting Dog Championship, this young rising star is going to become another famous Sal Morelli dog. This day Jack did it all. He ran hard with exceptional style, hitting the edges and being rewarded twice with big covey finds. A picture on birds, Jack was motionless at flush. Jack also finished far to the front -- driving hard.
After taking first in the other shooting dog stake, Winterset's Attitude (Joe) gained third in a highly competitive field. The Tom Winters/Earl Drew setter handled by Mike Tracy was just spectacular. I wish our good friend Earl Drew could have seen this brace. Joe is a young shooting dog, but ran like an old seasoned dog this day. Found standing on his first find, Joe was high and tight, motionless as Mike lifted a nice covey. His second find was a little off course on a single buried in the cover. Nice finish. Nice dog.
East Windsor, Conn., May 17 -- One Course
Judges: Gene Casale and David O'Brien
OPEN SHOOTING DOG -- 9 Pointers and 1 Setter
1st--WINTERSET'S ATTITUDE, 1675164, setter male, by Adjusted Attitude--Winterset Nuthin To It. Tom Winters & Earl Drew, owners; Mike Tracy, handler.
2d--MILLER'S BIG IRON, 1681068, pointer male, by Miller's Dialing In--Mandalay Miller Bell. Allen Linder, owner; Mike Tracy, handler.
3d--MILLER'S WAR BONNET, 1681100, pointer female, by Sugarknoll War Paint--Nehawka Amazin Sue. Joe McHugh, owner; Mike Tracy, handler.
Judges: David O'Brien and Kevin Stuart
SCOTTY CREEL OPEN DERBY -- 6 Pointers and 1 Setter
1st--SUEMAC'S TIGER ROSE, 1676338, pointer female, by Bail Me Out--Gun Runners Ruby Jet. Roger McPherson, owner; Mike Tracy, handler.
2d--HARBOR CITY CRUSHER, 1679506, pointer male, by Mohawk Mill Pirate--Ready Fork Christy. Tom Brigman, owner; Matt Basilone, handler.
3d--OUT ON BAIL, 1679518, pointer male, by Bail Me Out--Gun Runners Ruby Jet. Casey Hollander & Jim Morrell, owners; Mike Tracy, handler.
Judges: John Malone and Kevin Stuart
GUARD RAIL OPEN SHOOTING DOG -- 20 Entries
1st--LIMBSMOKE POLAR EXPRESS, 1666195, setter male, by Grouse Woods Skeeter--Riley's Last Call. Lloyd Miller, owner; Matt Basilone, handler.
2d--CHEYENNE JACK, 1668503, pointer male, by Great River Ice--Blaze's Isis. Sal Morelli, owner; Mike Tracy, handler.
3d--WINTERSET'S ATTITUDE, 1675164, setter male, by Adjusted Attitude--Winterset Nuthin To It. Tom Winters & Earl Drew, owners; Mike Tracy, handler.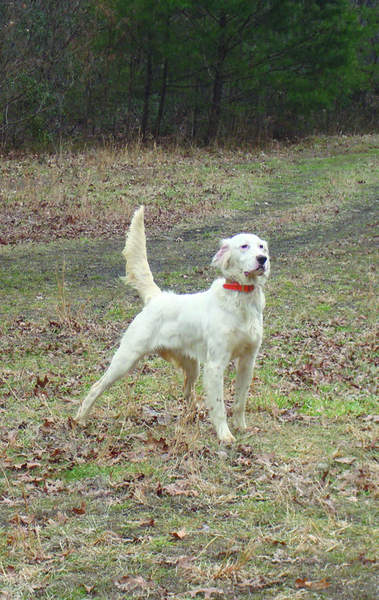 Limbsmoke Polar Express First in the Guard Rail Open Shooting Dog Stake

AMATEUR STAKES
The Amateur Derby saw six young hopefuls impress the judges in a very close competition on Sunday. Jim Thomas was down from upstate New York taking the blue with nice pointer male Thomas Adirondack Mick which bested the field with a strong forward effort. Mick carded two nice finds with multiple birds lifting on each find. Very stylish, Mick had plenty of bottom finishing way to the front on the power line.
Jim Thomas also gained second with a classy littermate, Thomas Adirondack Tripp, which was fast and deliberate. His two quail finds exhibited great style and manners. Tripp finished strong and wanted to go another half-hour when time was called. Shoot Me Straight (Doc) was a handful for seasoned handler John Malone. Doc has all the tools to make a great open shooting dog. This pointer traded ends on his first find and was rock solid on a single. He also had a big covey find just past fox hill. Great race.
The Milo Wilkenson Amateur Shooting Dog remembers a charter club member who spent countless hours acquiring and enhancing field trial grounds.
John Malone put on a show with It Ain't My Fault (Ben), a classy pointer male. Ben ran the limits scoring three times on quail coveys. This dog is a pleasure to watch on point; his lofty stance is intense. Ben finished strong going away. Gene Casale took second with his popular Railway Jill which is pretty moving and very consistent. She logged three beautiful finds, one in a "dug-up" location. I really like watching this dog. Lloyd Miller carded third with Limbsmoke Skeet Rock which took in the whole country, hitting all the edges and bird locations. Lloyd did an admirable job showing the fast setter male. Two singles with perfect manners made Rock a sure bet.
Judges: Kevin Stuart and Mike Tracy
AMATEUR DERBY -- 6 Pointers
1st--THOMAS ADIRONDACK MICK, 1675099, male, by Bail Me Out--Gun Runners Ruby Jet. Jim Thomas, owner and handler.
2d--THOMAS ADIRONDACK TRIPP, 1675100, male, by Bail Me Out--Walden's Ridge Liz. Jim Thomas, owner and handler.
3d--SHOOT ME STRAIGHT, 1684874, pointer male, by It Ain't My Fault--Chasehill Baby Bella. John Malone, owner and handler.
Judges: Dr. Joel Casale and Kevin Stuart
MILO WILKENSON AMATEUR SHOOTING DOG -- 8 Pointers and
3 Setters
1st--IT AIN'T MY FAULT, 1672101, pointer male, by Erin's War Creek--Richfield Almond Joy. John Malone, owner and handler.
2d--RAILWAY JILL, 1646811, pointer female, by Rail Dancer--Ginny Rail. Gene Casale, owner and handler.
3d--LIMBSMOKE SKEET ROCK, 1663261, setter male, by Grouse Woods Skeeter--Fort River Rockaloo. Lloyd Miller, owner and handler.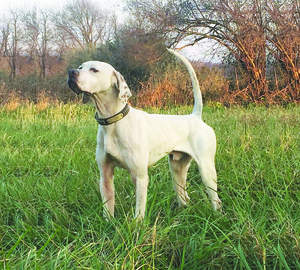 Cheyenne Jack Second in the Guard Rail Open Shooting Dog Stake