Result: Southwest Missouri Open Shooting Dog Championship
Location: Grovespring, Missouri
Post Date: Dec 19, 2019
Submitted By: Ken Schmidt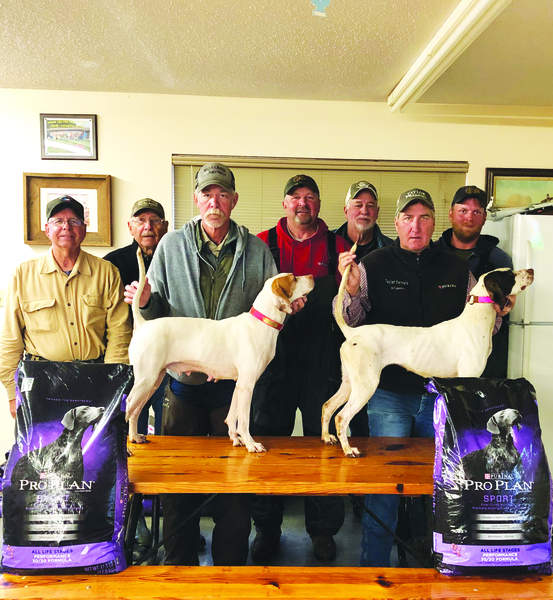 Championship Winners. From left: Doug Meyer, judge; George Hill, Virgil Moore with In Swami's Shadow, Shawn Kinkelaar, Hank Jansen, Eddy Taylor with Hale's Southern Touch and Tommy Thomas, judge.
GROVESPRING, MO. -- The Southwest Missouri Open Shooting Dog Championship got off to a great start beginning with the drawing on Wednesday, October 16. The field consisted of 61 championship entries, with 21 Derbies competing.
These entries came from many different states to vie for this prestigious title.
The venue at Grovespring continues to improve with the addition of 50 new kennels, 18 pull through RV hookups complete with water and electric and 16 new 20 x 30 pipe horse corrals.
Under grounds manager Jim Lowery the facility is groomed to perfection to allow each dog ample opportunity to show well, along with a fall release of 1200 quail producing large coveys. Call birds are supplemented in the morning and restocked for the afternoon thus creating a level playing field for all competitors.
Our judges for the 2019 renewal were Jay Lewis of Ashland, Mo., and Tommy Thomas of Somanuak, Ill., and Doug Meyer of Tonganoxie, Kan. These three individuals are all more than qualified to fill the judicial saddles.
Jay competes in open and amateur trials and has had great success with the dogs he has campaigned. Doug competes from the prairies to the Midwest to the South with an excellent and always competitive string of all-age dogs. Tommy campaigns his string of Brittanys throughout the country and raises the level of competition at any event he attends.
It takes teamwork to put on a trial of this caliber and I am fortunate to have a team that consists of the following: George Schmidt (dog wagon), Jim Jackman (morning bird planter). This year assisting was Jim's niece Andra attending her first field trial. Hank Jansen (marshal and restocking birds); George Hill (marshal); Kipp Linard (restocking birds). All of the above contributed to make this a successful trial.
OPEN DERBY
In the Open Derby, with Jay and Tommy judging, the winner emerged as Westfall's Wheels Up, pointer male handled by Andy Daugherty and owned by Bill Westfall. Wheels Up ran a big forward race through sycamore bottoms and finished strong with a find at 25 headed toward the twin barns.
Second was garnered by Purpleline Sally, pointer female owned and handled by Chuck Stretz. Sally ran a very classy upfront race and had a nice find with all in order on apple tree hill.
Chelsea's Mae West, a promising stylish pointer female owned by Brad Sadler and handled by Shawn Kinkelaar, placed third.
Grovespring, Mo., October 21
Judges: Jay Lewis and Tommy Thomas
OPEN DERBY -- 15 Pointers, 2 Setters and 4 Vizslas
1st--WESTFALL'S WHEELS UP, 1680653, pointer male, by Westfall's Black Ice--Westfall's Quick Trick. Bill Westfall, owner; Andy Daugherty, handler.
2d--PURPLELINE SALLY, 1685424, pointer female, by House's Ring of Fire--Touch's Blaylock Bess. John C. Stretz, owner and handler.
3d--CHELSEA'S MAE WEST, 1686810, pointer female, by Chelsea's Thunder Bolt--Chelsea's Southern Chic. Brad Sadler & Chelsea Plantation, owners; Shawn Kinkelaar, handler.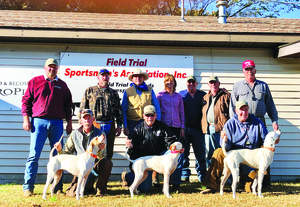 Open Derby Winners. From left: Shawn Kinkelaar, Virgil Moore with Chelsea's Mae West, Jay Lewis, judge; Chuck Stretz, George Hill with Purpleline Sally, Marla Stretz, George Schmidt, John Hott, Andy Daugherty and Eddy Taylor with Westfall's Wheels Up.
CHAMPIONSHIP WINNERS
The Championship commenced on Tuesday morning with Doug Meyer and Tommy Thomas presiding. Chelsea's Thunder Bolt hit the ground running rendering a strong forward race with a find just before the first road crossing at 16, all in order, and another find at 54 before the start of little vine loop for handler Kinkelaar.
Hale's Southern Touch was loosed at the morning start in brace No. 7 and at the first creek was crossing well out front. Just before the first road crossing call of "Point!" at 16 with all in order.
Southern Touch was released and went quickly ahead into the expansive Davis bottom. Her second find was on the left side near the cross treeline at 23. Moving forward toward horseshoe loop she scored again before dropping down in the creek only four minutes from her last stand. On the forward move again up and out in the island field finding another bevy at 31. Continuing on the left edge ahead and out of sight into the valley before horse killer hill. Riding up out of the island field Kinkelaar again raised his hat as Touch stood staunchly along the right side at 39.
Continuing on with drive and determination her final stand came at 51 at the start of little vine loop. This left nine minutes to show there was still gas in the tank with plenty of drive as the finish was strong and to the front.
In Swami's Shadow ran in the 17th brace. Although the bar had been set high Kinkelaar pushed Shadow as she ran a strong, forward and exciting ground race. She scored with finds at 21 and 46 with superb style and class. With another find or two a very tough decision would have been presented to the judges.
Owners of Southern Touch, Dr. Jeffrey Hale, and In Swami's Shadow, Bill and Mary Sand, have reason to be proud owners of two outstanding competitors. With Swami's runner-up position this completed the sweep for handler Shawn Kinkelaar.
Other competitors that were a pleasure to watch were Bangert's Red Baron, handled by Brian Gingrich. Baron's owners, the Bangert family, were in attendance. And the previously mentioned Chelsea's Thunder Bolt.
I would also like to thank all the participating handlers; Harold Gearhart, Eddy Taylor, Virgil Moore, Shawn Kinkelaar, Brian Gingrich, Jeff Wagoner, Chuck Stretz, Tom Woods, Scott Beeler and Ed Smith.
And Purina for their continued support, and the Lee Cruse Trust for additional purse money which makes this a very lucrative competition for the winners.
[As a footnote, anyone interested in chairing this prestigious Championship please contact me at (314) 330-1789. I have announced my retirement from active field trials after the 2020 season. Field trialing has been a memorable and enjoyable part of my life for quite some years, but as time goes by, priorities change and time certainly seems to go more quickly. For further information please give me a call.]
Judges: Doug Meyer and Tommy Thomas
SOUTHWEST MISSOURI OPEN SHOOTING DOG CHAMPIONSHIP
[One-Hour Heats] -- 49 Pointers, 3 Setters and 9 Vizslas
Winner--HALE'S SOUTHERN TOUCH, 1644260, pointer female, by Whippoorwill War Dance--Whippoorwill G M A. Dr. Jeffrey Hale, owner; Shawn Kinkelaar, handler.
Runner-Up--IN SWAMI'S SHADOW, 1647249, pointer female, by In The Shadow--Swami's Sequel. Bill & Mary Sand, owners; Shawn Kinkelaar, handler.