Result: Tachibana Bird Dog Club
Location: Kanna River Side
Post Date: Dec 27, 2019
Submitted By: Chiharu Niwa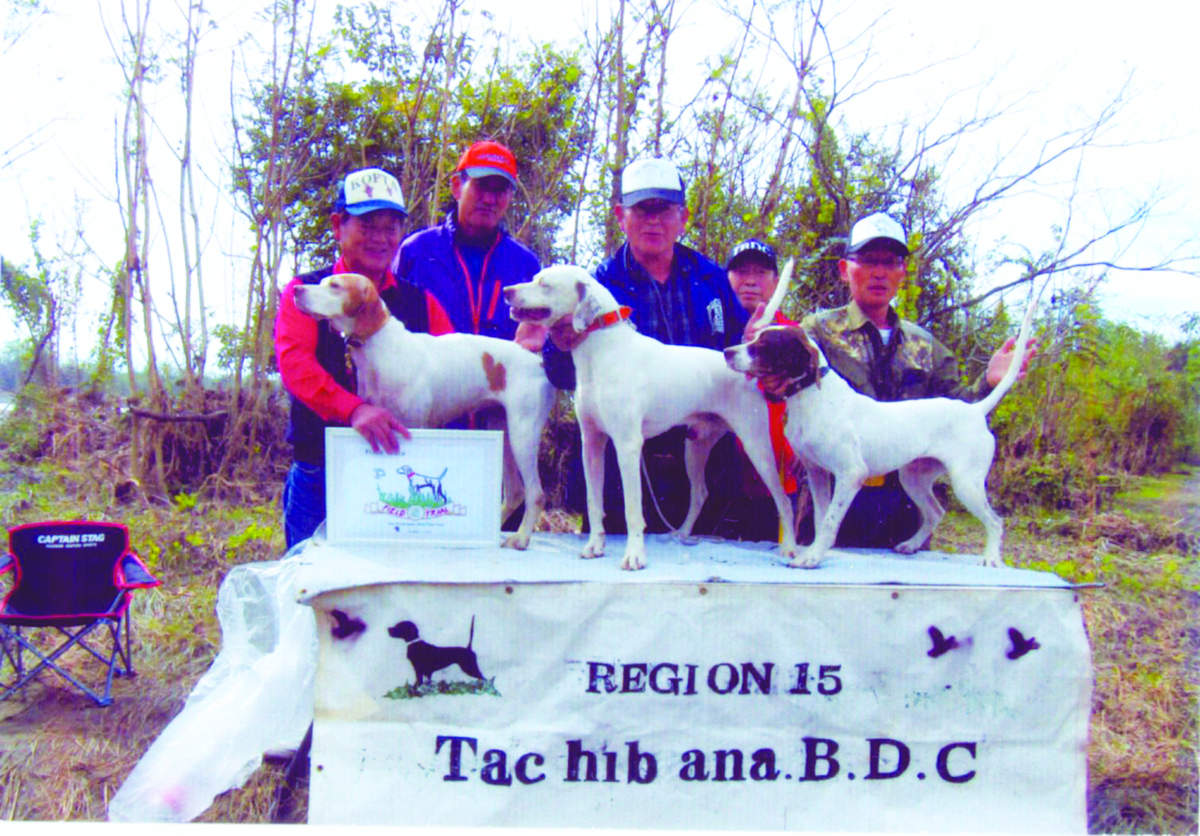 Amateur Shooting Dog Winners. From left: Junji Ishiguro with Mashu Elhew Romee, Judge Hideaki Oaki, Yoshiharu Akisaba with Honey Hunt, Judge Tadashi Takahashi and Yoshiyuki Nagase with Una Amica.
KANNA RIVER SIDE, JAPAN -- We had a fall trial on the Kanna River Side November 3. The usual course sustained some damage due to a typhoon; however, it was maintained by many volunteers. It took time to do the maintenance but it was done by trial time.
Thanks to the members and to the judges, Hideaki Oaki and Tadashi Takahashi.
In the Amateur Shooting Dog, first was awarded to Mashu Elhew Romee with two finds and a good finish. Second placed Honey Hunt had one find and finished commendably. Una Amica, third, logged two finds and also finished in good form.
Kanna River Side, Japan, November 3 -- One Course
Judges: Hideaki Oaki and Tadashi Takahashi
AMATEUR SHOOTING DOG -- 8 Pointers and 2 Setters
1st--MASHU ELHEW ROMEE, 1661799, pointer female, by East Coast Pete--Bosohachiman Guard Rail Berry. Junji Ishiguro, owner and handler.
2d--HONEY HUNT, 1672283, pointer male, by Caladen's Railway Max--The Fighter. Yoshiharu Akisaba, owner and handler.
3d--UNA AMICA, 1647456, pointer female, by Takeda's Silver Rich--Fuyuno River's Ere. Yoshiyuki Nagase, owner and handler.