Result: Robin Gates Memorial Quail Classic
Location: Leslie, Georgia
Post Date: Dec 2, 2021

The Robin Gates Memorial Quail Classic was held on Round Pond Plantation in Leslie, Ga., the second weekend of November.
The judicial saddles were occupied by two well-known and highly successful men in the bird dog world, William Smith of Tennessee and Ross Leonard of Georgia. This great duo judiciously watched all the contenders during the whole trial. Their time and effort to come and judge was greatly appreciated.
Also, we would like to thank Cayla Key for riding and reporting this trial.
Round Pond was in wonderful condition. There were plenty of bobwhite quail throughout the entire plantation. Tracy Swearingen and Neil Walker did an excellent job getting the grounds ready for this trial.
Many thanks to Tracy Swearingen and Will Dunn for marshalling every brace and Al Swearingen for driving the bird buggy. Thank you McArthur Heard for keeping the dirt roads closely monitored so all the horses and dogs were safe.
I would also like to thank Purina for all that they do for our sport.
Christy Swearingen and Debbie Hofer helped prepare lunches daily. We also thank the Walkers for allowing us to keep this wonderful trial on their beautiful grounds. If it wasn't for them, we would not be able to put on this amazing trial.

OPEN ALL-AGE WINNERS
The winners demonstrated what Robin always strived for in his own dogs' performances -- a strong, forward running dog that consistently hunted and reached the course limits. A dog that showed to the front with style and intensity on well-located and well-handled finds, and then finish with strength and purpose. Finally, quality showmanship and good sportsmanship on the part of the handlers and scouts, also a Robin Gates hallmark and important overall judgment of this open classes.
Touch's Gallentin Fire, five-year-old white and orange pointer male owned by Alex Rickert from Montana and handled by Mark McLean, was declared winner with four clean finds at 16, 26, 47, 51. His performance kept you high in the saddle as he impressed everyone with each step he took, exhibiting strength, high style, and lots of class. He hunted diligently and pointed birds with style and perfect manners in a strong, forward race. At the end of his performance, the bar had been set and a true winner was on top.
Erin's Wild Atlantic Way, owned by Chicagoan Sean Derrig and handled by Luke Eisenhart was declared second with five clean finds. The three-year-old white and black setter male had finds at 2, 10, 39, 46, and 56. He also backed his bracemate at 19. He stood with great class and manners. He had a solid drive, hunting with each step. He was all class with an overall nice performance throughout his hour. He had impeccable manners and stood handsomely.
Late Hit, owned by Christopher Campbell of Shreveport, La., and handled by Tom Shenker was declared third. The white and orange pointer male chalked up four clean finds at 7, 24, 44, and 51. In his commendable performance, he tallied a find way off course. His bracemate, Tee's Southern Gentleman, backed him while the quail were being flushed. He displayed excellent manners. He had a good forward race and a strong ground with amazing bird work.
Congratulations to all who participated this year. We look forward to the rotating trophy moving around for years to come!
Leslie, Ga., November 14
Judges: Ross Leonard and William Smith
ROBIN GATES MEMORIAL QUAIL CLASSIC [One-Hour Heats] --
38 Pointers and 4 Setters
1st--TOUCH'S GALLATIN FIRE, 1675102, pointer male, by House's Ring of Fire--Touch's Sandy. Alex Rickert, owner; Mark McLean, handler.
2d--ERIN'S WILD ATLANTIC WAY, 1684809, setter male, by Erin's Hidden Shamrock--T T's Southern Miss. Sean Derrig, owner; Luke Eisenhart, handler.
3d--LATE HIT, 1687601, pointer male, by Miller's Blindsider--Abigale Lil. Christopher Campbell, owner; Tom Shenker, handler.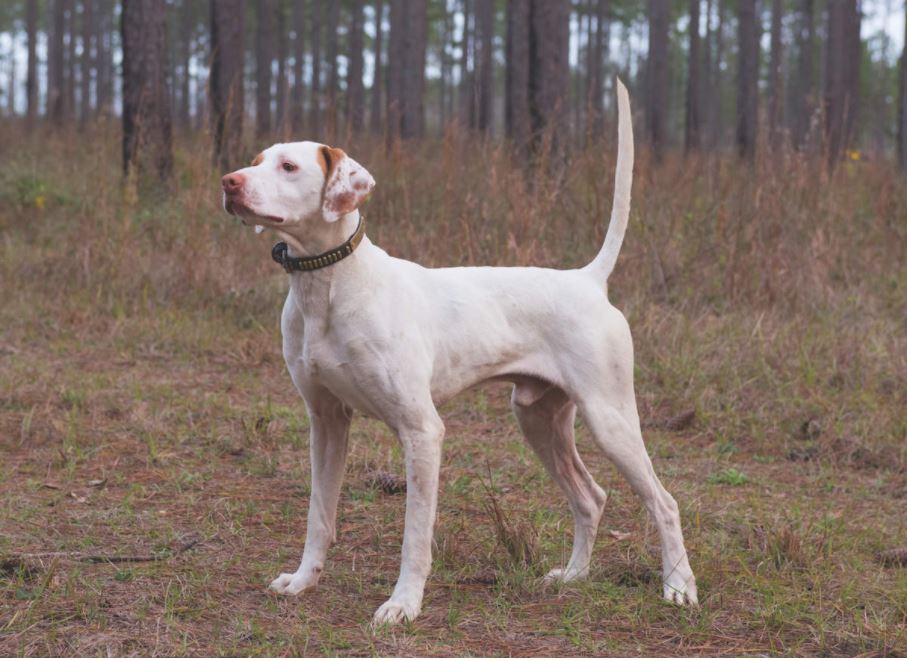 OPEN DERBY
Twelve young contenders were brought to the line for the "Big" Open Derby on Saturday, November 13. Thank you again to judges Ross Leonard and William Smith for their time and experience in placing these hopefuls.
This portion of the event was run in continuous 30-minute heats. The first brace started after lunch on the No. 1 course. For a relatively small entry, at least half of these young dogs rendered very strong performances and had the judges paying close attention.
Supreme Confidence, owned by Claudia McNamee and handled by Luke Eisenhart was declared first. He chalked up cleans finds with one unproductive. He had finds at 11, 14, 21, 27, and 30. At breakaway, he was on a hunt for quail. He had a strong, forward race and exhibited stylish manners with each find.
Dominator's Queen Bee, owned and handled by Judd Carlton was declared second. She ran a strong, forward race with one find at 21. Bee displayed excellent manners with every step she took.
Rester's Powered Up, owned by Cecil Rester and handled by Luke Eisenhart was third. He had clean finds at 6, 12, and 22. He ran a strong classy race with each step he took.
Thank you to everyone who participated in the "Big" Open Derby; without you all we wouldn't be able to make this sport possible.
"BIG" OPEN DERBY -- 12 Pointers
1st--SUPREME CONFIDENCE, 1695979, male, by True Confidence--Hutchison's Storm Chaser. Claudia McNamee, owner; Luke Eisenhart, handler.
2d--DOMINATOR'S QUEEN BEE, 1695485, female, by Miller's Blindsider--Dominator's Red Wine. Jamie Daniels, owner and handler.
3d--RESTER'S POWERED UP, 1694447, male, by Showtime Sam Houston--Rester's Katie Lee. Cecil R. Rester, owner; Luke Eisenhart, handler.