Result: Old Hickory Field Trial Club
Location: Lavergne, Tennessee
Post Date: Feb 6, 2021
Submitted By: Jeff Blackwell
Virgil Beasley Sr. Memorial Amateur Shooting Dog Winners. L to R: Mason Layne, Judge Kay Morrison, Jimmy Gentry, Taylor Gentry with Gentry's Gus, Dereck Layne, Gunner Boyer with Bad Bourbon, Judge Jim Lawless.
LAVERGNE, TENN. -- Heavy fog off Percy Priest Lake caused an hour and fifteen-minute delay for the Amateur Derby at the 2021 running of Old Hickory FTC's Virgil Beasley Sr. Memorial Amateur Shooting Dog Classic in La Vergne, Tenn. Six derbies were drawn and when the 8:45 a.m. whistles were blown, we were underway.
Lane Hodges guided the eventual winner, One Day La Bandita, which scored two stylish finds. Buddy Morrison showed the eventual third-place dog, Windy Hill Shadow Dancer, which had no bird work but laid down a very nice forward race. The second place winner and littermate to La Bandita, One Day Queen Bee impressed the judges with a big forward easy handling race. Queen Bee is also owned and handled by Lane Hodges.
The Virgil Beasley Classic kicked off with Buddy Morrison and his pointer male Windy Hill Mr. Jordan and Buck Heard with his pointer male Heard Hill's Tom Cruizer. Mr. Jordan did not satisfy Buddy and was picked up at 20. Tom Cruizer suffered two unproductives and was up at 32.
Thor for President, setter male owned and handled by Ronnie Rogers, and One Day Daddy Boy, pointer male owned and handled by Lane Hodges were turned loose in the second brace. Hodges requested the retrieval unit at 32 and Thor finished the hour heat with one high-tailed find at 50 in the Banana fields.
Tennessee Farmers Co-op provided a barbeque luncheon on Friday and also sponsored our Orca cooler for the VBC winner. The Co-op has been a longtime sponsor of this field trial and we appreciate all they do for us!
We were back in the saddles after lunch with pointer female Firefly's Invictus guided by Dennis Hidalgo and Phil Morgan's pointer male Southpointe Tranquilizer. Invictus was lost at 30. Tranquilizer wasn't suiting his handler and was picked up at 30.
The final brace of the day saw two pointer females at the line, High Drive Update with Buddy Morrison and Heard Hill's Best Behavior and Buck Heard. Update finished the hour with point called at 57 but was taken on without a flush, a good find at 36 at the Zig Zag, and an unproductive at 7 in the gas line field. Best Behavior was picked up at 36.
Saturday morning started with a bang! Actually six bangs! Former VBC winner Windy Hill War Creek, Buddy Morrison's pointer female had everyone sitting up in their saddles with stylish finds at 51, 46, 40, 34, 30, and 24. Heartbreakingly, War Creek was lost on point at time and was out of contention. Bracemate Katlyn's Jan uncharacteristically had a breach of manners and was picked up at 51.
Red setter male Firefly's Power Play (Dennis Hidalgo) was braced with Heard Hill's Golden Girl (Lynn Heard) next. Power Play had a find at 56 and an unproductive at 1. Girl backed the red setter on both occasions and both dogs finished the hour.
Lane Hodges put down his pointer male One Day Frost with Phil Morgan and pointer male Miller's Direct Line. Turned loose at the S-curve, Direct Line was on point at the end of the hedgerow at with Frost backing. Both dogs were on point in separate locations in the gas line field at 37. Morgan flushed birds for Direct Line, but no birds were found for Frost. He suffered a second unproductive at 18 and was picked up. Direct Line had his third and final find with 5 minutes left in the hour at Martin Lane and finished with three finds all to the front and ran a nice consistent forward race.
Beef stew and cornbread lunch warmed everyone on a cold Saturday. A big THANK YOU to my wife Vicky and daughter Abby for helping out the club by making sure lunch was ready, served and cleaned up so we could stay on schedule!
Brace No. 8 had James Heimdal and Ronnie Rogers turn loose Big Creek's Coldwater Frank (pointer male) and Sheperd's King of Hearts (setter male), respectively. Frank had an unproductive at 37 but had nice finds at :5 at the Big Oak and 11 in the Banana Fields and finished his run. Hearts was picked up at 26.
Chambersburg, Pa., resident Gunner Boyer saw his first action with pointer female Gunrunner Carli who was dropped down with setter male Sheperd's Choice and Ronnie Rogers. Choice did not satisfy Ronnie and was picked up. Carli found birds at 48 at the Big Oak, point was called at 38 but no birds could be produced, and scored a second find at 20 in the Gas Line field.
Saturday came to a close with Buck Heard and Buddy Morrison directing pointer males Heard Hill's Goldeneye and High Drive Naughty. Naughty was naughty and was gone at breakaway and the retrieval device was requested. Goldeneye had a clean find by the lake before the Knob field at 31. Point was called again at 26 on the Knob but no birds were home. Goldeneye did finish the hour.
Sunday, the Lord's Day, started with devotion by Lynn and Buck Heard in the warm clubhouse. Thank you, Lynn and Buck, for leading us in the Word!
No. 11 drew Hidalgo and Verified with Heard and Heard Hill's Jaybird but Jaybird was scratched due to a torn pad. Bye dog Walnut Ridge Tail Wind and David Steele from brace 16 was moved up and we were off and running at 7:30. Verified had a mishap with birds at 57 and was up. Tail Wind pointed birds at 16 at the Ziz Zag, but no birds could be found when point was called at 8. David had seen enough and took his pointer male out of judgment.
Hidalgo was back on the line with another red setter, this time female Firefly's Beeline. Jimmy Gentry put down his pointer male Gentry's Gus. Turned loose before the pond dam, Gentry called point at 44 at the Carp Pond but a hawk had made a meal of one of our birds so Gus was taken on. Beeline backed the situation but was eventually picked up at 30. Gus notched finds at 23 at the second road crossing and at 5 in the beginning of the Banana Fields. He finished in front and was consistent the whole hour.
Two pointer males Walnut Ridge Thunder and Seekin A Thrill, owned and handled by David Steele and Ross Leonard, respectively, rounded out the morning braces. Thunder had no bird work and retrieval unit was requested at time. Thrill produced birds in heavy cover after a great relocation at 56 before the Zig Zag. His second find was down the road at the Big Oak but all was in order. Point was called at 33 in the Carp Pond field but no birds were found. He finished the hour with no other birdwork.
The club furnished Subway sandwiches and beef stew for Sunday lunch. We missed Mrs. Debbie Bonner's carrot cake this year as Derek was unable to attend and we certainly missed our dog wagon master Harry Layne who was, like many people these days, "laying low" because of the COVID-19 virus. We look forward to having all back next year!
Boyer was back in action with Bad Bourbon as was Hidalgo and Dawson's High Chaparrel. Chaparrell was on point at 52 but suffered a breach of manners and was done for the day. With the course to himself for the final 52 minutes, Bad Bourbon would score five finds, at 44, then 39, 31, 14 and 8. Bourbon didn't run big this day but stayed in front and worked with his handler.
The final paring of the 2021 VBC was Taylor Gentry's pointer female Gentry's Little Jane and Ross Leonard's pointer male Nickajack Pathfinder. Jane scored once at 43 in the Carp Pond field but didn't satisfy Taylor and was picked up at 13. Pathfinder forgot his manners on a bird at 47 and was out of contention.
The Old Hickory Club would like to thank our exceptional judges, Jim Lawless and wife Kay Morrison! They paid pinpoint attention to each dog and we felt lucky to have this duo in the judicial saddles this year. Decisions were made and announced.
A huge THANK YOU to Purina and Greg Blair for sponsoring our add and also supplying all six placements with a bag of Purina dog food!
We thank all owners and handlers of the 31 shooting dogs and 6 Derbies drawn this year. Your friendships and fellowship are what keep us hosting this event each year.--
Good luck and God bless you all!
LaVergne, Tenn., January 22
Judges: Jim Lawless and Kay Morrison
VIRGIL BEASLEY SR. MEMORIAL AMATEUR SHOOTING DOG CLASSIC
[One-Hour Heats] -- 24 Pointers, 4 Setters and 3 Irish Setters
1st--MILLER'S DIRECT LINE, 1680371, pointer male, by Miller's Dialing In--Bearwallow Misty. Phil Morgan, owner and handler.
2d--GENTRY'S GUS, 1678561, pointer male, by Gentry's Sam--Walden's Susie Q. Jimmy Gentry, owner and handler.
3d--BAD BOURBON, 1662012, pointer male, by Bully Bragg--Summerhill Bella. Gunner Boyer, owner and handler.
AMATEUR DERBY -- 5 Pointers and 1 Setter
1st--ONE DAY LA BANDITA, 1684577, pointer female, by Heard Hill's Memory Lane--Dubose's Snow White. Lane Hodges, owner and handler.
2d--ONE DAY QUEEN BEE, 1684579, pointer female, by Heard Hill's Memory Lane--Dubose's Snow White.. Lane Hodges, owner and handler.
3d--WINDY HILL SHADOW DANCER, 1687250, pointer female, by Walden's Ridge Shadow Dancer--Walden's Ridge Chatter Box. Carl Morrison, Jr., owner and handler.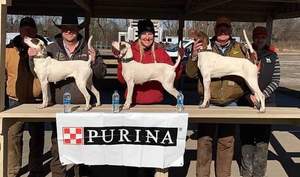 Amateur Derby Winners. From left: Judge Jim Lawless, Lane Hodges with winner One Day La Bandita, Darcy Hodges with One Day Queen Bee, Buddy Morrison with Windy Hill Shadow Dancer, Judge Kay Morrison.