Result: Powhatan Field Trial Club
Location: Buckingham, Virginia
Post Date: Feb 8, 2021
Submitted By: Dennis Kivikko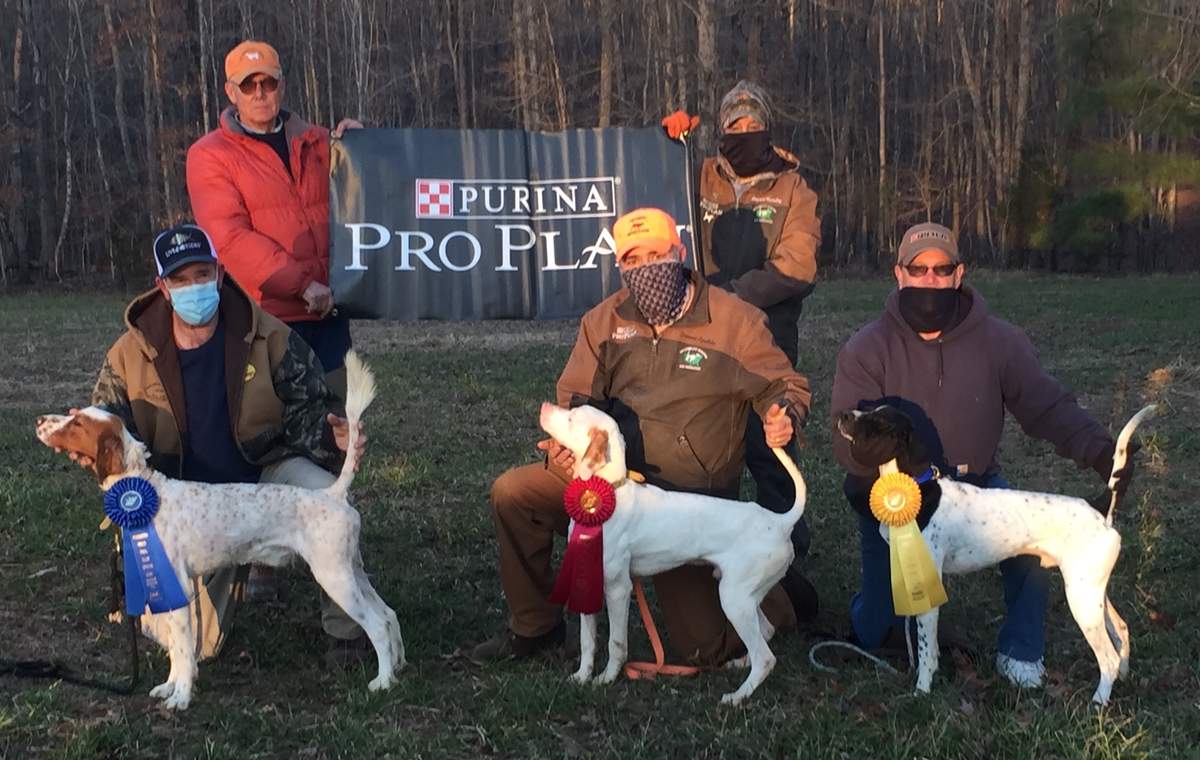 Amateur Shooting Dog Winners. From left: Lee Flanders with Hoss, Dennis Kivikko with Buddy and Jimmy Crandall with Mugsy. Standing: Judges Tommy Stargell and Sharon Townley.
BUCKINGHAM, VA. -- The Powhatan Field Trial Club held its annual trial on January 9 at Kathy Shannon's Beautiful Slate River Farm in Buckingham, Va. This trial was a challenge to put on, but many thanks to all who pulled together to help this event take place.
The first challenge was just getting the field trial permit due to COVID restrictions. That came together with the help of the Virginia Hunting Dog Alliance who helped get field trial protocol together in cooperation with the Virginia Game Department. A special thanks goes out to Kirby Birch and his organization.
Challenge number 2, 3, 4 came in a wave, like dominoes falling: the advertised judges were unable to perform due to COVID exposure, personal injury, and a sick family member. All is currently well with them, thankfully.
At the last minute, Tommy Stargell, Sharon Townley and Kathy Shannon all volunteered to help me with the judging duties and performed them with true professionalism.
Lee Flanders supplied a horse for me to judge off of as well. Sincere thanks to them for coming to bat with little notice.
Kathy Shannon and Stuart had the grounds in wonderful condition, the weather cooperated and all showed up for a trial. Due to COVID restrictions there was no lunch served and no gallery wagon operated, but all who attended had a great day of running dogs.
Bird planting duties were shared by Kirk Regensburg and Steve Graham. The dog wagon was supplied and operated by everyone's mentor Mert Jones.

THE WINNERS
The puppies started out the morning under the watchful eyes of Tommy Stargell and Kat Shannon. Sharon Townley's littermates took the ribbons. First place went to Beechwood's Cowboy Up (Rip), which ran a strong independent ground race hitting objectives and showing good potential to move on. Second was Beechwoods Whata Hot Mess which also made a strong showing to the judges. As there were only two placements for the Puppy, JR Hasty's Dolly is a nice honorable mention.
The Derbies were judged by Tommy Stargell and Dennis Kivikko and after much discussion, placed Beechwoods Boys Round Here over Lee Flanders' young pointer, Chippoke's Gypsy Girl. Both dogs showed a nice ground race, handled well, keeping to the front with the difference being Blake handled his bird with a little more maturity, maintaining strong style throughout his bird work. Third was Jimmy Crandall's Happy who had three stylish finds.
The Amateur Shooting dogs broke away with Tommy Stargell and Sharon Townley watching closely.
Brace two was the second and third place dogs. Dennis Kivikko's Buddy was judged second and Mugsy handled by Jimmy Crandall was third. In this brace were two dogs that worked well together. Mugsy had the first find in the pine woods looking high and tight with Buddy backing. All was in order. When the dogs were sent on Buddy moved out with a nice forward cast and he continued to be more out front than his bracemate who was a little closer, but busier. Buddy had three stylish finds and an unproductive and Mugsy had another find and two backs in which he exhibited glorious style.
However, the eighth brace featured the eventual winner, Hoss, handled by Lee Flanders, who put on the show of the day. Hoss broke away hard and was found standing with great style in the woodline past the first turn. He was turned loose and continued a strong race, handling well at a distance. He finished the race with three more finds, all on the limb. His bracemate was picked up for failure to back on Hoss's second find. With the course to himself he continued to wow, finishing strongly.
Buckingham, Va., January 9 -- One Course
Judges: Kathy Shannon and Tommy Stargell
AMATEUR PUPPY -- 1 Pointer, 2 Setters and 1 Llewellin Setter
1st--BEECHWOODS COWBOY UP, 1691318, setter male, by Rutter's Lone Ranger--Jim's Bodacious Lady. Sharon Townley & Walter Logan, owners; Sharon Townley, handler.
2d--BEECHWOODS WHATA HOT MESS, 1691343, setter female, by Rutter's Lone Ranger--Jim's Bodacious Lady. Sharon Townley & Walter Legon, owners; Sharon Townley, handler.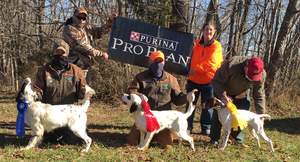 Amateur puppy. Top row L-R. Steve Moore, Judge Kat Shannon. Bottom row. Sharon Townley with Rip, Dennis Kivikko with Ellie Mae, JR Hasty with Dolly.
Judges: Dennis Kivikko and Tommy Stargell
AMATEUR DERBY -- 4 Pointers and 4 Setters
1st--BEECHWOODS BOY'S ROUND HERE, 1686430, setter male, by Grouse Ridge Gambler--Beechwoods Madison. Sharon Townley, owner and handler.
2d--CHIPPOKES GYPSY GIRL, 1693073, pointer female, by Broken Halo--Briar Creek Daisy. Lee Flanders, owner and handler.
3d--LANCASTER'S WAYBETTER HAPPY, 1686522, pointer female, by Lancaster's Hit Man--Silver Star Sue. James Crandall, owner and handler.
Judges: Tommy Stargell and Sharon Townley

AMATEUR SHOOTING DOG -- 11 Pointers and 6 Setters
1st--CHIPPOKE'S HOS SMAN, 1675609, setter male, by Skyview New Edition--McKinney's Harbor Magnolia. Lee Flanders, owner and handler.
2d--SADIE RIDGE HIGH COTTON, 1699737, pointer male, by House's Ring of Fire--Touch's Blaylock Bess. Dennis Kivikko, owner and handler.
3d--LANCASTER'S HIT MAN, 1679423, pointer male, by Waybetter Rocky--Calico's Touch of Class. James Crandall, owner and handler.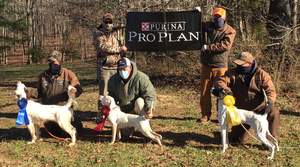 Amateur Derby. Top row L-R. Steve Moore. Judge Dennis Kivikko. Bottom Row. Sharon Townley with Blake, Lee Flanders with Gypsy, Jimmy Crandall with Happy.