Result: Associated Field Trial Club of Florida
Location: Punta Gorda, Florida
Post Date: Feb 9, 2021
Submitted By: Don Wood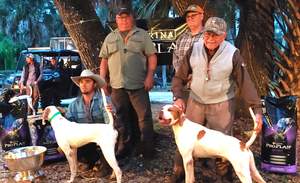 Open All-Age. Matt Ford with Matt's Big Orange Banchee, Lester Alford Bowl Don Wood with Funseeker's Tex's Coppertop. Behind Jim Womack (judge) Tom Hennes (judge).
PUNTA GORDA, FLA. -- If you have been following our season, we have a different field trial chairman for each of our six trials. For this trial Jim and Mary Ann Womack volunteered to be chairpersons.
One of the main duties of the chairpersons is to obtain judges for the event, never an easy task. The Womacks have developed a close relationship with Tom Hennes, a professional trainer from the Dothan, Ala., area. We were very fortunate to have Tom come and judge for us this trial. He was joined in the judging duties by some of the local talent. Justin Muzynski assisted in the Shooting Dog Stake, Petie Brown joined Tom in the Derby and Jim Womack officiated in the Al- Age. All of the placements were well received.
The grounds have finally started to dry up. We did not have a single incident of vehicles getting stuck. That did not mean that there was a shortage of water on the grounds or that the handlers had to carry many jugs of water, but we had a good balance of water on the ground and the ability to navigate the course.
Even during this pandemic and the concern of being too close our ladies have been able to put on a great cookout on Saturday night. Several precautions were taken to reduce the probably of contamination but the meal has continued to be great. Thank you, ladies, for your continuing effort.
We were pleased to have an old friend and field trailer, Butch Davis and his wife, attend the dinner. Butch actively trialed during the 1970's and 1980s with a few outstanding dogs, Mississippi Rifle being one of his best.
The weather for this trial was as good as it gets for the Deep South. We had temperatures that required a light jacket for most of the day and a lot of cloud cover. Even in the one hour All-Age Stake, that ran first thing Saturday morning, there was no advantage for the early braces.
We have many revolving trophies for the winners of our featured stakes. The Lester Alford bowl went to the winner of our one hour all age stake. This bowl has a long history with dates from the late 1960s. There are also many a story that goes along with the names that are read from the bowl.
We would like to thank our sponsors, Purina. They supply dog food for the winners, Money for our add and bragging hat to the winners and judges. Thank you Purina! Many of the dogs competing are fed your Pro plan product.

THE WINNERS
Strong powerful dogs with extended range is what you expect in an all-age stake and that is what we had. Matt Ford and Matt's Big Orange Banchee took the blue ribbon again. Matt and "Bob" have been a winning team this year with Bob carding his 3rd first place. Matt and Bob ran in the second brace of the day on a course that has many turns and many places for a dog to leave. Bob handled the twists and turns with ease requiring little scouting. He scored on a nice covey at 45. Second place was Don Wood and Funseeker's Tex's Coppertop. Topper also showed great power and range in his effort. Third place was taken by Beth Brown and Myakka Maxed Out.
The Shooting Dog Stake followed the All-Age starting late Saturday afternoon.
The second brace showed us how to dig up the birds with Kahlua Tiberii and Mike Tiberii carding two finds and capturing first place, while Manatee Rock and Paul May had a find just before time. "Kallie" is a fun dog to watch as she is a 35-pound Brittany that ranges in the 50- to 150-yard area jumping vertical when in heavy cover to determine where Mike is, and then racing to the front. Third place was taken by Jim Goza and Silver Rebellious Gator. Gator showed that he still knows how to find birds carding his find at 12.
The Derbies had to wait until the end of the trial to show their potential. This is a fine crop of Derbies that are competing this year. Many an unrewarded effort would have been well up in the placements in prior years.
Holopaw's Rear Axel and Justin Muzynski took first place laying down a big race with just enough come back. Second was Holopaw's Mack also handled by Justin. Mack is the most consistence of the Muzynskis' Derbies with four placements this season. Third was Funseeker's Double Trouble and Don Wood.
Punta Gorda, Fla., January 16
Judges: Tom Hennes and Jim Womack
OPEN ALL-AGE [One-Hour Heats] -- 10 Pointers
1st--MATT'S BIG ORANGE BANCHE, 1644111, male, by Lester's Snowatch--Mississippi Kite. Matt Ford, owner and handler.
2d--FUNSEEKER'S TEX'S COPPERTOP, 1663419, male, by Funseeker's Rebel Tex--Lindley's Dixie Chick. Don Wood, owner and handler.
3d--MYAKKA MAXED OUT, 1670323, male, by Elhew G Force--Myakka Hey Jude. Beth Brown, owner and handler.
Judges: Tom Hennes and Justin Muzynski
OPEN SHOOTING DOG -- 18 Entries
1st--KAHLUA TIBERII, 1657153, Brittany female, by Birch Hill Jack is Back--Birch Hill's Jazzy Girl. Mike Tiberii, owner and handler.
2d--MANATEE ROCK, 1641055, pointer male, by Holopaw's Spike--Jerry's Elhew Rosie. Dr. Paul May, owner and handler.
3d--SILVER'S REBELLIOUS GATOR, 16250002, pointer male, by Daniel's Southern Cross--Silverline Serious. Jim Goza, owner; Paul Daniel, handler.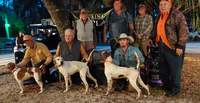 Open Shooting dog. Mike Tiberii and Kahlua III, Paul May and Manatee Rock, Matt Ford (scout) with Silver Rebellious Gator, Behind Don Wood, Paul Daniel, Tom Hennes (judge), Jim Goza.
Judges: Petie Brown and Tom Hennes.

OPEN DERBY -- 9 Pointers
1st--HOLOPAW'S REAR AXEL, 1690238, male, by Holopaw's Axel--Hot Digity Dot. Ken & Justin Muzynski, owners; Justin Muzynski, handler.
2d--HOLOPAW'S MACK, 1690237, male, by Holopaw's Axel--Hot Digito Dot. Ken & Justin Muzynski, owners; Justin Muzynski, handler.
3d--FUNSEEKER'S DOUBLE TROUBLE, 1690076, male, by Nacho's Texas Rebel--Nacho's Drama Ma Ma. Don Wood, owner and handler.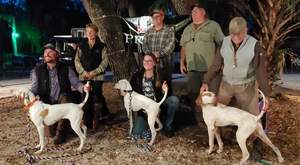 Open Derby. Justin Muzynski with Holopaw Rear Axel, Kayliegh Muzynski with Holopaw Mack, and Don Wood with Funseeker's Double Trouble Behind. Carol Muzynski (scout) Tom Hennes (judge) Jim Womack.