Result: Region 7 Amateur All-Age Championship and M. G. Perkins Derby Classic
Location: Albany, Texas
Post Date: Feb 4, 2021
Submitted By: Jim Baker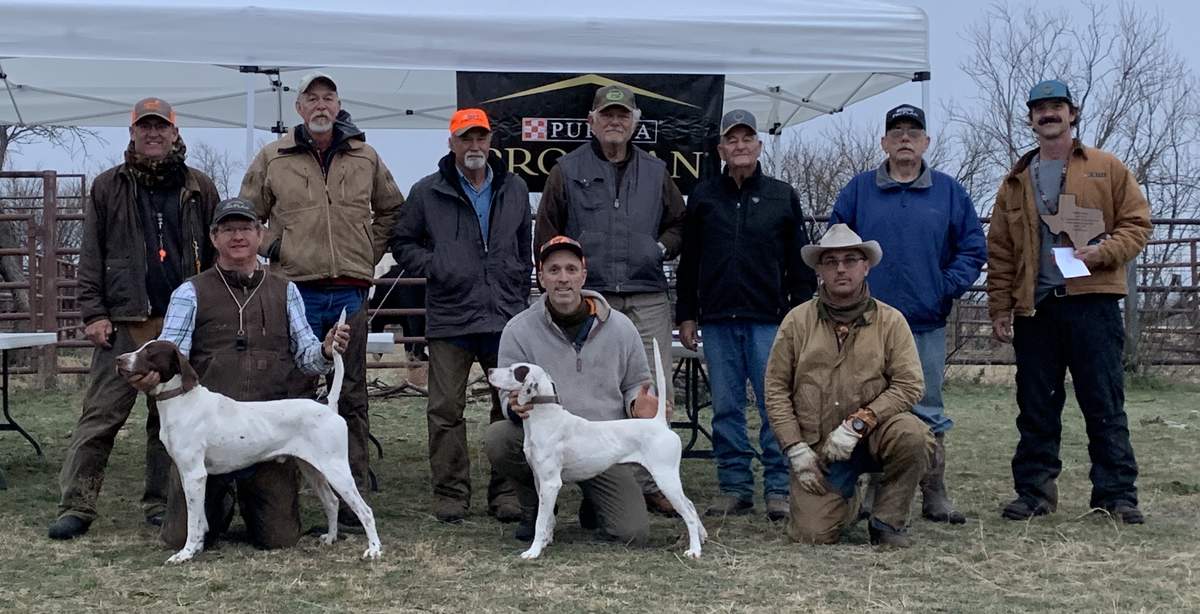 Region 7 Amateur All-Age Championship Winners. Back Row: Chris Cornman, Virgil Moore (judge), Charlie Collier (judge), Jim Baker (Reporter), Dean Lord, Royce Gustafson, Joshua Wheat. Front Row: Buck Neil with Gunna Be A Rockstar, Jason Super w Baja Blues, Tyson Traw (Scout).
ALBANY, TEX. -- Thanks to the continued generosity of the Hughes family, the 2021 renewal was held the weekend of January 22-24 at Crooked Tree Ranch outside of Albany, Tex. This was the sixth year we've used this beautiful venue of rolling prairie scattered with mesquite trees and an abundance of wild quail, for the Championship.
The story of this ranch is the story of one man's love of bird dogs and hunting quail. Almost two decades ago, Mr. Garry Hughes decided to try hunting Texas quail. He needed a guide and heard that Mr. Robert Montgomery had an English setter named Santana that had a good reputation as a bird dog. Turned out that ol' Santana was better than good. He was great!
Mr. Hughes was so impressed that he asked Robert if there was any land in the area that was good quail country. Before the trip was over, Mr. Hughes was the proud owner of the land that would become Crooked Tree Ranch. The ranch was christened Crooked Tree when one of Mr. Hughes' granddaughters, who had never seen a Mesquite tree, asked why all the trees were crooked.
Today Glenn Hughes and his wife Tracy live on the ranch. The ranch is managed by Mr. Russell Alcorn with quail in mind by actively brush hogging, burning and only half stocking the cattle.
It was a welcome surprise when Hall of Fame handler Dean Lord and his son Mike joined us along with newcomer Joshua Wheat, and mainstay Joe Worsham from Missouri, as well as Mr. Alcorn.
A simple "Thank You" never seems enough but it is heartfelt by everyone fortunate enough to have attended this year's running.
The list of those who were instrumental in the organization and running of this Championship who also need a great big thank you is long. Without every one of these individuals this event would not have happened.
Buck Neil was trial chairman. Tyson Traw rode with Buck to guide the handlers. Tyson supplied all of the trial participants with an arial map outlining the courses and ranch roads. Ray Black, our erstwhile dog wagon driver, was called away due to a family emergency. John Benoist stepped up to drive the dog wagon. John had the dogs on time and in place for every brace.
Royce and Mary Ann Gustafson stayed in camp and kept us well fed while following the safety guidelines needed for these troubled times.
The Albany News publicized the trial both prior and after the event. And last, but far from least, a big thank you goes to the sportsmen who traveled to this event to make it a success. Thanks to the quality of the grounds, this Championship continues to attract some of the best all-age dogs in Texas and the surrounding states.
Of course, we couldn't hold championships such as this without the continuing support of our sponsor. Many thanks to Purina for their contribution of dog food for all of the placed dogs.
The past two years have not been good years for birds in many parts of west Texas. We moved sixteen coveys this year in eight and one half hours of running. Perhaps even more encouraging than the increase in coveys is that they were large, strong coveys and the available feed and cover seems much improved. Now if only the rains come at the right time throughout the year.
Judges Charlie Coller and Virgil Moore are Texans and understand the ways of west Texas quail. They rode hard and were attentive to all of the dogs. Their decisions were well thought out and received with enthusiasm. Thank you, gentlemen, for your hard work and undivided attention.
THE WINNERS
This year's champion is Gunna Be a Rockstar. "Jack," pointer male, is a powerful dog with a very nice way of going and shows excellent presence and style around birds.
Owned and handled by Buck Neil, Jack ran in the second brace. The second course breaks away near windmill 40. Jack was off to the front, running in the mist and fog. At 7 he was found pointing. All was in order and he was sent on, running hard. Due to the fog he was, at times, hard to see but maintained contact with his handler. At 24 he was well to the front, standing tall with a well located covey. Jack demonstrated excellent style and manners. His final 36 minutes were stronger than the first 24 and he finished going away near the intersection of Broken Spur and Armadillo Roads.
This year's runner-up champion is Baja Blues, pointer male owned and was handled by Buck Neil. Blues was described by the judges as a very showy dog with plenty of go.
Due to the fog delay on the first morning, Blues, running in the fourth brace, broke away at the camp gate on course No. 1. As noted, Blues is a pleasure to watch and will catch a judges' eye with ease. While not as wide as our champion, Blues' race was all-age. At 31, he was found standing high and tight, with excellent style and manners. His final 29 minutes were not as strong as his earlier efforts but more than enough for the challenge. Blues finished near windmill 40.
THE RUNNING
Day 1. Due to heavy fog and mist, the running was delayed until 1:30 p.m. Friday afternoon. During the delay, it was decided to forego the use of the afternoon courses due to the weather.
Worsham's Silver Comet (Jack), pointer male, owner-handler Joe Worsham, with Terry's Wild Flyer (Red), pointer male, owner-handler Chris Cornman. The dogs were off and running from the camp gate. Jack made a hard move to the right and was not seen under judgment again. Red showed us a workman-like race that was birdless.
[Scribe's note; During the first brace one of our judges dropped out-of-pocket and added to the delay. At this point it was decided to provide tracking collars for each judge with the receiver held in the dog wagon. This decision would prove wise as the trial continued.]
Rowan's Pena Creek Ike (Ike), pointer male, owner-handler Shawn Rowan, with Gonna Be a Rockstar (Jack)."Jack's" race has been described. Ike was running hard when he encountered a covey and was through for the day.
Blue Darter (Pedro), setter male, owner-handler Tyson Traw, with Wheat's Slim Shrek (Shrek), pointer male, owner-handler Joshua Wheat. Pedro ran a pleasing race, though not as wide or forward as our winners. He carded a nice find at 50 to cap a good performance. Josh is one of our newer competitors and this was his first horseback trial. We appreciate his enthusiasm and enjoyed watching both him and Shrek get stronger as the hour progressed.
Terry's White Tyler (Tyler), pointer male, owner-handler Chris Cornman, with Baja Blues, the runner-up. Tyler was erratic but worked hard. He was charged with an unproductive.
Worsham's Super Sport (Dave), pointer male, owner-handler Joe Worsham, with Wheat's Big Spot (Spot), pointer male, owner-handler Joshua Wheat. Dave ran a wide forward race but was charged with an unproductive when found standing after a long absence. Had his birds not left him, Dave might have pressed the winners. Spot is the second of Josh's youngsters and, as with Shrek, he had trouble understanding what was wanted.
[Scribe's note; The judges felt both of Josh's young dogs showed promise for better days.]
No. 6: Cypress Church Junebug (June), pointer female, owner-handler Shawn Rowan, with Bad Rebel Risin (Mac), pointer male, owner-handler Buck Neil. June started strong but was charged with unproductives at 10 and 20. She was up by 20. Mac ran big and well forward, hunting and staying in touch. At 44 Mac carded a stop to flush. He was picked up shortly thereafter.
After horses and dogs were fed for the night, the trial was adjourned to the shelter set up by Royce and Mary Ann for a dinner of brisket and fixin's.
Day 2. Running was delayed when a horse was found stuck in a cattle guard. Its left fore leg was in up to the shoulder and his right front knee was stuck, as well. With the leadership and veterinarian skills provided by Buck Neil, and the level-headed co-operation by the group, the horse was sedated and successfully lifted from his prison by the ranch tractor. Once awake, the horse was standing safe and apparently sound. Buck later shared that this was one of only two successful rescues of this type that he had undertaken in his long career. Buck credited the success to the calm assistance of the trial participants.
Terry's White Buck (Buck), pointer male, owner-handler by Chris Cornman, with Chupacabra (Big), pointer male, owner-handler by Tyson Traw. The final run for the championship title broke away from the camp gate. Both dogs are strong, big running competitors with Big possiby the more forward. At 24 Buck was seen well to the front on point. Big saw no reason to back and was done for the day. After his well-handled find, Buck was taken on. He seemed unable to reconnect with his handler and was mostly out-of-pocket for the final twenty minutes.
Albany, Tex., January 22
Judges: Charlie Collier and Virgil Moore
REGION 7 AMATEUR ALL-AGE CHAMPIONSHIP
[One-Hour Heats] -- 13 Pointers and 1 Setter
Winner--GUNNA BEA A ROCKSTAR, 1677172, pointer male, by Rock Star Andy--Good Times Girl. Buck Neil, owner an dhandler.
Runner-Up--BAJA BLUES, 1677164, pointer male, by Rock Star Andy--Phantom's Santo Pride. Buck Neil, owner and handler.
M. G. PERKINS AMATEUR DERBY
The winner of this year's M. G. Perkins Amateur All-Age Derby was Texas Cool (Bud), pointer male, owned and handled by Buck Neil. Bud ran a strong forward race with two undefined contacts with coveys.
Second was Reed's Super Spirit (Isla), pointer female, owned and handled by Jason Super. Isla was busy, forward, and used the wind to best advantage. At 15, she encountered a covey.
Third was Wheat's Slim Shrek (Shrek), pointer male, owned and handled by Joshua Wheat. Shrek began to show some of the promise noted in his championship effort. He was well forward and far more consistant in his efforts. This pair, Josh and Shrek, should be around for a long time to come.
M. G. PERKINS AMATEUR ALL-AGE DERBY CLASSIC -- 6 Pointers
1st--TEXAS COOL, 1690192, male, by Ransom--Good Times Girl. Buck Neil, owner and handler.
2d--REED'S SUPER SPIRIT, 1691963, female, by Valiant--Reed's Winter Spirit. Jason Super, owner and handler.
3d--WHEAT'S SLIM SHREK, 1692252, male, by Reginald Duncan Fairfax--Victoria Dixie Lee. Joshua Wheat, owner and handler.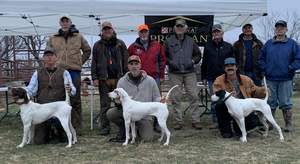 M. G. Perkins Amateur All Age Derby Classic. Back Row: Virgil Moore (judge), Chris Cornman, Charlie Collier (judge), Jim Baker (Reporter), Dean Lord, Mike Lord, Royce Gustafson. Front Row: Buck Neil with Texas Cool Jason Super with Reed's Super Spirit Joshua Wheat with Wheat's Slim Shrek.