Result: U. S. Complete Southeast Regional Open Championship
Location: Hoffman, North Carolina
Post Date: Mar 25, 2021
Submitted By: David Huffine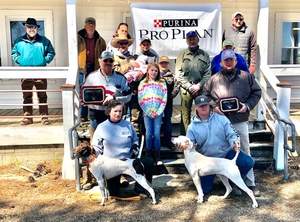 U. S. Complete Southeast Regional Open Championship Winners. In foreground, from left: Verlene Stephenson with Ringo's Sweet Heart and Harry Cook III with Claayhill T Bone. Directly behind: Tony Bingham and Harry Cook. On steps: John Outlaw (judge), Dakota Outlaw, and Gene Hogge (judge).
HOFFMAN, N.C. -- Ringo's Sweet Heart, five-year-old white and liver pointer female owned and handled by Verlene Stephenson of Seaboard, N.C., bested a field of fifty dogs to win the Southeast Open Regional Championship of the U. S. Complete Shooting Dog Association held March 4 at the J. Robert Gordon Field Trial Grounds in Hoffman, N. C. The 2021 Champion is by Southbound Ben and Shadow's Carolina Molly and is the granddaughter of Ch. Verlene's Ringo Star that Verlene handled to the 2007 USCSDA National Open Championship.
Runner-up was Clayhill T Bone, six-year-old orange and white pointer male owned and handled by Harry Cook III of Darlington, S.C. T Bone is by Clayhill Bones and Doc's Haven Meg.
Judges for the Championship were Gene Hogge of Smithfield, Va., and John Outlaw of Warsaw, N. C. Both have many years of experience training, handling and judging bird dogs and were attentive and accurate in their evaluation of the competing dogs.
The Championship took place on the famed Hoffman grounds which has six continuous courses carved out of longleaf pine and wiregrass which are used primarily for horseback trials.
All birds are released earlier in the season with no birds being supplemented during the trial. 2021 has seen significant improvement in the bird populations at Hoffman but this Championship was "cursed" with bluebird weather which moved the birds off of the courses and into the pines and the bottoms. In this reporter's opinion, Hoffman is the best test of a dog and handler in North Carolina as the handler and dog must be fit to handle the sugar sand and changing elevations of the North Carolina Sandhills and the dogs must be talented birdfinders and not road runners.
THE WINNERS
Sweet Heart's winning performance came in the 23rd brace which began Sunday morning, primarily on Hoffman's course No. 2. She was braced with Cap'n Sam, a setter male handled by David Huffine. Both dogs broke away strongly with Heart having the bigger race. She kept her handler on edge early by cresting the Hoffman sandhills and disappearing from view, only to be seen at the front in a timely manner.
It appeared that both dogs were going to be in the Hoffman "Great Race, No Birds Club" until Heart came to a creek crossing with a healthy stand of reeds and briars at 45. As Verlene was crossing the branch, Heart went left and point was called by her scout, Tony Bingham. Verlene crossed back and began a lengthy and difficult flushing process as the birds were dug into the cover. The judges positioned themselves on each side of the branch so as to see flushed birds. The handler diligently fought through the cover and finally flushed with one judge viewing the birds. Heart stayed steady and stylish through wing and shot. She finished her hour in the long field above the branch to secure her championship performance.
T Bone's runner-up performance was in the ninth brace on Friday morning primarily on Hoffman's course No. 3. Roger McGuire's setter male A Tarheel Total Package was his bracemate.
Both dogs started slowly. T Bone had a find at 24, holding steady as the birds flushed 20 or more yards ahead and Harry fired his pistol. McGuire's setter came in later and was standing in the general location of the flushed birds but no additional birds were produced by Roger's flushing attempt. Although there was no additional bird work by either dog, T Bone's race continued to lengthen after his find and extended to his finish which distinguished him from his runner-up competition.

THE RUNNING
The Championship began in comfortable sunshine on Thursday morning.
Lincoln County Ballerina (PF/Gary Whitworth) was braced with Boston (PM/Robert Ecker) at the breakaway on course No. 1. Part of course No. 1 was not used in the trial because of the sand and verticality and the walking trial breakaway is near the 45-minute mark of the traditional course 1. Ballerina went dancing and was not seen after the breakaway. Gary called for the retrieval deviceat 18. Boston had a moderate, forward race and was seen working a field corner to the left of the course at 36. Robert sent his scout early and the scout found tracks heading to the front. However, Boston was not seen and Robert called for his unit at 48.
Ringo Star's Little Buddy (PM/Bingham) with Brown's Miss April (PF/Sean Melvin). April was the winner of the 2021 U.S. Complete National Championship held at Hoffman approximately two weeks before and also the 2019 Championship on the same grounds. Tony's dog was lost at breakaway and he called for the retrieval unit at 17. April ran a medium race and was found standing at 48 at the approximate location of the champion's find on Sunday. The handler called birds on the ground but could not make them fly and they were not seen by the judges. April finished her hour.
Grouse Trails Tuscarora (PM/Mark Hughes) and Low Country Snow (PF/Steve Ferrell) broke away to begin the third brace. Tuscarora showed good style and medium range early but shortened later in the brace. She had a back at 2. Snow had an unproductive at 2 but followed with a strong race. She was seldom seen but when visible, was ahead. Steve called for the tracker at time after no birds were found by Snow.
The final brace for Thursday morning was Clayhill Bones (PM/Bingham) and Grousehill Bulletproof (SM/Ecker) beginning on course No. 3. Bones had a huge race but Tony called for his device at 45. Ecker's dog had a very nice moderate but forward race and looked classy on the ground but failed to locate any birds.
Temperatures were warming considerably (69 ) as the 4th brace left the clubhouse area at 2:00 p.m. sharp.
Bobby Phillip's Bob's Elhew Sushi (PF) was braced with Wayward Flying Tomato (SM/Hughes). Word has it that Mark's sister named the dog. Sushi had a spectacular race for the first 30 minutes, staying to the front and running a wonderful Hoffman shooting dog race. At 80 years old, Bobby remains one of the faster walkers in the U. S Complete competition but he was challenged to keep up with Sushi. At 30, course No. 4 makes a turn to the right. Sushi found ground scent at the turn and Bobby could not get her to leave. Ultimately, she turned to the left and Bobby collared her at 40. Mark's dog displayed a stylish ground pattern with moderate range but she finished her hour as a member of the "No Birds Club".
Smoke Rise Hannah (PF/Bingham), a promising Derby, met veteran Black River Ruby (SF/Melvin) in the fifth brace. Hannah had a good consistent race but went birdless. Ruby is one of the most consistent birdfinders at Hoffman and proved it with a stylish find at 5, all in order. While handler and scout searched for her before the road crossing, Ruby had moved to the front and was seen standing by the judges and the gallery. She was in the woodsedge on the left possibly 1000 yards ahead of her handler. Greg Isenberg, who was scouting for Sean, arrived to stand and flush at the judges' directive. A nice covey lifted, Greg fired and Ruby stood. Unfortunately, the heat took its toll on Ruby and she struggled to finish her hour. Compounding the problem was that Sean was suffering cramps from the heat, the sand and his effort to get to the front to run his dog. Fortunately, both finished the hour.
Tenacee Cooper (PM/Isenberg) ran a medium to long forward race and was stylish. Unfortunately, he had no bird contact to reward his efforts. Santee River Texas Ranger (PM/Bingham) was not handling or running as he expected and was collared at 20.
Friday morning was a little cooler as Glassilaun War Paint (PM/Ecker) and A Distant Spec (PF/Hughes) attacked the straightaway on course No. 1. Both dogs are beautiful white and black pointers with similar style and races. Both had exceptionally nice forward races with a particularly nice casts to the right and along the field edge at 25. Both dogs finished their hour without bird work.
Brace 9 is described above.
No. 10 broke away at 10:26 a.m with Island Blue Gene (SM/Earl Drew) and Lincoln County Stoney (PM/Gary Whitworth) streaking to the front. Both showed moderate races. Earl collared his dog at 39. Gary's dog shortened toward the end of his 60 minutes but finished. Neither had bird contacts.
The last brace of the morning paired A Tarheel Chase (PM/McGuire) with Smoke Rise Jake (PM/Bingham). Chase had a nice forward race but suffered an unproductive at 16. Buck, also a Derby, followed an impressive race with a very nice find on the right side at 49. After the find, he suffered an unproductive and then abandoned his good race as he tried to make birds out of ground scent.
The first brace of the afternoon (No. 12) began on course No. 4 with Braggabull (PF/Hughes) and Upper Ammonoosuc Violet (SF/Ecker). Braggabull was showing a good ground race when she was under birds at 22. Ecker subsequently fired his gun at 24 in the general area of the flush but the judges saw no more birds. Violet continued with a nice, moderate race and an unproductive at 57.
Smoke Rise CeCe (PF/Bingham) had a medium race with a back at 10 and unproductives at 16 and 53 to end her championship hopes. Sterlingworth Jack (SM/Ecker) also had a good forward race but an unproductive at 10 and a back at 16 did not provide the bird work necessary to contend.
The final brace on Friday was Mohawk Mill War Eagle (PM/Cook) and Crazy Mountain Buck (SM/David Huffine). Both dogs raced to the front, safely avoiding the highway on the left. Cook's dog had an early unproductive but fought to regain the front. He was last seen as the course turned right and away from the highway. Harry called for the retrieval device at 35. Buck had a strong and forward race throughout. He had a find on the left side at 28 but showed a low tail and lack of intensity. At 55 he was standing on a hillside about 300 yards from the handler and judges. He was steady through the flush and shot but again showed a low tail.
Saturday morning brought Halestorm (PM/Hughes) and Islander (SM/Ecker) to the first course breakaway. Halestorm had an unproductive at 10 followed by a modest race. He was picked up by his handler at 35. Islander went quickly to the front but was out of sight at about 15. Robert called it at 35.
Kendall Hills Dawson Creek (PM/Hughes) looked good on the ground and had a long race, although a bit wide at times. He finished the hour but with no bird contacts. Stoney Run Bojangles (SM/Donald Terrell) hunted hard but was under birds at 50, ending his day.
Sweet Grass Slim (SM/Huffine), another of the Derby prospects in the Championship, and Decoy Lakes Branded Man (PM/Bingham) were paired in No. 17. Slim had a moderate race but looked good on the ground. He had no bird contact and finished his hour. Tony's dog was under a rare woodcock at the branch crossing that subsequently produced the champion and was through for the day.
Earl Drew handled Lucky Recharge (PM) in the 18th brace with Tony Bingham handling Quail Cross Bo Time (PM). Lucky was a striking dog on the ground, showing as much style and race as any dog in the competition, but joined the growing Great Race, No Birds Club. Tony's dog showed a nice, forward race but after several absences, Tony called for the retrieval device at 48.
The 19th Brace began on course No. 4 with a 1:52 p.m. departure. Bob's Elhew Sage (PF/Phillips) was gone early but showed at the front and thereafter settled into a nice but birdless performance. Shamrock's Miss Grace (SF/Bingham) had a find at 36 with a slight marking at flush. She had a stylish gait and looked good but had a more modest race than many of her competitors.
Lincoln County Smoke (PM/Bingham) and Maximum Resistance (SM/Ecker) broke away strongly. Smoke had a medium race and was picked up by his handler at 47. Max raced to the front with his traditional great style and gait but did not show in a timely manner. Robert called for his device at 32.
Attakallukulla (SM/Bingham) and Tenacee Shelby (PF/Isenberg) faced off on course No. 5 for the 21st brace and the last of the afternoon. Bingham's dog flirted with the paved highway on the left before moving to the front and showing a very stylish race. To the delight of the gallery wagon, a large and scenic covey of birds lifted and crossed the course just before time but there was no indication that the dog was in the vicinity or caused the flush. Shelby was showing a great race until she cut her rear leg on an undetermined object at the 25-minute mark. Greg slowed the bleeding, put her on the gallery wagon and she was taken to the vet for evening surgery.
The final shooting dog braces began on Sunday morning with Suemac Sashay (PF/Hughes) and Bo of Pineywood (PM/Ecker). Sashay handled exceptionally well and to the front for Mark. She had a back at 53 but no bird contact. In like fashion, Bo handled well and had a beautiful forward race. But he produced no birds and had an unproductive at 53.
Brace 23 is described in the placements above.
Bracemates Santee River Glacier (PM/Bingham) and Brown's Ace (PM/Melvin) broke away at 10:26 a.m. in cool, crisp sunshine. Glacier was not seen after the breakaway and Tony called for the retrieval unit at 18. Ace was not on his game. He normally has an impressive forward race but was short on this day. Sean picked him up at 26.
The final brace of the Championship: Triple L's Ben (PM/Bingham) with Double Deuce Zeke (PM/Hughes). Ben moved while Tony was flushing and was up at 16. Zeke had a modest race. Unproductives at 40 and 45 ended his day and the 2021 Championship.
Hoffman, N. C., March 4
Judges: Gene Hogge and John Outlaw
U. S. COMPLETE SOUTHEAST REGIONAL OPEN CHAMPIONSHIP
[One-Hour Heats] -- 37 Pointers and 13 Setters
Winner--RINGO'S SWEET HEART, 1668688, pointer female, by Southbound Ben--Shadow's Carolina Molly. Verlene Stephenson, owner and handler.
Runner-Up--CLAYHILL T BONE, 1663185, pointer male, by Clayhill BonesDoc's Haven Meg. Harry W. Cook III, owner and handler.
PAUL WALKER OPEN DERBY CLASSIC

A strong field of 26 Derbies faced off in the Paul Walker Derby Classic. In accordance with the American Field ad, the competition was reduced to 30 minutes based upon the large number of entries for both the Championship and the Derby.
First Place went to setter male Sweet Grass Slim (Huffine). Slim had a fast and bold forward race with a covey find on a hillside on Course 3.
Second was pointer male Smoke Rise Bull (Bingham). Bull had a nice stop to flush on the "regular covey" on course No. 2 at 28 minutes following an unproductive at 23.
Third place went to setter female Teen Spirit (Ecker) which had a consistent ,forward race and handled well. She had an unproductive but looked stylish on her point.
Judges: John Outlaw and Todd Williams
PAUL WALKER OPEN DERBY CLASSIC --
19 Pointers and 7 Setters
1st--SWEET GRASS SLIM, 1685332, setter male, by Sterlingworth Jack--Sandland Miracle Maggie. David Huffine, owner and handler.
2d--SMOKE RISE BULL, 1684875, pointer male, by Stoney Run's Buddy--Smoke Rise Mariah. P. F. Rose, owner; Tony Bingham, handler.
3d--TEEN SPIRIT, 1685370, setter female, by Northwoods Nirvana--Phillips Northern Star. Paul Berdiner, owner; R. J. Ecker, handler.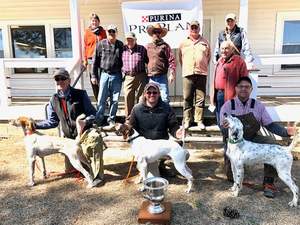 Paul Walker Open Derby Classic Winners. In foreground, from left: David Huffine with Sweet Grass Slim, Mark Hughes with Smole Rise Bull and Robert Ecker with Teen Spirit. Behind, right: Alfred Wood. Back row (left to right): Gretchen Adsit, Tony Bingham, Earl Drew, John Outlaw (judge), Todd Williams (judge), and John Adsit.

AFTERWORD
The Cape Fear Field Trial Club thanks both the Wildlife Resources Commission and the North Carolina Field Trial Association for making this trial possible. John Ivester and Lefty Henry have done a great job with the bird program.
Hoffman has 52 horse stalls, corrals and numerous kennels, all with running water which makes a multi-day trial easy on the organizers and the competitors.
The Club also thanks Purina for its sponsorship of the Championship. Our trial and many others would not occur without the support of Greg Blair and Purina.