Result: Bluegrass Walking Shooting Dog Club
Location: Berea, Kentucky
Post Date: Mar 24, 2021
Submitted By: Joe Hopkins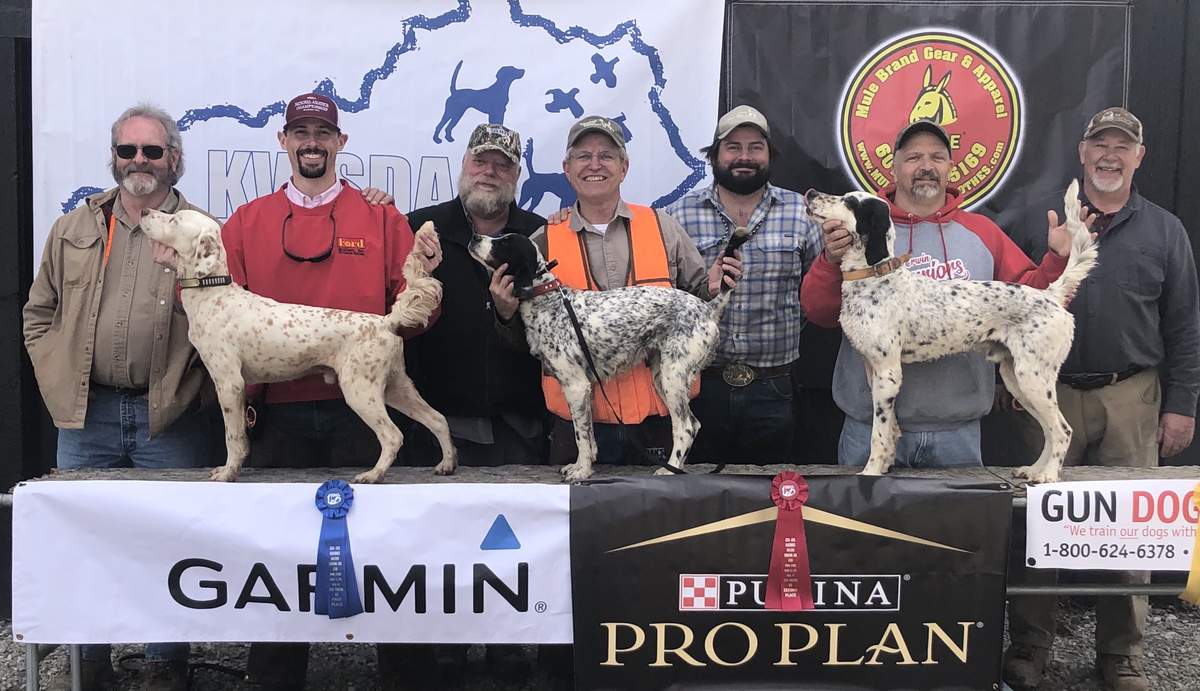 Open Shooting Dog Winners (L to R): Judge Tim Mulvaney, Joe Hopkins with All Out, Gary Vitali, Gerry Addison with Whisper Ridge Rosie, James Kleve, Scott Luther with North Creek Scooter, and Mike Fox.
BEREA, KY. -- The Bluegrass Walking Shooting Dog Club concluded its 2020-2021 field trial season on March 13 at the renowned Miller Welch-Central Kentucky Wildlife Management Area in Berea, Ky., with two open stakes for shooting dogs and Derbies.
Thanks in part to the Kentucky Field Trial Association and the Kentucky Department of Fish and Wildlife; this season's Spring trial was able to come to fruition on relatively short notice. After recognizing an open date on the KFTA calendar and after the unfortunate cancelation of the Elkhorn Bird Dog Club's trial back in late February due to the unprecedented ice storm; board members of the BWSDC quickly sprang into action making arrangements for this season-ender that would enjoy a healthy amount of support from its participants.
Presided over by Mr. Matt Hadley of Frankfort, Ky., and Mr. Tim Mulvaney of Catlettsburg, Ky.; sixteen handlers from seven different states entered their charges to hopefully state their case to the judging panel for earned placements.
In addition to the competitors, a host of volunteers also contributed to the event's success with Terry Boatright running a dog wagon, planting birds, and judging the Derby; Kelsey Kleve taking on the task of feeding the large bird dog mob; and a drove of many other gracious individuals making this field trial a complete and appreciated success.
It goes without saying, but the continued patronage from title sponsors Purina Pro Plan, Garmin, Gun Dog Supply, Mule Brand Hunting Clothing, and Gun Dog Central is undoubtedly the common denominator in the success of not only BWSDC trials, but all trials under the National Bird Hunters Association banner. Their loyal support and partnership is appreciated beyond measure.
THE WINNERS
Under overcast skies at 8 a.m., the first brace of the Open Shooting Dog Stake broke loose seeing two- time champion All Out , setter male owned by Joseph and Brittany Hopkins set the bar for the heats to come with a scintillating, fast paced four find performance, one of which on woodcock. Whisper Ridge Kennel's Gerry Addison and his Whisper Ridge Rosie staked her claim to the runner-up spot in the 8th brace on a three find effort also with a woodcock find and rounding out the placements would be the ultra-consistent North Creek Scooter. Scooter would tally one bird contact and a stop to flush along with a mannerly back of his bracemate in the fourth brace of the stake.
The Open Derby commenced at the conclusion of the Shooting Dog Stake with Hawthorne's Boduke earning the blue ribbon. Handled by John Hawthorne of Marshall, Ind., this was his and his dog's first trip to a BWSDC trial making it a special one with a convincing effort. Second place found Mark Wegford's setter male Colonel Robert Shaw proving Mark's consistent training efforts and graduation from qualifier stake placement in the Fall to open shooting dog placement this Spring. Vitali's Grouseringer Shiner, a product of the Grouseringer breeding program of owner-handler Gary Vitali bookended the Derby placements in an athletic display of budding potential with bird work in third place.
As always, the primary goal of each and every BWSDC trial is to promote and conserve the sport of bird dog field trials, encourage participation fundamentally at all levels of the game, and create a sense of comradery exceeding the measure of success through winning alone. This mantra has proven once again to be the key ingredient in another successful BWSDC field trial.
Berea, Ky., March 13 -- One Course
Judges: Matt Hadley and Tim Mulvaney
NBHA OPEN SHOOTING DOG -- 2 Pointers, 13 Setters, 1 Irish Setter
and 1 German Shorthair
1st--ALL OUT, 1658806, setter male, by All In--Walnut Hills Rocket Onpoint. Joseph & Brittany Hopkins, owners; Joseph Hopkins, handler.
2d--WHISPER RIDGE ROSIE, 1651365, setter female, by Terhaar's Elvis--Terhaar's Rogue. Gerry Addison, owner and handler.
3d--NORTH CREEK SCOOTER, 1656176, setter male, by Full Blast--Moss Meadow Majestic. Scott Luther, owner and handler.
Judges: Terry Boatright and Brian French
NBHA OPEN DERBY -- 2 Pointers, 9 Setters and 1 Irish Setter
1st--HAWTHORNE'S BODUKE, 1688851, setter male, by Buck's Bootlegger--Hawthorne's Chloe. Logan Hawthorne, owner; John Hawthorne, handler.
2d--COLONEL ROBERT SHAW, 1684487, setter male, by Ponderosa Mac--Trigger McGoo. Mark Wegford, owner and handler.
3d--VITALI'S GROUSERINGER SHINER, 1686944, setter male, by Vitali's Grouseringer Tony--Boatright's Zena Re Call. Gary Vitali, owner and handler.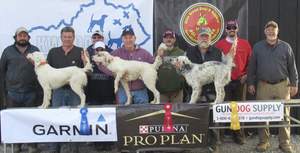 Open Derby Winners (L to R): James Kleve, John Hawthorne with Hawthorne's Boduke, Judge Terry Boatright, Donna Boatright, Mark Wegford with Colonel Robert Shaw, Judge Brian French, Gary Vitali with Vitali's Grouseringer Shiner, Joe Hopkins, and Mike Fox.