Result: Oil Capital Field Trial Club
Location: Inola, Oklahoma
Post Date: Mar 17, 2021
Submitted By: Lynn Oxendine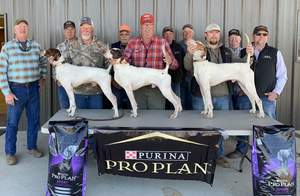 Cecil Proctor All-Age Winners. Front row: Allen Vincent with Lowrider Frank, Andy Daugherty with Dream Chaser, and Stegan Smith with Neely's Standing Ovation. Behind: Lynn Oxendine, Judges Jim Michaletz and Lou Qualtiere; Matt Cochran, Paul Kelly, Bob Barker, and Randy Anderson.
INOLA, OKLA. -- The Cecil Proctor Open All-Age and companion Derby came to a successful conclusion on March 2 after three days of strong competition.
After more than two weeks of brutal winter weather of snow, ice, and record-breaking low temperatures the weather turned very nice for this event and conditions were good over the rolling bluestem pastures of the McFarlin-Ingersoll Ranch. Many of the pre-released birds managed to survived the harsh weather and flew hard at flush.
A big "thank you" goes out to our judges for taking time away from their personal schedules to come and watch carefully the performances. Jim Michaletz teamed up with Lou Qualtiere to judge the Cecil Proctor and again with Jason Reed for the Lee West Derby. Jim and Lou have been at this game along time and know what they're looking for in all-age dogs. Jason Reed has become a very capable hand in just a few short years and does a good job with his dogs. All their decisions were well received.
Purina is our sponsor for this trial. Their help is essential and we appreciate what they do. Thank you, Greg Blair.
THE WINNERS
The Lee West Open Derby was the lead off stake of the trial, and ran as a "Memorial" stake for the first time. Lee's mark on field trialing will forever be felt in Oklahoma and throughout the sport. He was elected to the Field Trial Hall of Fame in 2004, and his passing on April 24, 2020 was one of six lifelong stalwarts we lost from field trialing in Oklahoma in 2020.
Winning first in the Derby was World Class Bootlegger, pointer male for owner Michael Mariettta of Pittsburg, Kan., and handler Randy Anderson, with a good race and one find on a wild covey of birds that flew as handler and judge approached the dog, Bootlegger steady and stylish throughout.
Second place was Cypress Cracker, pointer male or owner David Nutt of Bellinger, Tex., and handler Andy Daugherty. Cracker also had one find to complement a nice forward race. Third was Barshoe Forget Me Not, pointer female owned by Robert Gum of Tuttle, Okla, and handled by Allen Vincent. Not ran a pleasing up-front race with a great finish to garner the placement.
Twenty-five dogs were drawn for the Cecil Proctor Open All-Age qualifying trial. Four professional handlers and one amateur handler made up the field of contenders. Hall-of-Famer Andy Daugherty, Allen Vincent, Randy Anderson and Matt Cochran, along with Joe Worsham's single entry made up the field.
When the dust had settled, the judges named consistent performer Lowrider Frank the winner for Allen Vincent. Frank is owned by Dr. Jim Mills and Steve Lightle of Searcy, Ark. Frank's race was to the limits of the course for most of his hour as he hunted from objective to objective without the aid of scouting. A find at 38 dead to the front was handled flawlessly. Frank pointed again at 52 in an area known to hold birds but it proved to be an unproductive. He finished going away.
Second place was won by Dream Chaser, a young pointer male contender handled by Andy Daugherty for longtime Colorado owner Brad Calkins. A very attractive moving dog, Dream ran a big, front end race and also had one find. Third was awarded to Neely's Standing Ovation on the basis of his race. Handled by Randy Anderson for owner Adam Houston of Nashville, Ga. Ovation, braced with the second-place dog, ran a big race and went to a lot of good places but did not find any birds home that day.
The Oil Capital Club wants to thank everyone who supported this trial. We are working hard to hold quality trials that will attract more people to this legendary ranch.
Special thanks to Kay Ingersoll for allowing us to use it.
Inola, Okla., February 28
Judges: Jim Michaletz and Jason Reed
LEE R. WEST MEMORIAL OPEN DERBY -- 10 Pointers
1st--WORLD CLASS BOOTLEGGER, 1692522, male, by Miller's Speed Dial--World Class Makin Bank. Michael Marietta, owner; Randy Anderson, handler.
2d--CYPRESS CRACKER, 1688798, male, by The Oklahoma Gambler--Cypress Rain Burst. David Nutt, owner; Andy Daugherty, handler.
3d--BARSHOE FORGET ME NOT, 1692349, male, by Whippoorwill Justified--Greypointe Invierna. Robert Gum, owner; Allen Vincent, handler.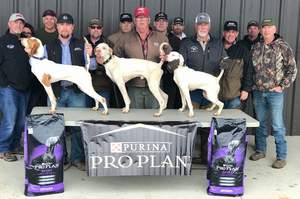 Lee R. West Derby Winner. Front row, from left: Stegan Smith with World Class Bootlegger, Andy Daugherty with Cypress Cracker and Allen Vincent with Barshoe Forget Me Not. Behind: John and Jackie Harkins, Paul Kelly, Randy Anderson, Lou Qualtiere, Jim Michaletz, judge; Jay McKenzie, Jason Reed, judge; Matt Cochran, and Lynn Oxendine.
Judges: Jim Michaletz and Lou Qualtiere
CECIL PROCTOR OPEN ALL-AGE CLASSIC
[One-Hour Heats] -- 24 Pointers and 1 Setter
1st--LOWRIDER FRANK, 1650933, pointer male, by Miller's Happy Jack--Fairchase Jiggs. Dr. James Mills & Steve Lightle, owners; Allen Vincent, handler.
2d--DREAM CHASER, 1680227, pointer male, by Pleasant Run Bob--House's Wild Bess Again. Brad H. Calkins, owner; Andy Daugherty, handler.
3d--NEELY'S STANDING OVATION, 1676481, pointer male, by Erin's Redrum--Neely's Ramblin Rose. Adam Houston, owner; Randy Anderson, handler.