Result: All-America Derby and Quail Championships
Location: Cutler, Illinois
Post Date: Mar 19, 2021
Submitted By: Jim Atchison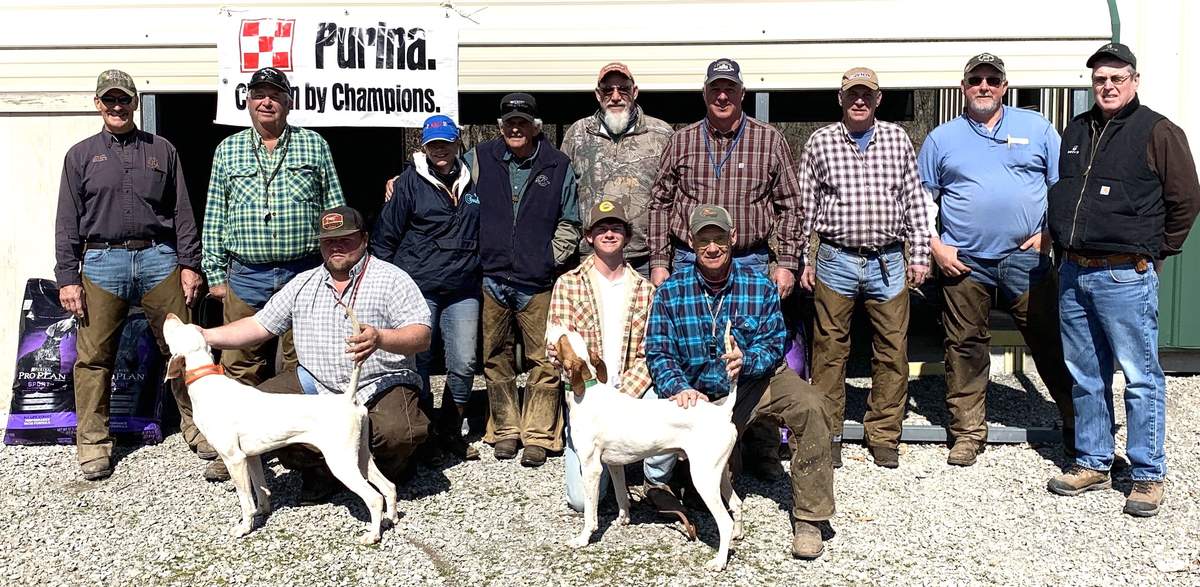 Derby Championship Winners. In foreground: Korry Rinehart with Lester's Boss Man and Eli Bridges and Larry Smith with Late Hit. Behind: Jon Lam, Gary Lester, Janie Chapman, Mike Jackson, Doug Burgess, Tom Shenker, Judges Steve Towery and Keith St. John, and Max Wimmer.
CUTLER, ILL. -- Hoosier Field Trial Club members hosted the 95th running March 5-8 of their Derby and All-Age Championships on the grounds of the Captain Unit of Pyramid State Park, near Cutler, Ill. Sixteen Derbies and 24 all-age dogs competed . The grounds were in wonderful condition and ithe weather was near perfect for field trialing.
Handler Gary Lester won both Championships. Lester's Boss Man, owned by David Thompson of Edmonton, Ky., won the Derby Championship with Lester's Storm Surge, owned by Tommy and Bonnie Hamilton of Springfield, Ky., won the Quail (All-Age) Championship. Late Hit, owned by Chris Campbell of Shreveport, La., and handled by Tom Shenker from Easter Plantation at Hurtsboro, Ala., was runner-up of the Derby. Bonner's Bulletproof, owned by Dr. Chris Cornman from Georgetown, Tex., and handled by Randy Anderson, was runner-up of the All-Age stake.
Purina was the official sponsor of the Championships. Their generosity was gratefully acknowledged as their sponsorship took care of advertising expenses and provided dog food for the winners.
Keith St John from South Fulton, Tenn., and Steve Towery from Murray, Ky., judged both Championships. Both men are well known and respected and have long been associated with the field trial clubs of western Kentucky.
Jim Lawless and Kay Morrison worked non-stop throughout the Championships and surely had little time at their home during the four days. Jim was on the grounds long before daylight each morning to put out birds. Jon Lam and Mike Jackson were there to help him. Kay was in the clubhouse, just as early, preparing huge breakfasts and lunches. Breakfasts were usually ham, bacon, sausage, biscuits, gravy, scrambled eggs, and French toast. Lunches were a hearty soup, sandwiches, hamburgers, casseroles, and wonderful desserts. Then she had hors d'oeuvres for the afternoon gatherings.
Gary Lester hosted a steak dinner on Sunday evening. The food and hospitality were outstanding. Doug Burgess was the grill master and Kay Morrison took care of the sides. The food was not only good, but abundant. There were ribeyes left for lunch on Monday.
Jim and Kay also marshaled each day, along with Jon Lam and Mike Jackson. Max Wimmer and Doug Burgess, who have served the Hoosier Club for many years as president and treasurer, respectively, manned the dog wagon and were always at the right place, at the right time.
As mentioned earlier, the grounds were in excellent condition, with rarely any muddy or wet areas on the three one-hour courses. Daily temperatures ranged from the upper 20s to low 30s each day to the 50s, or low 60s, most afternoons. Winds blew a couple of days and were cool enough to not be ignored.
DERBY CHAMPIONSHIP WINNERS AND OTHERS
Lester's Boss Man competed in the fourth brace on the first day of the stake. He had one find, which came at 11, soon after the 1:00 p.m. breakaway. Throughout the hour the eventual champion ran a strong and forward race, always well to the front. Boss Man demonstrated excellent style, manners, strength, and speed, which were easily noticed by the judges and earned him the title of champion.
Late Hit ran a outstanding race and demonstrated all of the qualities of the champion, but did come from behind once during the hour, and may have influenced the judges to place one dog over the other. Late Hit had birds twice during the contest. The first looked strange; he pointed way out in a cornfield, nowhere near an edge. However, Shenker demonstrated no doubt that birds were there. He dismounted and flushed several birds immediately. The runner-up had another find at 50, soon followed by a strong finish.
Bonner's Hot Rize, owned by Janie Chapman and handled by Gary Lester, was paired in the first brace with Game Rebel, owned by Dr. Fred Corder and handled by Ike Todd. Both dogs stood pointed early in the hour, at 6, with Hot Rize backing Game Rebel. But Hot Rize charged forward during the flushing effort and was picked up. Game Rebel demonstrated excellent self control and went on later to point a pheasant at 51 and find birds again at 54. But he moved while Todd was flushing at 54 and was out of the competition.
Como Thunder, owned by the partnership of Doug Arthur, Billy Blackwell, and David and Rachel Russell, was handled by David Russell in the second brace, paired with S F Hard Fork, owned and handled by Larry Smith. Thunder had birds at 26, backed his brace mate at 34 and had birds again soon after time was called. Hard Fork was in the superior position, backed by his brace mate while Smith flushed and shot at 34. On a second flush, at 53, Hard Fork marked flight and was picked up.
Tom Shenker loosed Miller's Authentic, owned by Chris Campbell, while Ike Todd loosed Touch's Walk the Line, owned by Keith Wright, for the second brace. Walk the Line pointed at 4, backed by Shenker's dog. On relocation, Walk the Line pointed again and Todd flushed, but the Derby chased the birds and was picked up. Shenker shot at 12 when his dog had birds on the long and high ridge of the third hour but then decided to pick up his derby at 23.
World Class Bootlegger, owned by Mitch Marietta and handled by Randy Anderson, was braced with the winner in the fourth brace. Marietta was in the gallery while Bootlegger finished the hour for Anderson, but had only an unproductive stand, which occurred at 51.
Miller's Hill Topper, handled by Tom Shenker for Chris Campbell and Easter Plantation, was braced with Touch's Wild Finale, owned by Keith Wright and handled by Ike Todd. Neither dog finished the fifth brace. Wild Finale pointed and Hill Topper backed at 5. Hill Topper then pointed at 26 but moved while Shenker was flushing, so was picked up. In the meanwhile, Todd's dog became lost so the retrieval unit was requested at 36.
Both Miller's L'elletto, owned by Karen Concilio and handled by Randy Anderson, and Game Heir, owned by Dr. Corder and handled by Todd, finished the hour but no birds were found. Game Heir pointed at 15 and L'elletto backed but the stand was unproductive. Later, L'elletto pointed at 44, but that effort was also unproductive.
Small's White Charger, owned and handled by Mike Small, ran in the seventh brace with the runner-up. He found birds at 50 and easily finished the hour.
Lester's Another Shock Wave, owned by Tommy and Bonnie Hamilton and handled by Gary Lester, and Erin's Tall Soldier went next. Soldier's owner Paul Kelly, from Timnath, Colo., was in the gallery while Randy Anderson handled his dog. Another Shock Wave had unproductives at 22 and 34. Tall Soldier backed at 34, but no birds were found.
Cutler, Ill., March 5
Judges: Keith St. John and Steve Towery
ALL-AMERICA DERBY CHAMPIONSHIP
[One-Hour Heats] -- 16 Pointers
Winner--LESTER'S BOSS MAN, 1691814, male, by Lester's Sunny Hill Jo--D J's Miss Betty. David Thompson, owner; Gary Lester, handler.
Runner-Up--LATE HIT, 1687601, male, by Miller's Blindsider--Abigail Lil. Christopher Campbell, owner; Tom Shenker, handler.
ALL-AGE CHAMPIONSHIP WINNERS AND OTHERS
Lester's Storm Surge, whelped late in 2017, achieved another step upward on his ladder toward greatness with this winning performance in Illinois. The champion ran in the eighth brace, on the first-hour course, and found birds three times. The finds were at 12, 31, and 34, with outstanding style and intensity apparent each time. Every other quality desired of a champion was demonstrated by Storm Surge as he responsively worked for Gary Lester throughout the hour.
Bonner's Bulletproof won runner-up with his ground race in the brace immediately after lunch on the second day. He handled his one find perfectly and looked great as he fulfilled all the other expectations of a winning all-age competitor. He was responsive to Anderson's commands while being strong, forward, fast, aggressive, and stylish throughout his 60-minute effort.
The first brace featured Miller's Speed Dial, owned and handled by Gary Lester, with Touch's Fire Away, owned by Dr. Greg Adams and handled by Randy Anderson, released on the third hour course. The dogs shared a divided find at 4, then stood again, at 29 with Speed Dial standing in the superior position and Fire Away backing. The stand proved unproductive and Lester soon asked for his retrieval unit at 35. Fire Away found no more birds during the hour.
Small's White Stryker was braced with Runner-Up Bonner's Bulletproof in the second brace and found birds twice during the hour for his owner-handler Mike Small.
Shagtime Ole Red, owned by Chris Cagle, Jr. and handled by Randy Anderson, went next braced with Romel's Augie Doggie, a German shorthair owned by Jim Yates and Frank Mucci and handled by Dan DiMambro. Augie Doggie was one of five German shorthaired pointers entered by DiMambro and scouted by April Raber. Anderson elected to pick up the setter before the half hour and DiMambro got his retrieval device to search for his dog at 26.
Dragonfly, owned by Jim Hughes and handled by Gary Lester, was in the fourth brace with Dixon's Rolling Stone, owned by Kevin Dixon and handled by Randy Anderson. Dragonfly had a very clean stop to flush at 20, found birds under an autumn olive bush at 42, found more birds at 50, and a final find at 1:01. The last bird, a single, was flushed from very nearly under Korry Rinehart's horse during relocation. Rolling Stone hunted, but found no birds throughout the hour.
Lester's Jazz Man, owned by Dan Hensley and handled by Randy Anderson, started the Sunday competition (fifth brace), paired with Phillips Off Line, owned and handled by Nathan Phillips. Both dogs achieved a divided find at 34, but Jazzman chased the birds when they were flushed and was picked up. Off Line ran very well throughout the hour and had one additional find at 54.
Bonner's Hot Rize, owned by Janie Chapman and handled by Gary Lester went next, braced with High Standing Cuttin Edge, owned by Dana and Anthony Rusciano and handled by Dan DiMambro. Cutting Edge was lost in the dense vegetation on the second hour course by about 22 and DiMambro got his tracker. Hot Rize pointed, in an unproductive effort at 22, and stood again at 53 enabling Lester to flush birds near the end of the hour.
Both dogs were picked up early during the seventh brace. They were S F Hard Fork, owned and handled by Larry Smith, and Touch's Blackout, owned by Dan Harkins and handled by Randy Anderson. Hard Fork had an unproductive at 24 and was soon up at 29. In the meanwhile, Anderson picked up at 27.
Rock Rivers U Can't Handle It, called Dually, owned by Rick Heller and handled by Dan DiMambro, was braced with Lester's Storm Surge in the eighth brace. Dually found and DiMambro flushed a bird at 18 from under an autumn olive and the edge of one of the several unreclaimed quarry lakes in Pyramid Park. He then backed the champion, Storm Surge, at 34 and finished the hour on the first course.
Raymond's Double Rebel Jess, handled by Randy Anderson for Bill Raymond, went next, paired with No Sleep Til Brook Lynn, owned by Chuck Lane and handled by DiMambro. Neither dog found any birds and were picked up prior to the end of the hour.
The final dog to run on Sunday afternoon was Miller's Justifiable, owned by Jay McKenzie and handled by Anderson. He found birds once, at 21, and ran the entire hour, using the entire third course and continuing about 15 minutes onto the beginning of course No. 1.
Monday morning's brace No. 11 saw Neely's Standing Ovation, owned by Butch Houston and handled by Randy Anderson, loosed with Evergreen's Jed Clampett, owned by Lance Olson and handled by Dan DiMambro. Anderson flushed birds at 12. Then Standing Ovation pointed again but during relocation Anderson tossed feathers into the air from a recent kill. Continuing along the same line for some distance, Anderson's dog pointed again and birds were flushed at 26. In the meanwhile, DiMambro had gotten his tracker at 21 and Anderson later got picked his dog up at 35.
In the final brace Gary Lester had Lester's Stem Winder and Randy Anderson had Miller's Select Call, owned by Don Stroble. Select Call found birds at 4 and Stem Winder had birds at 24, but both handlers elected to pick their dogs up before the end of the hour.
ALL-AMERICA QUAIL CHAMPIONSHIP [One-Hour Heats] --
18 Pointers, 1 Setter and 5 German Shorthairs
Winner--LESTER'S STORM SURGE, 1681624, pointer male, by RansomBeane's Line Dancer. Tommy & Bonnie Hamilton, owners; Gary Lester, handler.
Runner-Up--BONNER'S BULLETPROOF, 1683585, pointer male, by Miller's Speed Dial--Miller's Martha White. Dr. Chris Cornman, owner; Randy Anderson, handler.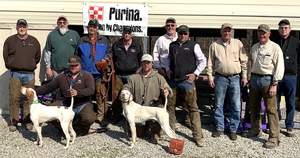 All-Age Championship Winners. (Front) Korry Rinehart with Lester's Storm Surge and Stegan Smith and Randy Anderson with Bonner's Bulletproof. Behind: Jim Lawless, Doug Burgess, Gary Lester, Mike Jackson, Judges Keith St John and Steve Towery, Jon Lam, and Max Wimmer.

SOME CONCLUDING COMMENTS

The lower number of entries and the financial future of the Hoosier Field Trial Club and hosting of the All-America Championships have been considerable concern to the club members since the death of Mr. Jim Fornear and the loss of his financial support. Yet, this 95th renewal ended with a very positive outlook and a sense of exciting anticipation for the future. The number of entries was up and the club is financially solvent.
Some of the officers who have served the club faithfully and well for many years asked to be relieved from continuing to hold office due to demands of their farming and business interests and some due to health issues with which they are dealing within their families. They include Max Wimmer, Doug Burgess, David Fligor, and John Vanada, who will all continue their membership and association with the club.
Officers serving in the future will be Nathan Phillips, Jon Lam, and Kay Morrison. Jim Lawless, Mike Jackson, Jim Atchison, and all the other present members of the club, including those named in the paragraph above, will continue to work to support and strengthen the club.
Purina's sponsorship remains most coveted and appreciated and their commitment has, within the last week, been made to donate a pallet of Pro Plan Performance which will be raffled throughout the coming year by club members and given away at the 2022 renewal of these championships. The possibility of outside philanthropic donors is also being discussed. Even the possibility of once again (at some time in the future) being able to have added money (over and above amounts normally paid to the winners) has been mentioned.
The sense of excitement and determination was abundant and very obvious as the Championships ended and some left to go home while others remained for the Rend Lake Open Trials that would start in a few hours. Speaking of which, having the All-America and Rend Lake running back-to-back at Pyramid, complementing one another, is another strengthening quality which will help both clubs.