Result: Southeastern Continental Breed Shooting Dog Championship
Location: Waynesboro, Georgia
Post Date: Mar 13, 2021
Submitted By: Mark Johnson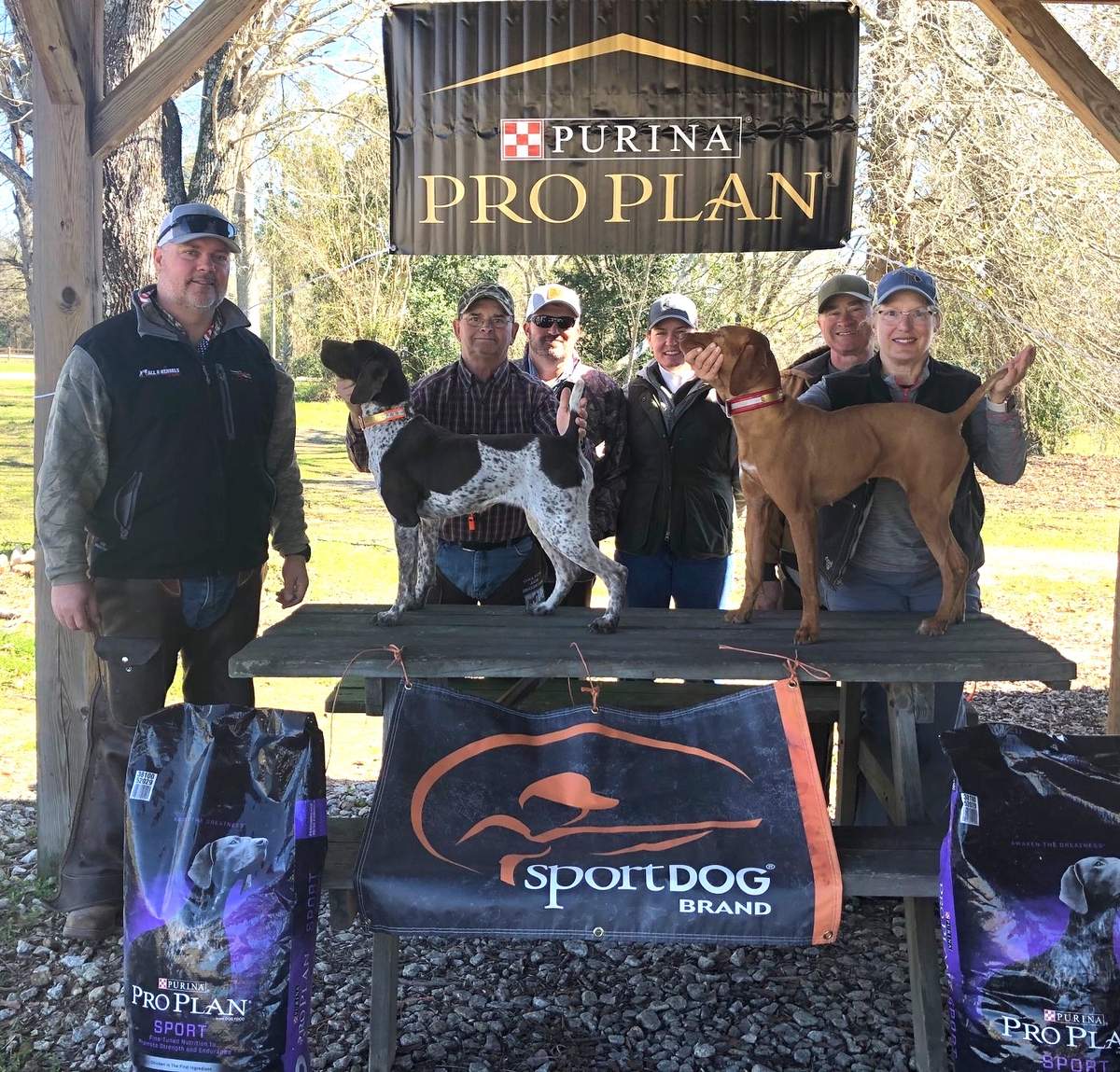 The Winners. Front, left to right: Joe Orndorff, handler, Jimmy Wallace, scout, with Hongo's Layla, owned by Kathleen and Kevin Malone, Nancy Browne, scout and owner, with Reve's Royal Hawaiian. Back row: Judges Buck Daniels and Jessica Rutland, and Chad Chadwell, handler and owner.
WAYNESBORO, GA. -- The 2021 renewal of the Southeastern Continental Breed Shooting Dog Championship was run over three days at Di-Lane Plantation with 30 dogs drawn and 30 dogs run.
Very unfortunately the writer was unable to travel to this year's event due to interstate weather related closures in Kentucky and Tennessee; however, trial Secretary Karen Concilio and Stake Manager Chad Chadwell stepped up big time to facilitate a smooth and well-run event.
Judical duties were carried out by Buck Daniels and Jessica Rutland, both of South Carolina. Their attentiveness and time commitment were appreciated by all.
While the preceeding portion of the week had seen signficant downpours of rain, the trial itself experienced blue skies--and the kind of springlike conditions that attracted a Saturday gallery of 25-30 riders.
A single one-hour course was utilized with birds being liberated before and during the running.
THE WINNERS

This year's winner, Hongo's Layla (Layla) ran in the last brace of the day on Friday under clear conditions and was handled by Joe Orndorff. This classy German shorthaired pointer is owned by Kathleen Malone of Leesburg, Va. Her race was strong, forward and consistent for the hour and was punctuated with stylish finds at 10 and again at 58.
Runner-up championship recognition was awarded to Reve's Royal Hawaiian (reve). Reve ran mid-day sunday under warming conditions and was credited with four (4) finds during the hour at: 10, 20, 50 and 59. This snappy female Vizsla is owned by Chad Chadwell and Nancy Browne of Springfield, Ill., and was aptly handled by chad.
While Covid-19 related precautions were exercised and our traditional Saturday evening low country boil was cancelled, Karen saw to it that all had a bite to eat for lunch and snacks during the day.
Of special note, Ray Dohse pitched in and arranged to get the birds we had contracted for delivered to the grounds and graciously allowed the use of his side-by-side UTV to pick up dogs and liberate birds.
We want to recognize and sincerely thank Greg Blair of Nestle Purina PetCareand Jim Morehouse of SportDog for their ongoing support of this Continental Breed Championship. Purina supplied pro plan to the winners and sponsored a Pro Plan dog food raffle; SportDog provided training collars for both the winner and runner-up.
We also extend thanks to the Georgia Department of Natural Resources for the use of this site to run bird dog field trials. Venues of this calibre on public lands are few and far between and are not taken for granted by our group.
Lastly and most importantly we wish to thank the owners, handlers and guests who participated in this year's championship. Hope to see you again next year.
Thanks to all who participated in this championship and to our sponsors Purina and SportDog and to our judges Buck and Jessica!
Waynesboro, Ga., February 19 -- One Course
Judges: Buck Daniels and Jessica Rutland
SOUTHEASTERN CONTINENTAL BREED SHOOTING DOG
CHAMPIONSHIP [One-Hour Heats] -- 13 German Shorthairs, 11 Brittanys and 6 Vizslas
Winner--HONGO'S LAYLA, 1684031, German Shorthair female, by Llanos Game On Dude--Uodibar's Sidewinder. Kathleen Malone, owner; Joe Orndorff, handler.
Runner-Up--REVE'S ROYAL HAWAIIAN, 1688906, Vizsla female, by C K Post Route Scout--Burr Oak's Reve. Charles K. Chadwell & Nancy Browne, owners; Chad Chadwell, handler.