Result: National Amateur Derby Championship
Location: Hickory Valley, Tennessee
Post Date: Apr 30, 2019
Submitted By: Piper Huffman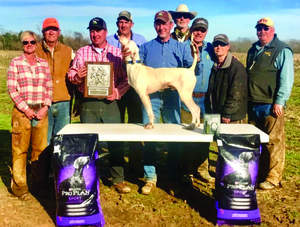 Championship Runner-Up. From left: AFTCA Secretary Piper Huffman, Judge Collier Smith, Scott Griffin, Ric Peterson, Derek Bonner with Bonner's Excalibur, Bubba Spencer, Judge Garland Priddy, Kathy Priddy and AFTCA President David Williams.
HICKORY VALLEY, TENN. -- The National Amateur Derby Championship was held at Peterson's Farm in Hickory Valley, Tenn., about ten miles north of Ames Plantation, immediately following the National Amateur Quail Championship on March 8.
A nice entry of 29 Derbies was slated to compete. This Derby Championship was more than phenomenal with many contenders considered for the winners' circle. In the three days of running, thirty coveys were pointed. A most exciting Derby Championship to watch.
AFTCA President David Williams, the judiciary and many others noted this Derby Championship was the best they had ever seen.
A special thank you to Ric Peterson, owner of Peterson Farm, for allowing the AFTCA to host this Championship on his farm. He rode every day helping anyone who needed direction or guidance.
The AFTCA greatly appreciates Bubba Spencer for taking time to marshal every brace throughout the running, and Amy Spencer for helping with the dog wagon and other aspects of the trial.
Squeaky Powell generously picked up an assortment of biscuits each morning at the Hickory Valley store.
A vital part of any field trial is the landowners. A special thank you to Peterson, Power and Weaver Farms. These farm grounds have big long edges, a great venue to run all-age dogs.
Thank you to Purina for sponsoring this Championship and all they do for the sport. Purina awards dog food to the winners and Garmin provides collars for the champion and runner-up. Bruce Fox awards plaques.
The AFTCA greatly appreciates these generous sponsors.
Hall-of-Famers Garland Priddy and Collier Smith, who judged the previously held National Amateur Quail Championship at Ames Plantation, carried on in the judicial saddles for this stake as well. Their time and effort were greatly appreciated.
THE WINNERS

Mohawk Mill Trail Warrior impressed from start to finish gaining the title of champion for Virginia owner-handler Gary Winall. Ellen Clements is a big part of this winning team.
A classy performance all the way by Warrior grabbed your attention the entire hour. Warrior hit the big edges with confidence, smoothness and ease, taking them all the way to the extreme. His big, showy and impressive ground race was complemented by three pieces of bird work. He stood extremely handsome with high style for wing and shot and displaying perfect manners on all three.
A tragic fire in Gary Winall's barn/ kennels occurred in late February, 2018. "Trail Warrior was in the kennel when we had the fire," Ellen Clements recalled. "When we opened the kennel door, he ran out. He came back about an hour later, his front pads burned off and some of his hair singed. His resilience has amazed me. Very proud of him."
Bonner's Excalibur put down a performance that kept you high in the saddle, earning runner-up laurels for owner-handler Derek Bonner of Mooresboro, N. C.
Twenty minutes into his hour, it started to thunder and lightning with heavy rain. The conditions did not deter Excalibur in any way. He ran a strong, gritty race taking the big edges to the extreme. His solid performance exhibited all-age qualities, impressing with each step along with four picture-perfect finds. On each of his finds he stood motionless and handsome with high style for wing and shot.
Both Mohawk Mill Trail Warrior and Bonner's Excalibur put down memorable performances.

THE RUNNING
K H Game Weapon (Scott Griffin) ran a very smooth race with plenty of reach and two finds at 40 and 45 for the stylish pointer. He stood handsomely with high style for wing and shot with perfect manners on both. S F Benchmark (Larry Smith) was picked up at 15.
Big Creek's Coldwater Frank (James Heimdal) was quick on go, seen on some good swings but was out of pocket at 30 and failed to return. Superstition Final Touch hit the edges to start taking them to the end handling well for Ric Peterson. He had an unproductive at 35 and was picked up at 40.
Point was called early in the big bottom for both Bad Prairie's Valley Girl (Quintin Wiseman) and Small's White Gold (Mike Small). Girl was attractively styled farther up the edge toward the end of the bottom while White Gold was halfway up. He stood handsomely with high style. Both handlers flushed separate coveys, the dogs exhibiting perfect manners at wing and shot. Valley Girl was ordered up after running through a bird in the middle of sedgegrass field. White Gold pointed at 55 with nice style. Small could not get birds up and tapped White Gold for relocation. He had a perfectly acceptable stop to flush.
The winner, Mohawk Mill Trail Warrior, was braced with Bad Prairie's Storm Force (Quintin Wiseman). Storm Force pointed in the middle of the field and as birds lifted the temptation was too great. He was picked up.
Cocklebur X Files (Bubba Spencer) put down a strong performance with a reaching ground race. Point was called for him at 30. He stood like a statue for wing and shot. X Files hit the big edge and pointed at 40 with all in order displaying high style. Point was shortly called for S F Stetson (Smith) where he suffered an unproductive. Spencer called point at 50 and again at 55. X Files looked good with high style and perfect manners on both. Stetson came in for a back on his last piece of bird work. X Files impressed the entire hour.
Marques Big Luck (John Ivester) had a find at 20 with nice style and impeccable manners. Nosam's Sweetwater (Mason Ashburn) impressed with a strong and smooth ground race.
Rester's Amazing Grace (Cecil Rester) ran a nice ground race handling nicely. Big Creek's Coldwater Bandit (James Heimdal) scored on one good find and was out of pocket at hour's end.
Runner-up Bonner's Excalibur was down with Hendrix's House Card (Burke Hendrix) which was picked up at the half. Ten minutes into the brace it started thundering and lightning. Thankfully no one got hurt.
K H Game Train (Scott Griffin) was lost early. Marques Handsome Ransom (John Ivester) had a nice find at 30 in a briar thicket then was picked up early.
K H Game Call (Griffin) chalked up three nice pieces of bird work in the sedgegrass field at 42, 45 and 47. Shagtime Ole Red (Chris Cagle) put down a good ground race.
Hendrix's Copperline (Burke Hendrix) put down a good performance with two nice pieces of bird work. Hendrix called point at 30. Copperline stood along a treerow with handsome style and impeccable manners for wing and shot. JB called point at 45 with Copperline standing in a thicket. He stood with handsome style and perfect manners for wing and shot. He pointed again at a dead tree and Hendrix elected to take him on. Shagtime Max (Cagle) was out of pocket early.
Rebel Survivor was found pointed at 20 in front of the old house place with beautiful style and good manners as David Williams kicked up a covey and shot. His race was strong and solid in the hour. At 55 Angie called point with all in order for wing and shot. Bittersweet War Cry (Ralph Gillota) put down a good ground pattern finishing the hour.
Both Touch's Grey Street (Wright) and Cocklebur King Tut (Bubba Spencer) ran strong ground races, taking the edges nicely. Tut had a stylish piece of bird work at 30 and excellent manners. Grey Street was found pointing in the plum thicket. He stood styled and intense for wing and shot.
White's Crossbow (Danny White) had an unproductive then faded to the front, failing to return. Hendrix's Touch Up (Hendrix) had a good find at 40 with a good reaching ground race.
Hickory Valley, Tenn., March 8
Judges: Garland Priddy and Collier Smith
NATIONAL AMATEUR DERBY CHAMPIONSHIP [One-Hour Heats] --
27 Pointers and 2 Setters

Winner--MOHAWK MILL TRAIL WARRIOR, 1676193, pointer male, by Stoney Run's Buddy--Miller's Fancy Lady. Gary Winall, owner and handler.
Runner-Up--BONNER'S EXCALIBUR, 1680103, pointer male, by Ransom--Miller's Martha White. Derek Bonner, owner and handler.