Result: Southern Illinois Bird Hunters Club
Location: Cutler, Illinois
Post Date: Apr 24, 2019
Submitted By: Jim Lawless and Kay Morrison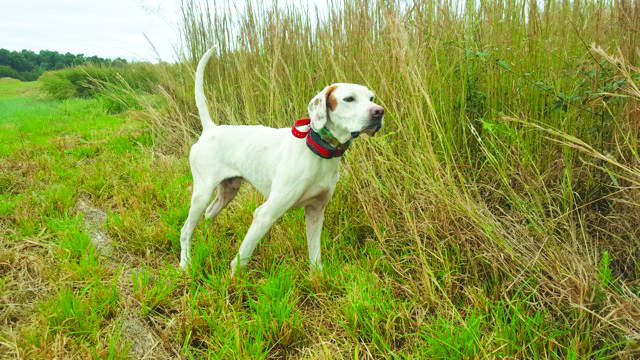 Crouse's Samuri Warrior Second in the Open Shooting Dog Stake
CUTLER, ILL. -- The Southern Illinois Bird Hunters Club hosted their spring trial March 30-31 at Pyramid State Park, Captain Unit. We were fortunate to have Keith Lowry and Chuck Stretz in the judicial saddles both days. Both gentlemen endured typical Southern Illinois weather and had a watchful eye on each dog.
Assisting with the running of the trial were George Ledbetter and Don Heisner. Both gentlemen made sure everyone was where they needed to be and that things ran smoothly.
The Open Derby started us off on Saturday with ten entries. The majority of the youngsters made their bid during terrible weather conditions. The temperature dropped to the low 30s for most of the day. That, along with the constant rain, wind and thunder made for not so comfortable conditions. Even the bird work was at a premium. First place was awarded to Lawless Speck which had one find and a nice race. Second and third went to Crouse' s White Dragon, (Mike Crouse) and Redbud's Country Girl (Aaron McAfee). Both dogs showed very classy and snappy on the ground. We did see the potential of Redbud's Country Girl looking fantastic on point; no bird was produced but handler found feathers.
The Open Shooting Dog (15 entries) started Saturday afternoon and finished on Sunday. Don Heisner dominated the stake with his two fine young setters. Beaucoup Creek Gus took first place with two finds, a back and a good race during the cold rain of Saturday afternoon. Beaucoup Creek Buck placed third with three finds. Gus' bracemate, Crouse's Samuri Warrior, placed second with one find and a very nice race, enduring Saturday afternoon's terrible conditions as well.
After Saturday's terrible weather, Don and Betty Heisner provided a smoked pork tenderloin dinner for all to enjoy. Don is quite the master smoker and Betty complements him with her tasty side dishes. We are thankful that we have such great friends who enjoy our sport as much as we do and are willing to serve such a nice meal for everyone.
Thank you to our judges, Keith Lowry and Chuck Stretz, and all who assisted to make this an enjoyable weekend in Southern Illinois.
Cutler, Ill., March 30 -- One Course
Judges: Keith Lowry and Chuck Stretz
OPEN DERBY -- 10 Pointers
1st--LAWLESS SPECK, 1681205, pointer male, by Touch's Smooth Rider--Three Stripe's Fireball. Jim Lawless, owner and handler.
2d--CROUSE'S WHITE DRAGON, 1673939, pointer male, by Crouse's Zippidy Do--Crouse's Funseeker Dragon. M. D. Crouse, owner and handler.
3d--REDBUD'S COUNTRY GIRL, 1683512, pointer female, by Roc Kit Man--Oh My. Aaron McAfee, owner and handler.
OPEN SHOOTING DOG [One-Hour Heats] -- 13 Pointers and 2 Setters
1st--BEAUCOUP CREEK GUS, 1666953, setter male, by Shadow Oak Bo--Beaucoup Creek Ellie. Donald Heisner, owner and handler.
2d--CROUSE'S SAMURI WARRIOR, 1645761, pointer male, by Crouse's White Samuri--Crouse's Black Magic. M. D. Crouse, owner and handler.
3d--BEAUCOUP CREEK BUCK, 1666952, setter male, by Shadow Oak Bo--Beaucoup Creek Ellie. D. R. Heisner, owner and handler.